This easy to follow Thanksgiving guide is just what you need to help organize your next Thanksgiving celebration! From choosing the perfect Thanksgiving menu to setting up decorations, this checklist will walk you through every step of planning the ultimate holiday get-together. We've even featured some of our favorite Thanksgiving recipes to get you started!
A Complete Thanksgiving Dinner Guide
The holidays are meant to be a time for celebration and joy. However, they can also end up being a time of stress if not properly planned for. Especially if you are the one hosting for the holidays. To avoid feeling overwhelmed and stressed with hosting Thanksgiving, follow my no stress guide on how to prepare for Thanksgiving dinner.
By taking a few minutes now to read through this Thanksgiving guide you will eliminate the stress of the holidays and be able to embrace the celebration and joy!
Jump to:
The Month Before Thanksgiving
As much as many of us dislike that stores have Thanksgiving decorations on the aisle next to the Halloween decorations at the same time - they are on to something.
Planning the perfect Thanksgiving takes time. Therefore, beginning to plan a month ahead is the best way to avoid unnecessary stress this time of year.
This handy Thanksgiving guide will walk you through all of the key planning points to consider for a perfect Thanksgiving celebration!
1. Plan Your Guest List
You can't plan anything else until you know how many people you are planning for. Therefore, the first thing to plan for is who is coming to Thanksgiving dinner.
Begin by making a list of everyone you are inviting. Write it down somewhere you will have it to refer to leading up to the big dinner.
Once you have your initial list, begin to reach out to each person or family to confirm if they will be attending dinner.
As soon as someone confirms, add a little check mark to the list. In addition, cross off those who can't make it.
Another important thing to note is those who are undecided. There is always going to be one or two that don't confirm until the last minute.
It is best to plan for the maybe guests now, so that you have enough seating and food (just in case).
2. What Are You Serving?
Once you know who is coming to dinner it's time to plan the menu! There are the traditional Thanksgiving dishes that most people like to include:
You will want to break down each of these dishes even further as you plan your menu. This includes what type of pies and how many of each.
What type of yam or sweet potato dish, or if there are multiple dishes that you want to make (or will need).
Remember to note if you are making certain items homemade or buying them. For example, are you making homemade rolls or buying rolls?
If you are making your own rolls, you will need to add each individual ingredient to your list later.
In addition to the traditional Thanksgiving dishes consider if you want to add anything new. Moreover, make sure you have checked with family and friends for any dietary restrictions.
If there are any dietary restrictions (such as gluten-free, vegan, or dairy-free) or allergies, you can then decide what specialty dishes you will include. You want everyone who is invited to feel welcome and enjoy their meal!
3. Rent Extra Tables And Dishes
Depending on how large your Thanksgiving guest list is you may need to rent some additional materials. You can rent everything from tables and chairs to glasses and tablecloths.
While some may tell you to just borrow these things, renting is often less stressful. When borrowing tables and chairs you run the risk (and stress) of things changing last minute and the items not being available.
Additionally, you also may find yourself stressed that a glass or plate you borrowed may break.
Renting eliminates these stresses. You know a month ahead that all the items will be available.
In addition, there is often insurance included in the rental in case something breaks. Another great thing about renting glasses and silverware is that everything will match. 
A Few Weeks Before Thanksgiving
4. Create Your Shopping List
Now that you know what you are serving it is time to create your shopping list. While it may seem like an early thing to do a few weeks out, this is the best time to do it because you want to begin shopping next week.
Don't forget to include items that you think you may have on hand. This includes things like sugar and flour. While most of us keep these items in the pantry year-round, you may need to restock before the holidays.
5. Gather Your Cooking Gear & Supplies
In addition to your food shopping list, remember to add any items you need to properly do all the cooking. This includes things such as pie pans and serving trays.
Also, make sure that you have everything you need to properly prep the turkey, such as a large roasting pan and a meat thermometer. This may also include a turkey brining container or an XL deep fryer.
If you don't have a meat thermometer, I highly recommend investing in one! They are not expensive and will make all the difference in making sure your turkey is cooked perfectly.
Some ovens have a meat probe that can be inserted into your turkey so that you'll know when you've reached the perfect temp without opening the door. This is true of alot of smokers too.
6. Order Your Turkey
Speaking of turkey, where do you plan to get your turkey from? To guarantee the turkey you want, I suggest ordering one from a local farmer or butcher.
While it can be a bit more expensive than the grocery store, the extra cost is worth it. Grain-free and pasture raised turkeys are also available, and amazingly tasty!
Local orders mean that you know you will have the exact turkey you want for Thanksgiving. Plus, you don't have to worry about finding the right size at the grocery store.
In addition, you know you are getting a fresh turkey! Another bonus is knowing that you are supporting a local business.
7. Shop for Alcohol & Non-perishable Foods
The more shopping you can get done early, the better! Therefore, use this week to stock up on all the goodies that won't go bad.
This includes drinks, canned goods, and other non-perishable items.
Not only does shopping for these items save you time, but it also guarantees that you will have everything you need for the big day. There is no risk of the store being out of the exact item you want.
Moreover, it saves you the headache of holiday crowds. If you have ever gone to the liquor store for wine the week of Thanksgiving, then you know it can be a bit of a madhouse!
Two Weeks Before Thanksgiving
The two weeks prior to Thanksgiving is all about taking advantage of all the menu items you can prepare and freeze ahead of time. Pie crusts, pies, rolls, and homemade stock.
Furthermore, this week is great for planning (and possibly preparing) decorations for the big dinner. An amazing tablescape adds so much to a family gathering!
8. Free Up The Freezer
Before you can start preparing pies and other goodies to store in the freezer, you need storage space. Therefore, use the beginning of this week to start freeing up some storage space in the freezer.
Have a family dessert night where you eat the ice cream. Thaw and cook up frozen dishes you made earlier in the year. Use what you can.
However, don't be afraid to toss anything that has gone beyond its ideal date for eating (even things that are frozen have a "best by" date).
9. Pie Preparation
If you plan to make your own pies, then you can prepare the pie crust ahead of time. This will save you a lot of time the week of Thanksgiving!
Not to mention, it will eliminate one other thing that needs to be done in the kitchen that week.
Pie crust dough can be rolled into a ball and frozen, or you can mold it into the pie pans before freezing. Either way, just remember to tightly wrap the dough with plastic wrap to keep it from drying out.
In addition to preparing crusts, you can even prep some pies early. Apple pie actually freezes quite well.
Therefore, if you plan to serve homemade apple pie at Thanksgiving consider preparing and freezing it now.
10. Freeze What You Can
Pie crusts are not the only menu items you can freeze. Homemade bread and rolls freeze exceptionally well. If you plan to make your own homemade broth or stock, that can also be frozen.
In addition, if you plan to serve any soup at dinner, most soups can also be frozen.
11. Prepare Decorations
The holidays are always a bit more festive with decorations, and when you plan this far ahead you have extra time to enjoy decorating. So, pull up your Pinterest board and see what decorations are calling to you.
Use any extra time this week to buy or DIY your decorations. Depending on the type of decorations you choose, you may even be able to put them up around the house.
For example, wreaths and centerpieces can be set out ahead of time.
One Week Before the Big Dinner!
At this point, you have already planned so much, and are hopefully feeling excited (and less stressed) about hosting the big dinner. The week leading up to Thanksgiving is all about finalizing details.
12. Schedule For The Week
Sit down at the start of the week and make a countdown schedule. Review the things you have already done and look at what you still need to prepare. Write out a schedule for this week as well as the day of Thanksgiving.
While you are creating your schedule, don't forget to think about who you can delegate to do things. Thanksgiving is not a one-person job!
13. Pickup Refrigerator Items
The main thing you will need to do this week is pick up your turkey. Especially if you didn't order your turkey.
If you pick up a fresh turkey from the butcher or farmer, you can store it in the freezer for the week. Store-bought turkeys will already be frozen.
In addition to the turkey, you can also pick up food items that will stay fresh for a week. This includes hearty vegetables like potatoes, carrots, and other root vegetables.
Heavy cream and other dairy products will also stay fresh in the refrigerator until Thanksgiving.
If you ordered your turkey and don't need to pick one up at the store, then you can wait to do one final grocery store run a few days before dinner.
14. Prepare For Leftovers
This week is a good time to think about the day after Thanksgiving. Specifically, all the leftovers! Do a quick check in the kitchen this week to see what containers you have available for turkey leftovers.
Moreover, consider if you want to send guests home with leftovers.
If you plan to send guests home with leftovers, grab some disposable plastic containers while you are at the grocery store. This will make it easy to pack up leftovers at the end of dinner.
One thing many people miss when they don't host Thanksgiving is the leftovers. Therefore, your guests will be thankful for a to-go container.
3 Days Before Thanksgiving
15. Defrost the Turkey
Frozen turkeys take a little bit of time to defrost. Moreover, it is important to allow them to defrost slowly. Therefore, the best thing is to move your frozen turkey to the refrigerator 3 days prior to Thanksgiving.
Even though the turkey will stay wrapped while defrosting, it can still drip. Therefore, place it on the bottom shelf to defrost. In addition, place it on top of paper towels or a small tray.
This will keep it from dripping onto any other food, as well as keep your fridge clean. 
16. Final Grocery Run For Veggies
While it would be ideal to not have to go to the grocery this week, you will most likely need to do a final run. This is the time to pick up any fresh veggies that do not have a long shelf life. For example, the celery needed for your stuffing. 
In addition to fresh veggies, this is the time to grab any other items you need and may have forgotten.
If you didn't head to the store last week then make sure you get your heavy cream, root veggies, and any other items you haven't picked up yet. 
17. Clean The House
Having guests over for dinner is likely to prompt a desire for a deep clean. This will likely take a bit of extra time. Therefore, plan to do most of your house cleaning a few days before dinner.
You need to do a quick pick-up the morning of (especially if you have kids). However, get all the big things done (like vacuuming and mopping) earlier.
This will not only help you prepare for guests but also help you feel more relaxed leading up to the holiday. 
18. Pickup Rentals
If you rented any items that you need to pick up, plan to get them 2-3 days before Thanksgiving. This way you have time to get any errors or shortages fixed before turkey day.
If anything has changed, this also gives you a few days to make last minute adjustments as needed. 
2 Days Before Thanksgiving Dinner
19. Prepare Side Dishes
There are several side dishes that can be prepped a couple of days before Thanksgiving. Taking time to prep these early saves you a lot of time and stress on the day of dinner.
Soups and stocks that you didn't freeze can be made at this time (if you froze soup or stock, move it to the fridge to defrost). In addition, most homemade cranberry sauces can be prepped and then stored in the refrigerator.
In addition, this is the perfect time to assemble any casseroles you are serving. For example, green bean casserole and yam or sweet potato dishes.
All of these can be assembled and then stored in the fridge until the day of Thanksgiving.
20. Make Pumpkin Pies
While there are a couple of pies you need to wait to make until the night before, pumpkin pies can be made a couple of days in advance.
All pumpkin pies can be baked on this day. Once they are cooled, cover them and place in the refrigerator.
If you froze any apple pies or pie crusts, this is to take them out to thaw. Place frozen apple pies and crusts/dough in the refrigerator to slowly thaw overnight. You can use them the next day to make the last of the fresh pies.
The Day Before Thanksgiving
21. Set The Table
Setting the table the day before is a great way to take one last thing off of your plate on the day of. If you have kids at home, this is a good activity to have them help with that will keep them busy (since most kids don't have school the day before Thanksgiving). You can even have them polish the nice silverware if you want to add some extra time to the activity!
22. Plan Cooking Time And Schedule
Take a few minutes to sit down and plan the cooking times for tomorrow. Start with how long you will need to cook the turkey. Then look at the list of other items you need to cook.
Many of the side dishes and casseroles only need to be reheated. Therefore, they can be put in the oven after the turkey is done.
23. Prep Additional Ingredients
Prepare any additional ingredients that you have left. This includes chopping vegetables for salads and stuffing. It may also include preparing hors d'oevres for guests to snack on before dinner.
Basically, anything you can chop and store in the fridge for the night – go ahead and chop and store them. If chopping root vegetables like potatoes, store them in a bowl of cold water once they are chopped. This will keep them from turning brown before cooking.
24. Bake Apple, Cherry, or Pecan Pies
If you are serving apple, cherry, and/or pecan pies, you can bake them today. Once pies are baked, they can be left out on the counter to rest until the next day.
25. Prep Turkey
While your pies are baking, use this time to prepare your turkey. Place it in the roasting pan and add any seasonings you plan to use.
Once your turkey is prepared, cover it and place it back in the refrigerator until it is time to cook.
Thanksgiving Day Guide
Thanksgiving is here and it's show time! Remember to breathe, and that no matter what, being thankful for this time with your friends and family is what the day is all about.
The food is going to be superb. Your home looks inviting and festive. You've made it to (almost) the end of my Thanksgiving guide, and now it's my turn to say my thanks for you visiting Bake It With Love.
26. Defrost Rolls & Let Rise
If using frozen rolls or bread take them out first thing so they can defrost and rise.
27. Chill Drinks
As you move food out of the refrigerator to cook, you will free up some space. Use that space to chill wine, beer, and other beverages you plan to serve with dinner.
28. Take Pumpkin Pies Out Of The Fridge
If you made pumpkin pies early and refrigerated them, take them out the morning of Thanksgiving. Let them sit and come to room temperature before serving after dinner.
29. Prepare The Stuffing
Prepare your stuffing just before cooking your turkey so that can stuff it. Even if you don't plan to stuff your turkey, still prepare stuffing first so it is done. Then you can quickly heat it up with the other side dishes after the turkey is done cooking.
30. Cook The Turkey
The turkey will take the longest time to cook. Therefore, make sure you have calculated how long it needs to cook and that you put it in at the right time. In addition to the cooking time, plan for the turkey to rest out of the oven for 1 hour.
Once the turkey is in the oven you can use the next few hours to prepare any last-minute dishes.
31. Prepare Sides While The Turkey Cooks
If you have followed this guide, then you may not have many additional sides to prepare at this time. However, if you have anything left to prepare you can do it while the turkey cooks.
This is a good time to peel and chop potatoes for mashed potatoes, or to put together a salad.
32. Rest The Turkey
Often, we think that once the turkey comes out of the oven it is time to eat. However, to get the juiciest and moistest turkey you want to let it sit for a bit.
Therefore, use your meat thermometer to take the turkey out of the oven when it is about 10 degrees less than your desired doneness. Once out of the oven, place a look aluminum tent over the turkey.
This will keep the heat in and help the turkey to continue to cook internally.
Let the turkey rest for 30-60 minutes before serving.
33. Reheat sides
While the turkey rests, use the oven to heat up all the sides you prepared ahead of time (green bean casserole, yams, etc.).
34. Make Mashed Potatoes
Make the mashed potatoes while the sides heat up in the oven. If you already chopped the potatoes you will just need to boil and mash.
35. Make The Gravy
The gravy is the last thing to make. Use the drippings from the turkey, along with any additional stock, to whip up a delicious and rich homemade gravy. This will only take about 15-20 minutes and can be done right before eating.
36. Sit Down To Eat!
Once everything is heated and ready to serve, it is time to eat! Depending on how you want to serve dinner, you can place all the menu items out in a buffet style or set everything on the table.
However you decide to serve your guests, the most important thing is to enjoy the meal and be grateful!
We hope you find this full Thanksgiving guide handy for planning your meal like a pro, no matter if this is your first time hosting the holiday dinner or the 50th!
Please feel free to ask questions below and we will get back to you as quickly as possible, even during the holidays, to try to help keep things running smoothly! AND don't forget to check out all of my leftover turkey recipes for a great collection of recipe ideas!
📋 Recipe
Print Recipe
Leave A Comment
Love This Recipe?
Click On A Star To Rate It!
Thanksgiving Guide: Oven Roasted Turkey (Complete Menu Planning & Make Ahead Dishes!)
This easy to follow Thanksgiving guide is just what you need to help organize your next Thanksgiving celebration! From choosing the perfect Thanksgiving menu to setting up decorations, this checklist will walk you through every step of planning the ultimate holiday get-together. We've even featured some of our favorite Thanksgiving recipes to get you started!
Cooking
3
hours
30
minutes
Resting Time
1
hour
45
minutes
Total Time
5
hours
30
minutes
Pin Recipe
Share on Facebook
Ingredients
14

lb

turkey

(thawed)

1

cup

butter

(2 sticks, melted)

4

cubes

chicken bouillon

(I use Knorr chicken bouillon cubes)

½

tablespoon

smoked paprika

1

whole

orange

(optional - quartered)

4

sprigs

thyme

(optional - fresh)

2

cups

chicken broth
Instructions
Preheat oven to 450°F (232°C) and place a roasting rack or tray in your large roasting pan.

Remove thawed turkey from packaging, as well as any packages in the cavity (neck, gizzards, heart, liver are usually inside - some turkeys also have a package of gravy base). Rinse turkey inside and out, place in the roasting pan breast side up, then pat dry.

In a small bowl, combine melted butter with chicken bouillon cubes and smoked paprika seasoning. Break apart the cubes to make a paste.

1 cup butter,

4 cubes chicken bouillon,

½ tablespoon smoked paprika

Using the paste, coat the outside of the turkey as well as inside the body cavity (whether or not you will be stuffing the turkey, it adds sensational flavoring!) starting with massaging the paste into the breast and working over the legs, wings, back and then the remaining paste inside the turkey.

Stuff your turkey (optional) with prepared stuffing. We do not cook our stuffing this way as the turkey cooks more evenly when left open.

(optional) Place a quartered orange and fresh thyme herbs inside the cavity for aroma and flavoring.

1 whole orange,

4 sprigs thyme

Pour 2 cups chicken broth into the bottom of the roasting pan (water will work too, water or broth will combine with the drippings from your roasting turkey and can be used for turkey gravy base).

Leave your turkey uncovered and place the roasting pan with seasoned turkey into the oven. Reduce the oven temperature to 350°F (175°C) and cook for 13 minutes per pound (without stuffing) or 15 per pound (with stuffing).

Every 45 minutes, remove the turkey from oven and baste with the drippings and then return to the oven and allow to continue cooking. Be sure to close the oven while basting, to keep your oven temperature steady for proper roasting time.

*At the second basting interval is when I start checking the internal temperature of my turkey with a meat thermometer. **It is also when I evaluate the appearance of the skin, and I may choose to cover the cooking turkey loosely with a sheet of aluminum foil at this point to keep from over-cooking the skin and turkey breast.

Remove your turkey from the oven when it reaches 155-160°F (68-71°C).

Carefully transfer the cooked turkey to a cutting board or serving platter, cover loosely with aluminum foil, then save the drippings for gravy if desired. Allow your turkey to rest for approximately half the roasting time (ex. 1 ½ hours resting time for a 3 hour roasting time).
Equipment You May Need
Notes
Leftover turkey can be refrigerated for 4-5 days in an air tight container, or frozen for up to 2 months in an air tight container.
Nutrition
Calories:
674
kcal
(34%)
|
Carbohydrates:
2
g
(1%)
|
Protein:
82
g
(164%)
|
Fat:
37
g
(57%)
|
Saturated Fat:
15
g
(94%)
|
Cholesterol:
311
mg
(104%)
|
Sodium:
699
mg
(30%)
|
Potassium:
904
mg
(26%)
|
Fiber:
1
g
(4%)
|
Sugar:
1
g
(1%)
|
Vitamin A:
867
IU
(17%)
|
Vitamin C:
9
mg
(11%)
|
Calcium:
54
mg
(5%)
|
Iron:
3
mg
(17%)
menu planning, Oven Roasted Turkey, Thanksgiving, Thanksgiving Guide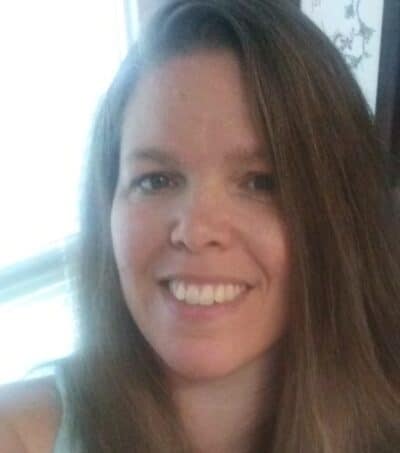 Angela is an at home chef that developed a passion for all things cooking and baking at a young age in her Grandma's kitchen. After many years in the food service industry, she now enjoys sharing all of her family favorite recipes and creating tasty dinner and amazing dessert recipes here at Bake It With Love!