Classic Turkey Gravy is a family tradition at holidays whenever turkey is served. Our homemade turkey gravy is made using the roasted turkey drippings and slowly simmered turkey neck and giblets, for a wonderfully flavorful gravy.
Classic Turkey Gravy Recipe
This super easy gravy takes just minutes to prepare and you'll be so thankful you skipped the store bought version!
The recipe below is using two cups of drippings, which I have never had any issue with being short of drippings (especially when I use 2 cups of chicken broth in the roasting pan of my turkey - to baste the turkey with while cooking). I do have an issue with running out of gravy, potentially at meal time, so we make a standard large batch of gravy rather than using a recipe that needs to be doubled, tripled or more. You wouldn't want to come short of being able to fill your mountain of mashed potatoes appropriately 🙂
What Do I Do With Turkey Neck & Giblets?
One step that we do, that is completely optional but it does help to enhance that wonderful turkey gravy flavor - is to cover the neck and giblets with broth and water, and allow them to slowly simmer while the turkey is roasting. We will combine the broth that we simmered the neck and giblets in with the broth and drippings in the roasting pan to be the liquid base of our gravy.
When roasting my holiday turkey(s), I usually have some fresh herbs that I am using. Whatever herb or herbs I have on hand, I like to add to my simmering turkey neck and giblets. Typically I will use thyme, rosemary, or sage - or a combination. I like to combine thyme and rosemary, or rosemary and sage. I almost always have parsley on hand, and it has a great flavor when added to turkey or chicken gravy
Some people really enjoy having the giblets finely chopped and included in the resulting turkey gravy. This version is completely possible when my husband is handling the holiday cooking!
How Do I Thicken The Gravy?
Typically a portion of flour or cornstarch is used, combined with cold water (using more water with cornstarch than with flour) to make a slurry, then whisked into your gravy. This option of adding flour or cornstarch at the end of the gravy process can result in lumpy gravy.
How Do I Get Lumps Out Of My Gravy?
Making gravy without lumps is easier when you make your roux with an appropriate amount of flour at the beginning of the cooking process. If you do need to add more flour or cornstarch to thicken your gravy, and you end up with a lumpy gravy, you can run the gravy through cheesecloth or a fine sieve strainer to remove the lumps.
I prefer to add some heavy cream at the end of my gravy making process. It adds a richness that is divine, plus it naturally thickens up your gravy that last bit that you may need or want for your holiday meal.
What Do I Need For Turkey Gravy?
The base ingredients needed for your turkey gravy include:
Fat (from turkey drippings and/or butter) - the fat is the base of the gravy, that when combined with flour will create the roux needed to give your turkey gravy that perfect gravy consistency.
Flour - mixed with the fat to create the roux that is the base of your turkey gravy. Flour is what helps to thicken your gravy.
Liquids - are the bulk of your gravy, and the amount of liquid used will determine the number of servings your gravy will yield. Your amount of liquid to the amount of flour and fat used to make the roux, will determine how thick or thin the resulting gravy will be.
Butter - used to supplement the fat from the turkey drippings, or at the end of the gravy making process to add a 'shine' and rich, creamy quality to the perfect turkey gravy.
Salt & Pepper - and I like to use white pepper for mine, but the basic flavor is determined by seasoning. Add salt and pepper to taste when making your gravy. Fresh ground pepper is a flavorful addition, also peppercorns added to the broth while simmering the neck and giblets add a fantastic flavor.
Our Thanksgiving Turkey Dinner Dishes
Classic Turkey Gravy
A perfectly rich and creamy (and lump free!) version of the classic turkey gravy is easy to achieve.
Total Time
3
hours
30
minutes
Pin Recipe
Share on Facebook
Ingredients
drippings from oven roasted turkey

(separate fat, then combine with broth to make a total of 8 cups liquid)

8

c

chicken broth or turkey stock

(combine with drippings to make a total of 8 cups liquid)

1

bay leaf

2-3

sprigs

thyme

(fresh, or ½ Tbsp dried - rosemary and/or sage would work)

turkey neck and giblets

(from turkey - remove the liver and discard)

½

c

all-purpose flour

1

Tbsp

butter

(salted)

salt & white pepper

(to taste)

¼

c

heavy cream

(optional)
Love This Recipe?
Click on a star to rate it!
Instructions
Remove turkey neck and giblets (discard the liver) from raw, thawed turkey before roasting. Place in a saucepan with 2 cups chicken stock and add water to cover the neck and giblets with 2 inches of liquid.

Add bay leaf, herbs and seasoning (salt, pepper, thyme, rosemary, and/or sage, peppercorns) and simmer on low while the turkey is roasting.

When the turkey is out of the oven, remove to a cutting board or serving platter, cover and allow to rest. Drain off the drippings (which includes 2 cups broth when we roast our turkey) from the roasting pan into a degreasing cup or a 4 cup Pyrex glass liquid measuring cup. Make sure to scrape all of the browned bits from the roasting pan, using a wooden spoon, and into the cup with the drippings.

Allow the drippings and fat to separate, the fat will rise and start to solidify. So even if you don't have a degreasing cup, you can spoon the separated fat from the top of your measuring cup (after about 10 minutes)

Bring a large saucepan to medium high heat. Add about a ½ cup of the separated fat to the heated saucepan and sprinkle the flour into the pan, stirring constantly, to make your roux. Keep stirring as your roux darkens, approximately 3-4 minutes. *You can enhance your gravy flavor by allowing the roux to get darker, however, the darker the roux gets the less thickened your resulting gravy will be.

For your liquid: combine the simmered broth from the turkey neck and giblets (strained) to the liquid portion of the turkey drippings (after the fat has been removed) to make 8 cups of liquid, add turkey stock or chicken broth as needed to reach the 8 cup portion.

Reheat liquid, if needed, as the liquid should be hot when added to your roux. Gradually whisk in the liquid (whisking constantly to prevent lumps) until all of the liquid is added.

Bring the gravy to a boil, then reduce heat to medium low. Simmer until thickened, whisking occasionally, for about 10 minutes. *You can add the chopped giblets and shredded meat from the turkey neck before simmering, if desired.

Remove from heat and finish with 1 Tbsp of butter, salt and pepper to taste. Add optional heavy cream for a super creamy gravy, or to thicken your gravy (without using additional flour or cornstarch).
Nutrition
Calories:
49
kcal
(2%)
|
Carbohydrates:
4
g
(1%)
|
Protein:
1
g
(2%)
|
Fat:
2
g
(3%)
|
Saturated Fat:
1
g
(6%)
|
Cholesterol:
7
mg
(2%)
|
Sodium:
438
mg
(19%)
|
Potassium:
101
mg
(3%)
|
Fiber:
1
g
(4%)
|
Sugar:
1
g
(1%)
|
Vitamin A:
82
IU
(2%)
|
Vitamin C:
8
mg
(10%)
|
Calcium:
9
mg
(1%)
|
Iron:
1
mg
(6%)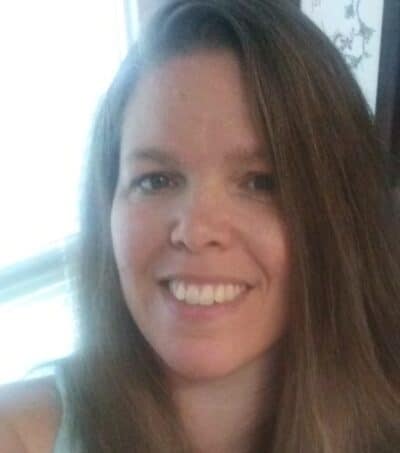 Angela is an at home chef that developed a passion for all things cooking and baking at a young age in her Grandma's kitchen. After many years in the food service industry, she now enjoys sharing all of her family favorite recipes and creating tasty dinner and amazing dessert recipes here at Bake It With Love!