With Thanksgiving literally just around the corner, I thought I would share my tried and true method for presenting the perfect Oven Roasted Turkey. This is one of the easiest ways ever to make sure that your holiday turkey turns out beautifully browned, tender, moist and super tasty!
Oven Roasted Turkey Recipe
Since both my husband and I love to cook, you know that we love to host gatherings whenever we can. And when we do, we know that using these tips and tricks will result in a perfectly roasted turkey every time.
Turkey Roasting FAQ's
Here are some quick answers to our most commonly asked questions about how to properly roast a turkey.
How Do I Properly Thaw A Frozen Turkey?
Thawing times for a frozen turkey are based on weight increments. For every 5 pounds of turkey, allow 24 hours to thaw in a refrigerator (ex: thaw a 20 lb turkey for 4 days refrigerated). For every pound of turkey, allow 30 minutes to thaw in cold water that is refreshed every 30 minutes (refill with cold water to avoid the water temperature becoming tepid - see notes in next section).
Can I Thaw My Turkey At Room Temperature?
Thawing should be done in the refrigerator or cold water for safe eating. When left on the counter (or in cold water in the sink overnight), bacteria can breed in temperatures ranging from 40 - 140 degrees F (4 - 60 degrees C). The skin and outer layer of meat can be in this unsafe temperature range when left out either on the countertop to thaw, or in a sink filled with water.
What Temperature Should I Roast My Turkey At?
There are differing opinions, but the best temperature to roast your turkey at is either 325 degrees F (162 degrees C) or 350 degrees F (175 degrees C). We prefer to roast turkey at 350 degrees F (175 degrees C), as noted in our recipe instructions below. *325 degrees F (162 degrees C) is the lowest safe temperature to roast a turkey at, as recommended by the USDA.

How Long Do You Cook Turkey?
Generally speaking, a turkey that has not been stuffed needs 13 minutes per pound to cook thoroughly. When the turkey is not stuffed, the body cavity is left open which allows the turkey to cook from the inside as well as the outside. This results in a faster cooking time. If you have stuffed the turkey, it will need about 15 minutes per pound to cook.
You can also ensure a thoroughly cooked turkey by removing the wings and legs, or by cutting at the thigh joint allowing the thigh quarter to fall away from the body, but both of these options affect presentation at holiday meals.
Leaving your turkey un-trussed will also help to make sure that it cooks evenly, but with the appropriate resting time (as photo shows on this page) you can leave the turkey whole, trussed and all, with beautiful results!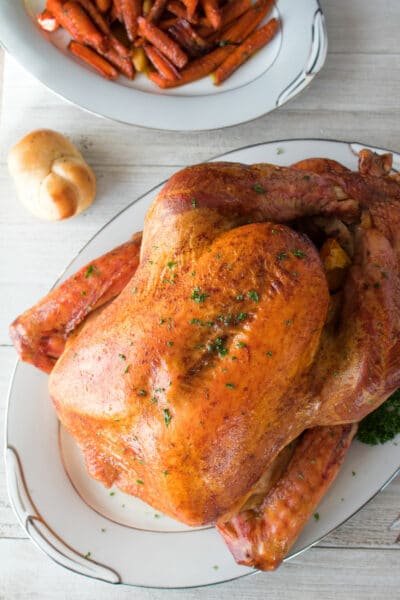 Should I Cover My Turkey While Cooking?
Roast your seasoned turkey uncovered. I recommend covering the turkey with aluminum foil at a certain point, approximately ⅔ of the way into cooking. You can cover the turkey earlier if the turkey breast appears it is getting too cooked and you are worried about over-cooking the skin or drying out the meat.
When you do cover the turkey with aluminum foil, it should be loosely draped over the top of the turkey. The aluminum foil does not need to be placed on tightly, or wrapped securely around the roasting pan edges.
Why Should I Baste My Turkey?
Basting allows the surface of the turkey to cool, which slows the cooking process and allows the turkey parts to cook at close to the same speed. This way your breast meat, legs, thighs and all of the turkey is cooked through evenly when done. It also returns the liquid from the turkey drippings to the surfaces that are being cooked, and helps to ensure a moist turkey breast.
What Temperature Is Turkey Done Cooking At?
Your turkey is done roasting when the internal temperature reaches 155 - 160 degrees F (68-71 degrees C). This is the best time to remove your oven roasted turkey and allow it to rest. The turkey will continue to cook during the resting period.
Where Do I Check The Temperature of Roasted Turkey?
Check your turkey's temperature with an instant read meat thermometer at the thickest portions of the meat in the breast and in the thigh (which is the slowest portion of turkey to cook through).
How Long Should My Oven Roasted Turkey Rest Before Serving?
Half of the oven cooking time is the proper resting period for your turkey or any oven roasted meat. I can't emphasize this enough! And it's the perfect time to make your potatoes, green beans, rolls, etc.
We see alot of recipes, guides, and instructions that are leaving out the very important step of resting. You might not think much about it, other than being enough time to get your turkey gravy ready. However, your resting time for the turkey (and any roasted meat) is very important. All of those juices that are inside the turkey are drawn to the center while cooking, and will redistribute out evenly through the cooked meat when allowed to sit aside from heat for a proper resting period.
Think about it in terms of a steak...when you cut into a freshly cooked steak, all of the juices will run out onto your plate. However, if the steak has been allowed to rest the juices will remain in the meat and not on your plate.
What Do I Do With Turkey Leftovers?
As noted in the recipe below, you can store your leftover turkey in an airtight container either in the refrigerator (for 4-5 days) or in the freezer (for up to two months). *It is important to note that all of your leftover turkey should be stored within two hours of carving and serving the roasted turkey.
Our Thanksgiving Turkey Dinner Dishes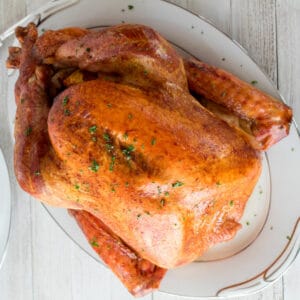 Print Recipe
Leave A Comment
Love This Recipe?
Click On A Star To Rate It!
Oven Roasted Turkey
Holiday meals are made easy with this super tasty oven roasted turkey that turns our beautifully every time!
Servings:
12
1 turkey = 12 servings
Cooking
3
hours
30
minutes
Resting Time
1
hour
45
minutes
Total Time
5
hours
30
minutes
Pin Recipe
Share on Facebook
Ingredients
14

lb

turkey

(thawed)

1

c

butter

(1 stick, melted)

4

cubes

chicken bullion

½

tablespoon

smoked paprika

1

orange

(optional - quartered)

4

sprigs

thyme

(optional - fresh)

2

c

chicken broth
Instructions
Preheat oven to 450 degrees F (232 degrees C) and place a roasting rack or tray in your large roasting pan.

Remove thawed turkey from packaging, as well as any packages in the cavity (neck, gizzards, heart, liver are usually inside - some turkeys also have a package of gravy base). Rinse turkey inside and out, place in the roasting pan breast side up, then pat dry.

In a small bowl, combine melted butter with chicken bullion cubes and smoked paprika seasoning. Break apart the cubes to make a paste.

Using the paste, coat the outside of the turkey as well as inside the body cavity (whether or not you will be stuffing the turkey, it adds sensational flavoring!) starting with massaging the paste into the breast and working over the legs, wings, back and then the remaining paste inside the turkey.

Stuff your turkey (optional) with prepared stuffing. We do not cook our stuffing this way as the turkey cooks more evenly when left open.

(optional) Place a quartered orange and fresh thyme herbs inside the cavity for aroma and flavoring.

Pour 2 cups chicken broth into the bottom of the roasting pan (water will work too, water or broth will combine with the drippings from your roasting turkey and can be used for turkey gravy base).

Leave your turkey uncovered and place the roasting pan with seasoned turkey into the oven. Reduce the oven temperature to 350 degrees F (175 degrees C) and cook for 13 minutes per pound (without stuffing) or 15 per pound (with stuffing).

Every 45 minutes, remove the turkey from oven and baste with the drippings and then return to the oven and allow to continue cooking. Be sure to close the oven while basting, to keep your oven temperature steady for proper roasting time.

*At the second basting interval is when I start checking the internal temperature of my turkey with a meat thermometer. **It is also when I evaluate the appearance of the skin, and I may choose to cover the cooking turkey loosely with a sheet of aluminum foil at this point to keep from over-cooking the skin and turkey breast.

Remove your turkey from the oven when it reaches 155 - 160 degrees F (68-71 degrees C).

Carefully transfer the cooked turkey to a cutting board or serving platter, cover loosely with aluminum foil, then save the drippings for gravy (if desired). Allow your turkey to rest for approximately half the roasting time (ex. 1 ½ hours resting time for a 3 hour roasting time).
Notes
Leftover turkey can be refrigerated for 4-5 days in an air tight container, or frozen for up to 2 months in an air tight container.
Nutrition
Calories:
674
kcal
(34%)
|
Carbohydrates:
2
g
(1%)
|
Protein:
82
g
(164%)
|
Fat:
37
g
(57%)
|
Saturated Fat:
15
g
(94%)
|
Cholesterol:
311
mg
(104%)
|
Sodium:
699
mg
(30%)
|
Potassium:
904
mg
(26%)
|
Fiber:
1
g
(4%)
|
Sugar:
1
g
(1%)
|
Vitamin A:
867
IU
(17%)
|
Vitamin C:
9
mg
(11%)
|
Calcium:
54
mg
(5%)
|
Iron:
3
mg
(17%)
Christmas, holiday meals, Oven Roasted Turkey, Thanksgiving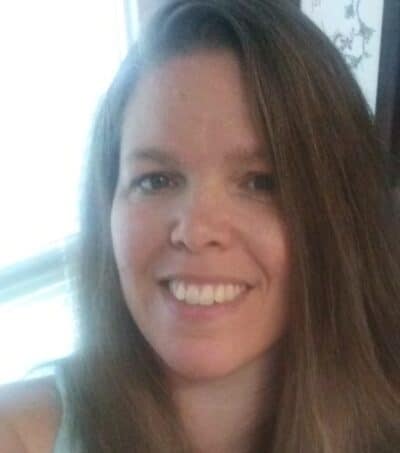 Angela is an at home chef that developed a passion for all things cooking and baking at a young age in her Grandma's kitchen. After many years in the food service industry, she now enjoys sharing all of her family favorite recipes and creating tasty dinner and amazing dessert recipes here at Bake It With Love!