These top 10 Thanksgiving recipes are the most popular and well-loved dishes for families around the United States! In fact, you may not be surprised by the recipes on this list because they are all tried and true holiday classics. When in doubt, serve this traditional Thanksgiving menu and it will surely be a hit!
Most Popular Thanksgiving Recipes
If it's your year to host Thanksgiving dinner, you can't go wrong with any of these recipes. They are the dishes you expect to see on the table every holiday!
From turkey to pumpkin pie, the most popular Thanksgiving menu items can be found right here. Throw a legendary get-together by adding them to your holiday spread!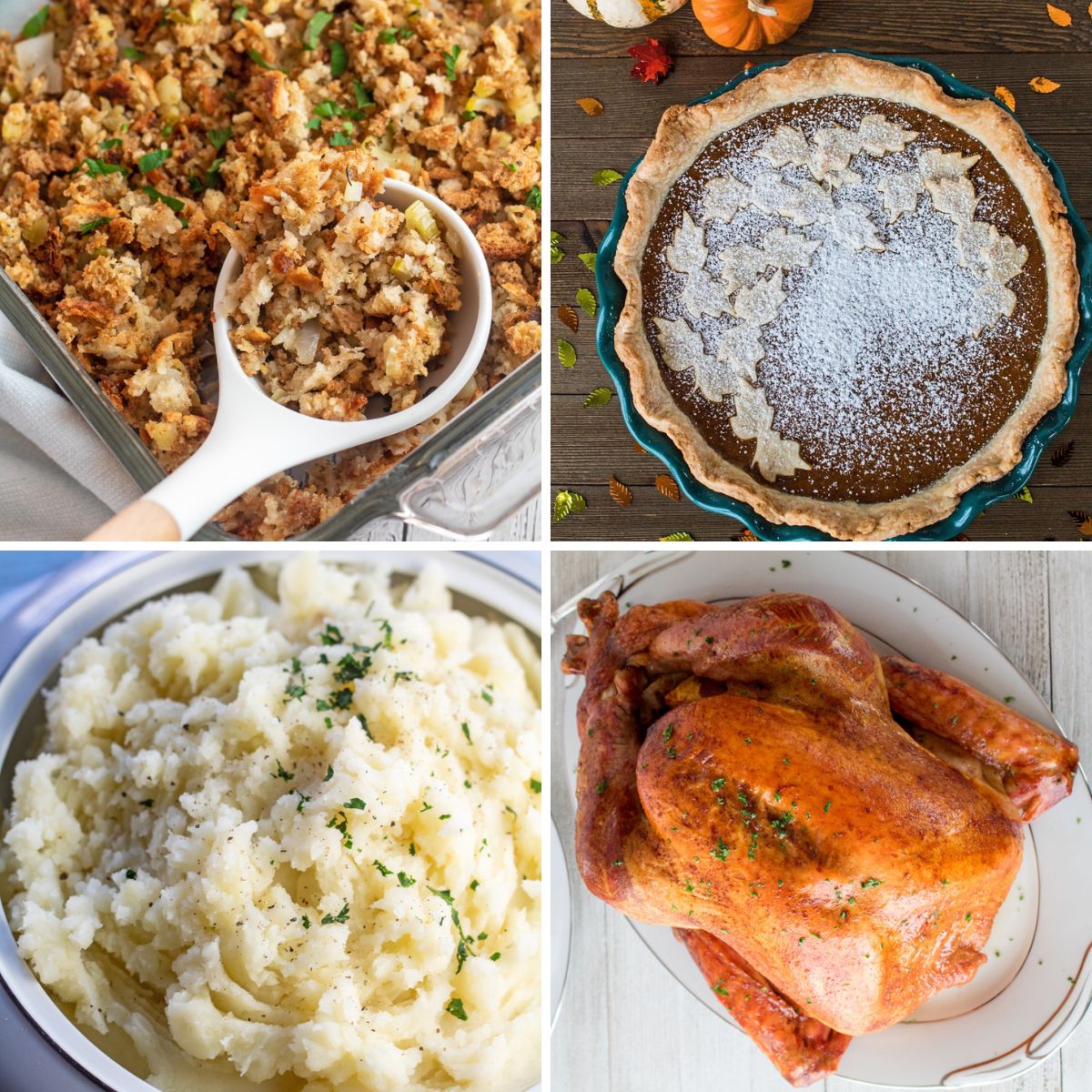 Jump to:
Whether you're a pro at hosting Thanksgiving dinner and holiday parties or giving it a try for the first time this year, you're sure to find my ultimate guide to planning Thanksgiving a help! Don't forget to safely thaw your holiday turkey early too!
Holiday Recipes For A Classic Thanksgiving Dinner
These recipes are served on thousands of Thanksgiving tables every year. They are guaranteed to help you pull off the perfect holiday spread for your family!
1. Roast Turkey
It should be no surprise that a roasted turkey is on this menu! In fact, it is the symbol of Thanksgiving.
This oven-roasted recipe is one of the easiest ways to turn out a perfectly cooked turkey. The skin is delectably crispy while the meat stays moist and tender!
Oven Roasted Turkey
Holiday meals are made easy with this super tasty oven roasted turkey that turns our beautifully every time!
Check out this recipe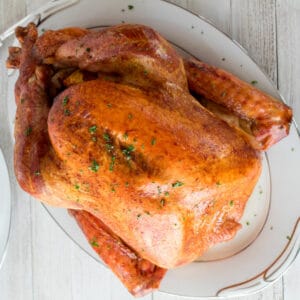 2. Mashed Potatoes
I'm a fan of mashed potatoes year-round, but there's something special about them on Thanksgiving. Potatoes make the perfect base for building your plate!
Mix them with some gravy or turkey, I even mix them with veggies like peas and carrots (on my own plate, of course). Thanksgiving dinner would not be complete without mashed potatoes on the menu!
You might also love my easy make ahead mashed potato casserole or the tasty bacon cream cheese mashed potatoes. Yum!
Mashed Potatoes Without Milk
These super easy mashed potatoes without milk are the best way to serve your mashed potato dishes without the addition of dairy! This recipe is perfect for vegans or anyone who is sensitive to dairy, and it's just as delicious as classic mashed potatoes!
Check out this recipe
3. Stuffing
Whether you stuff your turkey or serve it on the side, stuffing is another Thanksgiving must-have. This easy recipe is perfect for cutting back on prep time.
You can use your favorite prepared stuffing cubes instead of slicing and dicing bread! Try my fantastic cornbread stuffing too!
Easy Stuffing
Easy stuffing is a cornerstone recipe to Thanksgiving dinner, holiday meals, and amazingly tasty family dinners all year long! Classic ingredients including celery, onion, and ready-to-use stuffing cubes combine with tasty herbs to complement so many dishes!
Check out this recipe
4. Turkey Gravy
Savory brown turkey gravy is delicious on everything from turkey to potatoes to rolls! Save the drippings from your roasted turkey to make this rich and creamy sauce.
It only takes a few minutes to make. Plus, it's incredibly better than the store-bought kind!
Classic Turkey Gravy
Classic turkey gravy is made using roasted turkey drippings and slowly simmered turkey neck and giblets for a flavorful gravy! It is rich, creamy, and amazingly smooth. This super easy gravy takes just minutes to prepare and you'll be so thankful you skipped the store-bought version!
Check out this recipe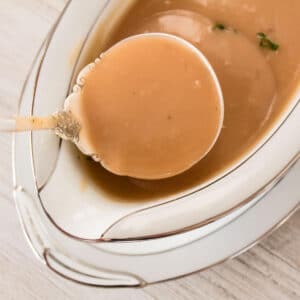 5. Mac and Cheese
Mac and cheese is an indulgent side dish that kids and adults love! There are a million ways to make it, but this white cheddar version pairs wonderfully with other thanksgiving flavors.
It's incredibly easy to make on the stovetop. And the flavor is unmatched! Save the stove top for other cooking if needed, and make my crockpot mac and cheese instead!
White Cheddar Mac and Cheese
My white cheddar mac and cheese is loaded with delicious sharp white cheddar in a creamy sauce that's in every tender bit of the macaroni pasta! It's also incredibly easy to make with this simple stove top method that everyone is sure to love!!
Check out this recipe
6. Pumpkin Pie
Pumpkin pie is another classic symbol of Thanksgiving. Yes, you can buy it at the store, but a homemade pie is much more delicious!
I like to decorate mine with autumn leaves cut from the dough. It looks beautiful on the table and tastes even better!
Pumpkin Pie
This easy-to-make pumpkin pie is a staple of holiday traditions that you should definitely try your hand at! The delicious, sweet spices make this pie a pleasure, filled with warmth and goodness that is so comforting! The tantalizing aroma of homemade pumpkin pie baking in the oven is a well-loved part of all of my holiday memories!
Check out this recipe
7. Cranberry Sauce
Every family has its own version of cranberry sauce! My favorite is this apple cider cranberry sauce because adding fresh apples softens the tart cranberry flavor!
It's optional, but a sprinkle of orange zest on top really makes this cranberry sauce pop. Give it a try at your family Thanksgiving this year!
Apple Cider Cranberry Sauce
My apple cider cranberry sauce is the perfect blend of spiced apples, sweet sparkling apple cider, and tangy cranberries for Thanksgiving! It's an easy-to-make cranberry sauce that is sure to be a new family favorite for the holidays!
Check out this recipe
8. Green Bean Casserole
Green bean casserole is another Thanksgiving tradition. Particularly the classic recipe made with cream of mushroom soup, canned green beans, and crispy fried onions.
I add in some crispy bacon and cheddar cheese. It's an easy upgrade that adds so much flavor!
Bacon Cheddar Green Bean Casserole
Serve this amazing bacon cheddar green bean casserole for a tasty upgrade to the easy classic recipe that everyone is sure to love! The traditionally used cream of mushroom is enhanced with grated cheddar then topped with crisped bacon along with the fried onions - and it's so tasty!!
Check out this recipe
9. Sweet Potato Casserole
Sweet potato casserole is a sweet side dish that I look forward to every year. Creamy sweet potatoes with a gooey toasted marshmallow topping and crunchy pecans make for an irresistible addition to any table.
Check out my list of classic Thanksgiving side dishes for more recipe ideas!
10. Dinner Rolls
Last, but certainly not least, is fluffy dinner rolls! Perhaps the most inexpensive and easy to make on this list, these rolls really help tie the other dishes together.
Butter them up, load them with turkey and make sliders, or use them to sop up potatoes and gravy. Dinner rolls are so versatile!
Butter Herb Rhodes Rolls
These butter herb Rhodes rolls are soft, fluffy, and delicious dinner rolls that make a wonderful addition to any weeknight dinner! Rhodes rolls are first thawed and set out to rise, then baked with a tasty herb-infused butter. With a prep time of only 5 minutes and a short baking time, you can have pull-apart rolls ready for dinner or any holiday gathering in a jiffy!
Check out this recipe
I hope your family enjoys these traditional Thanksgiving recipes! Come back and let me know how they turned out by dropping a comment below!
🦃 More Thanksgiving Recipes
See more Thanksgiving →
📋 Recipe
Print Recipe
Leave A Comment
Love This Recipe?
Click On A Star To Rate It!
Top 10 Thanksgiving Recipes: Classic Turkey Gravy (+More Best Loved Recipes!)
These top 10 Thanksgiving recipes are the most popular and well-loved dishes for families around the United States! In fact, you may not be surprised by the recipes on this list because they are all tried and true holiday classics. When in doubt, serve this traditional Thanksgiving menu and it will surely be a hit!
Total Time
3
hours
30
minutes
Pin Recipe
Share on Facebook
Ingredients
2

cups

drippings from oven roasted turkey

(separate fat, then combine with broth to make a total of 8 cups liquid)

6

cups

chicken broth or turkey stock

(combine with drippings to make a total of 8 cups liquid)

1

bay leaf

2-3

sprigs

thyme

(fresh, or ½ tablespoon dried - rosemary and/or sage would work)

turkey neck and giblets

(from turkey - remove the liver and discard)

½

cup

all-purpose flour

1

tablespoon

butter

(salted)

salt & white pepper

(to taste)

¼

cup

heavy cream

(optional)
Instructions
Remove turkey neck and giblets (discard the liver) from raw, thawed turkey before roasting. Place in a saucepan with 2 cups chicken stock and add water to cover the neck and giblets with 2 inches of liquid.

Add bay leaf, herbs, and seasoning (salt, pepper, thyme, rosemary, and/or sage, peppercorns) and simmer on low while the turkey is roasting.

1 bay leaf,

2-3 sprigs thyme

When the turkey is out of the oven, remove to a cutting board or serving platter, cover and allow to rest. Drain off the drippings (which includes 2 cups broth when we roast our turkey) from the roasting pan into a de-greasing cup or a 4-cup Pyrex glass liquid measuring cup. Make sure to scrape all of the browned bits from the roasting pan, using a wooden spoon, and into the cup with the drippings.

Allow the drippings and fat to separate, the fat will rise and start to solidify. So even if you don't have a de-greasing cup, you can spoon the separated fat from the top of your measuring cup (after about 10 minutes)

Bring a large saucepan to medium high heat. Add about a ½ cup of the separated fat to the heated saucepan and sprinkle the flour into the pan, stirring constantly, to make your roux. Keep stirring as your roux darkens, approximately 3-4 minutes. *You can enhance your gravy flavor by allowing the roux to get darker, however, the darker the roux gets the less thickened your resulting gravy will be.

For your liquid: combine the simmered broth from the turkey neck and giblets (strained) to the liquid portion of the turkey drippings (after the fat has been removed) to make 8 cups of liquid, add turkey stock or chicken broth as needed to reach the 8 cup portion.

6 cups chicken broth or turkey stock,

2 cups drippings from oven roasted turkey

Reheat the liquid, if needed, as the liquid should be hot when added to your roux. Gradually whisk in the liquid (whisking constantly to prevent lumps) until all of the liquid is added.

Bring the gravy to a boil, then reduce heat to medium low. Simmer until thickened, whisking occasionally, for about 10 minutes. *You can add the chopped giblets and shredded meat from the turkey neck before simmering, if desired.

Remove from heat and finish with 1 tablespoon of butter, salt and pepper to taste. Add optional heavy cream for a super creamy gravy, or to thicken your gravy (without using additional flour or cornstarch).

1 tablespoon butter,

salt & white pepper,

¼ cup heavy cream
Equipment You May Need
Notes
Whatever herb or herbs I have on hand, I like to add to my simmering turkey neck and giblets. Thyme, rosemary, or sage - or a combination are great!
Some people really enjoy having the giblets finely chopped and included in the resulting turkey gravy. Feel free to add them to your gravy!
This recipe is using two cups of drippings. I have never had any issue with being short of drippings (especially when I use 2 cups of chicken broth in the roasting pan of my turkey - to baste the turkey with while cooking).
To store: Store your homemade turkey gravy in an airtight container in the fridge for up to 3 days.
To reheat: Pour your leftover gravy into a saucepan, add some broth (the more you add, the thinner it will be), and then cook over medium-low heat until warmed all the way through.
Nutrition
Calories:
49
kcal
(2%)
|
Carbohydrates:
4
g
(1%)
|
Protein:
1
g
(2%)
|
Fat:
2
g
(3%)
|
Saturated Fat:
1
g
(6%)
|
Cholesterol:
7
mg
(2%)
|
Sodium:
438
mg
(19%)
|
Potassium:
101
mg
(3%)
|
Fiber:
1
g
(4%)
|
Sugar:
1
g
(1%)
|
Vitamin A:
82
IU
(2%)
|
Vitamin C:
8
mg
(10%)
|
Calcium:
9
mg
(1%)
|
Iron:
1
mg
(6%)
best classic turkey gravy recipe, Christmas, Classic Turkey Gravy, from scratch, giblet turkey gravy, giblets, holiday meals, Homemade, how to make turkey gravy, how to make turkey gravy with neck and giblets, Thanksgiving, turkey drippings, turkey gravy ingredients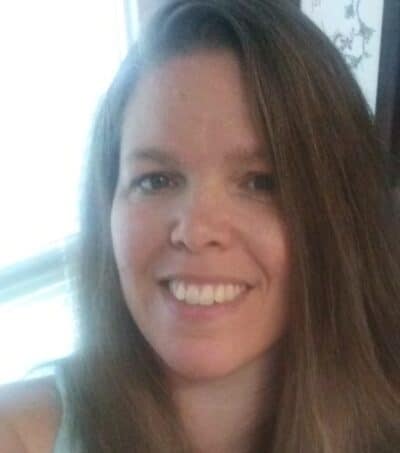 Angela is an at home chef that developed a passion for all things cooking and baking at a young age in her Grandma's kitchen. After many years in the food service industry, she now enjoys sharing all of her family favorite recipes and creating tasty dinner and amazing dessert recipes here at Bake It With Love!