These budget Thanksgiving menu ideas are totally tasty and they will feed the whole family without hurting your wallet! This list has it all: turkey, side dishes, desserts, you name it. Feed the whole family without breaking the bank by trying out this easy and affordable Thanksgiving dinner menu!
Budget-Friendly Thanksgiving Recipes
Nowadays, finding anything for a reasonable price is a feat in and of itself. Particularly around the holidays when the prices of anything even remotely holiday-related skyrocket.
Well, there's no need to panic because we have gathered some fabulous holiday-worthy dishes that won't cost an arm and a leg. Hosting Thanksgiving dinner can get pricey, but with these affordable recipes, you won't have to stress!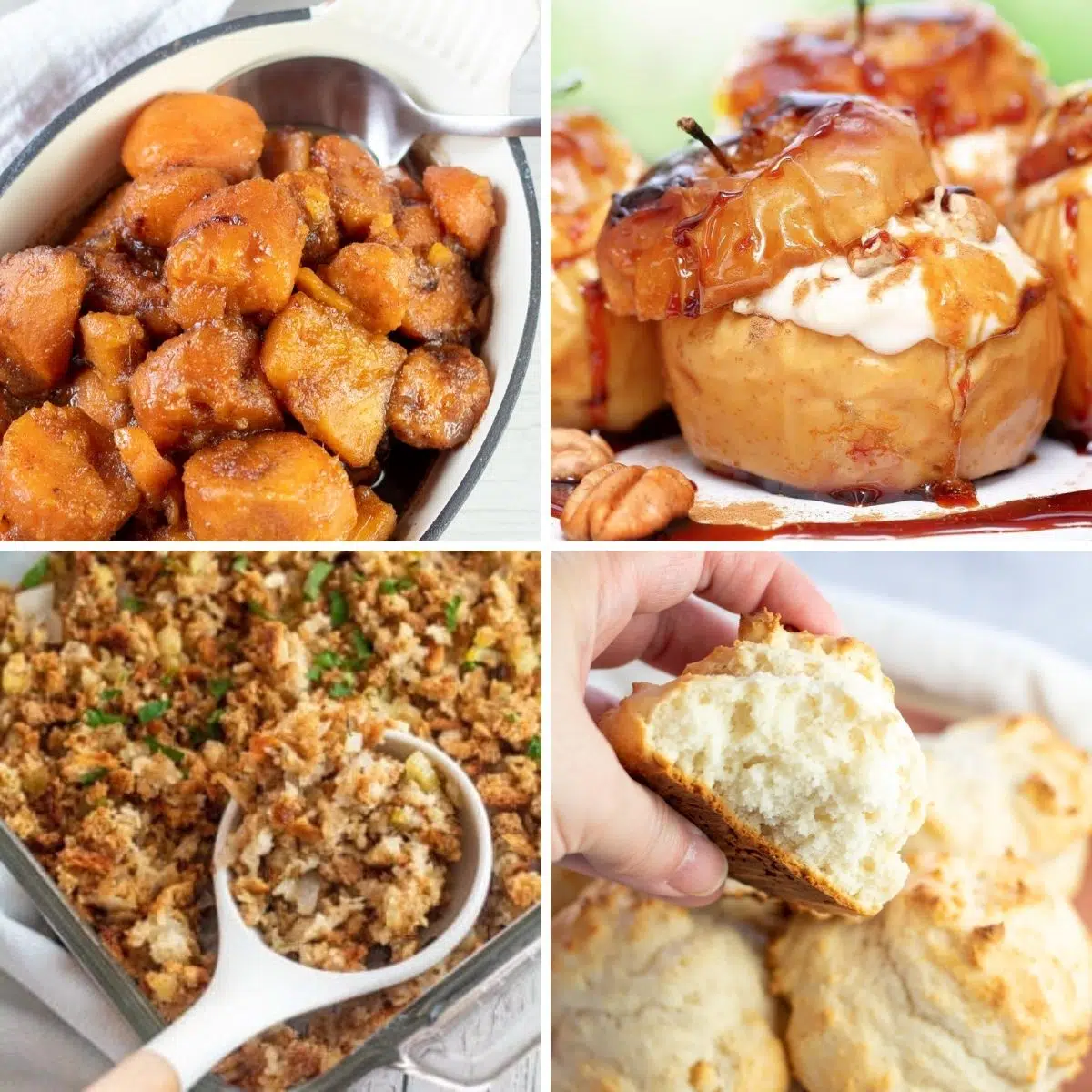 Jump to:
Whether you're a pro at hosting Thanksgiving dinner and holiday parties or giving it a try for the first time this year, you're sure to find my ultimate guide to planning Thanksgiving a help! Don't forget to safely thaw your holiday turkey early, too!
Budget Friendly Thanksgiving Menu Ideas For An Affordable Holiday Meal
If you're trying to whip up Thanksgiving dinner on a budget, you can't go wrong with any of these recipes. No one will know you cut any corners!
1. Baked Sweet Potatoes
Baked sweet potatoes are filling and inexpensive! You can top them off with a pat of butter or dress them up with things like cinnamon and brown sugar.
You can always splurge a little and mix in some cooked sausage for a more savory stuffing.
2. Easy Stuffing
Just like the name suggests, this stuffing is easy to make! Simply take your favorite boxed stuffing cubes and add some common and inexpensive veggies.
It has that classic flavor we all expect from Thanksgiving stuffing, but for just a few bucks! You can always add in some cooked sausage for extra flavor!
3. Honey Glazed Carrots
Carrots are quite inexpensive, as are the few other ingredients in this recipe. Though combined they make a sweet and herbaceous vegetable side dish worthy of any restaurant!
Cook your carrots until they are as tender as you like, then enjoy!
4. Bisquick Biscuits
A box of Bisquick is just a few bucks and the biscuits are heavenly! In fact, these biscuits only require 2 ingredients: Bisquick and milk!
These biscuits are perfect for soaking up sauce or gravy, and they bake in just 15 minutes!
5. Sauteed Zucchini and Yellow Squash
Fresh veggies are always a good buy. Try making some simple, yet delicious, sauteed zucchini and summer squash!
This 10-minute recipe couldn't be more simple. All you need is the squash, olive oil, and a sprinkle of garlic and parmesan!
6. Candied Yams
This easy and delicious recipe is a favorite from my childhood! Canned yams are the key ingredient, and you can find them for a more than reasonable price.
Add some butter, brown sugar, and mini marshmallows, and you have an incredible Thanksgiving classic for just a few bucks.
7. Roasted Butternut Squash
1 butternut squash goes a long way and they are only a few bucks! It gets perfectly tender and slightly caramelized in the oven with almost no effort at all.
You only need 3 ingredients. Butternut squash, olive oil, and salt & pepper!
8. Jiffy Cornbread
Jiffy baking mix is the secret to affordable and delicious homemade cornbread! It usually requires sour cream, though I have provided a list of alternatives if sour cream isn't an option.
I love adding jalapeno and red bell pepper for a Tex-Mex twist, though you can totally make this cornbread without and it's still just as tasty!
9. Baked Apples
Baked apples are an affordable dessert that is full of fall flavor! They are full of brown sugar, butter, and cinnamon.
A scoop of ice cream really elevates them as a dessert. However, they are still an incredibly satisfying sweet treat!
10. Pumpkin Pie
When you are using canned pumpkin pie filling, pumpkin pies are not particularly pricy. A storebought pie crust, the filling, 1 egg, and some evaporated milk are really all you need (other than some common seasonings).
I even have a recipe for pumpkin pie without evaporated milk if you prefer!
11. Roasted Brussel Sprouts
You can get a huge bag of brussel sprouts for cheap and they don't take much to make them delicious! Just some salt, pepper, and olive oil!
You can always add things like sliced almonds, crispy bacon bits, or sauteed garlic and onion. Though they are still delicious without any additions!
12. Roasted Turkey Breast
Rather than cooking a whole 10-20 pound turkey, try making just a turkey breast! It's perfect if you are only serving 2-5 people and significantly less than a heavy turkey purchased by the pound.
13. Sauteed Green Beans
Some tender-crisp sauteed green beans are a great vegetable to serve on Thanksgiving. They are readily available and inexpensive, too!
Not to mention, sauteed green beans are incredibly healthy. It's a great way to balance all the after-dinner desserts!
14. Apple Crisp
If you like to bake, you likely have all of these ingredients and will just need to pick up some fresh apples! Apple crisps are full of fall flavor and super easy to make!
The crumbly oatmeal streusel topping is what makes this dessert so irresistible!
15. Pumpkin Dump Cake
It's called a 'dump' cake because you just dump all the ingredients in a dish and bake! It's a great alternative to traditional pumpkin pie that is inexpensive and can feed a crowd.
A box of spiced cake mix is the secret to this fabulous fall dessert. The other ingredients are just baking staples and canned pumpkin pie filling!
16. Creamed Corn
This recipe is 1000x more delicious than anything you can get in a can! Using a bag of frozen corn is cheap and cuts back on prep time.
Otherwise, you just need butter, flour, milk, sugar, and salt & pepper to taste!
I hope these budget Thanksgiving menu ideas helped ease some of your holiday stress. Be sure to let me know which recipes you tried in the comments below!
🦃 More Thanksgiving Recipes
See more Thanksgiving →
📖 Recipe Card