These buffet Thanksgiving menu ideas are just what you need if you are having a large get-together and need to feed a crowd! Each of these dishes can be self-served so everyone can build the perfect Thanksgiving plate! There's roast turkey, side dishes, desserts, and anything else you could need!
Buffet Style Thanksgiving Recipes
Holiday get-togethers can often be stressful, especially if it's your year to host. Letting guests build their own plates will take a load of weight off your shoulders!
With these crowd-pleasing recipes, you don't have to worry about dietary restrictions or picky eaters. They can make their ideal Thanksgiving plate while you enjoy yours!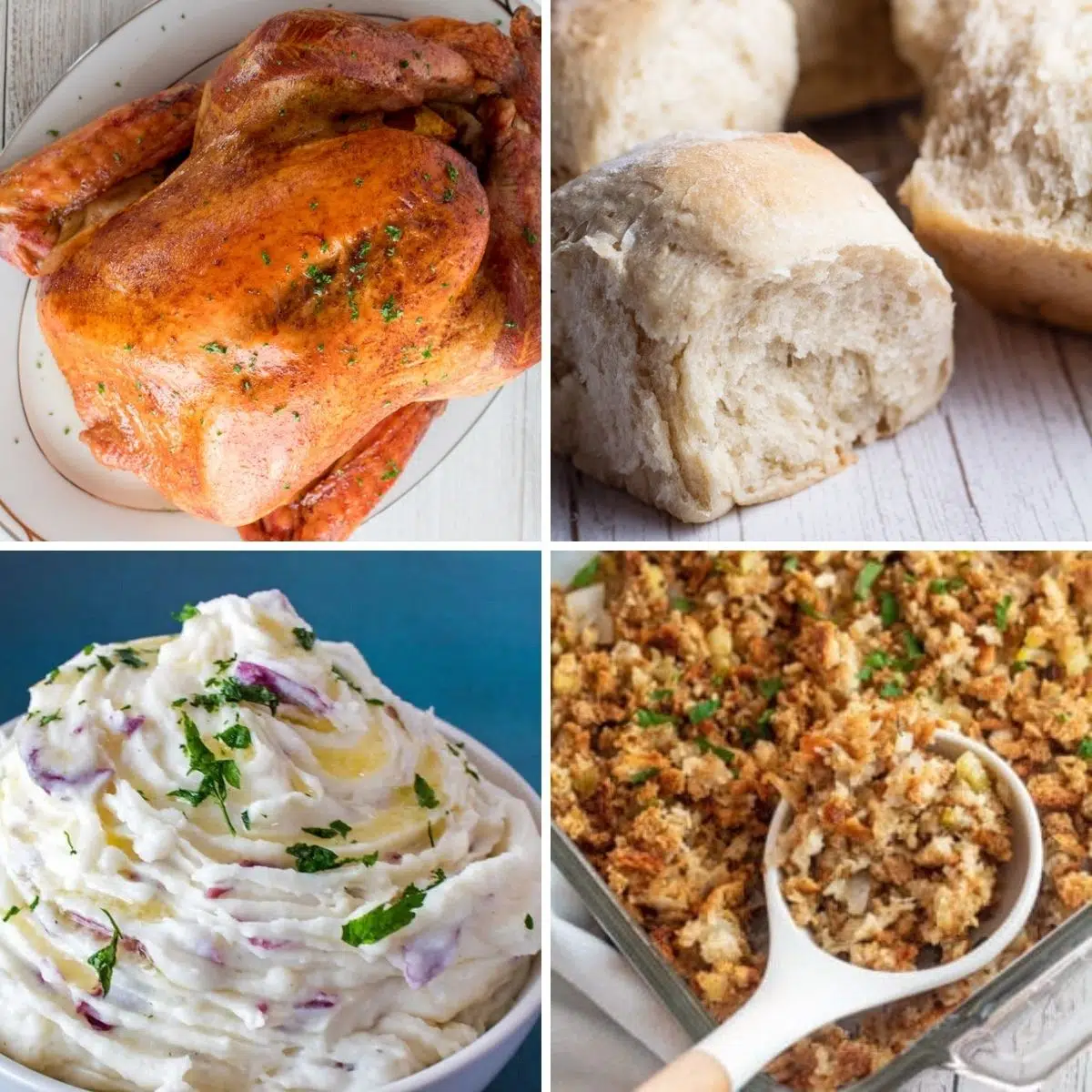 Jump to:
Whether you're a pro at hosting Thanksgiving dinner and holiday parties or giving it a try for the first time this year, you're sure to find my ultimate guide to planning Thanksgiving a help! Don't forget to safely thaw your holiday turkey early, too!
Thanksgiving Menu Ideas For A Buffet Style Holiday Meal
If you have a large family or you are the go-to house for friends on holidays, a buffet-style meal will make hosting so much easier. Let everyone serve themselves by using these recipes to create the perfect Thanksgiving spread!
1. Roasted Turkey
You can't go wrong with a classic and a whole roasted turkey can definitely feed a crowd! This recipe is pretty easy to follow and only requires a handful of ingredients.
The skin will get delightfully crispy in the oven while the meat inside stays tender and moist. This recipe calls for a 14-pound turkey which is enough to feed between 12 and 14 people!
2. Mashed Potatoes
Mashed potatoes are another easy dish that can go a long way! These red-skin mashed potatoes call for heavy cream and cream cheese for a super rich and creamy texture!
Don't worry if you prefer some lumps in your potatoes, there are still some chunks and bits of potato skin to enjoy. This recipe will serve 8 people with a hearty appetite, though you could easily double it!
3. Mashed Sweet Potatoes
No one will complain if you serve 2 types of potatoes! This sweet side dish is a nice contrast to the usual savory mashed potatoes.
It's a fairly quick and easy recipe. Though one batch serves about 6 people, you can easily double the ingredients to serve 12.
4. Crockpot Mac and Cheese
This recipe is a double winner because it not only serves a crowd, but it is practically hands-off! Just toss the cheese, milk, seasoning, and macaroni noodles in the crockpot in the morning and it will be ready by dinner time.
1 crockpot full of mac and cheese will make 8 hefty servings. If you need more, borrow a crockpot and make 2 batches (you can serve it warm right out of the crockpot, too)!
5. Easy Stuffing
The name says it all: this stuffing is easy to make! It's a classic recipe that is really hard to mess up.
One 9x13 baking dish of this stuffing will serve a whopping 10 people! If you'd like to dress it up a little and make it go further, try mixing in some savory sausage!
6. Oat Rolls
Oat rolls are the perfect thing for sopping up mashed potatoes and gravy! They are soft and subtly sweet and pair wonderfully with turkey.
Best of all, one batch makes 20 rolls. It should be plenty to serve the whole family!
7. Green Bean Casserole
If you ask me, no Thanksgiving is complete without turkey and green bean casserole. This casserole is extra cheesy with bacon and a crispy parmesan breadcrumb topping that is to die for.
One green bean casserole will feed 8 people. Luckily, you can make it in advance if you want to keep an extra casserole as a backup.
8. Honey Glazed Carrots
Honey-glazed carrots are one of my favorite ways to eat veggies! The honey, brown sugar, and fresh herbs are the perfect combination of fall flavors.
2 pounds of carrots will make enough for 6. It's only a 25-minute recipe, though, so you can have some more popped in the oven and ready to eat in no time.
9. Jiffy Corn Casserole
Using Jiffy baking mix makes this corn casserole extra easy! There are only 5 ingredients and none of them require any prep time.
The combination of soft cornbread, creamed corn, and juicy corn kernels is always a family favorite. One casserole feeds 8, but as with the others, you can always make 2!
10. Candied Yams
Is it a dessert or a side dish? Who cares! These tasty candied yams were always my favorite dish at Thanksgiving growing up. It's something about the ooey-gooey melted marshmallow topping.
This recipe is surprisingly simple because you use canned yams! It will serve 8 easily (unless you're like me and go for seconds...and thirds)!
11. Pumpkin Pie
It should be no surprise that pumpkin pie is on this list! Leaving out the evaporated milk makes this recipe a slightly healthier alternative, and easier, too!
One recipe is for 2 9-inch pies which will serve 16! With a dollop of whipped cream on each slice, you will have one happy household.
12. Buttered Peas and Carrots
You can make this easy veggie side dish in a skillet or in the microwave! They take practically no time at all.
This recipe serves 5, but because it takes no time to make you can easily make as much as you need! Just scale the ingredients up and work in batches, you'll have enough for everyone in no time.
13. Southern Baked Macaroni and Cheese
If you prefer your mac and cheese baked with a slightly crispy top, then you may prefer this recipe to crockpot macaroni. It uses 3 different kinds of cheese and heavy cream for a perfectly gooey cheese sauce!
A single 9x13 dish of this mac and cheese will feed 10 people! Double up as needed or offer 2 kinds of macaroni: crockpot and baked (no one will complain).
If you are a fan of Southern cooking, try out some of our other Southern Thanksgiving recipes!
These buffet Thanksgiving menu ideas will help you throw an unforgettable get-together! Tell us which recipes were a hit by commenting below!
🦃 More Thanksgiving Recipes
See more Thanksgiving →
📖 Recipe Card