This Southern Thanksgiving menu features classic recipes that no Thanksgiving dinner in the South would be complete without! From deep-fried turkey to comforting side dishes, we have it all. If it's your turn to host the Thanksgiving get-together, you can't go wrong with any of the recipes on this list!
Best Southern Thanksgiving Recipes
If it's your turn to cook Thanksgiving dinner this year, don't stress over the menu. These Southern classic recipes are tried and true, you can't go wrong!
Whether you live in the South, used to, or just enjoy comfort food, these recipes will leave you totally satisfied. From fried turkey to mac and cheese, we have it all!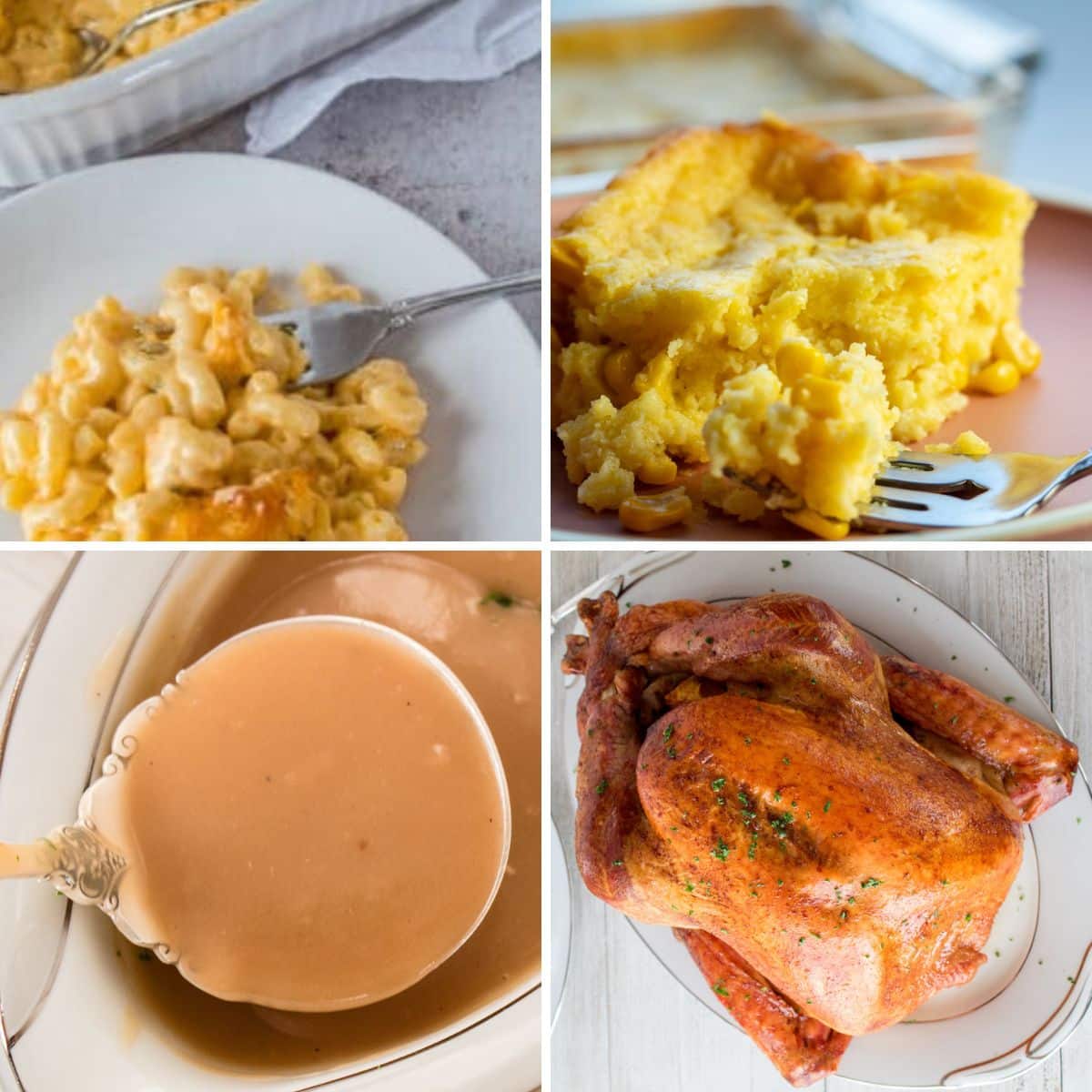 Jump to:
Whether you're a pro at hosting Thanksgiving dinner and holiday parties or giving it a try for the first time this year, you're sure to find my ultimate guide to planning Thanksgiving a help! Don't forget to safely thaw your holiday turkey early too!
Thanksgiving Menu Ideas For A Southern-Inspired Holiday Dinner
These Thanksgiving recipes are Southern comfort food at its finest. You'll be lucky to have any leftovers with any of these dishes on the menu!
1. Green Bean Casserole
No Southern Thanksgiving menu is complete without a green bean casserole! Particularly one made using cream of mushroom soup and crispy fried onions.
This savory, cheesy, crunchy casserole is always a hit. Everyone will fight over who gets to take home the leftovers (if there are any)!
2. Southern Candied Sweet Potatoes
One of my all-time favorite sides for any meal is also a fantastic side dish at any holiday table! It's exceptionally suited to serving with your Thanksgiving roasted turkey!!
Plus, no Southern-themed meal would be complete without these deliciously spiced sweet potatoes. Yum!
3. Baked Mac and Cheese
All mac and cheese is good mac and cheese, but nothing compares to baked Southern mac and cheese! It's ooey-gooey and cheesy inside but the top gets nice and brown for added texture.
This recipe features 3 kinds of cheese and heavy cream, so it's extra rich and indulgent!
4. Buttermilk Cornbread
Buttermilk cornbread is a Southern classic year-round. It's great for sopping up gravy or scooping up mashed potatoes on Thanksgiving in particular!
The combination of buttermilk and sour cream keeps this cornbread delightfully moist. Add some butter and enjoy!
5. Apple Pie
It's not uncommon to see an apple pie (or 2!) on a Southern Thanksgiving table. This apple pie is made with fresh Granny Smith apples and homemade apple pie spice!
Serve it warm with a scoop of vanilla Blue Bell ice cream for a true Southern experience.
6. Deviled Eggs
People call deviled eggs an appetizer but in the South, they are a well-loved part of the meal! Every plate will have a few stacked on top of their piles of turkey and potatoes.
You can't go wrong with this classic deviled eggs recipe. Trust me, you'll want to make extra!
7. Mashed Sweet Potatoes
Mashed sweet potatoes add just enough sweetness to add some diversity to the Thanksgiving spread. Add a few pats of butter and that's all you need!
It doesn't matter if you already have traditional mashed potatoes or a sweet potato casserole on the menu. These mashed sweet potatoes can hold their own!
8. Potato Salad
Potato salad is a great side dish, or sometimes it can be offered up as an appetizer while everyone waits on the full meal. This recipe features all of your favorite baked potato toppings mixed right in!
It's cool and refreshing, yet hearty and filling. It's also surprisingly easy to make!
9. Candied Yams
Thanksgiving can't go on without a casserole dish full of candied yams with marshmallows. It looks like a dessert, it tastes like a dessert, yet everyone will be slapping it on their plate right next to the turkey!
Butter, brown sugar, and marshmallows make up this heavenly sweet side dish. The slightly browned tops of the baked marshmallows are the best part!
10. Corn Casserole
Corn casserole, corn souffle, corn pudding, or spoon bread, no matter what you call it, this recipe is a Thanksgiving must-have! Using Jiffy baking mix and canned corn is not only tradition, but it makes the recipe 10x easier!
11. Collard Greens
Collard greens are a must-have Southern side dish at any get-together, Thanksgiving included! You can make them with bacon, ham hocks, or even black-eyed peas!
Collard greens are savory and salty. They are totally delicious next to a heaping pile of turkey and mashed potatoes!
12. Creamed Corn and Honey Cornbread
When it comes to cornbread in the South, you have options. This honey cornbread made with creamed corn is soft and moist while also slightly sweet!
Bits of corn are speckled throughout the cornbread, which adds a delightful texture. It's an easy, must-try side for your next family Thanksgiving.
13. Butternut Squash Soup
Butternut squash is a classic fall ingredient and it makes a fabulous soup! This soup is thick, rich, and creamy.
Butternut squash is healthy with tons of flavor. As a soup, it makes a great starter before Thanksgiving dinner!
14. Sausage Stuffing
Fluffy stuffing full of savory sausage is almost as important as the turkey in any Southern household. Add some sage and celery for flavor and texture, it doesn't get any better!
For a truly Southern experience, mix in some chopped pecans. Though it is delicious either way!
15. Oyster Dressing (Oyster Stuffing)
Oysters add a briny depth of flavor to traditional stuffing (without making it taste like seafood). This old-school recipe is still around for a reason!
If you have any guests that are wary of oysters in their dressing, just let them try a bite. It will surely change their mind!
16. Deep Fried Turkey
You can roast, smoke, or bake a turkey, but in the South, fried turkey is king! Deep frying a whole turkey gets the skin delectably crispy while the inside stays tender and moist.
If you want to truly have a Southern-style Thanksgiving dinner, use the giblets to make homemade turkey gravy!
With this Southern Thanksgiving menu, your house may be hosting Thanksgiving dinner from here on out! Tell us if your Turkey Day was a success by dropping a comment down below!
🤠 More Southern Classics
See more Thanksgiving →
📋 Recipe