These Italian Thanksgiving dinner menu ideas are the perfect way to celebrate the holidays with your family! This menu features crowd-pleasing Italian-inspired recipes that will make an epic Thanksgiving spread. There are appetizers, main courses, side dishes, and desserts- everything you need is right here!
Italian-Inspired Thanksgiving Recipes
Maybe you miss Nonna's home cooking, or maybe you're just tired of turkey and pumpkin pie. No matter the reason, these Italian Thanksgiving dinner menu ideas are just what you need to switch things up this year!
You won't hear a single complaint when you serve these incredible Italian-inspired dinner recipes. Appetizers, sides, dessert, you name it, it's all on the menu!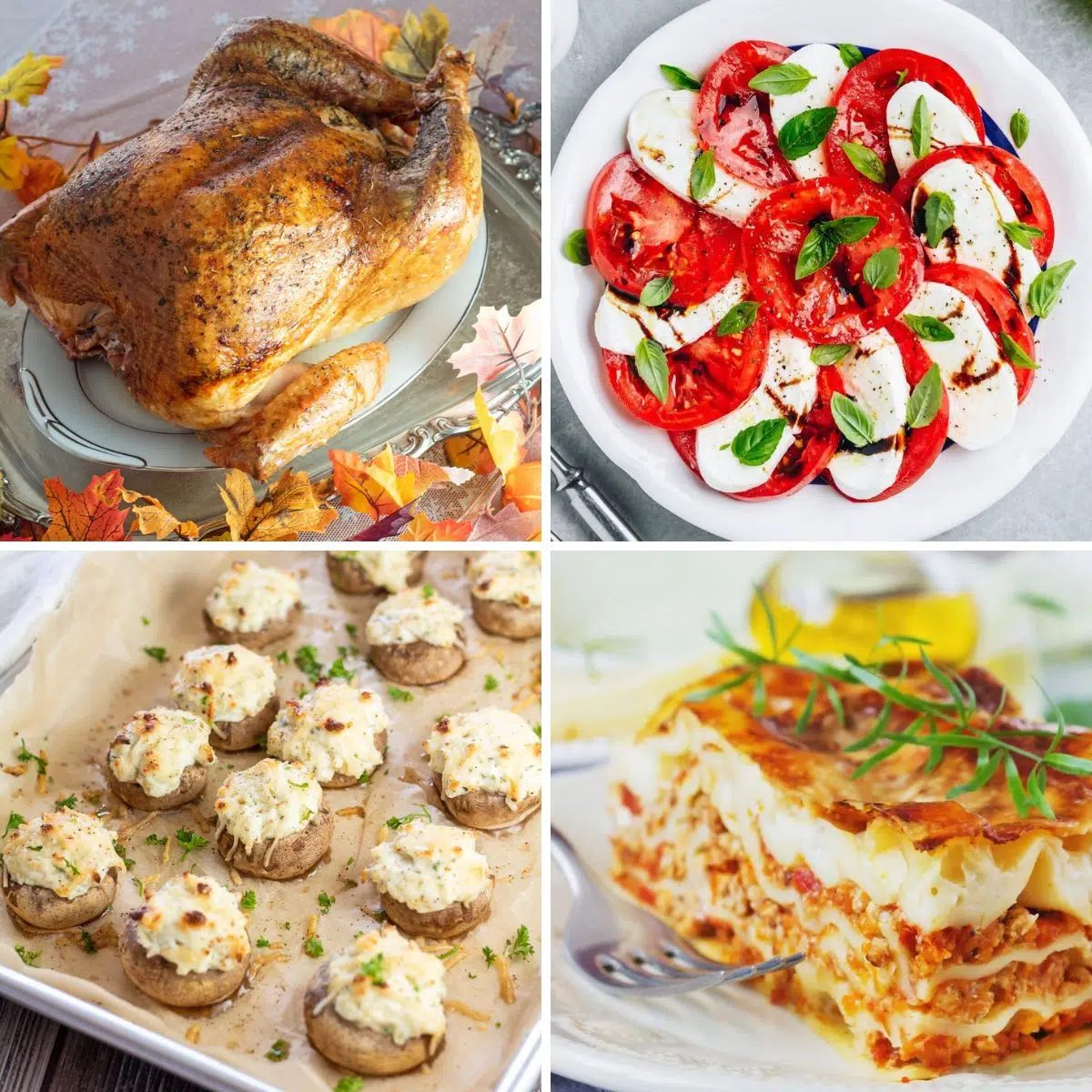 Jump to:
Whether you're a pro at hosting Thanksgiving dinner and holiday parties or giving it a try for the first time this year, you're sure to find my ultimate guide to planning Thanksgiving a help! Don't forget to safely thaw your holiday turkey early, too!
Italian Americans celebrate Thanksgiving with the rest of us, but they often add their own spin on things. After all, you can't have an Italian family dinner without pasta!
Tasty Italian-Inspired Appetizers
1. Cream Cheese Stuffed Mushrooms
These tasty morsels are the perfect way to get your Thanksgiving dinner started. Tender, juicy mushrooms are filled with seasoned cream cheese and Parmesan and baked!
2. Baked Spinach Artichoke Dip
Spinach artichoke dip is a classic Italian-American starter. It's creamy, cheesy, and meant for feeding a crowd!
3. Tomato Caprese
When you have a large dinner planned, a light appetizer like this simple tomato Caprese salad is the way to go. Fresh, thick slices of tomato and mozzarella are drizzled with a balsamic reduction and basil. It's refreshing and delicious!
4. Antipasto Platter
All Italian parties have an antipasto platter, and Thanksgiving should be no different. Translated, it means "before the meal".
This recipe includes beans, cheese, pepperoncini, olives, mushrooms, tomatoes, pepperoni, and Italian dressing. Though, you can easily customize your antipasto.
5. Balsamic Tomato Bruschetta
A slice of crusty bread with a heaping pile of juicy tomato bruschetta is the first thing I'm grabbing at an Italian dinner. A drizzle of balsamic vinegar with some fresh basil gives this bruschetta a ton of flavor!
Hearty Main Courses
6. Herbes de Provence Roasted Turkey
This expertly seasoned roasted turkey is suitable for any Thanksgiving dinner. Fragrant herb butter is slathered all over (and inside) of the bird before it is roasted to absolute perfection.
7. Lasagna
A hearty lasagna is a classic family dinner that would make a fabulous main course on Thanksgiving. Layers of pasta, homemade meat sauce, and melted cheese will call you back for seconds.
8. Baked Italian Meatballs
Baked Italian meatballs can be an appetizer or main course! They are incredibly easy, and you can serve them with rice, pasta, or on thier own!
9. Baked Eggplant Parmesan
This comforting baked eggplant Parmesan is a vegetarian entree that even meat lovers will enjoy.
10. Turkey Tetrazzini
Get the best of both worlds by making this tasty turkey pasta! Turkey tetrazzini is creamy with crunchy bacon and a breadcrumb topping.
If you don't serve it on the day of Thanksgiving, you can use leftover turkey to make it the next day! In fact, I have lots of leftover turkey recipes you can try!
11. Frutti di Mare
A heaping plate of pasta and seafood makes any meal feel like a special occasion. There are clams, mussels, squid, shrimp, and scallops in this classic Italian dish!
Italian Side Dishes
12. Roasted Garlic Mashed Potatoes
You've got to have mashed potatoes on Thanksgiving! Roasted garlic adds an incredible depth of flavor that makes these potatoes extra tasty (with or without gravy).
13. Butternut Squash Risotto
Butternut squash is a fall staple! Adding it to risotto takes an Italian classic and makes it totally Thanksgiving-worthy.
14. Italian Sausage Stuffing
Sweet Italian sausage brings this classic stuffing to the next level. It's soft and savory, with some saltiness from the sausage.
15. Potato Croquettes
Crispy potato croquettes are a simple side dish you will want to make again and again. You can even make these using leftover mashed potatoes if you have some on hand.
16. Italian Baked Mac and Cheese
All mac and cheese is good mac and cheese, but using an aged Italian blend adds incredible flavor! The mac and cheese are baked so the top is crispy while the inside is melty and creamy. Yum!
17. Broccoli Rabe
Broccoli rabe (or rapini) is actually its own vegetable and not from a broccoli plant. It's a staple in all Italian households because the slightly nutty flavor pairs perfectly with garlic and Parmesan when sauteed!
Amazing Desserts To Serve
18. Pumpkin Cannoli
A crispy pastry shell with creamy spiced pumpkin and ricotta filling. They make for a fabulous alternative to pumpkin pie with the same fall flavor!
19. Italian Lemon Ricotta Cake
Ricotta cheese makes the moistest and most decadent cakes you can imagine. This light and fluffy lemon ricotta cake is the perfect example.
20. Mandarin Orange Olive Oil Cake
Olive oil is another secret ingredient to making moist cakes. This one has heavenly mandarin icing and is adorned with bits of kumquat, mandarin peel, and mint leaves.
21. Pumpkin Tiramisu
Tiramisu is a traditional Italian coffee-flavored dessert. Though you likely won't find this pumpkin version in Italy, it is the perfect recipe for closing out an Italian-inspired Thanksgiving dinner.
These Italian Thanksgiving dinner menu ideas may convince you to ditch classic Thanksgiving recipes all together! If you try one of the recipes on this list, please come back and let me know how it turned out!
>>>>See all of my recipes HERE<<<<
🦃 More Thanksgiving Recipes
See more Thanksgiving recipes →
📖 Recipe Card