This Midwestern Thanksgiving menu spotlights traditional recipe ideas that are popular on the Thanksgiving dinner table in the Midwest! From roasted turkey to delectable side dishes, I have gathered a complete list of the tastiest Thanksgiving menu items! Any of these recipes will be a hit if you are hosting your family's Thanksgiving dinner!
Best Midwestern Thanksgiving Recipes
Don't let the stress of holiday meal planning overwhelm you, as I'm here to help you out no matter the style of dinner you want to serve! These Midwestern traditional recipes are dependable, delicious, holiday staple recipes!
Whether you are from the Midwest or want to try something new, you can't go wrong with these recipes! From roasted turkey to tater tot hotdish, it's all here!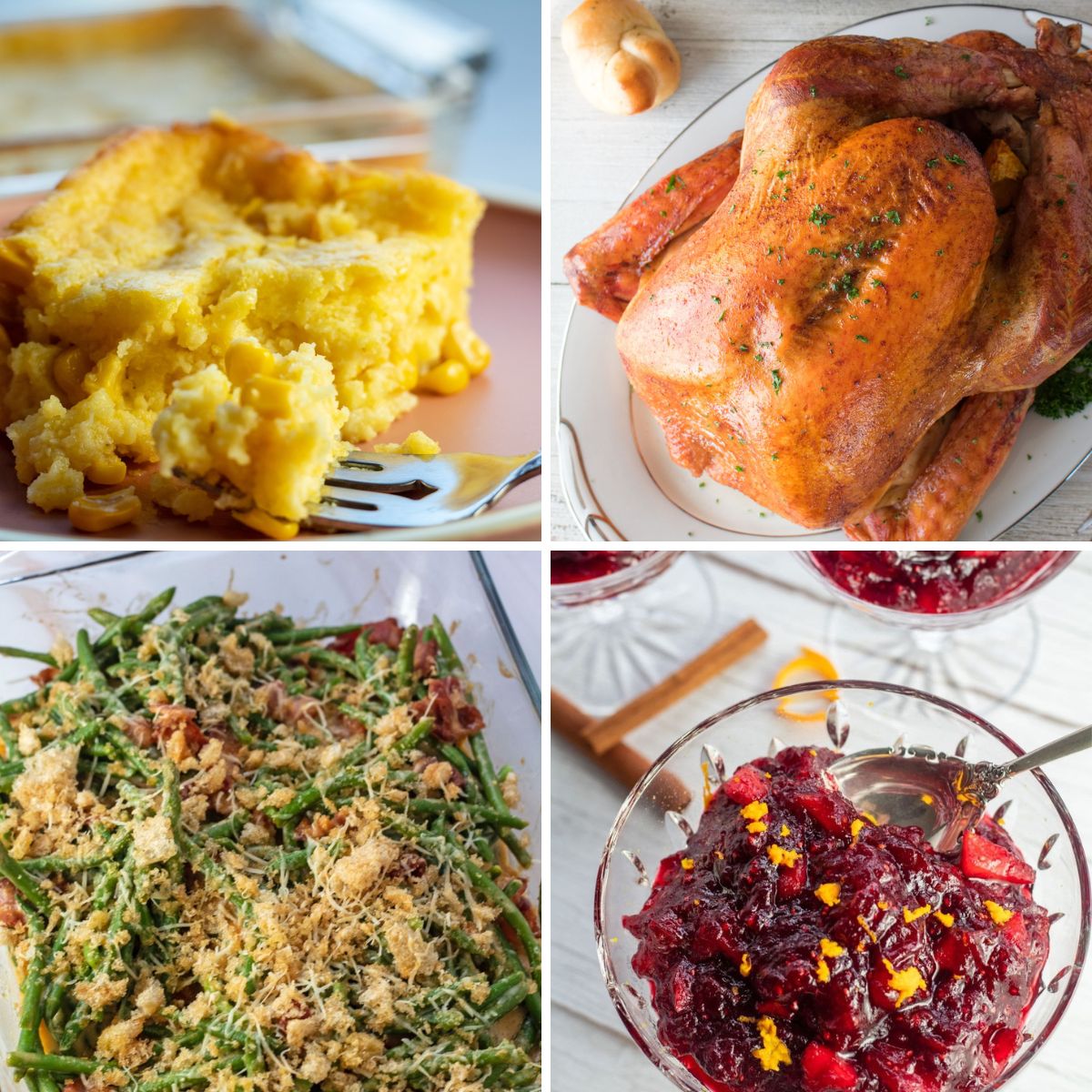 Jump to:
Whether you're a pro at hosting Thanksgiving dinner and holiday parties or giving it a try for the first time this year, you're sure to find my ultimate guide to planning Thanksgiving a help! Don't forget to safely thaw your holiday turkey early too!
Thanksgiving Menu Ideas for a Midwestern Holiday Meal
You've come to the right place if you are craving some Midwestern classics! No matter where you live, these Midwestern recipes will warm your heart!
1. Easy Stuffing
When it comes to Thanksgiving, no Midwest holiday meal is complete without stuffing! A light crust is formed on top, allowing the stuffing to be soft, buttery, and well-seasoned with herbs.
This Midwestern staple only takes 5 minutes to prepare. It features classic stuffing ingredients such as celery, onion, stuffing cubes, butter, and tasty herbs!
2. Roast Turkey
Roasting a turkey is one of the easiest ways to cook up a tender, moist, and super tasty main course bird! No dryness here, this roasted turkey cooks beautifully every time!
Impress your family with this juicy and tender roasted turkey on your next Thanksgiving dinner!
3. Turkey Gravy
A delicious homemade turkey gravy using drippings and giblets from a roasted turkey. It's rich, creamy, and perfect to top almost everything!
You'll be thankful that you made this Midwestern-style homemade gravy over buying store-bought! This gravy only takes minutes to prepare and it's simple to make!
4. Green Bean Casserole
A Midwestern classic side dish that you will see on everyone's Thanksgiving menu! This upgraded casserole features a cheese sauce, crispy pieces of bacon, and a crunchy breadcrumb topping.
Everyone will fight for seconds because this green bean casserole is that good!
5. Cranberry Sauce
Sweet, tangy, and juicy cranberry sauce is an absolute must for Thanksgiving dinner! This delicious festive treat is bound to be a new holiday favorite!
Fresh apple slices and apple cider are mixed in with tangy cranberries to create an elevated homemade cranberry sauce!
You might also like my Buffet Style Thanksgiving Dinner Menu Ideas!
6. Deviled Eggs
Deviled eggs are always a hit at Midwestern Thanksgiving gatherings! They are easy to make, delicious, and healthy!
With this classic deviled egg recipe, you won't be disappointed! Make sure to prepare a big batch, everyone will be wanting seconds.
8. Corn Casserole
Corn Casserole is a versatile and delicious side dish perfect for Thanksgiving or any time of year! No need to worry if this cornbread will turn out dry, the sour cream and butter guarantee a moist outcome every time!
This cornbread casserole recipe is the ultimate Midwestern comfort food. You can't go wrong with a sweet and tasty side dish like this one!
9. Sweet Potato Casserole
Sweet potato casserole is a Thanksgiving staple dessert dish topped with marshmallows and pecans! You can even prepare ahead of time before baking this dessert on the big day.
This sweet and savory casserole is always a fan-favorite in my house and I'm sure it will be in yours too!
10. Cream Cheese Mashed Potatoes
These cream cheese mashed potatoes are simple to make and absolutely delicious! Slather them on your plate then put some turkey and gravy on top!
The addition of cream cheese and a hint of garlic makes mashed potatoes the ultimate comfort food!
11. Vegetable Casserole
This vegetable casserole is a Midwestern classic side dish loaded with frozen veggies, Velveeta, and a Ritz cracker topping! This casserole can be assembled the day before to save you some stress on Thanksgiving!
With a cheesy center and a crunchy crumb topping, everyone will be wowed by how delicious this casserole is!
12. Homemade Crescent Rolls
Homemade crescent rolls are easily one of the first things gone at any holiday dinner! They are buttery, flaky, and chewy, perfect for sopping up turkey gravy on Thanksgiving!
These delicious rolls are easier to make than you think, there is no need to pop open a premade package again!
13. Scalloped Potatoes
Traditional Midwestern layered creamy scalloped potatoes are a Thanksgiving favorite! Layered russet potato casserole is savory, cheesy, and rich!
Everyone will love this tender delicious side dish with a golden and crispy crust on your next holiday meal!
14. Cranberry Fluff
Cranberry fluff is a sweet and tangy fruit salad made with cranberries, apples, green grapes, nuts, and mini marsh mellows! It's the perfect light dessert that won't fill you up too much while you eat your turkey meal.
It's an easy-to-make fruit dish and especially great for when you need to make a delicious side in a hurry!
15. Cheese Balls
Cheese balls are the best appetizer to enjoy while watching your favorite football team during Thanksgiving, hands down! This traditional Midwestern snack is created with three different kinds of cheese, wrapped into a ball, and then dusted with crumbled bacon.
Serve with celery sticks, toasted baguette slices, or your favorite crackers!
16. Tater Tot Hotdish
This mouthwatering tater tot hotdish is a must-have for any Thanksgiving meal in the Midwest! Green beans (or sweet corn) and cream of mushroom soup are combined with ground meat before being topped with tater tots and cooked to perfection!
Whether you call it a casserole or a hotdish, it's guaranteed to be loved by your guests!
17. Snickers Salad
Snickers salad is a delicious and creamy dessert dish made with Snickers candy bars, cool whip, vanilla pudding, and Cool Whip! Top it with some caramel sauce and you have yourself a perfect year-round dessert that the family will love!
When you make this dessert to serve along your Thanksgiving feast and you won't be disappointed!
I hope these Midwestern Thanksgiving menu ideas helped you pull off the perfect holiday dinner! Let me know in the comments below which recipes you tried!
🦃 More Thanksgiving Recipes
See more Thanksgiving →
📋 Recipe