These Friendsgiving recipes are easy to make, taste delicious, and are perfect for your next holiday get-together! From appetizers to desserts, I have you covered for every course of the meal! These holiday classics are sure to help you spread the love!
Easy Friendsgiving Recipe Ideas
The holiday season is meant for getting together with your loved ones to enjoy a meal and spend some quality time together! Friendsgiving is an opportunity for gathering with your closest friends and feeling extra thankful!
Not only is this list of recipes perfect for sharing with friends, but they are all super easy to make! No matter which recipes you choose, you won't be disappointed!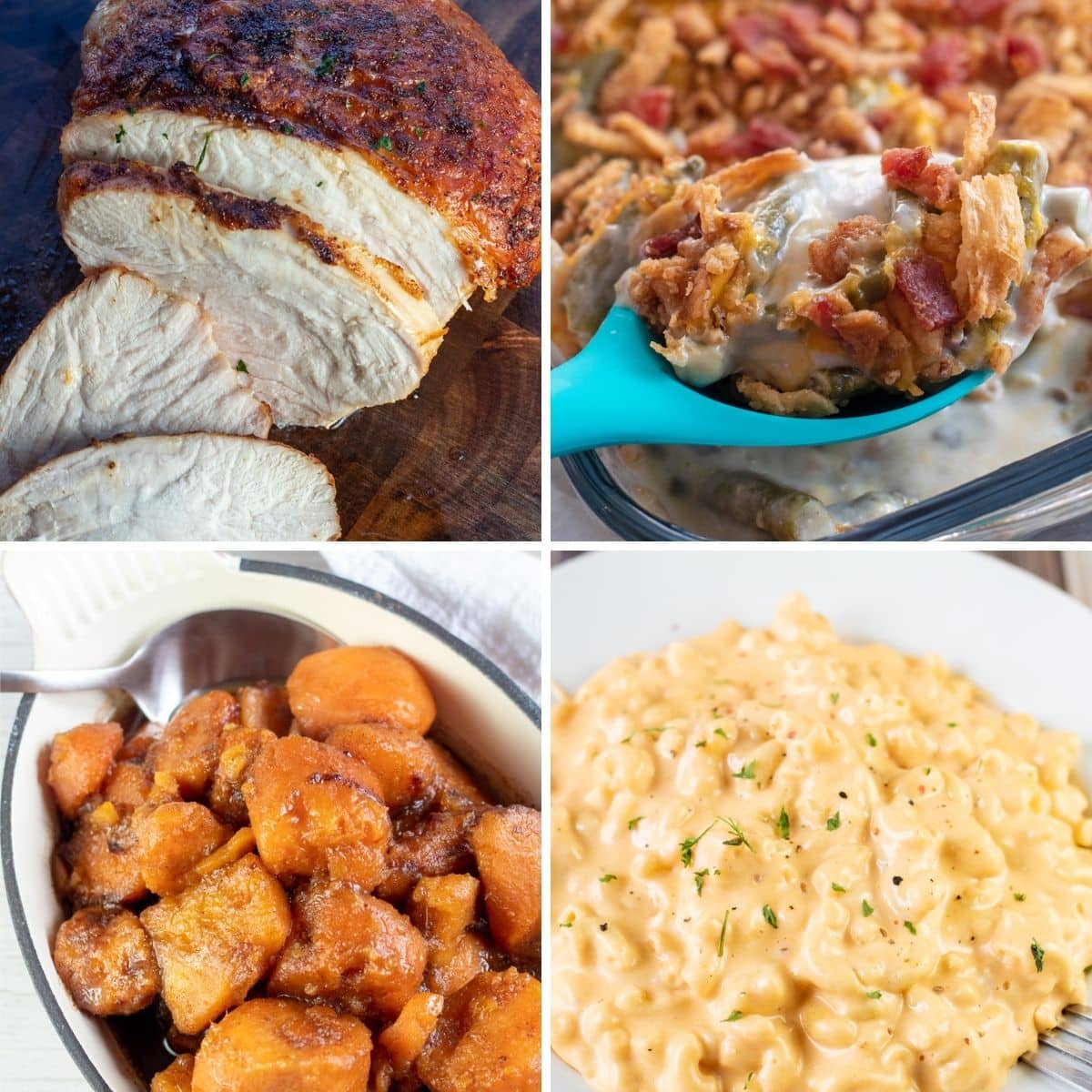 Jump to:
Whether you're a pro at hosting Thanksgiving dinner and holiday parties or giving it a try for the first time this year, you're sure to find my ultimate guide to planning Thanksgiving a help! Don't forget to safely thaw your holiday turkey early too!
1. Air Fryer Turkey Breast
What is a Friendsgiving get-together without some turkey? This tasty protein is extra simple to throw together since it is made in your Air Fryer!
2. Crockpot Mac & Cheese
Macaroni & cheese is a Southern dish that belongs on every holiday table! Using your slow cooker means that you have more time to work on your other holiday dishes!
3. Biscuit Chicken Pot Pie
This biscuit chicken pot pie is so much easier to make than the classic version! Simply prepare the creamy chicken mixture and top it with some store-bought biscuits!
4. Slow Cooker Candied Yams
It's hard to know if these candied yams are considered a side dish or a dessert because they are wonderfully sweet! Either way, they can be prepared in the crockpot for an ultra-simple addition to your Friendsgiving menu!
5. Easy Stuffing
Stuffing is a classic Thanksgiving side dish that has earned a permanent spot on the menu! Plus, this recipe only takes 5 minutes of prep time!
6. Instant Pot Mashed Potatoes
Mashed potatoes are a dish that pairs well with everything! These creamy and fluffy potatoes are made in the Instant Pot, so they'll be ready in a snap!
7. Classic Turkey Gravy
Here is a recipe for some traditional turkey gravy! It uses turkey drippings for an extra rich flavor!
If you don't have any drippings, go ahead and check out my chicken gravy without drippings!
8. Apple Cider Cranberry Sauce
This cranberry sauce is so much better than the kind from a can! Not to mention, it includes sparkling apple cider and apples for a wonderful twist!
9. Oat Rolls
These oat rolls pair fantastically with anything you might be serving! Eat them as-is, dunk them in your gravy, or spread some butter on them! Yum!
10. Deviled Eggs
Deviled eggs belong at every party or festivity! They are quick to throw together and they are always eaten right up! You might even have to make extra!
11. Pumpkin Pie
Pumpkin pie is a classic holiday dessert that has a permanent spot on many people's Thanksgiving menus! It is loaded with pumpkin puree and warm pumpkin pie spice!
Go ahead and top it with some whipped cream for an extra special dessert!
12. Snickerdoodles
Snickerdoodles are a super easy cinnamon cookie that is incredibly popular for a good reason! They are delicious!
13. Creamed Corn Cornbread
Cornbread is a staple at any of my family or friend gatherings! It pairs well with everything and, of course, everyone loves it! This recipe features creamed corn for some extra richness and sweetness!
14. Honey Glazed Carrots
This easy veggie side is sure to be a hit with your friends! The carrots are fork-tender and coated in yummy honey and brown sugar!
It is even kid-approved, making it a winning vegetable side dish!
15. Granny Smith Apple Pie
Every holiday table needs to have this apple pie on it! It is a classic recipe that is loved by both kids and adults alike!
This pie is loaded with apples, sugar, and a homemade spice blend that is unbelievable!
16. Bisquick Peach Cobbler
Using Bisquick in your peach cobbler is a simple baking hack to make your life so much easier without losing any flavor! Plus, this recipe only uses a handful of ingredients!
17. Mashed Sweet Potatoes
If you are wanting a sweet potato dish that is quick and easy, these mashed sweet potatoes are the way to go! You can serve them instead of candied yams- or just serve them both!
18. Baked Spinach Artichoke Dip
This spinach and artichoke dip is a great way to kick off your Friendsgiving! Serve it with some air fryer tortilla chips or fresh homemade rustic bread for the ultimate appetizer!
19. Bacon Cheddar Green Bean Casserole
Green bean casserole is a holiday favorite in the South because it is creamy, cheesy, and loaded with green beans! Then top it with some fried onions for a wonderful crunch!
20. Chocolate Pecan Pie Bars
I love pie bars because they are so easy to serve! These bars have a cream cheese crust and are chock full of rich chocolate and yummy pecans! Trust me, you won't have any leftovers with these!
21. Sweet Potato Tart
This dessert tart is loaded with pureed sweet potatoes! It has a natural sweetness that is topped with a wonderful meringue topping!
22. Rotel Dip
This addicting dip is perfect for any friend gathering, even Friendsgiving! It is easy to make and tastes amazing! Additionally, you can make it in a Crockpot to make it even simpler!
23. Au Gratin Potatoes with Dice Ham
This potato dish is creamy, cheesy, and oh so delicious! It's a great way to elevate your potato side dish or just add something new to your table!
24. Loaded Baked Potato Salad
Potato salad is a quick and easy side dish that your friends are bound to love! In fact, you can customize the mix-ins with all of your favorite baked potato toppings!
25. Pumpkin Chocolate Chip Cookies
To add some fall flavors to your holiday cookies, try out these pumpkin chocolate chip cookies! The dough itself has pumpkin puree in it and then it is loaded with chocolate chips!
These easy Friendsgiving recipes will show your friends how much you care! Leave a comment down below and let me know which ones you are planning to make this year!
🦃 More Thanksgiving Ideas
📋 Recipe