These Thanksgiving sweet potato side dishes are a delicious and easy way to add some sweet potatoes to your holiday menu! I have compiled this list of 9+ fantastic options that your whole family will enjoy! Whether you want them mashed, candied, baked, or more, I have a recipe for you!
Best Sweet Potato Sides For Thanksgiving Dinner
Everyone loves being able to enjoy some sweet potatoes for Thanksgiving dinner! I put together this list of my all-time favorite recipes featuring sweet potatoes that are perfect for all of your holiday get-togethers!
This list includes classic dishes as well as some less traditional options. Either way, they are all delicious and you'll find something here for you and your family!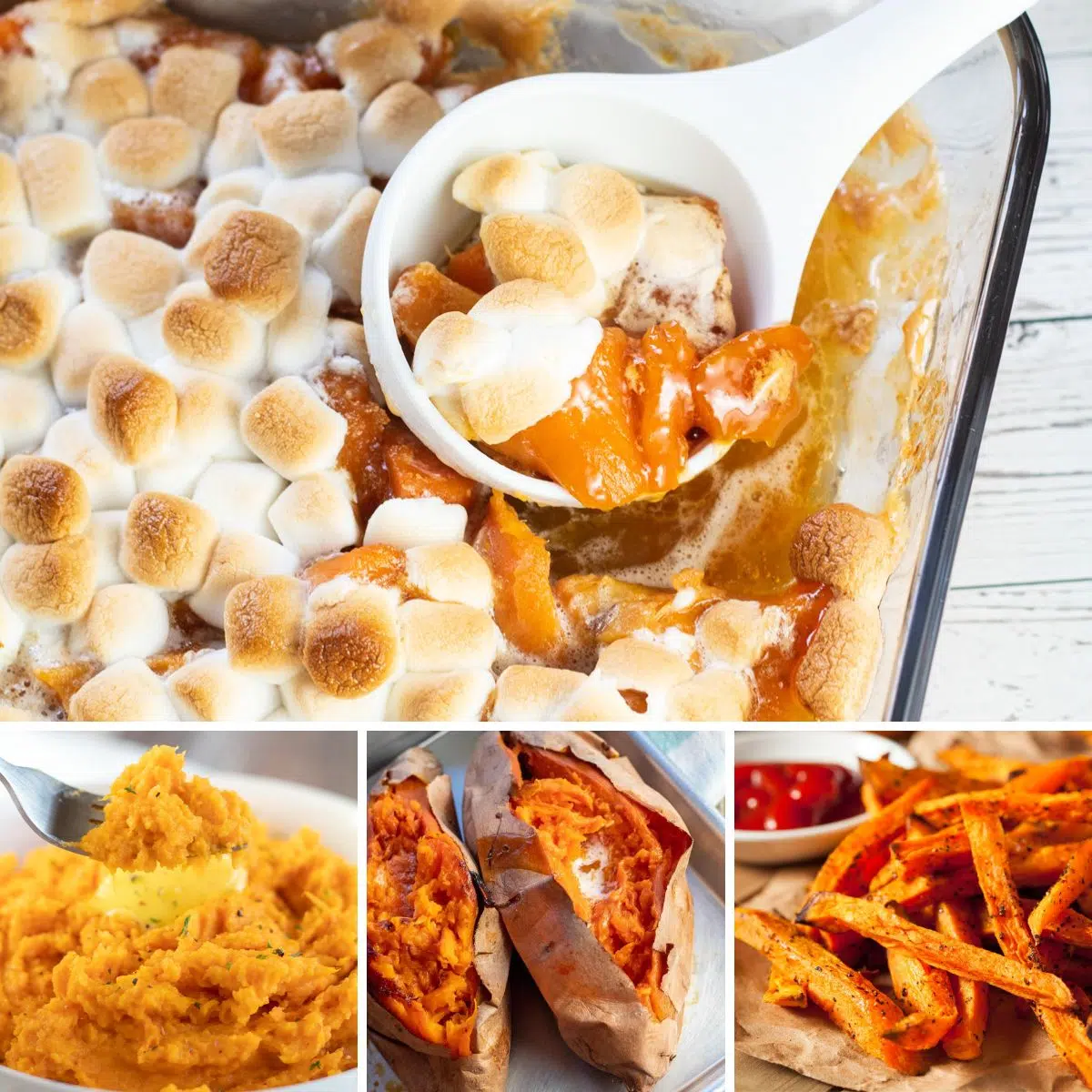 Jump to:
Whether you're a pro at hosting Thanksgiving dinner and holiday parties or giving it a try for the first time this year, you're sure to find my ultimate guide to planning Thanksgiving a help! Don't forget to safely thaw your holiday turkey early, too!
1. Mashed Sweet Potatoes
These mashed sweet potatoes are a delicious twist to the classic mashed potatoes. Whether you are looking for a side that isn't as sweet as candied yams, or simply want to add more sweet potatoes to the menu, check out this recipe!
These potatoes are easy to make and you can completely customize how sweet they are!
2. Baked Sweet Potatoes
Baked sweet potatoes are simple, tasty, and incredibly versatile! You can load them up with whatever toppings you like, whether it be sweet or savory. They pair well with everything, so you'll love having them as part of your Thanksgiving dinner.
3. Candied Yams
Candied yams are one of the most traditional, classic, and iconic Thanksgiving sweet potato side dishes! The natural flavor of the yams is allowed to shine while being emphasized with brown sugar and toasty marshmallows.
This kid-loved dish belongs on every holiday menu and is sure to wow all of your guests!
4. Sweet Potato Fries
These sweet potato fries are extra simple as they are made in the air fryer! They serve as a great kid option but are loved by adults as well. To make them even better, they'll be ready to go in less than 20 minutes!
5. Southern Candied Sweet Potatoes
This classic family-favorite side dish is also a personal favorite that I love sharing with many meals in addition to Thanksgiving dinner! Cook these tender sweet potatoes up any night of the week and get rave reviews!
6. Pan Fried Sweet Potatoes
This is an easy side dish recipe that comes together in no time at all and is packed with great flavor! It's perfect for cooking on short notice, but just as equally wonderful at holiday tables!
7. Sweet Potato Casserole
Sweet potato casserole is one of those side dishes that everyone knows and loves! It has a front-row place on every Thanksgiving dinner table and is enjoyed by both kids and adults alike!
8. Roasted Sweet Potatoes & Onions
Roasted sweet potatoes and onions are a simple, easy, and incredibly delicious side dish. They have all of the flavors of roasted potatoes, but with a hint of sweetness plus savory onion flavor!
This side dish is extremely versatile and pairs well with anything, so it is perfect for complementing all of your Thanksgiving dishes!
9. Roasted Root Vegetables
This medley of roasted veggies is warm and comforting for any brisk evening. The collection of different root vegetables makes it a perfect complement to any of your favorite Thanksgiving dishes!
10. Scalloped Sweet Potatoes
Scalloped sweet potatoes are rich, creamy, and wonderfully indulgent. This fall-inspired version of classic scalloped potatoes is sure to be a huge hit with your family this Thanksgiving! In fact, you might want to make two batches because they will disappear fast!
11. Sweet Potato Gnocchi
These little bites of gnocchi are absolutely delicious! If you've never tried gnocchi before, this recipe is a great place to start! The sweet potatoes add a tasty twist to a classic recipe, and you can pair them with anything!
12. Sweet Potato Souffle
This sweet dish is going to be asked for every Thanksgiving! The sweet potatoes are mashed until they are rich and creamy and then topped with a mouth-watering streusel. I'm not even sure if this is a side dish or a dessert, but it is delicious!
Make sure to add these Thanksgiving sweet potato side dishes to your holiday recipe lineup! Let me know in the comments below which one you want to try out this year!
🦃 More Thanksgiving Ideas
See more Thanksgiving →
📖 Recipe Card