These Thanksgiving potato side dishes are easy to make and are the perfect, delicious addition to your holiday menu! This list contains over 13 tasty potato recipes that cover all varieties of cooking all the way from mashed to baked! These are going to become your new Thanksgiving favorites!
Best Potato Sides For Thanksgiving Dinner
Thanksgiving potato side dishes are an essential part of the holiday! They are versatile and can be cooked and prepared in a ton of different ways.
I put together this collection of fantastic potato-based dishes that are perfect for Thanksgiving! They're so tasty that your family is going to be asking for them year after year.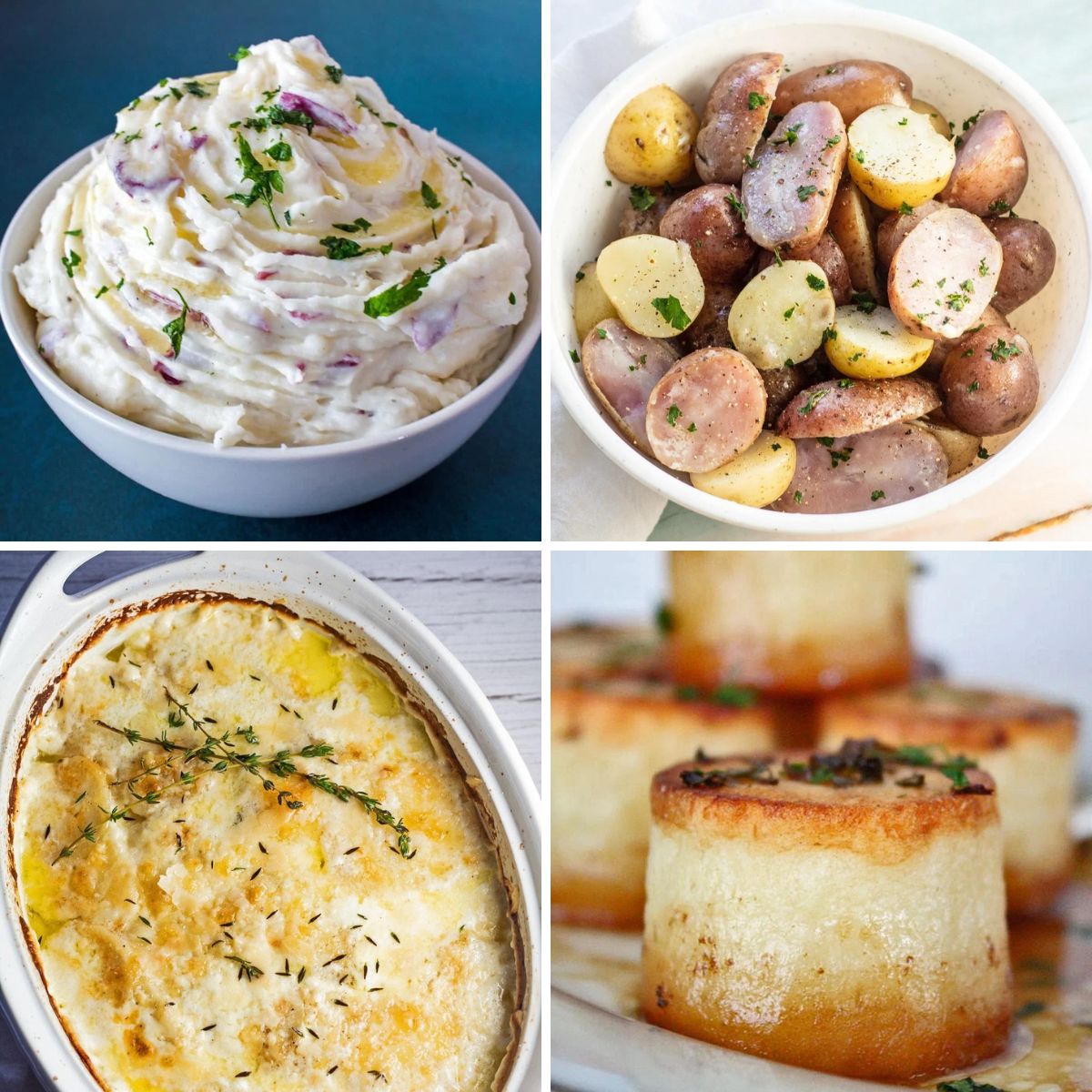 Jump to:
1. Roasted Garlic Mashed Potatoes
Mashed potatoes are a classic Thanksgiving side dish. These mashed potatoes have a wonderful garlic addition that is incredibly tasty! They are creamy, rich, and extra flavorful. It takes your standard mashed potato side to the next level.
2. Cheesy Bacon Ranch Potatoes
This irresistible potato side is loaded with bacon and cheese! It's such a popular dish, you might want to consider making two batches of it (especially if you have a large family)!
3. Dauphinoise Potatoes
Dauphinoise potatoes are like potatoes au gratin, but with extra flavor! These potatoes are an elegant, tasty, and beautiful addition to your holiday table. The fresh thyme really adds a wonderful touch of flavor!
4. Fondant Potatoes
These rich and creamy fondant potatoes are so sophisticated and delicious! They'll look beautiful on any serving platter and will be one of your most popular dishes! Plus, they aren't difficult to make!
5. Red Skin Mashed Potatoes
You can't go wrong with serving mashed potatoes at Thanksgiving! Check out this tasty variation of your standard mashed potatoes! They are creamy, rich, and extremely delicious.
6. Parmesan Roasted Mashed Potatoes
I love adding cheese to my mashed potatoes. This dish is the perfect combination of potatoes, cheese, and a nice crunchy topping! Made in a casserole dish, it is perfect for family get-togethers!
7. Boiled Potatoes
This incredibly simple recipe brings out all of the best flavors with none of the work! It is a fantastic option if you need a hassle-free, simple potato side dish to add to your Thanksgiving menu ideas.
8. Roasted Red Potato Wedges
These roasted potato wedges have a light and fluffy interior with a nice and crispy outside! They are kid-approved, wonderfully simple, and extremely delicious! As a bonus, they only use 4 ingredients, making them perfect for an easy Thanksgiving option!
9. Pan Fried Potatoes and Onions
Pan-fried potatoes and onions taste great with everything! This is a perfectly versatile potato side that will complement everything on your holiday menu.
10. Crockpot Green Beans and Potatoes
Add some green beans to your potatoes for a little bit of variety! Of course, using the crockpot makes this dish extra easy. It is a great way to incorporate some kid-friendly veggie options!
11. Baked Potato Bar
If you're having a large family gathering, this potato bar is perfect! No matter what your family likes with their potatoes, they will all be happy. It is easily customizable to fit everyone's tastes!
12. Twice Baked Potatoes
These twice-baked potatoes are loaded with all of the best baked potato toppings! Plus, you can make these in advance to save you some time on Thanksgiving morning!
13. Crispy Roasted Red Potatoes
Classic roasted potatoes pair well with everything! No matter what you're serving for thanksgiving, they are sure to fit right in. Plus, they are ridiculously easy to make, so you won't have to spend much effort throwing these together!
14. Smashed Potatoes
Smashed potatoes are like a combination between baked potatoes and mashed potatoes. Your entire family will love these cheesy, fluffy potatoes. They have great texture and are full of flavor!
These Thanksgiving potato side dishes are going to be a hit with your entire family! Leave a comment down below and let me know which one you're adding to your holiday menu this year!
🦃 More Thanksgiving Ideas
📋 Recipe