These Thanksgiving potato side dishes are easy to make and are the perfect, delicious addition to your holiday menu! This list contains tons of tasty potato recipes that cover all varieties of cooking all the way from mashed to baked! These are going to become your new Thanksgiving favorites!
23 Potato Sides For Thanksgiving Dinner
Thanksgiving potato side dishes are an essential part of the holiday! They are versatile and can be cooked and prepared in many different ways.
I put together this collection of fantastic potato-based dishes that are perfect for Thanksgiving! They're so tasty that your family will be asking for them year after year.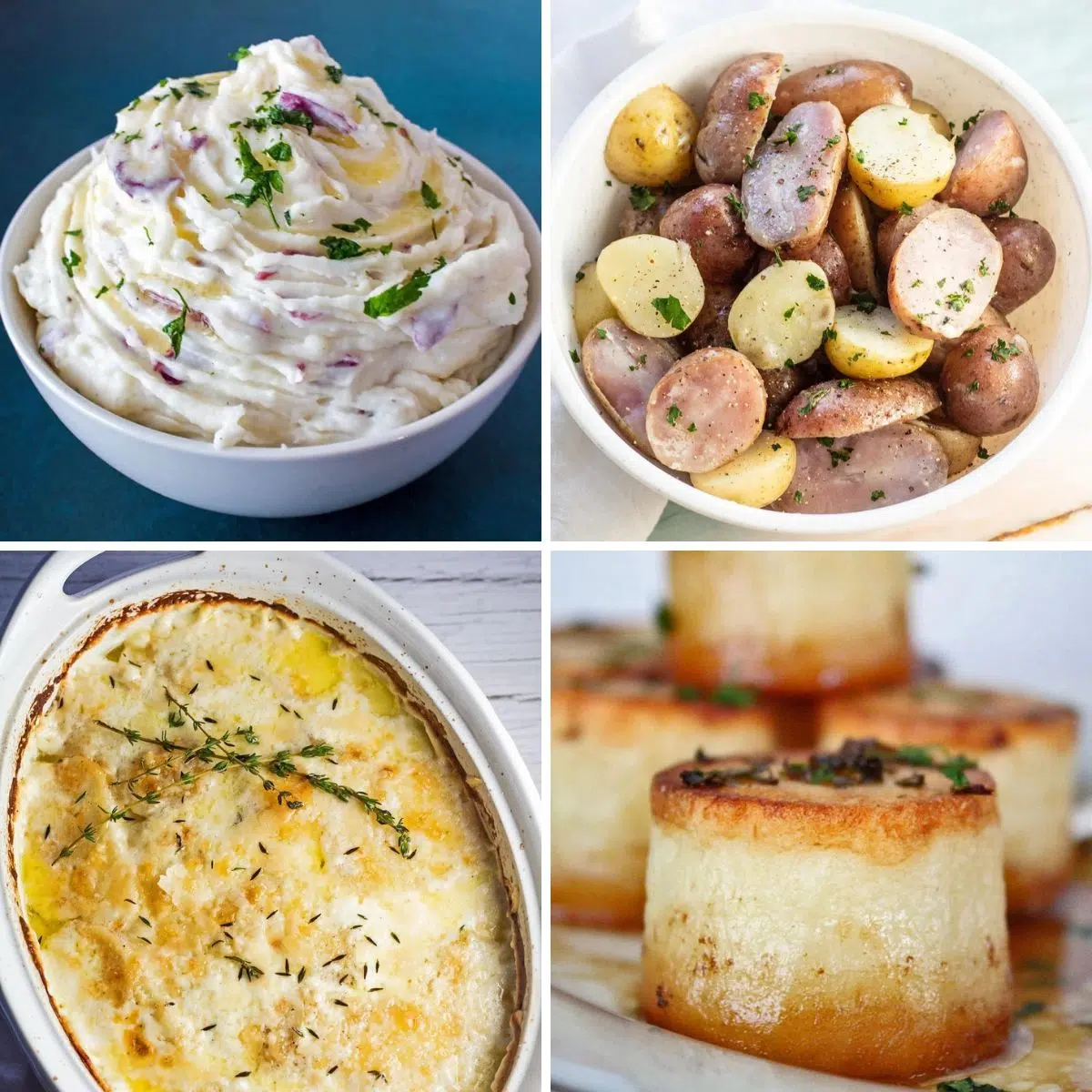 Jump to:
Whether you're a pro at hosting Thanksgiving dinner and holiday parties or giving it a try for the first time this year, you're sure to find my ultimate guide to planning Thanksgiving a help! Don't forget to safely thaw your holiday turkey early, too!
1. Roasted Garlic Mashed Potatoes
Mashed potatoes are a classic Thanksgiving side dish. These mashed potatoes have a wonderful garlic addition that is incredibly tasty! They are creamy, rich, and extra flavorful. It takes your standard mashed potato side to the next level.
2. Cheesy Bacon Ranch Potatoes
This irresistible potato side is loaded with bacon and cheese! It's such a popular dish you might want to consider making two batches of it (especially if you have a large family)!
3. Dauphinoise Potatoes
Dauphinoise potatoes are like potatoes au gratin but with extra flavor! These potatoes are an elegant, tasty, and beautiful addition to your holiday table. The fresh thyme really adds a wonderful touch of flavor!
4. Fondant Potatoes
These rich and creamy fondant potatoes are so sophisticated and delicious! They'll look beautiful on any serving platter and will be one of your most popular dishes! Plus, they aren't difficult to make!
5. Red Skin Mashed Potatoes
You can't go wrong with serving mashed potatoes at Thanksgiving! Check out this tasty variation of your standard mashed potatoes! They are creamy, rich, and extremely delicious.
6. Parmesan Roasted Mashed Potatoes
I love adding cheese to my mashed potatoes. This dish perfectly combines potatoes, cheese, and a nice crunchy topping! Made in a casserole dish, it is perfect for family get-togethers!
7. Boiled Potatoes
This straightforward recipe brings out all of the best flavors with none of the work! It is a fantastic option if you need a hassle-free, simple potato side dish to add to your Thanksgiving menu ideas.
8. Roasted Red Potato Wedges
These roasted potato wedges have a light, fluffy interior with a nice, crispy outside! They are kid-approved, wonderfully simple, and extremely delicious! As a bonus, they only use 4 ingredients, making them perfect for an easy Thanksgiving option!
9. Pan Fried Potatoes and Onions
Pan-fried potatoes and onions taste great with everything! This is a perfectly versatile potato side that will complement everything on your holiday menu.
10. Crockpot Green Beans and Potatoes
Add some green beans to your potatoes for a little bit of variety! Of course, using the crockpot makes this dish extra easy. It is a great way to incorporate some kid-friendly veggie options!
11. Baked Potato Bar
If you're having a large family gathering, this potato bar is perfect! No matter what your family likes with their potatoes, they will all be happy. It is easily customizable to fit everyone's tastes!
12. Twice Baked Potatoes
These twice-baked potatoes are loaded with all of the best-baked potato toppings! Plus, you can make these in advance to save you some time on Thanksgiving morning!
13. Crispy Roasted Red Potatoes
Classic roasted potatoes pair well with everything! No matter what you're serving for thanksgiving, they are sure to fit right in. Plus, they are practically effortless to make, so you won't have to spend much effort throwing these together!
14. Smashed Potatoes
Smashed potatoes are like a combination of baked potatoes and mashed potatoes. Your entire family will love these cheesy, fluffy potatoes. They have great texture and are full of flavor!
15. Bacon Cream Cheese Mashed Potatoes
These supremely tasty mashed potatoes may just be the only recipe you'll ever need to make again! They're amazingly flavorful and packed with everyone's favorite stir-ins!
16. Make Ahead Mashed Potato Casserole
Are you looking to reduce your side dish preparation when serving holiday dinners?! Then this easy mashed potato casserole is exactly what you need!
The creamy texture contrasts wonderfully with the crunchy topping and the taste is divine!!
17. Green Bean Potato Sausage Casserole
Mix your potato and green bean side dishes into one tasty, hearty recipe! It's a wonderful dish to serve with practically any protein!
18. Crockpot Scalloped Potatoes
An easy and delicious side dish, perfect for holidays or any special occasion. It involves layering sliced russet potatoes with a mixture of heavy cream, chicken broth, garlic, and seasonings in a crockpot. This recipe is a convenient and flavorful way to prepare a classic potato dish with minimal effort.
19. Cream Cheese Mashed Potatoes
This recipe makes a rich and flavorful side dish. It combines yellow potatoes, cream cheese, milk, butter, and seasonings for a creamy texture and taste. This easy-to-make recipe is perfect for holidays or any special occasion, offering a luxurious twist on classic mashed potatoes.
20. Air Fryer Baked Potatoes
This Air Fryer Baked Potatoes recipe is a straightforward and efficient way to prepare perfectly tender and fluffy baked potatoes. Using just russet potatoes, extra virgin olive oil, and kosher salt, this recipe transforms simple ingredients into a classic and versatile side dish.
21. Instant Pot Au Gratin Potatoes
This dish features thinly sliced potatoes layered with melted cheese and seasoning, creating a mouthwatering side dish. It's cooked in an Instant Pot for convenience, then broiled to achieve a bubbly, golden top.
This creamy, rich, and wonderfully cheesy recipe is a perfect accompaniment to various main courses and is sure to be a hit with the whole family.
22. Mashed Potato Casserole
This Casserole recipe is a comforting and cheesy potato side dish. It combines creamy mashed potatoes with cheddar cheese, cream cheese, and sour cream.
Topped with a crunchy breadcrumb and garlic salt mixture, it's baked until golden. This casserole is perfect for using leftover potatoes and serves as a delicious twist on traditional mashed potatoes.
23. Onion Soup Mix Roasted Potatoes
My Onion Soup Mix Roasted Potatoes recipe is a flavorful and easy side dish. It uses russet potatoes, extra virgin olive oil, and dry onion soup mix for a unique taste.
The potatoes are roasted until they're crispy on the outside and fluffy inside. This simple recipe is perfect for adding a tasty twist to your regular potato side dishes.
These Thanksgiving potato side dishes will be a hit with your entire family! Leave a comment down below and let me know which one you're adding to your holiday menu this year!
🦃 More Thanksgiving Ideas
See more Thanksgiving Recipes →
📖 Recipe Card