The love for these classic Snickerdoodle Cookies is easy to see, from Snickerdoodle flavored cereals to coffee and ice cream, even to candles and Snickerdoodle scented lotions!
Snickerdoodle Cookie Recipe
We'll stick with the reason for all that commotion today and share the tried and true vintage version of these whimsically named cookies that need no introduction.
There's something really cool about the story of this recipe when it was shared to the Betty Crocker kitchens, but I'll get to that in a bit.
I was hooked on sugar cookies as a kid, growing up with my Grandma Janet and Great Grandma Totland that both loved to bake. Sugar cookies were the thing to do at Christmastime. Gingerbread came in a close second, as my Grandma Janet had those beautiful gingerbread molds hung on the walls of her kitchen and dining room (that are now proudly hung in my kitchen).
However, when it wasn't the holiday season there were a few other staple cookies that filled Grandma's house with that unmistakable just-baked cookie aroma. Snickerdoodle cookies and their delightful cinnamon smell filled the air more times than most (Grandma's Oatmeal Molasses Raisin Cookies came in a close second). And like the Oatmeal Molasses Raisin Cookies I have to tag this recipe with the well deserved hashtag of #justlikegranmamadethem!
Snickerdoodle Cookie Tips
A few things that I have found to work beautifully, yielding the best Snickerdoodles ever:
Cream the butter and sugar well, until light and fluffy (and almost white in appearance)
Don't leave out the cream of tartar, it's there for a reason! It helps to leaven the cookies, and if left out, will leave you with very flat cookies.
Do spoon and level the flour for this recipe, too much flour will result in cookies that are mound shaped and more cake-like in texture.
Don't over mix the flour once added, combine only until the flour is incorporated into the wet ingredients.
In addition to the items mentioned above, it has also been argued to me that hand mixing is preferable to using electric or stand mixers. I haven't tested the theory personally and can't report that I have noticed anything wildly different even though I do use both methods interchangeably.
Back to the interesting tidbit, at least interesting to me. Betty Crocker's website includes a bio page on the lady, Patricia Anfinson, lovingly nick-named the 'Snickerdoodle Lady' that worked in the kitchens of Betty Crocker based in Minneapolis, MN. Her family's Snickerdoodle recipe was originally contributed to the Betty Crocker's Picture Cook Book and the rest, as they say, is history.
OK so that part's cool and was in Minneapolis, a few hours away from us out here in the middle of nowhere. I'm going to include the more relevant to me part in full below, quoted from the Betty Crocker website:
Starting in 1969, Anfinson wrote a column called "Sage, Parsley and Thyme" for the Swift County Monitor-News where her husband worked as editor and publisher. For 40 years, she shared favorite family recipes, personal anecdotes, poems she had written or loved, and observations on nature and the seasons. She went on to pen three cookbooks of her own.
To tie this in to me, when my family and I first moved to Minnesota in 2012, our first home was in Swift County. That's the newspaper that is still published in that area, which is still a neighboring county to our new(er) property. I think I may have to go check out some local archives now and see what treasures of vintage recipes I can find!
**Adapted from the 1963 Betty Crocker Cooky Book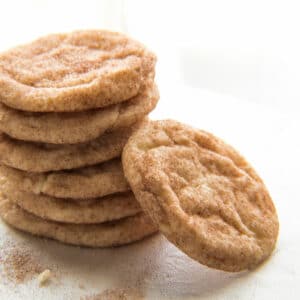 Print Recipe
Leave A Comment
Love This Recipe?
Click On A Star To Rate It!
Snickerdoodle Cookies
Snickerdoodle Cookies are a fantastic light, buttery cookie with cinnamon sugar coating that are always eaten up quickly!
Cooling Period
10
minutes
Pin Recipe
Share on Facebook
Instructions
Preheat oven to 400 degrees F (205 degrees C) and line your baking sheet(s) with parchment paper, if desired.

In a large mixing bowl, or the bowl of your stand mixer, cream together the butter and sugar, then add the eggs and combine.

Stir in the cream of tartar, baking soda and salt. Add the flour and combine until dough is formed.

Using a tablespoon, scoop out the dough and roll into 1 ¼ inch balls. Roll each formed ball of dough in a bowl with the ¼ c sugar and 2 teaspoon cinnamon mixture.

Place on cookie sheets approximately two inches apart. Bake for 8-10 minutes, or until the cookie is set.

Remove from oven and allow to cool on the cookie sheet for 1-2 minutes before transferring to a wire cooling rack to cool completely.
Notes
*This recipe is altered from the original 1963 Betty Crocker Cooky Book to my preferred use of all butter, rather than a butter and shortening combination.
---
Unused dough can be frozen in an air tight container for a few months, but baked Snickerdoodle Cookies have not refrigerated well for me. (Or I could just be super picky, I noticed that the texture changed!)
---
Cookies can be stored at room temperature in an air tight container for up to a week, however, they are best in the first few days.
Nutrition
Calories:
122
kcal
(6%)
|
Carbohydrates:
17
g
(6%)
|
Protein:
1
g
(2%)
|
Fat:
5
g
(8%)
|
Saturated Fat:
3
g
(19%)
|
Cholesterol:
23
mg
(8%)
|
Sodium:
95
mg
(4%)
|
Potassium:
43
mg
(1%)
|
Fiber:
1
g
(4%)
|
Sugar:
10
g
(11%)
|
Vitamin A:
171
IU
(3%)
|
Calcium:
5
mg
(1%)
|
Iron:
1
mg
(6%)
Betty Crocker, classic Snickerdoodles, cookie recipe, Snickerdoodle Cookie, vintage recipe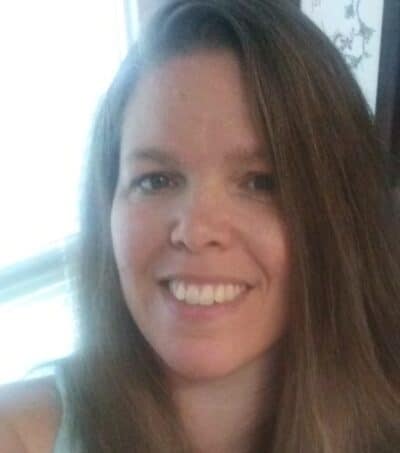 Angela is an at home chef that developed a passion for all things cooking and baking at a young age in her Grandma's kitchen. After many years in the food service industry, she now enjoys sharing all of her family favorite recipes and creating tasty dinner and amazing dessert recipes here at Bake It With Love!