Air fryer turkey breast is an easy meaty main dish that's equally suited for a fabulous family meal as it is a holiday gathering! Perfectly tender and superbly moist turkey is practically effortless whether you're using bone-in turkey breast or boneless turkey breast!
Air Fryer Turkey Breast Recipe
Thanksgiving is coming up soon, and that means turkey is on everyone's minds. Turkey breast can be intimidating for even the most experienced cook but especially for a beginner.
If it's your turn to host the holiday meal this year, and you're in charge of the main course, try this quick, easy, and delicious recipe!
Using an air fryer is great for meat. It speeds up the cooking process and keeps all the juices in, leaving it tender and moist on the inside with crispy skin on the outside. And as an added bonus, you can save oven space for the many other dishes you'll be putting together for the big meal.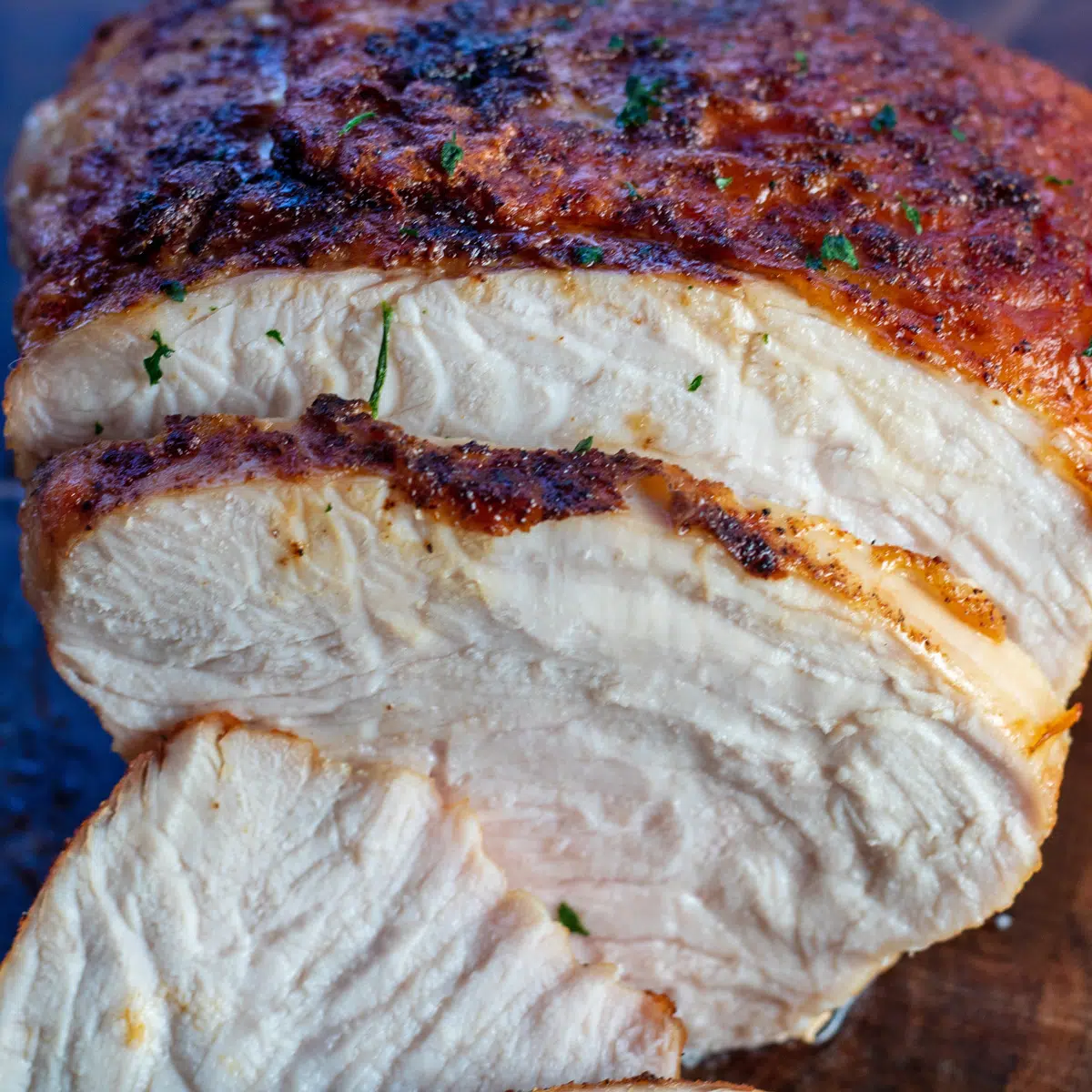 A Juicy, Flavorful Air Fryer Turkey Breast in Under an Hour!
Jump to:
My recipe uses a simple blend of salt, fresh ground pepper, garlic powder, and paprika to enhance the natural taste of the bird. With widely used flavors, this dish will pair well with almost anything! And it makes amazing sandwiches, soups, pasta dinners, and curries if you have any turkey leftovers.
So don't waste time figuring out how you'll get everything else cooked with the turkey in the oven all day. Use the air fryer!
❤️ Why You'll Love This Recipe!
Minimal Prep Work! Getting this turkey ready to be cooked only takes 5 minutes!
Quick Cooking! Spending hours cooking a turkey doesn't have to be part of the holiday tradition!
It's Delicious! Using the air fryer helps keep the juices in and gives you a perfectly roasted piece of meat every time!
🥘 Ingredients
With only 6 ingredients, this is a simple dish packed with all kinds of flavor. A boneless turkey breast is ideal for fitting into your air fryer and for hosting a small gathering!
3 pounds Turkey Breast - Boneless or bone-in will both work in this recipe as long as it's thawed (and can fit into your air fryer).
1 tablespoon Olive Oil - As always, a good extra virgin olive oil is a pantry essential!
2 teaspoons Kosher Salt - Salt brings out the flavor of everything around it.
¼ teaspoon Ground Black Pepper - Freshly ground black pepper adds some spice to this savory dish.
¼ teaspoon Garlic Powder - Garlic makes everything better!
¼ teaspoon Paprika - Paprika has a subtle flavor and adds beautiful color to a somewhat bland-looking dish.
*Be sure to see the free printable recipe card below for ingredients, exact amounts & instructions with tips!*
🔪 Step-By-Step Instructions
You'll need your air fryer, paper towels, and a cutting board for this recipe. An electric knife can also be especially helpful for cutting slices when you're ready to serve.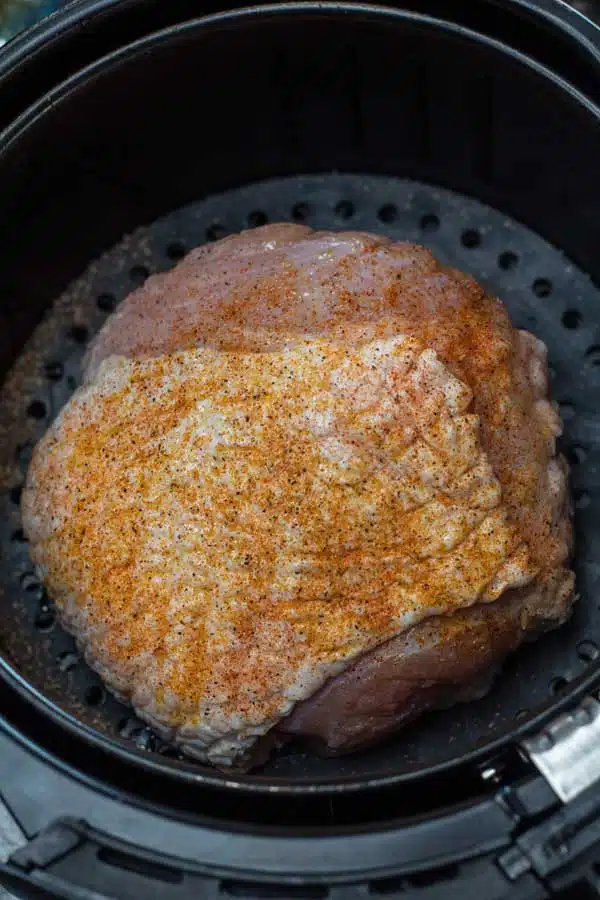 First, dry the turkey and season it. Use paper towels to pat dry a 3-pound turkey breast. Pour 1 tablespoon olive oil over the bird and spread it over the entire surface. Season with 2 teaspoons Kosher salt, ¼ teaspoon ground black pepper, ¼ teaspoon garlic powder, and ¼ teaspoon paprika. Use your hands to spread the spices evenly.
Now, cook. Transfer the meat to the air fryer basket, keeping the skin side up. Cook at 375℉ (190℃) for 20 minutes. Flip it over (breast down) and cook for another 20 minutes or so, until it's done. Check for doneness by using a meat thermometer inserted into the thickest part of the meat. It should reach 165℉ (74℃) when it is done.
Let it rest. Take the turkey out of the air fryer, and move it to a cutting board or serving platter. Use aluminum foil to create a loose tent over the top. Let the meat rest for 10 minutes.
Serve. Carve and serve.
Serve on a platter garnished with parsley and orange or lemon slices. Many different side dishes would compliment this dish. Enjoy!
💭 Angela's Tips & Recipe Notes
As always, avoid using aerosol sprays in your air fryer. Aerosol sprays damage the coating. Instead, try using a spritz bottle or a pastry brush to oil the basket.
Don't skip patting your turkey dry. You will want to remove as much water as you can from the skin. Drying your turkey will help it cook faster and will help crisp up the skin on the outside. Don't skip this step, and be sure to dry it thoroughly for best results.
The weight of your turkey will depend on the number of diners. As a general rule, count on ½ to ¾ pound of boneless or 1 pound of bone-in turkey breast for each person who will be eating. If you want leftovers for sandwiches the next day, calculate that into your estimate. For reference, most bone-in turkey breasts are between 4 and 10 pounds. Boneless breasts tend to be 2 ¾ to 6 pounds.
Swap out the extra virgin olive oil with butter for a richer flavor. You can cover the turkey with the same amount of butter as you would olive oil, but you should be aware that butter will run the risk of burning. To prevent this, loosely cover the breast with aluminum foil during cooking.
Add fresh herbs for an extra delicious taste. Tear up fresh herbs like parsley, rosemary, and thyme. Put them on top with the rest of the seasonings, or stuff them in the turkey cavity if using bone-in meat. Herbs are a wonderful way to bring the flavors of your garden to a meal, even late in the season.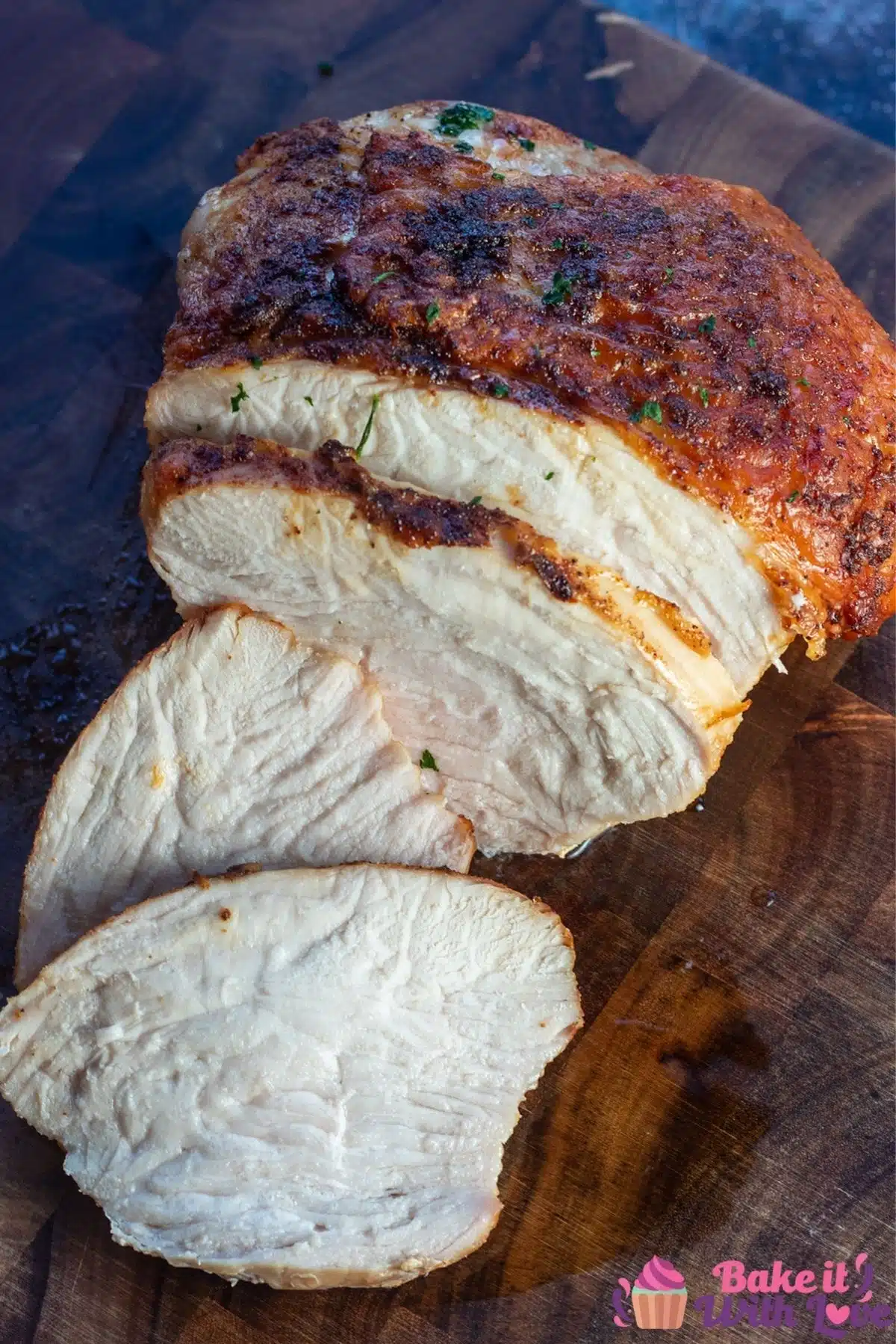 🥡 Storing & Reheating
If you have any leftovers, refrigerate them in shallow, tightly sealed containers that will allow them to cool quickly. They will be safe to eat for up to 3-4 days.
Be sure to check out all of my tasty leftover turkey recipes too!
For long-term storage, place turkey slices in a single layer in freezer bags or in airtight containers. You can enjoy leftovers for up to 6 months, however, leftover turkey is best thawed and eaten within 1-2 months.
Reheating Air Fryer Turkey Breast
The best way to reheat cooked turkey is in the oven. Thaw any frozen pieces in the fridge overnight. Once thawed, leave leftovers at room temperature for 10 to 30 minutes. This will help it reheat evenly.
Next, put similarly-sized pieces in a baking dish covered in tin foil with a bit of stock and melted butter poured over the top to add moisture. Cook at 300℉ (149℃) for 20 to 30 minutes, or until warmed to your satisfaction.
What To Serve With Turkey
Here are some ideas for what to serve with turkey.
❓ FAQ
Why do you let the turkey breast rest?
Cutting any type of meat immediately after cooking will cause it to lose many of its juices. This can lead to a dry, less flavorful meal. Letting it sit for a few minutes before cutting into it allows juices to be reabsorbed and more evenly distributed throughout the entire piece.
Do I have to thaw my turkey breast to cook it in the air fryer?
No, you can cook from frozen with some additional cook time! Wrap the prepared turkey in foil and cook it at 350℉ (177℃) for 1 hour. Start with the skin side down then at 45 minutes of cooking time remove the foil.
Flip the breast so that it is skin side up and air fry for another 15 minutes. Check the internal temperature before serving.
*This last step is especially important when cooking from a frozen state.
📋 Recipe
Print Recipe
Leave A Comment
Love This Recipe?
Click On A Star To Rate It!
Air Fryer Turkey Breast
Air fryer turkey breast is an easy meaty main dish that's equally suited for a fabulous family meal as it is a holiday gathering! Perfectly tender and superbly moist turkey is practically effortless whether you're using bone-in turkey breast or boneless turkey breast!
Pin Recipe
Share on Facebook
Ingredients
3

lb

turkey breast

(boneless or bone-in)

1

tablespoon

olive oil

(extra virgin)

2

teaspoon

Kosher salt

¼

teaspoon

ground black pepper

¼

teaspoon

garlic powder

¼

teaspoon

paprika
Instructions
Pat turkey breast dry using paper towels, then coat with olive oil and seasoning (salt, pepper, garlic powder, and paprika).

3 lb turkey breast,

1 tablespoon olive oil,

2 teaspoon Kosher salt,

¼ teaspoon ground black pepper,

¼ teaspoon garlic powder,

¼ teaspoon paprika

Place into your air fryer basket with the skin side up and cook at 375°F (190°C) for 20 minutes, then flip and continue air frying for an additional 20 minutes or until the turkey breast is done. Turkey should have an internal temperature of 165°F (74°C) as read by a digital meat thermometer (inserted into the thickest portion of the meat).

Remove from your air fryer, place on a cutting board or serving platter, and loosely tent with a square of aluminum foil. Allow the cooked turkey breast to rest for 10 minutes before slicing and serving.
Notes
Plan on ½-3/4 pound of boneless turkey breast per person for each serving, or 1 pound of bone-in turkey breast for each serving per person.
The average bone-in turkey breast is between 4-10 pounds, and boneless turkey breasts range between 2 ¾-6 pounds.
Melted butter can also be used, but is more likely to burn. Use in a 1:1 ratio with olive oil for best results, or cover with aluminum foil to prevent burning.
Fresh herbs can be added to the seasoning, or inside the turkey cavity (if preparing a bone-in turkey breast). Parsley, rosemary, and thyme are all excellent choices.
Nutrition
Calories:
251
kcal
(13%)
|
Carbohydrates:
1
g
|
Protein:
49
g
(98%)
|
Fat:
6
g
(9%)
|
Saturated Fat:
1
g
(6%)
|
Polyunsaturated Fat:
1
g
|
Monounsaturated Fat:
3
g
|
Trans Fat:
1
g
|
Cholesterol:
122
mg
(41%)
|
Sodium:
1243
mg
(54%)
|
Potassium:
554
mg
(16%)
|
Fiber:
1
g
(4%)
|
Sugar:
1
g
(1%)
|
Vitamin A:
87
IU
(2%)
|
Vitamin C:
1
mg
(1%)
|
Calcium:
33
mg
(3%)
|
Iron:
1
mg
(6%)
Air Fryer Turkey Breast, bone-in turkey breast, boneless turkey breast, how to air fry turkey breast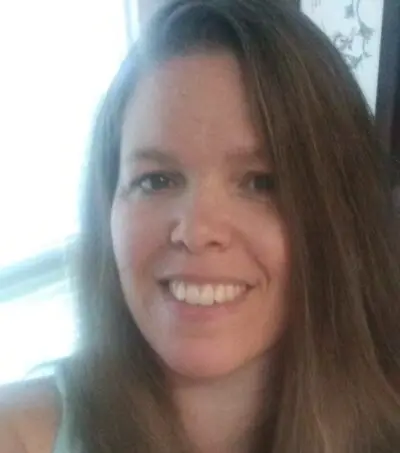 Angela is an at home chef that developed a passion for all things cooking and baking at a young age in her Grandma's kitchen. After many years in the food service industry, she now enjoys sharing all of her family favorite recipes and creating tasty dinner and amazing dessert recipes here at Bake It With Love!