Classic Thanksgiving side dish recipes include your all of favorite recipes that we all know and love for your holiday menu! When you imagine Thanksgiving, these are the dishes that come to mind. So choose a few (or all of them) to complete your best dinner of the year!
Best Classic Thanksgiving Side Dishes
The best part about Thanksgiving is being able to spend time with your family and enjoy a wonderful meal together! If you're the one hosting, it does not mean that you have to slave away in the kitchen forever or stress about what to serve.
This list of classic Thanksgiving side dish recipes is going to help relieve some stress and make your holiday planning much easier! To make your day even more effortless, check out my list of make ahead Thanksgiving side dishes!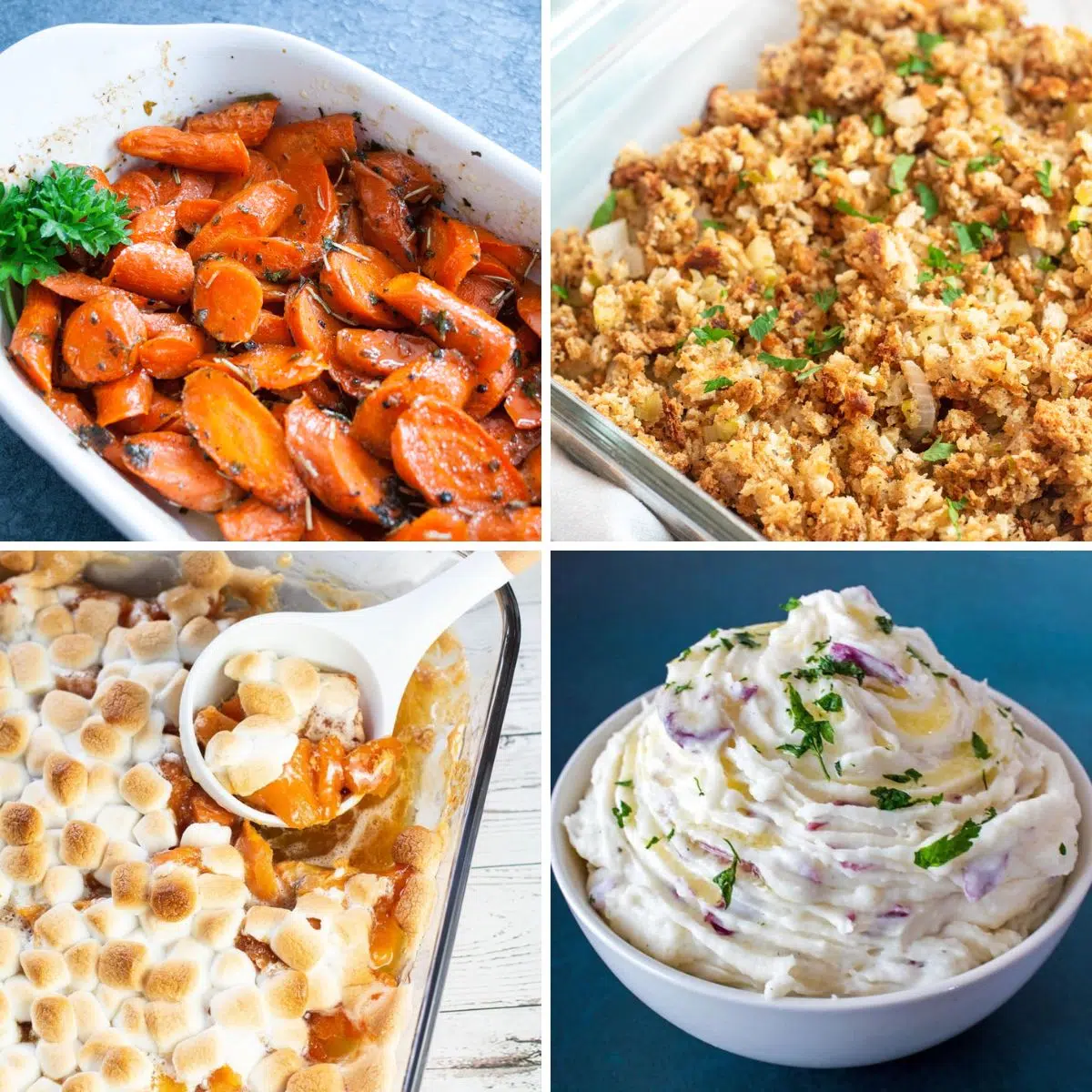 Jump to:
Whether you're a pro at hosting Thanksgiving dinner and holiday parties or giving it a try for the first time this year, you're sure to find my ultimate guide to planning Thanksgiving a help! Don't forget to safely thaw your holiday turkey early, too!
1. Candied Yams
I feel like candied yams have made an appearance at everyone's Thanksgiving dinner at least once! They are an incredibly popular sweet potato dish that is loaded with brown sugar and marshmallows! Is this sweet meal a side dish or a dessert?
2. Mashed Sweet Potatoes
Mashed sweet potatoes are a great twist on typical mashed potatoes as well as a less-sweet alternative to candied yams. They are a perfect balance of sweet and savory, making them completely crave-worthy!
3. Garlic Mashed Potatoes
What would a Thanksgiving dinner be without some sort of mashed potatoes? This recipe adds just the right amount of garlic to make these potatoes extra special! Make sure you make a big batch because everyone will love these mashed potatoes!
4. Red Skin Mashed Potatoes
This perfect Thanksgiving side dish is a family favorite. The potato skins add a wonderful texture to the creamy potatoes while the cream cheese makes them extra rich! Whether you're serving ham or turkey (or both), these potatoes will make a fantastic side dish!
5. Green Bean Casserole
Green bean casserole is one of those dishes that everyone loves to eat at Thanksgiving! It is savory, flavorful, and incredibly delicious! This recipe includes cheddar, fried onions, and bacon to make it completely irresistible!
6. Honey Glazed Carrots
These honey glazed carrots are a simple veggie side dish that tastes great! The honey adds an extra bit of sweetness, making these carrots totally kid-approved. Carrots pair well with a ton of different items, so they will complement anything you're serving for Thanksgiving!
7. Jiffy Corn Casserole
Corn casserole is a holiday staple in my house! It is sweet, creamy, and completely addicting. It complements anything you pair it with. Go ahead and make 2 batches, though, because your family is going to eat it all!
8. Easy Stuffing
Stuffing is one of the most classic and iconic Thanksgiving side dishes out there! Whether or not you choose to cook it inside your turkey is up to you as it tastes delicious either way!
9. Cranberry Sauce
This cranberry sauce is way better than anything you'll get out of a can! It is incredibly delicious, loaded with flavor, and goes perfectly with your Thanksgiving turkey! The apples and apple cider add a tasty twist to this classic dish.
10. Baked Sweet Potatoes
Baked sweet potatoes are healthy, easy, and incredibly versatile! If your family isn't into the extra sweet dishes like candied yams, these sweet potatoes are a fantastic option. You can sprinkle them with brown sugar to add some more sweetness or just eat them as is!
11. Baked Macaroni and Cheese
Macaroni and cheese is a creamy, rich, and popular side dish that everyone loves! It tastes great with all of your other holiday favorites. Plus, it is easy to make!
12. Bisquick Biscuits
These Bisquick biscuits have a homemade taste but are extremely simple to make. In fact, they only use 2 ingredients! This simplicity makes them perfect for Thanksgiving! You won't have to spend a bunch of time making delicious biscuits as these only take 15 minutes.
13. Turkey Gravy
Make sure you save the drippings from your turkey in order to make some rich and creamy turkey gravy! Every holiday table needs some gravy, and this is the best, most delicious recipe you're going to find!
14. Roasted Brussel Sprouts
For an easy veggie side, check out these roasted brussel sprouts! The honey and vinegar add a delectable sweet and tangy flavor. Plus, roasting the brussel sprouts makes them wonderfully crispy!
These brussel sprouts only take 5 minutes of prep work, so you can tend to other important Thanksgiving tasks while they roast!
15. Dinner Rolls
Everyone loves dinner rolls! They add a nice, filling addition to any meal and deserve to be on everyone's Thanksgiving menu.
No dinner is complete without cleaning up your gravy with a soft, buttery roll!
This list of classic Thanksgiving side dishes is full of items to make the perfect holiday menu. Leave a comment down below and let me know your family's favorite Thanksgiving side dish!
🦃 Great Thanksgiving Entrees
See more Thanksgiving →
📖 Recipe Card