These Irish Thanksgiving dinner menu Ideas are just what you need to celebrate the holiday with some Irish flair! There's no boring pumpkin pie or dry turkey on this menu. Just some fantastic Irish-inspired appetizers, side dishes, entrees, and desserts that will make your Thanksgiving extra special!
Irish Inspired Thanksgiving Recipes
You're not the only one that gets tired of eating turkey 3 days in a row. Yes, the classic Thanksgiving recipes are delicious, but why not add an Irish twist to give everyone something to get excited about?
These Irish-inspired recipes are made for sharing and will make a beautiful addition to your holiday spread. You'll have a Thanksgiving get-together like no other with these fabulous dishes on the menu!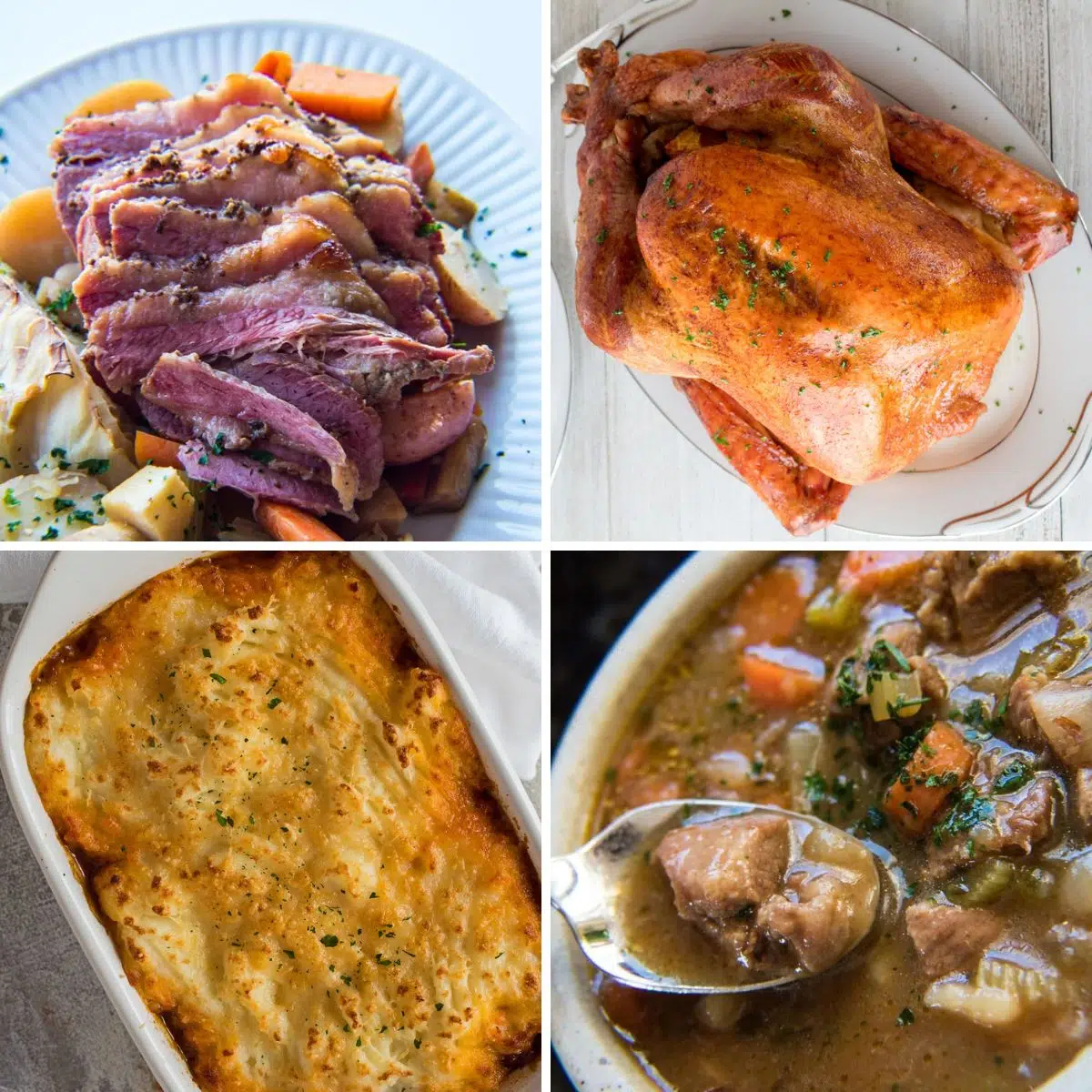 Jump to:
Whether you're a pro at hosting Thanksgiving dinner and holiday parties or giving it a try for the first time this year, you're sure to find my ultimate guide to planning Thanksgiving a help! Don't forget to safely thaw your holiday turkey early, too!
For Irish Americans, Thanksgiving is the perfect excuse to get together with family and friends to enjoy some good food (and good beer)! It's all about the company, but an incredible meal never hurts. These Irish Thanksgiving dinner menu ideas are here to help you pull it off!
Appetizers
1. Irish Soda Bread
You can butter it, you can dip it, you can use it to sop up gravy, this 4-ingredient bread can do it all! Even if you've never made bread before, this one is hard to mess up.
2. Potato Leek Soup
An inviting cup of warm potato leek soup is a great way to start your dinner. Top it off with crispy bacon and some chives and you'll want to lick the bowl.
3. Irish Nachos
Irish nachos are classic bar fare that replaces tortilla chips with thinly sliced potatoes! You can add all your favorite nacho toppings and customize it to your liking.
4. Irish Boxty
These crispy potato pancakes are a staple of Irish cooking. The inside is soft and fluffy while the outside is golden and crispy!
This recipe is a great way to use up any leftover mashed potatoes.
Main Course
5. Shepherd's Pie
This savory meat and potato pie is comfort food at its finest. If you don't have lamb, you can easily swap it for ground beef in this recipe. It would then be a 'cottage pie', but delicious nonetheless!
6. Irish Lamb Stew
This hearty lamb stew will fill your belly and warm your soul. It's full of chunky vegetables and melt-in-your-mouth tender lamb meat that has been simmered for over an hour.
7. Corned Beef and Cabbage
This classic corned beef and cabbage is some good old-fashioned Irish home cooking. It's even got Guiness in it, it doesn't get more Irish than that!
You can make it on the stovetop, in the crockpot, or in your Instant Pot. No matter how you cook it, the results are delicious!
8. Oven Roasted Turkey
No matter your heritage, turkey is always a suitable main course on Thanksgiving. This oven roasted turkey recipe is a tried and true classic that yields delicious results every time.
Try making some turkey gravy from scratch to really impress your guests!
Side Dishes
9. Colcannon
Colcannon, or Irish mashed potatoes, are mixed with extra butter and cream as well green onions and leafy greans (like kale, Swiss chard, or cabbage). If you are a mashed potato fan, you will surely love this creamy Irish recipe. In fact, you may prefer it!
10. Sweet Potato Colcannon
This Emerald Isle spin on mashed sweet potatoes is full of greens and plenty of cream and butter. Not to mention, a pinch of cayenne pepper for good measure!
11. Guinness and Irish Cheddar Mac and Cheese
The combination of sharp Irish cheese, Guinness beer, and Dijon mustard makes for a fiercly flavorful macaroni and cheese! It's indulgent and creamy with an optional breadcrumb topping that I highly suggest you try.
12. Irish Cabbage
Similar to fried cabbage, this Irish cabbage is a savory vegetable side dish that will be right at home on your Thanksgiving table. This cabbage is boiled instead of fried, but it still has plenty of bacon flavor!
13. Sausage, Sage, & Onion Stuffing
This classic sausage, sage, & onion stuffing slices beautifully. It also has fresh apples and plenty of butter for added flavor!
Desserts
14. Irish Coffee
Irish coffee is a great after-dinner drink to sip on. It's warm and sweet, and the caffeine helps you put off the after-Thanksgiving nap.
If sweet drinks aren't your thing, a glass of Irish whiskey neat will also do the job.
15. Irish Apple Cake
This moist apple cake is one of my favorites to make (and to eat). The smooth and creamy vanilla custard sauce is downright heavenly, though you can enjoy the subtly sweet apple cake without it.
16. Irish Soda Bread Pudding
Remember the easy no-knead bread from the beginning of this list? Turn it into a fabulous bread pudding!
It's covered with a luxurious crème anglaise made with Bailey's Irish Cream. This dessert will be a new family favorite for sure.
17. Irish Barmbrack
This homemade raisin bread is surprisingly easy to make and makes your house smell wonderful. It's similar to fruit cake.
You don't even have to wait to serve this bread at the end of the meal if you don't want to. Just make sure you have plenty of butter!
18. Baileys Chocolate Chip Cookies
These perfectly chewy chocolate chip cookies are always a hit. The addition of Baileys Irish Cream gives them a subtle flavor that isn't found in classic chocolate cookies. These will quickly disapper, so be sure you make plenty!
19. Irish Oatmeal Cake with Caramel Pecan Frosting
You can't go wrong serving this delectably moist oatmeal cake this Thanksgiving. It has a rich stove-top caramel pecan frosting that perfectly complements the spiced cake and ties it all together!
I hope your family enjoys these Irish Thanksgiving dinner menu ideas as much as mine does! Let me know which recipes were your favorite in the comments below!
🦃 More Thanksgiving Menus
See more Thanksgiving →
📖 Recipe Card