These Canadian Thanksgiving menu ideas highlight the most well-loved recipes for Thanksgiving dinner in the Great White North. From roasted turkey to satisfying side dishes and decadent desserts, this menu has it all! Your Thanksgiving day will surely be a success with these incredible dishes on the table!
Best Canadian Thanksgiving Recipes
Canadian Thanksgiving is a time to come together with family and friends and give thanks for the previous year. The best part of these gatherings is, of course, the food!
You can't go wrong with this Thanksgiving menu, regardless of where you are currently located. If you're missing a taste of home, inviting out-of-town family, or simply want to try something new, these recipes will bring out your inner Canadian!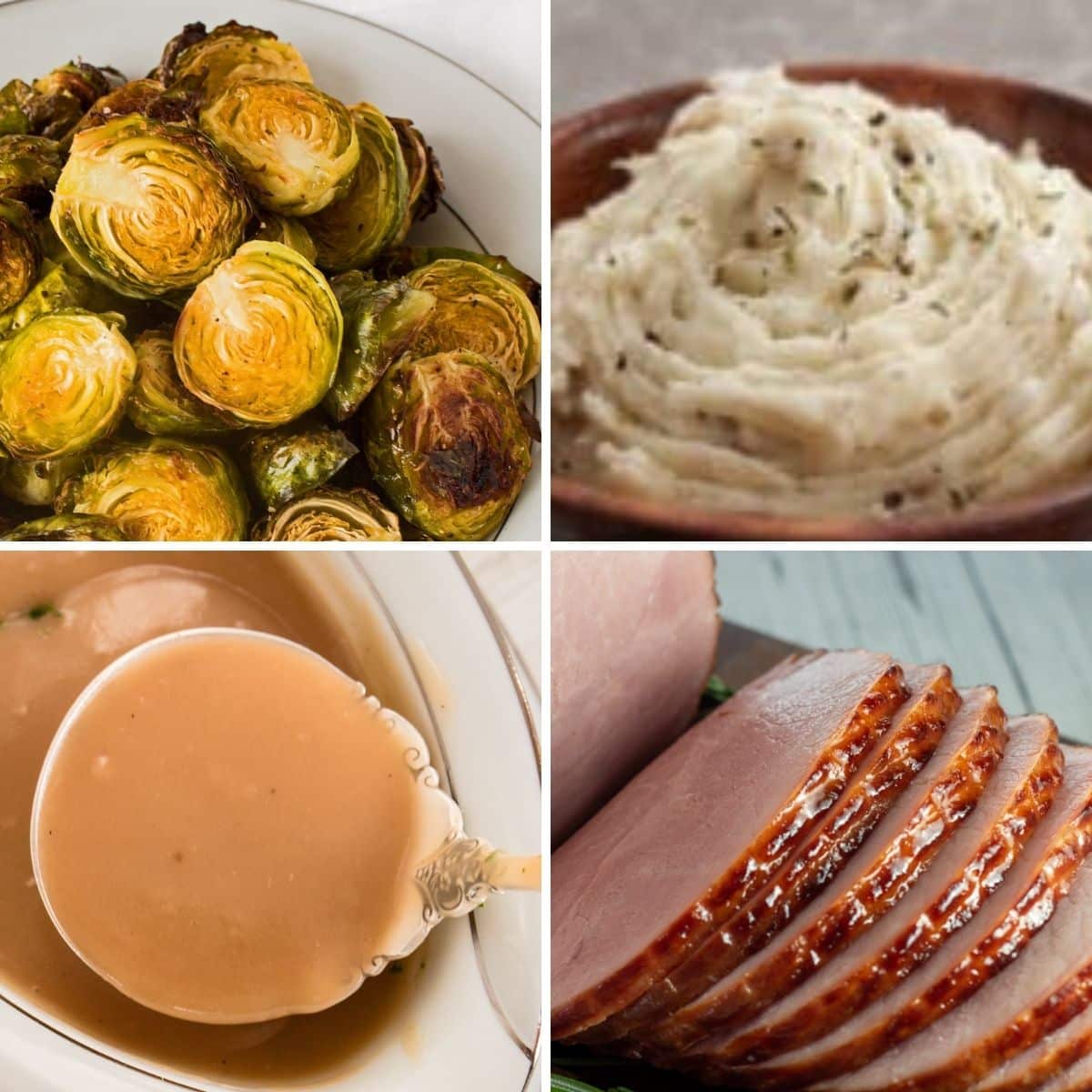 Jump to:
Whether you're a pro at hosting Thanksgiving dinner and holiday parties or giving it a try for the first time this year, you're sure to find my ultimate guide to planning Thanksgiving a help! Don't forget to safely thaw your holiday turkey early too!
Thanksgiving Menu Ideas For A Canadian Holiday Meal
If you are craving some Northern classics, look no further. These recipes will bring you a taste of Canada, no matter where you are!
1. Turkey Gravy
Brown turkey gravy is a Thanksgiving classic no matter where you are on the map. Using the giblets from the turkey makes for a rich and highly flavorful gravy!
This is nothing like the stuff you get from a packet. You could drink this turkey gravy with a straw!
2. Roasted Brussel Sprouts
Not only are roasted brussel sprouts delicious but they are healthy, too! Not to mention, so easy to make.
If you are in a hurry, you can even use frozen brussel sprouts. They caramelize into crispy perfection with almost no effort!
3. Mashed Potatoes
No matter where you live, mashed potatoes are a must! They make the perfect bed for tender turkey slathered in gravy!
This recipe features roasted garlic for added depth of flavor. Gravy or not, it's totally delicious.
4. Roasted Butternut Squash
Roasted butternut squash is a simple healthy side dish for Thanksgiving or any fall get-together. The cubes of butternut become perfectly tender with just a touch of caramelization.
They are delicious as is, but they also do well with a touch of cinnamon or (you guessed it) maple syrup!
5. Brown Sugar Ham
This ham is roasted with brown sugar and honey, giving it a sticky outer coating that is delectably sweet.
If you aren't a turkey fan, or you just like to have options, this baked ham is a great choice!
6. Butter Tarts
Butter tarts are like bite-sized pies! The center is buttery and rich, like warm caramel.
Add in some pecans or walnuts for texture, or simply enjoy them as they are! You could even mix in chocolate chips- the sky is the limit!
7. Oyster Stuffing
Oysters are a classic addition to traditional bread stuffing. They add a briny, salty flavor but nothing too fishy.
If anyone is wary, just have them try one bite of this stuffing. It's downright addicting!
8. Whipped Sweet Potatoes
Whipped potatoes are even more light and airy than mashed. It's a simple recipe that tastes like it took a lot of effort.
You could even add some pecans and a maple drizzle to these potatoes and you'll be in heaven!
9. Pumpkin Cheesecake
Move over pumpkin pie, pumpkin cheesecake is the new big thing! This recipe has one layer of traditional cheesecake underneath a layer of spiced pumpkin cheesecake filling.
This dessert is a fun twist on a Thanksgiving classic! It may even become a new tradition for your family.
10. Smoked Salmon
If you're not a turkey person, smoked salmon might be the Thanksgiving entree for you! This method uses a foil packet to trap heat so the fish stays perfectly flaky and moist.
The skin still gets nice and crispy, though. It's a nice alternative to turkey, especially if you have multiple Thanksgivings to attend!
11. Maple Glazed Turkey
This is turkey, Canadian style! A maple glaze is a fun and tasty twist on the classic roast turkey.
Maple syrup adds a touch of sweetness while liquid smoke mellows it out with a deep smoky flavor. It's the perfect combination!
12. Creamed Corn
Creamed corn is sweet and refreshing. Chunks of corn kernels are blanketed in a rich and creamy sauce that is downright delicious.
Top it off with some freshly grated Parmesan for an extra cheesy taste. Everyone will be asking for this recipe!
13. Cranberry Sauce
Cranberries are native to parts of Canada and as such, they have some killer cranberry sauce! Homemade cranberry sauce is nothing like the stuff that comes from a can.
If you're on a time restraint, you can still use frozen cranberries. It's sweet, tart, and totally delicious!
14. Maple Roasted Carrots
Instead of honey, try roasting carrots with maple syrup! They are still sweet but with that classic maple flavor.
When you roast carrots, you control just how tender they get. That means you can make them exactly how you like them!
15. Tourtière
Tourtière is a classic French-Canadian meat pie made with pork and beef. It is sometimes called a meat pie or pork pie, though they are all different terms for the same thing.
Sometimes, venison or other game meat can be used. So, if you enjoy a family hunting trip this time of year, this may be a good recipe for you!
🦃 More Thanksgiving Recipes
See more Thanksgiving →
📋 Recipe