These pasta side dishes are easy, delicious, and exactly what you need to complete your delicious homemade lunch or dinner! I've put together this list of 15 tasty pasta-based sides to make a well-rounded meal. From pasta salad to mac and cheese- there is something for everyone!
Pasta Side Dish Recipes
We all love a hearty side dish with soft and delicious pasta! But how many styles of pasta are available to serve for your next dinner party? You may only think that Mac and cheese is your only option, but the possibilities are broader than you may think!
This article explores many delicious pasta side dishes that combine unique and tasty ingredients to create one-of-a-kind recipes that each and every one of your friends and family members will love!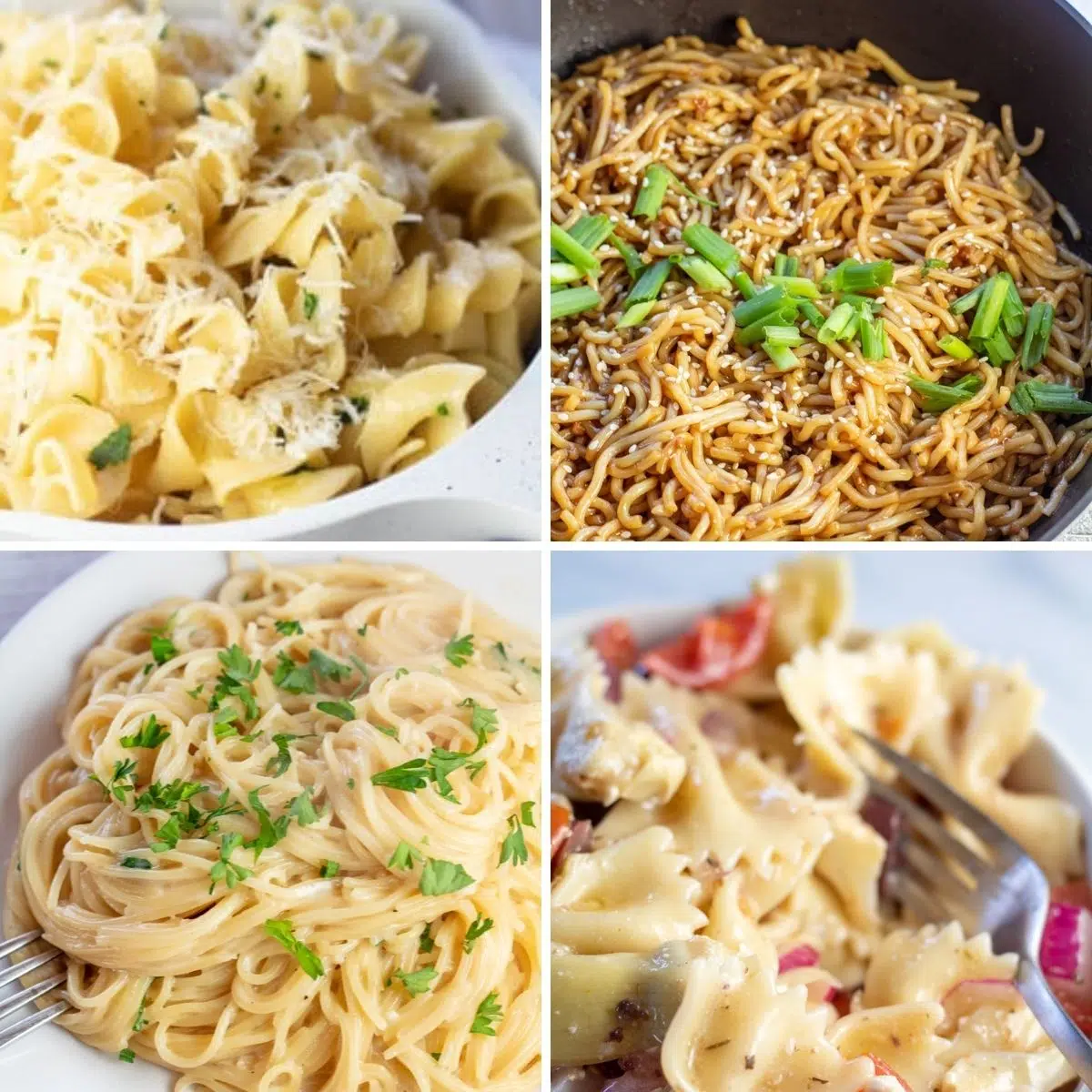 Jump to:
1. Greek Pasta Salad
Greek pasta salad is full of tasty ingredients. This pasta salad is tangy and savory and has just the right amount of delicious Greek dressing. Prep this pasta salad the day before to help you free up time the next day!
Serve this Greek pasta salad at your next potluck to have everyone lined up for seconds!
2. Tuna Salad with Pasta
Tuna salad with pasta is creamy with just the right amount of crunchiness! The creamy mayonnaise and yogurt dressing paired with the crisp celery and red onion will have your mouth watering!
Serve this delightful tuna salad with pasta for a fish Friday event or any day of the week when you want this delicious side dish! Add extra veggies to bulk up this amazing side dish, or swap out some of ours for veggies of your choice!
3. Cream Cheese Pasta
Cream cheese pasta is the perfect side dish for meatless Mondays! This creamy pasta dish has a buttery and creamy sauce that is thick and savory!
Serve this side dish on its own or as the perfect side, and don't forget to top it off with extra Parmesan cheese!
4. Garlic Parmesan Angel Hair Pasta
This garlic Parmesan angel hair pasta recipe is just what you need after a long day at work! This pasta dish is comforting, creamy, and perfectly seasoned with chicken broth, parsley, and garlic.
This amazing side dish is great with angel hair pasta, but it can be made with other types of pasta as well! Linguine, spaghetti, and fettuccine are all great pasta alternatives for this culinary delight!
5. Macaroni and Tomatoes
Macaroni and tomatoes are a recipe that I know very well! This side dish was one of my grandmother's favorites, which means it was often served at our family gatherings!
This pasta side dish is made with juicy canned tomatoes and flavorful bacon grease, which creates a bold and delicious comfort food! For a touch of added flavor and texture, you can grate fresh Parmesan cheese on top to enhance this recipe even further!
6. Hawaiian Macaroni Salad
Hawaiian macaroni salad is sweet, tangy, and very unique. This delightful macaroni side dish is served chilled and is made with crunchy celery and carrots, sweet pineapple juice, tangy vinegar, and creamy mayonnaise. Each of these delicious ingredients blends together to create the perfect summertime side dish!
Prep this side dish ahead of time and keep it refrigerated until you are ready to eat! Double the batch and serve this amazing side dish at your next family barbecue or party!
7. Southern Baked Macaroni and Cheese
Southern baked macaroni and cheese isn't your regular boxed style of mac and cheese! This macaroni and cheese is made with milk, heavy cream, eggs, and multiple types of rich and creamy cheese!
Serve this creamy masterpiece fresh out of the oven while it is still hot for the ultimate mac and cheesiness.
8. Buttered Noodles
These buttered noodles are a simple and delicious side dish that everyone will love, even the pickiest of eaters will chow down on these yummy noodles.
Serve your family a large serving of this simple pasta side dish and they will love every bite!
9. Teriyaki Noodles
These teriyaki noodles are an Asian-inspired favorite! Made with stir fry noodles and tangy teriyaki sauce, this delightfully simple pasta dish will enhance any meal.
If you want a full Asian experience, serve these teriyaki noodles with our delicious Asian roasted pork belly.
10. Hibachi Noodles
These hibachi noodles are incredibly simple to make and are truly addictive! Made with nutty sesame oil, savory butter, warm ginger, and minced garlic, these noodles are simply delicious.
Serve these amazing hibachi noodles with our yummy hibachi veggies or hibachi chicken to make a full and well-rounded meal!
11. Oven Baked Macaroni and Cheese Bites
I love oven-baked macaroni and cheese bites! They are bite-sized bites that can be served as a side dish with dinner or served as a late-night snack! These creamy and savory Mac and cheese bites are the ultimate ooey-gooey experience.
Make these amazing bite-sized bites with our famously creamy homemade mac and cheese for the best version of this recipe!
12. Vermicelli Rice
Vermicelli rice is a pasta dish that is made with toasted vermicelli pasta with long-grain Basmati rice. This scrumptious mixture is seasoned to perfection with toasted pine nuts and fresh parsley.
Serve vermicelli rice as a side dish for any occasion, your family and friends will love this combination!
13. Lemon Asparagus Orzo
This lemon asparagus orzo is tangy and savory, made with zesty lemon and minced garlic. Your whole family will be amazed by this fancy side dish and will be lining up for more!
Serve this side dish at any dinner party or your next holiday event!
14. Creamy Garlic Shells
If you want a savory side dish, then you will love this creamy garlic shells recipe. A giant scoop of this creamy side dish will have your taste buds loving you!
Serve this yummy side dish with extra grated Parmesan cheese on top and serve it with a piece of tender baked fish.
15. Olive Oil Pasta
Olive oil pasta is simple to make with a tad bit of spiciness and tanginess. This light pasta side dish has zesty lemon juice, fiery dry red pepper flakes, and fresh minced garlic.
Make this pasta side dish with tender spaghetti noodles or any other pasta that you love!
Which pasta side dish recipe listed above is your favorite? I would love to know your preference in the comments below! Feel free to let me know what your must-have recipe is that should be added too!
📖 More Tasty Collections
📋 Recipe