The best dill substitute depends on whether you love the flavor of dill and want to match it, or you dislike dill and want to replace it. Luckily we have dill substitutions for either side of the spectrum, so you're sure to find an herb that will work for you!
Easy Dill Alternatives
Dill is an aromatic herb with a distinctive taste that is a member of the parsley family. This family of herbs also includes cilantro, anise, and fennel.
Dill weed is one of those herbs that is quite unique. Most people can quickly tell if something is made with dill. Part of its distinct flavor profile includes qualities of anise or licorice.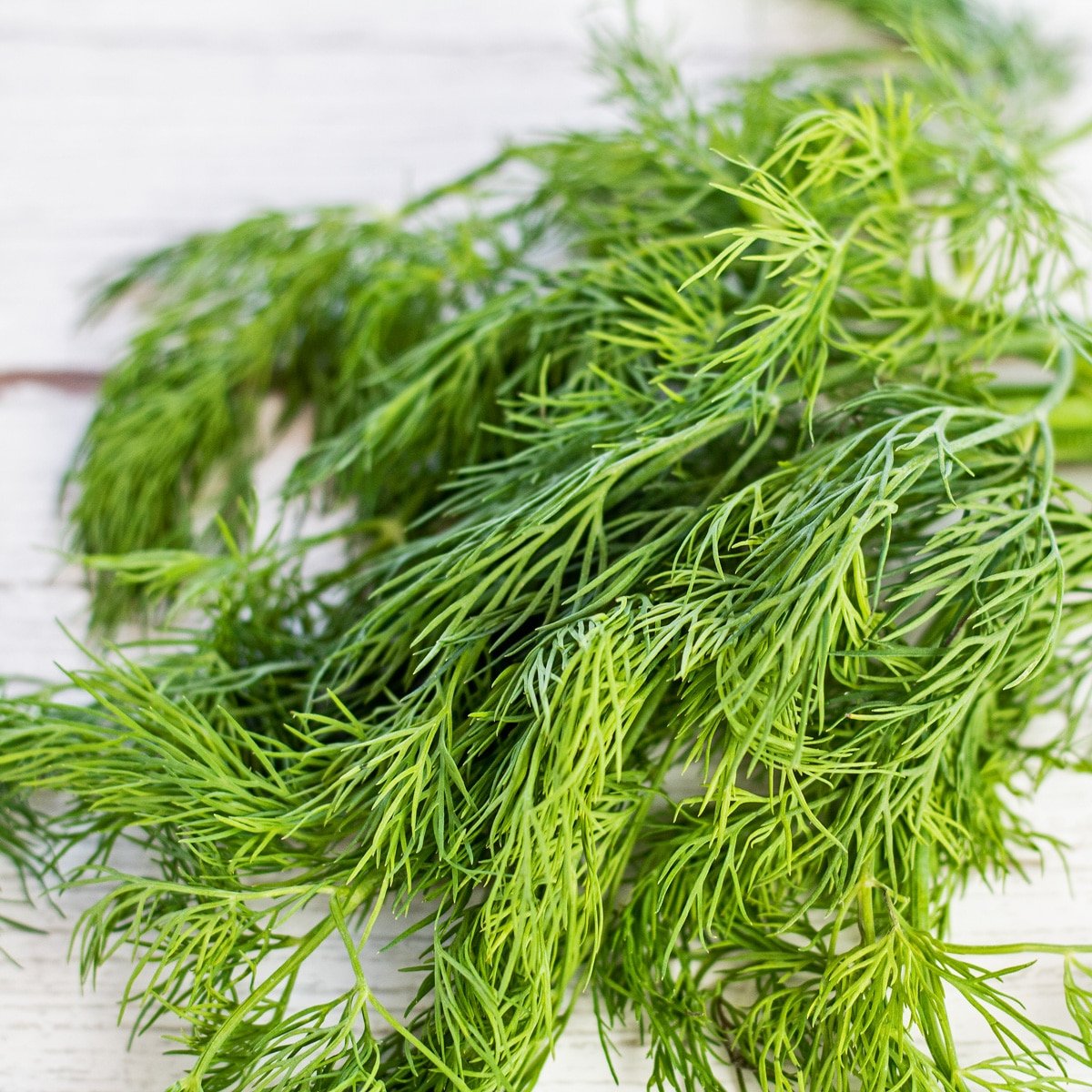 Jump to:
Due to its unique flavor, people tend to either love or hate dill. When it comes to finding a substitute, the unique flavor profile of dill is difficult to match exactly.
However, there are plenty of other herbs with similar notes of anise that resemble dill. In addition, there are plenty of alternatives that taste nothing like dill (but will still add bold flavor).
So, whether you love dill or hate it – there is a substitute for you!
Best Substitutes for Fresh Dill
Fresh dill has feathery green leaves. This lends itself to being used as a garnish for many dishes. Beyond its beauty, dill adds a distinct flavor quality to an assortment of foods. It pairs particularly well with potatoes and seafood.
When choosing the best substitute from below consider what qualities of fresh dill you are trying to replicate. If you want a close match to the anise-like flavor, then other herbs from the parsley family are great choices. If you want to move away from its distinct flavor, an herb from a different varietal is a better choice.
1. Dried Dill
Dried dill is your best choice for achieving the best flavor match for fresh dill. Therefore, if you have a recipe that is specific to the dill taste then dried dill is your best choice.
You may not think you have dried dill in your pantry. However, you may be surprised. If you have a pre-made spice rack, give it a spin. Dill is a very common seasoning and almost all spice racks include it.
Dried dill is more concentrated than fresh dill. Therefore, only use 1 teaspoon of dried dill for 1 tablespoon of fresh dill.
You can use dried dill in any recipe that calls for fresh dill. While it doesn't maintain its feathery leaves when dried, it can be sprinkled on top as a final garnish.
2. Fennel Fronds
The feathery fronds on top of fennel bulbs look a lot like fresh dill. They also have a similar flavor.
The flavor and look of fennel make them a great choice for a substitute. The licorice flavor profile will pair with the other ingredients in the same manner as dill. Providing you with a dish that tastes a lot like if it had been made with dill.
Fennel fronds can be used in any recipe in a 1:1 substitute for fresh dill.
Once you use the fronds, hold onto those fennel bulbs! Lookup a new recipe to try the fennel out in.
3. Fresh Tarragon
Tarragon was used for many years primarily by the French. However, over the years it has become popular in many other parts of the world.
Tarragon has underlying notes of anise or licorice that give it a similar flavor profile as dill. In addition, dill is a popular herb in Europe and used in the same types of dishes that tarragon is used in.
One difference between the two is that fresh tarragon holds up better in heat. Therefore, to balance out the final flavor it is best to add it earlier in the cooking process.
Use fresh tarragon in a 1:1 ratio for fresh dill when cooking. In cold dishes, you can start with less if you worry the flavor will be too strong.
4. Rosemary
Like tarragon, rosemary is another herb popularly used in French and European cuisine. It is a common seasoning for lamb, chicken, pork, and potatoes.
While pairing well with the same foods, especially potatoes, rosemary has its own distinct aroma and taste. Many find rosemary to be more pleasant than they do dill. Therefore, this is a great choice for those who want a strong herbal taste that is not dill.
Begin by using half the amount of rosemary.
5. Parsley
Mostly seen as just a garnish, parsley is also a great herb to use in recipes. While it comes from the same plant family as dill, parsley has a much milder flavor. It also has an earthier taste.
The milder taste of parsley may be appealing to more people. It is also a safe substitute because while it won't provide the flavor of dill it also won't overpower the other flavors of the recipe.
Use fresh parsley in a 1:1 exchange to begin with. This may not be a strong enough flavor for your liking. Feel free to add more to reach your desired taste.
6. Cilantro
Another member of the parsley family is Cilantro. Cilantro has a much stronger flavor than parsley. Therefore, it will provide a stronger alternative to dill.
Cilantro will compliment many of the same dishes that dill is used in. It will provide its own distinct peppery taste though, rather than mimicking the taste like dill.
Moreover, many people do not like the taste of cilantro. If cooking for other people, cilantro may not be the best choice.
Due to its strong flavor, begin with half the amount of cilantro. You can always add more to taste. This substitute is best used to add flavor to salads or cold dressings, dips, or sauces. Cilantro does not hold up well in heat.
7. Mint
Another herb family with many flavorful choices is the mint family. This includes several varietals – including its namesake.
Mint has a distinct sweet taste that leaves a cooling aftertaste on the tongue. Even though it does not share a similar flavor profile with dill it pairs well with similar foods.
It is especially great for cold dishes where it is used fresh. Consider using it in salads, dressings, and cold sauces or dips.
The strong flavor of mint may overpower certain recipes, so begin with ⅓ to ½ the amount the recipe calls for.
8. Thyme
Thyme is another member of the mint family. It shares the sweetness of mint, with the addition of its earthy flavors.
Despite the different flavor profiles of dill, thyme compliments many of the same types of food that dill compliments. Especially meat and fish.
Like mint, thyme has a stronger flavor profile. So, to avoid overpowering other flavors in your recipe, begin by using half the amount the recipe calls for. If cooking with it, add it earlier in the cooking process to cook down the flavor.
9. Basil
Commonly used in Italian cuisine, many people find basil to be a more pleasant and appealing taste than dill. Therefore, if you want a substitute for dill that doesn't taste like dill, try fresh basil.
Basil has a sweet flavor profile. Its flavor complements a variety of foods – from salads to pizzas. It is a good choice for pairing with richly flavored dishes that include meat or red sauces.
Fresh basil can be used in a 1:1 exchange for dill in cooked dishes and cold dishes.
Best Substitutes for Dried Dill
If possible, it is always best to substitute fresh herbs for fresh herbs and dried herbs for dried herbs. However, dried herbs are the easiest to keep on hand.
Therefore, if you need a substitute for fresh dill and only have dried herbs around, go ahead and use them.
Many of the herbs mentioned earlier come in a dried form that will also work as a substitute. Keep in mind that dried herbs are more concentrated in flavor.
Start with ⅓ the amount of dried herbs: 1 teaspoon dried herbs for 1 tablespoon of fresh dill.
In addition to the dried varietals from above, there are a few other options.
1. Fresh Dill
While it is more common to have dried dill on hand, you may find yourself with fresh dill and a recipe that calls for dried dill. Not to worry, these two are interchangeable. The only thing to remember is the different ratios.
If your recipe calls for dried dill and all you have is fresh, then you will need to use more to achieve the same flavor. Use 3x as much fresh dill: 1 tablespoon of fresh dill for 1 teaspoon of dried dill.
2. Oregano
Oregano is one of the most common herbs to have in your home kitchen. It is also one of the most versatile. The distinct aroma and flavor of oregano are popularly associated with Italian cooking, but it is a staple in cuisines around the world.
While oregano does not have the same flavor profile as dill, its sweet herbal flavor pairs well with many of the same foods. Furthermore, oregano is a flavor loved by many people. If you are looking for a crowd-pleasing taste, this is a good choice.
When using dried oregano in place of dried dill, start with half the amount. If replacing fresh dill with dried oregano, begin with ⅓ the amount. You can always add more to taste if needed.
3. Garlic Powder
Garlic powder does not taste like dill. That is no secret. What you may find surprising though is that chefs use garlic powder as a substitute for many herbs.
While garlic is not an herb itself, it does the same thing. Adds and enhances the flavor in a recipe. Moreover, garlic is a flavor that many people enjoy.
If you need a substitute that will add a distinctly new flavor that most people will like, try garlic powder.
Garlic powder is an even more concentrated flavor than dill. To keep from overdoing it, start with a ¼ the amount and then slowly add more if needed.
4. Bay Leaves
Bay leaves a lovely substitute for hot dishes. The flavor is commonly brought out in cooking by letting bay leaves simmer in a soup or sauce.
Bay leaves can be used in place of fresh or dried dill. Since their flavor comes out best when heated, use these in hot soups, sauces, or stews. The bay will impart its own distinct flavor that will provide a rich earthy taste.
It is difficult to measure an exact ratio between bay leaves and dill. For most dishes, 1 to 2 bay leaves will be sufficient. It may take some taste testing to find the exact flavor you like. Remember to remove the bay leaves before serving.
More great substitute pages to help you out with all of your cooking and baking!
Any of these herbs can easily be swapped for dill, it all depends on the flavor profile you are going for! Comment below and tell us what recipe you're making with a dill substitute!
📋 Recipe
Print Recipe
Leave A Comment
Love This Recipe?
Click On A Star To Rate It!
Best Dill Substitute (Fresh or Dried Dill): Dried Dill, Fennel Fronds (+More Great Alternatives!)
The best dill substitute depends on whether you love the flavor of dill and want to match it, or you dislike dill and want to replace it. Luckily we have dill substitutions for either side of the spectrum, so you're sure to find an herb that will work for you!
Pin Recipe
Share on Facebook
Ingredients
Option 1 (For Fresh Dill) - Dried Dill
Option 2 (For Fresh Dill) - Fennel Fronds
1

tablespoon

fennel fronds
Option 3 (For Fresh or Dried Dill) - Oregano
Instructions
Option 1 (For Fresh Dill) - Dried Dill
Use 1 teaspoon of dried dill for each 1 tablespoon of fresh dill called for in your recipe. Taste and adjust as needed.
Option 2 (For Fresh Dill) - Fennel Fronds
Use fennel fronds in an equal 1:1 ratio as fresh dill in any recipe.

1 tablespoon fennel fronds
Option 3 (For Fresh or Dried Dill) - Oregano
Oregano is a common, versatile herb that can be used in equal amounts to match any dried dill or fresh dill that your recipe calls for.

Remember to use 1 teaspoon dried oregano to replace fresh dill, or vice versa. Use 1 tablespoon fresh oregano to replace 1 teaspoon dried dill.
Notes
*Nutritional information is calculated for the dried dill (option 1) only.
Nutrition
Calories:
3
kcal
|
Carbohydrates:
1
g
|
Protein:
1
g
(2%)
|
Fat:
1
g
(2%)
|
Sodium:
2
mg
|
Potassium:
33
mg
(1%)
|
Fiber:
1
g
(4%)
|
Vitamin A:
59
IU
(1%)
|
Vitamin C:
1
mg
(1%)
|
Calcium:
18
mg
(2%)
|
Iron:
1
mg
(6%)
best alternatives for dill, Dill Substitute, dried dill, fresh dill weed, substitutions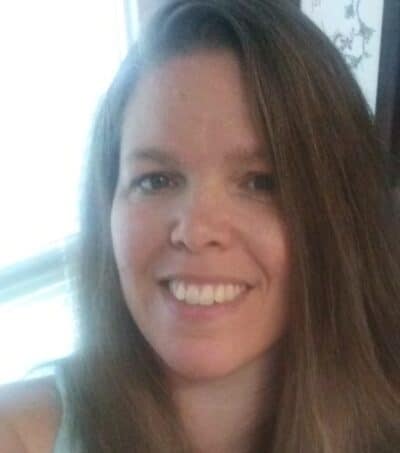 Angela is an at home chef that developed a passion for all things cooking and baking at a young age in her Grandma's kitchen. After many years in the food service industry, she now enjoys sharing all of her family favorite recipes and creating tasty dinner and amazing dessert recipes here at Bake It With Love!