These incredibly tasty air fryer appetizers are no-fail favorites for any occasion because they're quick, easy, and food comes out perfectly cooked! Because I am such an air fryer fan, I've shared all of my best air fryer appetizers in one easy location so you can try them for yourself!
The Best Air Fryer Appetizers
Your air fryer is the most convenient way to whip up some tasty appetizers on the fly. No matter if you made the recipe from scratch or if your heating it from frozen, you can guarantee it will be cooked to perfection.
This list includes a variety of air fryer finger-foods, snacks, and apps that are perfect for any get together. With so many flavorful appetizers to try, it'll be difficult to decide which one you want first!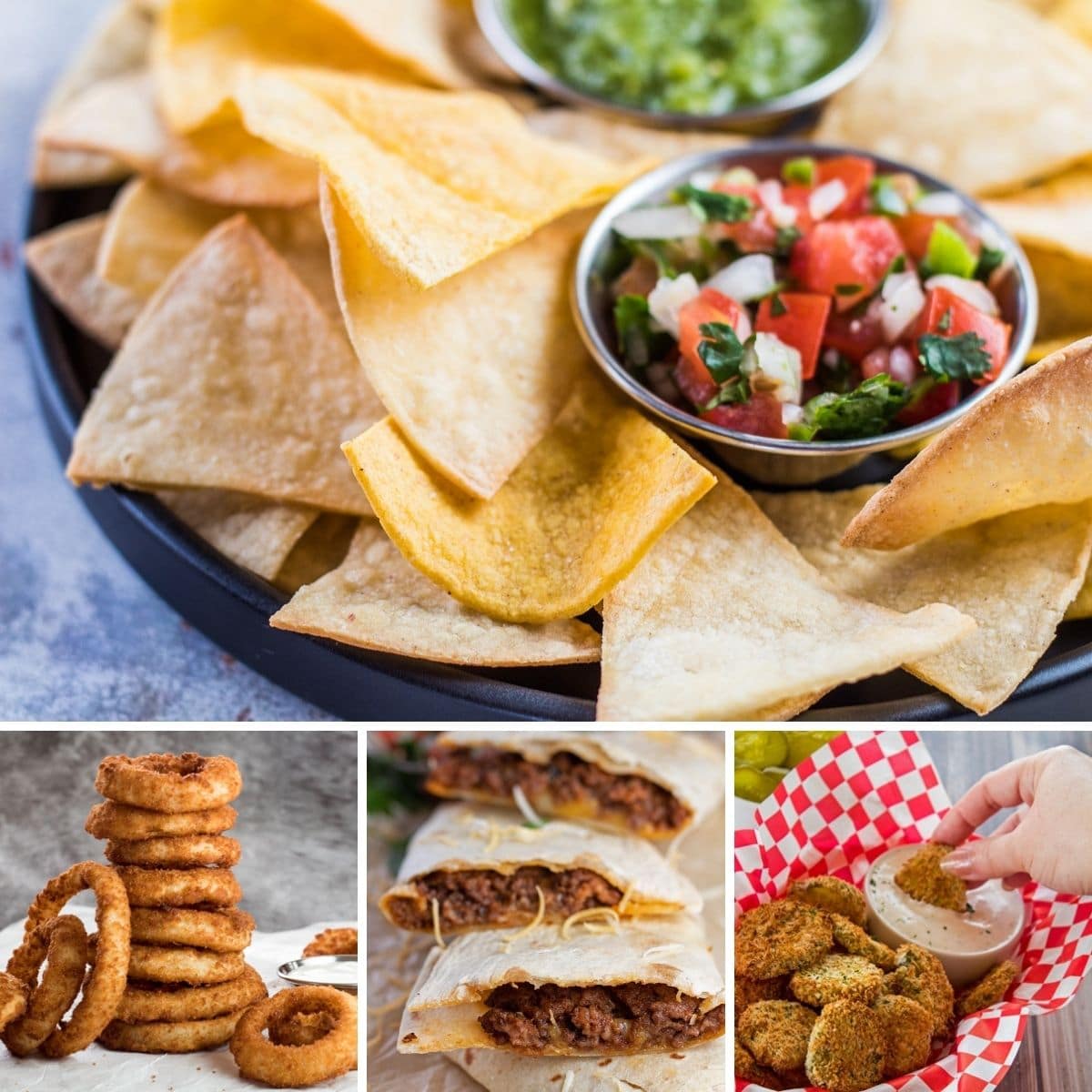 Jump to:
1. Air Fryer Mushrooms
Tender and tasty, air fryer mushrooms are a wonderful side dish or appetizer! This recipe is simple and delicious with mushrooms, olive oil, and the right seasonings, you can't go wrong!
2. Crispy Pork Belly
Air fryer pork belly is an absolute delicacy and these morsels will have your mouth watering in no time! Just 2 ingredients make up this recipe and believe me when I tell you, they are finger-licking good!
3. Frozen Popcorn Chicken
Simply tasty and perfectly crunchy, air fryer popcorn chicken is an at-home favorite for the entire family! Paired with your favorite dipping sauce, they are always a hit!
4. Pigs In A Blanket
What says comfort food more than pigs in a blanket. They are a perfect combination of buttery crescent rolls wrapped around delicious sausages, you can't eat just 1!
5. BBQ Little Smokies
Savory, smokey, and a little sweet, air fryer BBQ little smokies are a great appetizer for occasion! Serve them up on a platter at your next get-together and watch them disappear!
6. Frozen Jalapeno Poppers
Jalapeno poppers are a classic appetizer that are perfectly crispy when made in your air fryer. Melted cheese, spicy jalapeno and a golden fried crust on the outside- what could be better?
6. Frozen Potstickers
Get your Asian food fix with these delicious air fryer frozen potstickers! After these dumplings come out of the air fryer perfectly crispy, you won't want them any other way!
7. Frozen Meatballs
Meatballs are universally loved and these meatballs will turn out just as juicy as any you've had before, but in half the time! Serve them at the next game day and watch them fly right off the platter!
8. Frozen Potato Wedges
Deliciously crisp with a fluffy center, potato wedges are a dream for any potato lover! Top them with some shredded cheese and bacon to pump them up!
9. Air Fryer Garlic Bread
Crispy, cheesy and buttery, air fryer garlic bread is an absolute winner! Just a few ingredients make this recipe a sure-fire way to enjoy your meal without a lot of mess or time in the kitchen!
10. Air Fryer Frozen Shrimp
Easy to make and very tasty, air fryer frozen shrimp are the perfect appetizer! Shrimp cook up quick and there are only a few steps, so this is an easy one for when you're in a rush!
11. Potato Chips
Simple, yet dangerously delicious, air fryer potato chips are absolutely addicting! Sprinkle with salt and pepper or jazz them up with some ranch seasoning, bet you can't eat just one!
12. Quesadillas
Cheesy and full of hearty taco meat, my air fryer quesadillas are out of this world! You can whip them up in no time then serve them with your favorite dips!
13. Texas Toast
Garlicky, buttery, and crispy, this air fryer Texas toast is tasty and goes perfectly with any meal! With a delicious crunch and a soft inside, this thick, buttery bread is the perfect start to any meal!
14. Waffle Fries
Crispy, golden-brown deliciousness, these air fryer waffle fries are the fries you need in your life! Serve them with an array of sauces and you will have an appetizer that pleases everyone!
15. Frozen Egg Rolls
Soft, tender vegetables with a crisp outer shell, egg rolls in the air fryer can't be beat! Make a dipping sauce of your choice, spicy or sweet, to pair with these delicious rolls!
16. Tortilla Chips
Air fryer tortilla chips are perfect for your next get together. Make some guacamole, fresh salsa, or queso and dip these delightfully crispy tortilla chips right in!
17. Air Fryer Popcorn
It's movie night, what you need is some delectable air fryer popcorn to make it complete! Buttery and delicious, you will love making your own popcorn from scratch!
18. Pizza Rolls
Nostalgic and ever so tasty, pizza rolls in the air fryer are a delicious snack or meal! Filled with cheesy goodness with a golden-brown crisped exterior, these are downright addicting.
19. Frozen Spring Rolls
Air fryer spring rolls are super crispy with a delectable vegetable center that will make you want to eat the whole batch! Within minutes you will have a an easy appetizer everyone will love.
20. Frozen Onion Rings
Crispy breading with around a tender onion, these air fryer onion rings are never a bad choice. A classic American staple, onion rings are always great and cooking them in the air fryer makes them even better!
21. Tater Tots
Soft, pillowy potatoes with a golden-brown crust, air fryer tater tots are a beloved snack! Dip them in ketchup or mound them up and top them with spicy chili and melty gooey cheese!
22. Frozen French Fries
Air fryer frozen French fries are a classic side made easy. Soft on the inside and crispy on the outside, french fries are always a safe bet.
23. Fried Pickles
Tangy and savory, air fryer fried pickles are a mouthwatering treat! Make sure you serve them up with some delicious ranch dressing for dipping!
24. Coconut Shrimp
Sweet coconut and crunchy panko make this air fryer coconut shrimp an amazing dish! Tender, juicy shrimp coated in that delicious coconut and panko breading, just absolute perfection.
24. Potato Skins
Tasty potatoes, gooey cheese, smokey bacon and creamy sour cream put this dish in the hall of fame! They're convenient and easy to grab on the go!
25. Homemade French Fries
Fluffy on the inside and golden crispy on the outside, my air fryer homemade French fries are to die for! While this will take a bit more time than frozen French fries, homemade always tastes better in my opinion.
26. Leftover Buffalo Turkey Meatballs
These meatballs are an amazing way to utilize your leftovers! Blended with some fragrant herbs and savory Parmesan cheese and then tossed in buffalo sauce, they are addicting!
Whether you're serving many people, or just a few, any of these easy air fryer appetizers are sure to be a crowd favorite. Leave us a comment and tell us how everything turned out!
📋 Recipe