Learn what to serve with spaghetti and meatballs to make the ultimate spaghetti dinner any day of the week! This Italian comfort food classic is beloved worldwide by children and adults alike. The only thing that could make it better is serving it with the best side dishes! You can't go wrong with any of these recipes when you are trying to decide what to serve with spaghetti and meatballs!
Sides For Spaghetti And Meatballs
Spaghetti and meatballs is a classic Italian dish served in many households worldwide every day. We all love the carb-rich pasta and juicy meatballs, but if you are like me then you want to take this meal to the next level.
Below are some amazing recipes that can be served along with your favorite spaghetti and meatballs recipe!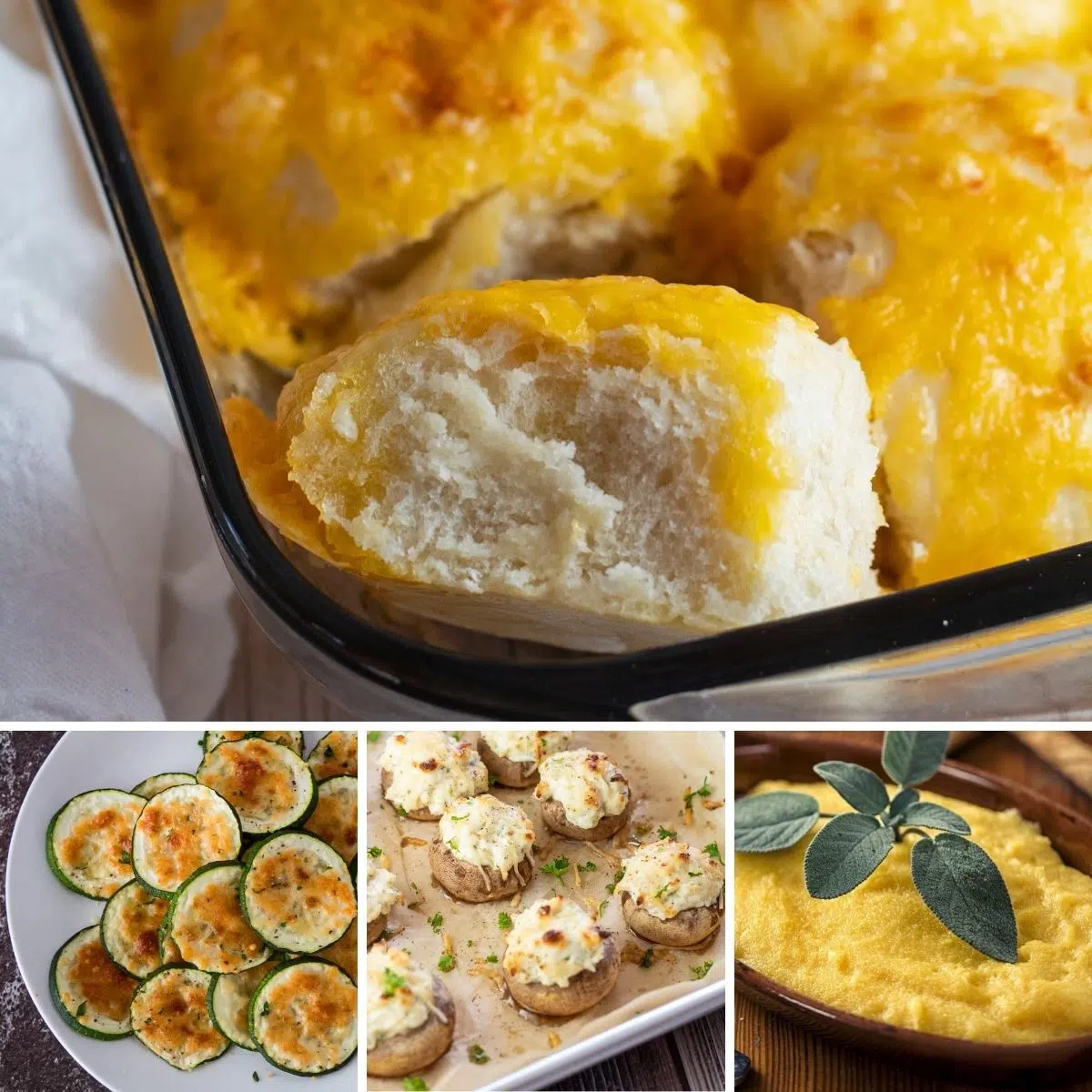 Jump to:
1. Oven Garlic Bread
Oven garlic bread is perfect when it is freshly baked and warm. Serve this oven garlic bread with spaghetti and meatballs to soak up all that tasty marinara sauce!
2. Cream Cheese Stuffed Mushrooms
These cream cheese stuffed mushrooms are juicy and delicious. They can be served as an appetizer or served alongside your spaghetti at your next family dinner.
Don't forget to sprinkle them with Cajun seasoning for an extra layer of flavor!
3. Cucumber and Vinegar Salad
This cucumber and vinegar salad is tangy and delicious with the perfect amount of flavor. It is a cool, refreshing complement to a hearty bowl of spaghetti!
4. Caprese Salad
If you love fresh mozzarella cheese, then you must try this caprese salad. It is a classic Italian side dish or appetizer that is right at home next to a pile of spaghetti and meatballs.
5. Sautéed Green Beans
Sautéed green beans are a healthy way to add another level to your family's spaghetti night. These sautéed green beans are bold with just the right amount of flavor that your guests will enjoy.
6. Roasted Broccoli with Garlic and Parmesan
Roasted broccoli with garlic and Parmesan is not only a healthy side dish, but it is also very flavorful. Make this for your next spaghetti dinner and even the pickiest of eaters will enjoy it!
7. Caesar Salad
You can't go wrong with a Caesar salad paired with delicious spaghetti and meatballs! This creamy homemade Caesar salad dressing uses fresh ingredients that are full of bold flavors that you will love!
8. Garlic Butter Mushrooms
Garlic butter mushrooms are juicy and taste as though they came straight from your favorite restaurant! These mushrooms can be served on top of spaghetti and meatballs or eaten on the side, either way, your guests will appreciate the extra effort!
9. Polenta
Polenta is a tasty cornmeal side dish that is super easy to make! Don't forget to top your polenta with Parmesan cheese for added flavor!
10. Cheese Rolls
Cheese rolls are great at soaking up any extra spaghetti sauce left on your plate! Our cheese roll recipe makes soft and fluffy rolls that you can serve kids and adults will enjoy.
11. Baked Parmesan Zucchini Rounds
Baked Parmesan zucchini rounds are a simple side dish that your dinner guests will enjoy. Add these baked Parmesan zucchini rounds to the table before your main course as an appetizer or serve them as a side to your delicious spaghetti and meatballs.
12. Sautéed Asparagus and Cherry Tomatoes
Sautéed asparagus and cherry tomatoes are a must if you want to add a whole new vibe to spaghetti night! The blend of flavors is mouthwatering and will have your guests wanting more!
13. Roasted Brussel Sprouts
Roasted Brussel sprouts are going to be your new favorite side dish! Not only are these roasted Brussel sprouts incredibly easy to make, but they are also very tasty and pair well with spaghetti and meatballs!
14. Zucchini Squash Casserole
Zucchini squash casserole is tender and moist with loads of flavor. It is a great new way to eat your veggies and pairs perfectly with spaghetti!
15. Pasta e Fagioli Soup
Pasta e fagioli, or "pasta and beans", is a deliciously warm soup that makes the perfect precursor to a bowl of spaghetti. Serve pasta e fagioli soup at your next spaghetti dinner to create the best memories for your family.
What side dishes do you typically serve with your spaghetti and meatballs? Why not try one of these recipes and let us know down below in the comments which one is your new favorite!
📋 Recipe