For what to serve with paella, check out this list of the best side dishes to compliment this flavor-packed Spanish dish! Whether you choose chicken, seafood, rabbit, or a combination of meats, these recipes will pair with your paella no matter the protein!
The Best Sides For Paella
Paella is an incredibly hearty Spanish dish that is beloved throughout the world. The bold flavors of saffron, rice, and an assortment of proteins satisfy any appetite and warm the soul.
But what side dishes should you see with Paella to round out the meal? Take a look at the equally delicious side dishes below to see our recommendations on what to serve with paella!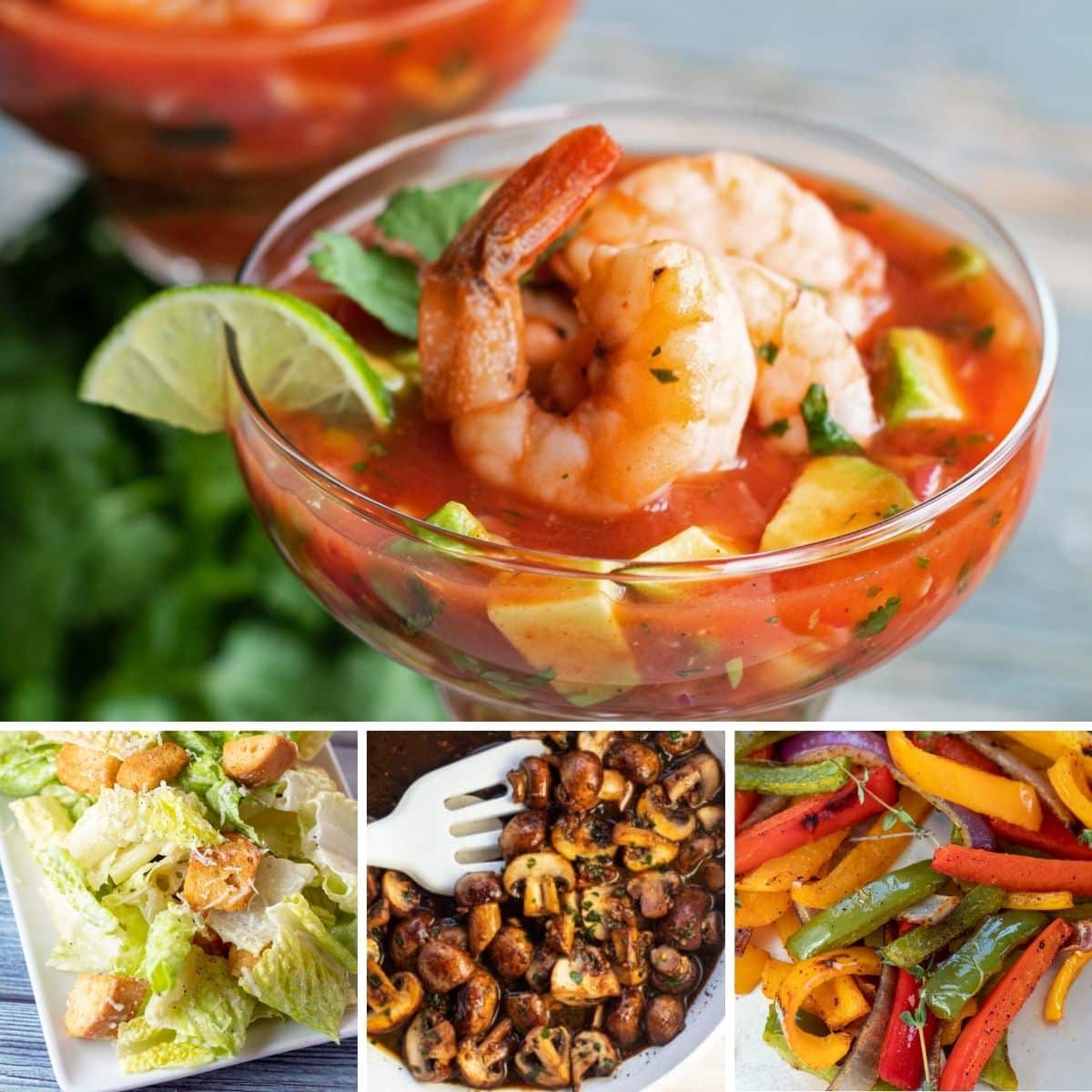 Jump to:
1. Fried Rice
Hibachi-style fried rice is usually a dish that people only get if they go out to an Asian-style restaurant, but hibachi rice can be made at home! This hibachi fried rice recipe teaches you how to make restaurant-style hibachi cooking oil so you can get it just right!
2. Quick French Bread
When searching for a side dish to serve with paella, why not try some French bread? This quick French bread recipe is perfect when served warm and topped with a dollop of creamy butter.
3. Broccolini Salad
Sometimes we want to serve a side dish that is uniquely delicious but also healthy! This broccolini salad is perfect for those who may be health-conscious or people who just want to add more vegetables to their meals.
4. Spanish Mussels
Spanish mussels are a great served as an appetizer, side, or on top of paella because they compliment the dish so well. These mussels are moist and juicy to begin with, so the added clam juice enhances them even further!
5. Garlic Butter Shrimp
Garlic butter shrimp can be a great dish to serve with paella because it is juicy and packed full of flavor. This garlic butter shrimp recipe uses lemon juice which makes it perfectly tangy!
6. Caesar Salad with Homemade Caesar Dressing (Without Anchovies)
Everyone loves a good Caesar salad paired with their main course. This Caesar salad with homemade Caesar dressing is cool and crisp, the perfect complement to savory paella.
7. Mangu (Mashed Plantains)
Mangu is one of my favorite dishes to eat with paella, the mashed plantains add texture and help keep you full. Use a spoon to make a shallow crevice in your mangu and scoop the paella on top, you will thank me later!
8. Sautéed Asparagus and Cherry Tomatoes
Sautéed asparagus and cherry tomatoes not only add wonderful colors to your plate, but it also adds an abundance of flavor! This sautéed asparagus and cherry tomatoes recipe will have your guests begging for more!
9. Garlic Butter Mushrooms
These garlic butter mushrooms are so easy to make and only take about 10 minutes from start to finish. Top your paella with these mushrooms or serve them on the side!
10. Cucumber Vinegar Salad
This cucumber vinegar salad is fresh and robust, which will have you and your guests eating every bite. If you need the ultimate salad to serve at your next dinner party you must try this cucumber vinegar salad!
11. Sautéed Green Beans
Sautéed green beans are a dish that everyone at the dinner table will love and enjoy. These sautéed green beans are seasoned with delicious garlic and onion powder which make them taste just right!
12. Parmesan Roasted Mashed Potatoes
If you want the perfect side dish to serve with paella then you must try these Parmesan roasted mashed potatoes. Parmesan roasted mashed potatoes are thick and creamy with just the right amount of seasoning!
13. Roasted Peppers and Onions
Roasted peppers and onions are such a universal side that they can pair with almost any main course. If you need something to serve with paella at your next dinner party you must try these roasted peppers and onions!
14. Caldo de Pollo Mexicano
Caldo de pollo Mexicano is an amazing chicken soup that contains zucchini, onions, garlic, and celery. Our recipe will allow your dinner guest to explore new flavors and really enjoy what they are eating!
15. Coctel de Camarones
Coctel de Camarones is similar to a shrimp cocktail, but with a twist! This coctel de Camarones recipe combines creamy avocado, juicy lime, spicy Mexican hot sauce, and fresh cilantro into a dish that will impress your friends and family!
We hope to have helped you decide on what to serve with your paella. If you enjoyed any of these recipes let us know in the comments below!
📋 Recipe