This flavorful Coctel de Camarones (Mexican Shrimp Cocktail) is a delightfully fresh and tasty combination of shrimp, avocado, cucumber, tomatoes, onion, and jalapeno in a clam and tomato sauce! Serve as the perfect appetizer for your taco night, or as a light meal of it's own!
Coctel de Camarones Recipe
This taco night and party favorite appetizer is both fresh and flavorful, and it is a sure way to both please and impress your guests! It's filled with a mixture of vegetables, delicious sauces, plus shrimp and avocado that are neatly folded in. The Coctel de Camarones (Mexican shrimp cocktail) is just bursting with flavor!
The recipe is a breeze to make, and when you finish you'll have a neat array of these cocktails to share! It's an awesome way to start off your meal, and it'll just leave you wanting more.
This easy make-ahead appetizer is the hit of any party!
Jump to:
❤️ Why You'll Love This Recipe!
So Tasty! The flavors combine to make an out-of-this-world appetizer or snack! Whether you enjoy the coctel de Camarones estilo Mexicano on its own or as part of a Mexican-themed night, it will never disappoint!
Fast Preparation! This recipe is quick and easy to make! No matter your cooking experience level, this is a fuss-free dish that's practically effortless!
It's Healthy! You can eat this guilt-free because it's an awesome way to get a serving or two of veggies!
🥘 Ingredients
The components of this recipe consist of mainly refrigerated ingredients. It may seem like a lot of ingredients at first, but the taste of each ingredient works together to create a delicious shrimp cocktail!
Shrimp - You can use small, medium, or large shrimp. You'll want to purchase shrimp that is already cooked, and make sure that it is peeled and de-veined. By doing this, you can save a lot of time in the overall preparation for this dish.
Red Onion - This kind of onion is commonly used in salads, salsas, and other meals that include raw ingredients, such as this cocktail! The deep red, purple color adds a lot of color to the overall appearance of the final dish. You could also opt for spanish onion, which is a sweet onion variety (it is typically large, and varies in color).
Jalapeno - When seeded, these peppers will add just a little spice and provide a lot of crisp flavor.
Roma Tomatoes - These flavorful diced tomatoes will give great texture to your cocktail because of their thick walls.
Cucumber - This vegetable is included because of its mild flavor, crunchy texture, and cool contrast.
Cilantro - A leafy herb that adds depth of flavor to the overall taste of the dish.
Avocado - Known for their creamy, buttery texture, avocados will add a rich and nutty flavor to the mix.
Clamato Juice - A type of juice with a mixture of tomatoes and clams. If this ingredient is either hard to find or not on hand, a quick combination of tomato and clam juice will work just the same.
Ketchup - The main sauce. It provides a great base for the flavors of the various veggies.
Hot Sauce - A sure way to add a little heat to the mellow flavors of these tasty ingredients. If you don't handle the heat well, you can add a little less hot sauce. However, if you live for spice, feel free to add a bit more. Use a Mexican hot sauce like Tapatio or Valentina if you have them on hand!
Salt & Pepper - These are classic staples to season a variety dishes, and you'll want to be sure to include them in this cocktail. Both salt and pepper help to highlight all of your wonderful ingredient flavors.
Limes - For lime juice. It adds an irresistible citrus flavor that also tames the jalapeno.
Lime Wedges & Cilantro - Use these optional ingredients to garnish your final appetizers.
*Be sure to see the recipe card below for ingredients, amounts & instructions!*
🔪 Step-By-Step Instructions
The first step is the longest, but once you get past that, you'll simply cruise right through the other steps! The tastes of the recipe components blend well to deliver a yummy cocktail. This recipe yields 4 servings.
Prepare the veggies. Wash all vegetables (1 red onion, 1 jalapeno, 2 Roma tomatoes, ½ cucumber, ½ bunch cilantro) and cut, chop, or dice them according to the instructions.
Combine. Place the prepared onion, jalapeno, Roma tomatoes, cucumbers, cilantro, squeezed lime juice from 2 limes (about ¼ cup), and 2 teaspoons each of salt and pepper in a bowl. Mix them together well.
Add sauces. Next, you'll add in 1 cup ketchup, 1 ½ cup Clamato juice, and 1 tablespoon hot sauce to the bowl. Mix together thoroughly.
Fold in the shrimp and avocado. Then, take the 1 pound of peeled and de-veined shrimp as well as one diced avocado and gently fold these two ingredients into the cocktail.
Refrigerate to chill. Cover your bowl with plastic cling film and place the Coctel de Camarones into the refrigerator to chill for 1 hour. You may leave it in the fridge up to 24 hours if you want it extra chilly or don't need to serve it immediately.
Garnish and serve. For an attractive presentation, serve the cocktail in margarita glasses. Garnish with some cilantro sprinkled on top and a lime wedge hung on the edge of each glass.
This Mexican shrimp cocktail makes a great appetizer to serve before dinner, or as a snack to enjoy. Try some saltines on the side or serve your appetizer in mini-tostadas!
💭 Angela's Tips & Recipe Notes
Prepare the ingredients before combining to make the process go smoothly. Having all of the washing, cutting, dicing, mincing, etc. already done so that you have everything handy while combining the ingredients. It will make the process much more enjoyable!
Thoroughly mix all the ingredients together for even distribution. Many of the steps for this recipe require you to mix the ingredients together. Be sure to combine the ingredients well for a consistent flavor throughout your Coctel de Camarones cocktail. 
Let the shrimp cocktail chill for the minimum one hour for serving. This dish only takes 15 minutes to make, but it needs to refrigerate for at least 1 hour for optimal flavors. Make sure that when you make the dish, you also account for the time it needs to spend in the fridge chilling.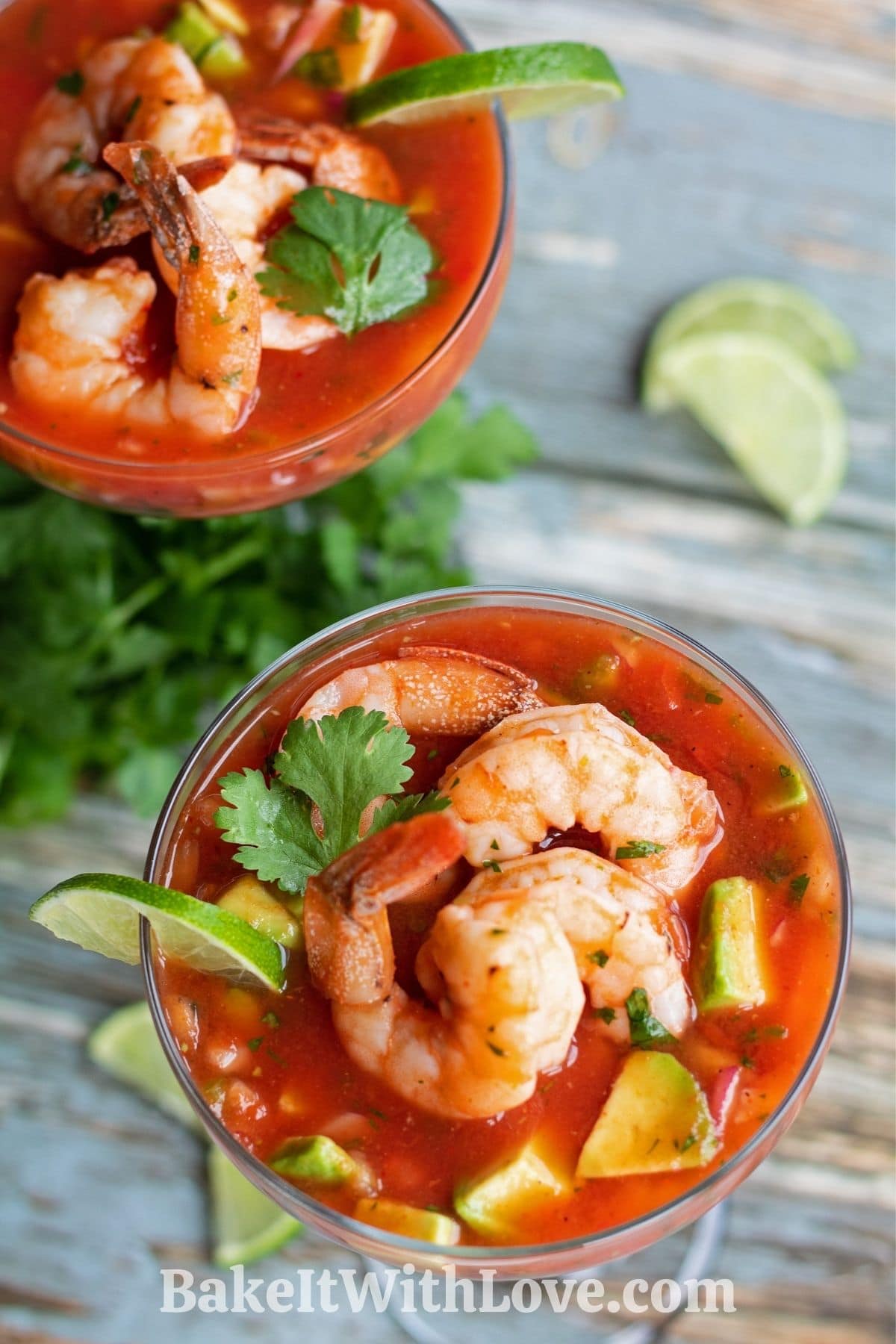 🥡 Storing
Store any leftover shrimp cocktail in an airtight container in the fridge for up to 3 days. Keep in mind that this tasty appetizer tastes best within the first day after the flavors have had a chance to meld.
Freezing Coctel de Camarones
Any leftover Coctel de Camarones (Mexican shrimp cocktail) can be frozen in an airtight container or heavy-duty freezer bags, though freezing isn't usually recommended for this dish since it tastes best when it's fresh. You can freeze it for up to a couple of months, but I wouldn't recommend much longer than that.
If you decide to freeze your shrimp cocktail, you will need to know how to go about thawing it. If you're in a hurry, place the cocktail in an even layer on a plate in the microwave and defrost on low heat for about 30 seconds.
If you have time and want to avoid accidentally overcooking the shrimp, run the airtight container under cold water until thawed.
❓ FAQ
Do I have to chill the dish for a whole hour before serving it?
You don't necessarily need to wait for exactly one hour before you consume it. That being said, if you can wait at least 1 hour before taking it out of the refrigerator, the flavors will mesh even better together and the Coctel de Camarones will taste its best.
What if I am using frozen cooked shrimp for the shrimp cocktail?
Frozen shrimp is an easy way to have shrimp on hand and ready to use for your cocktail. To defrost the frozen shrimp, simply place them in cold water. This ensures that your shrimp will be defrosted, but will stay cool and not be overcooked for your dish.
Can you refreeze the shrimp cocktail after thawing?
The short answer is yes, you can. However, I wouldn't recommend refreezing multiple times because those changes can really affect the flavor and texture and compromise the quality of the your Mexican shrimp cocktail.
🌮 More Taco Night Favorites
Be sure to take a look at my Cinco De Mayo Recipes!
📋 Recipe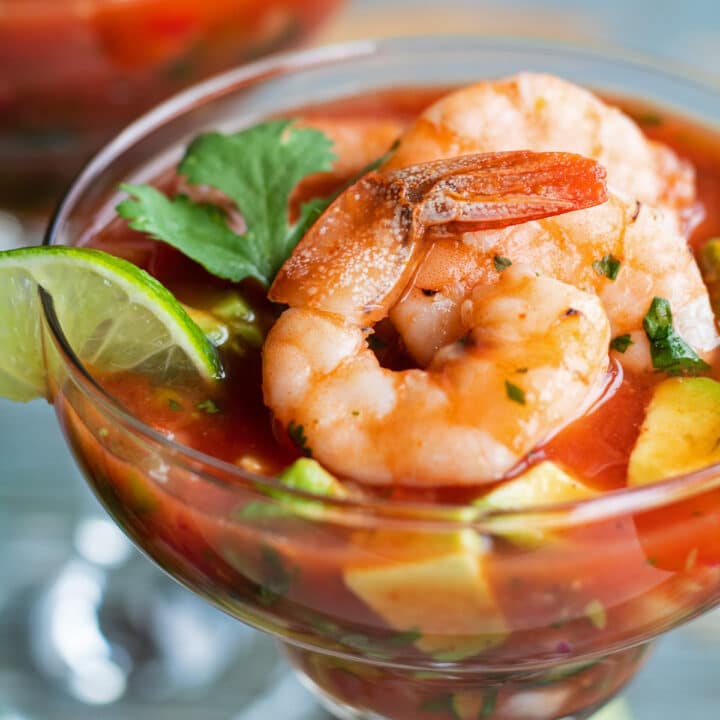 Print Recipe
Leave A Comment
Love This Recipe?
Click On A Star To Rate It!
Coctel de Camarones (Mexican Shrimp Cocktail)
This flavorful Coctel de Camarones (Mexican Shrimp Cocktail) is a delightfully fresh and tasty combination of shrimp, avocado, cucumber, tomatoes, onion, and jalapeno in a clam and tomato sauce! Serve as the perfect appetizer for your taco night, or as a light meal of it's own!
Total Time
1
hour
15
minutes
Pin Recipe
Share on Facebook
Ingredients
1

lb

shrimp

(small, medium, or large- cooked, peeled, and de-veined)

1

red onion

(diced)

1

jalapeno

(seeded and diced or minced)

2

Roma tomatoes

(diced)

½

cucumber

(peeled and diced)

½

bunch

cilantro

(fresh, chopped)

1

large

avocado

(peeled, pitted, and diced)

1 ½

cup

Clamato juice

(or a mix of tomato and clam juice)

1

cup

ketchup

1

tablespoon

Mexican Style Hot Sauce

(such as Valentina or Tapatio hot sauce)

2

teaspoon

each, salt & pepper

2

limes

(squeezed juice, or enough for about ¼ cup lime juice)

1

lime wedges & cilantro

(optional for presentation)
Instructions
Prep all your ingredients, wash veggies, cut and dice the veggies (per instructions).

In a medium bowl combine onion, jalapeno, Roma tomatoes, cucumbers, cilantro, lime juice, salt, and pepper. Mix thoroughly.

1 red onion,

1 jalapeno,

2 Roma tomatoes,

½ cucumber,

½ bunch cilantro,

2 teaspoon each, salt & pepper,

2 limes

Add in the ketchup and Clamato juice and hot pepper sauce. Mix Well.

1 ½ cup Clamato juice,

1 cup ketchup,

1 tablespoon Mexican Style Hot Sauce

Carefully fold in the shrimp and avocados, trying not to smash the avocados.

1 lb shrimp,

1 large avocado

Refrigerate and chill for a minimum of 1 hour (or up to 24 hours).

When done chilling, serve in a margarita glass and garnish with a lime wedge and a bit of fresh chopped cilantro. Serve and enjoy!
Nutrition
Calories:
290
kcal
(15%)
|
Carbohydrates:
36
g
(12%)
|
Protein:
20
g
(40%)
|
Fat:
9
g
(14%)
|
Saturated Fat:
1
g
(6%)
|
Polyunsaturated Fat:
1
g
|
Monounsaturated Fat:
5
g
|
Trans Fat:
1
g
|
Cholesterol:
143
mg
(48%)
|
Sodium:
1400
mg
(61%)
|
Potassium:
1044
mg
(30%)
|
Fiber:
7
g
(29%)
|
Sugar:
21
g
(23%)
|
Vitamin A:
1193
IU
(24%)
|
Vitamin C:
40
mg
(48%)
|
Calcium:
135
mg
(14%)
|
Iron:
2
mg
(11%)
appetizers, Coctel de Camarones, Mexican Shrimp Cocktail, seafood, Shrimp, shrimp cocktail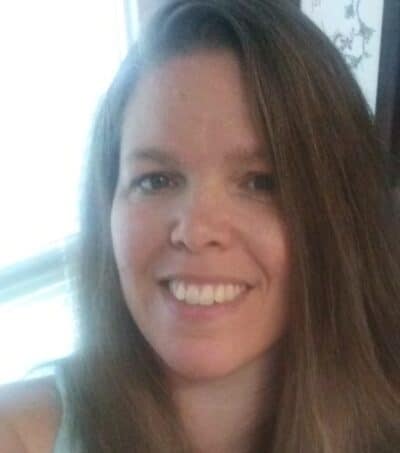 Angela is an at home chef that developed a passion for all things cooking and baking at a young age in her Grandma's kitchen. After many years in the food service industry, she now enjoys sharing all of her family favorite recipes and creating tasty dinner and amazing dessert recipes here at Bake It With Love!