These dinner ideas for tonight are my all-time favorite, go-to recipes that are easy to make and always a family favorite! These recipes are convenient and delicious dinners that anyone can make! Whether you want to prepare dinner in advance before heading to work, or need something that can be made in a last-minute pinch, these are dinner ideas for tonight that everyone will love!
The Best Dinner Ideas For Tonight
Not everyone has their entire menu for the week already planned out in advance (I know I don't). Sometimes, you have to come up with what to make for dinner at the last minute with no time to make a grocery store run.
My dinner ideas for tonight consist of items that are easy to make, can be made quickly or made in advance, and use mostly common ingredients that you already have! So pick one out and enjoy!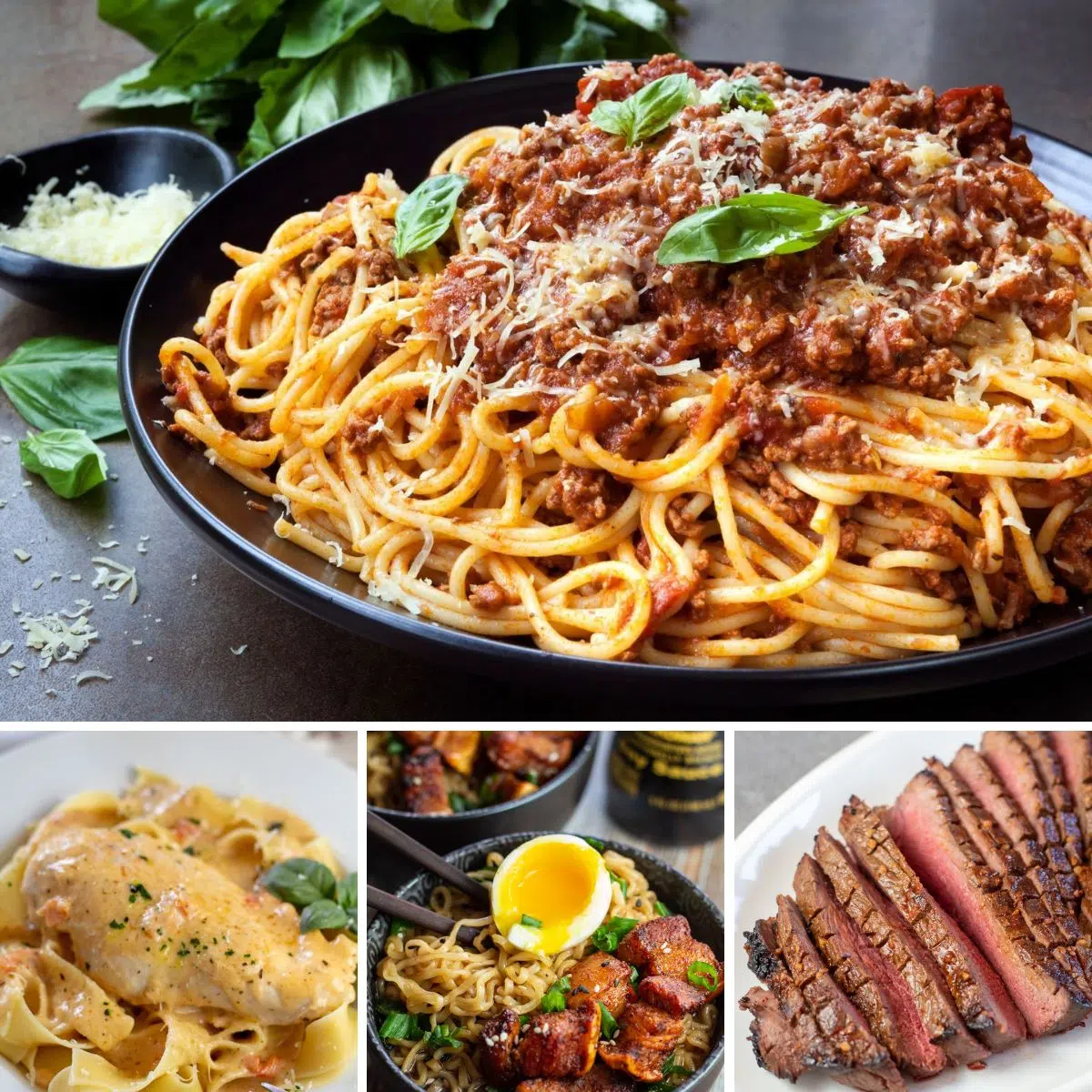 Jump to:
1. Carne Asada
This tender and flavorful carne asada can be used for tacos, burritos, fajitas, or just enjoyed by itself!
2. Sour Cream Chicken Enchiladas
In 45 minutes, you'll be ready to enjoy these cheesy, creamy enchiladas that are loaded with tender and juicy shredded chicken!
3. Texas Chili
This extra meaty chili uses canned chipotle peppers to add some heat! Customize this chili to your liking with all of your favorite toppings!
4. London Broil
This easy dish can be put in the marinade ahead of time, so when it comes time to cook this tender, mouthwatering steak, it'll only take 15 minutes!
5. Shepherd's Pie
Shepherd's pie is a classic, family-favorite dinner that is layered with flavorful meat, onion, carrots, creamy potatoes, and melty cheese!
6. Doritos Chicken Casserole
My kid-loved Doritos chicken casserole is creamy, cheesy, crunchy, and extremely satisfying! Not to mention, it's ready in 40 minutes!
7. Ground Beef Stew
Tender vegetables, savory ground beef, and soft potatoes all come together to make this warm and comforting stew!
8. Pan Seared Mahi Mahi
Ready in just 15 minutes, this flaky and juicy fish meal is perfect for any last-minute dinner!
9. Chicken Marsala
Creamy, saucy, and loaded with mushrooms, this chicken marsala is a comforting, delicious classic!
10. Pork Belly Ramen
This dish is full of crispy, flavor-packed pork belly, tender noodles, and a rich, savory broth! Not to mention, it is super customizable!
11. Tortilla Pizzas
Tortilla pizzas are super quick to make and everyone can choose their own favorite toppings! This is one of the best dinner ideas for tonight if you are short on time!
12. Lo Mein
Add your favorite protein to this lo mein for an extra flavorful, saucy meal that is better than Chinese takeout!
13. Marry Me Chicken
This one-pan dinner features a cheesy, creamy sauce and tender chicken that goes perfectly over a soft bed of pasta!
14. Baked Pork Tenderloin
My baked pork tenderloins will be on the table in under 45 minutes while still being golden-brown and perfectly seasoned!
15. Spanish Seafood Paella
If you love seafood, then this meal is what you need in your life! It features a big bowl of rice, chorizo, and a large number of your favorite seafood proteins!
16. Shredded Chicken Tacos
It doesn't have to be Tuesday to enjoy these savory, tender shredded chicken tacos loaded up with all of your favorite toppings!
17. Spaghetti Bolognese
A kid-favorite meal, this spaghetti Bolognese is a classic dish that is covered in a meaty and savory tomato sauce!
18. BBQ Baked Pork Spareribs
These juicy, tender, fall-off-the-bone pork spareribs use a pork dry rub and BBQ sauce to make the best ribs you've ever tasted!
19. Baked Cheeseburgers
No need to make a mess with a pan or a grill when you can bake these flavorful burgers right in the oven!
20. Pan Seared T-Bone Steak
The key to this rich and flavorful steak is basting it with a delicious garlic herb butter!
21. Fried Chicken
My classic fried chicken recipe uses the whole chicken! Whether your preference is dark meat or white meat, you can still have it crispy and golden-fried!
22. Chicken Broccoli Rice Casserole
This all-in-one meal is cheesy, delicious, and can be prepared ahead of time! It's one of the best dinner ideas for tonight if you need to sneak in some veggies for picky eaters.
23. Baked Flounder
My baked flounder recipe makes a tender flounder with a crispy breadcrumb coating, all within 20 minutes!
24. Meatloaf (With Oatmeal)
Meatloaf is a staple dinner at my house because it's easy to make and the whole family loves it!
25. Nachos Supreme
Perfect for game day or entertaining friends, these nachos are loaded sky high with whatever toppings you like! They are also a great dinner idea for tonight!
26. Baked Rigatoni
This cheesy and saucy pasta bake is a yummy family favorite that can even be made in advance to save yourself some time on those extra busy days!
27. Teriyaki Chicken Stir Fry
My teriyaki chicken stir fry is a healthy, flavorful bowl full of fresh veggies and perfectly cooked chicken!
28. Biscuit Chicken Pot Pie
This casserole is an easier version of the classic chicken pot pie without losing any of the comforting, delicious flavors!
29. Baked Spaghetti and Meatballs
If you have some leftover spaghetti, use it to make this comforting casserole! It's hearty, satisfying, and crazy delicious! It's a great dinner idea for tonight!
30. Air Fryer Grilled Ham and Cheese
This delicious ham and cheese sandwich is baked to crispy perfection using your air fryer in only 10 minutes! This is another one of my favorite dinner ideas for tonight that kiddos will love!
31. Sheet Pan Shrimp Fajitas
Grab some tortillas and your favorite toppings because these tender and juicy shrimp fajitas are ready in less than 20 minutes!
32. Shrimp Scampi
A buttery lemon sauce and tender shrimp are the stars of this super easy and yummy dinner!
33. Salmon with Dill Sauce
Healthy, satisfying, and light- you can't go wrong with this perfectly seared salmon and made-from-scratch dill sauce!
34. Air Fryer Brats
These brats have crispy skin with a deliciously juicy inside! Of course, they only 20 using the air fryer!
35. Ground Beef Stroganoff
This classic dinner features savory ground beef smothered in a flavorful gravy that tops a tender bed of egg noodles!
36. Tater Tot Hamburger Casserole
This kid-loved meal brings all of your favorite fast food flavors together in this warm and comforting casserole! This is one of the best dinner ideas for tonight if you have picky kiddos in the house!
37. Margherita Sheet Pan Pizza
Recruit your kids and have fun making this delicious and crispy Margherita sheet pan pizza!
😋 More Great Dinner Ideas For Tonight!
I hope this list of dinner ideas for tonight helped you choose a delicious meal to make! Leave a comment down below and let me know your go-to dinner ideas!
📖 Recipe Card