Chili recipes are a beloved staple in the world of comfort food because of their hearty and flavorful combination of ingredients! From classic, homemade beef chili to regional variations like Texas or Cincinnati chili, the term chili encompasses a wide range of recipes! Find the best of the best here!
Most Popular Chili Recipes To Make
Whether I'm craving the spicy warmth of classic chili con carne or the creamy richness of white chicken chili, a bowl of chili always hits the spot. Now that fall is in full swing; I thought it was the perfect time to share my top chili recipes for a delicious family meal!
I always add a ton of ingredients to make a HUGE batch of chili to have endless leftovers and meals for days! Freeze half and save for later, too!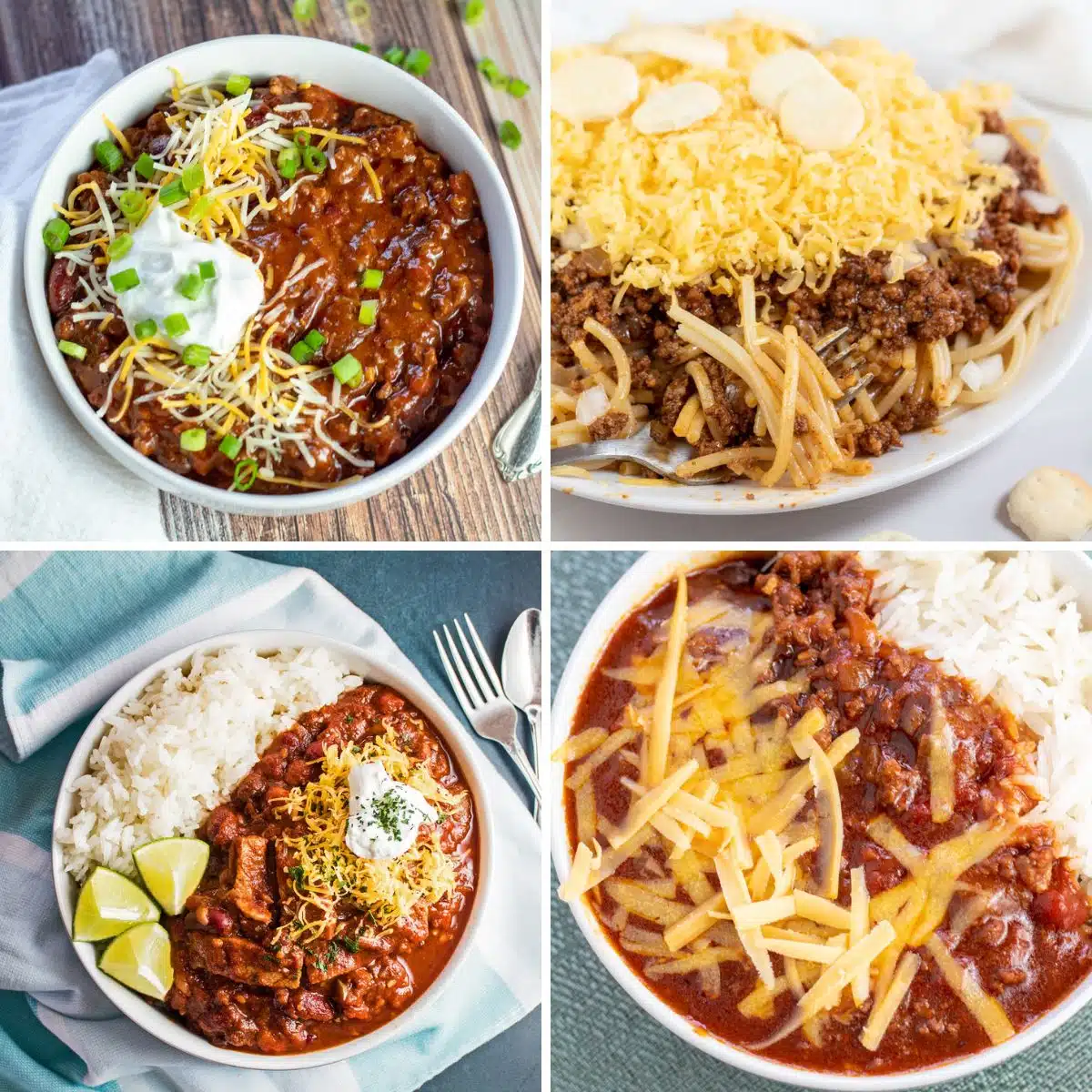 Jump to:
If you're looking for a chili recipe without chili powder, you can still make your favorite using one of these convenient chili powder substitutes! Check out what to serve with chili for my favorite side dish suggestions!
1. Cincinnati Chili
Cincinnati chili is a current obsession of mine. There's something so simple yet so genius in serving chili and cheese over a mound of spaghetti! Any time I'm craving comfort food, this chili is the first recipe to come to mind.
2. Dutch Oven Chili
Dutch oven chili is a hearty and flavorful chili reminiscent of rustic outdoor cooking. It has lots of fresh vegetables and beans, so there's a great variety of textures and flavors!
3. Chili Con Carne
Chili Con Carne, or "chili with meat" in Spanish, consists of ground or diced beef, kidney beans, tomatoes, and a flavorful blend of seasonings. My recipe has a slight kick, but you can always customize the heat level by adjusting the spicy ingredients to your taste!
4. Homemade Chili
If you're looking for a classic beef and bean chili, my homemade chili is a family recipe I've made too many times to count. You can even tweak the ingredients and/or seasonings to suit your tastes; this is a great base chili recipe to build on!
5. Texas Chili
Unlike most other chilis, Texas chili has absolutely no beans! This meat-centric chili has a robust flavor with a good amount of heat.
Mellow it out with a scoop of sour cream, a generous helping of shredded cheese, and crackers!
6. Venison Chili
Whether you are a hunter or there is a hunter in your life, ground venison makes for some of the most delicious chili! It is simmered low and slow with a robust blend of herbs and spices, so the gamey flavor is a tasty hint and not overpowering!
7. Prime Rib Chili
Chili is one of my favorite leftover prime rib recipes that I make with my holiday roasts! I've included stovetop instructions as well as the steps to making it in your oven, Instant Pot, or crockpot!
8. Crockpot Chili
Because the flavor of chili only gets better as it cooks, it is the perfect recipe to make in your slow cooker! This 3-bean crockpot chili is my go-to recipe for chilly weekdays because I can set it and forget it until dinnertime!
9. Chili Mac
Combining chili with mac and cheese is a great way to repurpose your leftovers. Sometimes, I make the chili specifically for this pasta dish because my family loves it so much!
10. Chili Dogs
A few times a year, I get a huge craving for chili dogs, and they never disappoint! Cook up a few of your favorite hot dogs (I like all beef hotdogs), put them in buns, and ladle some chili right over the top!
Learn about the best chili for making chili dogs on my other page!
11. Chili Dog Casserole
This kid-favorite recipe has all the components of classic chili dogs but in an easy-to-make casserole! You only need 4 ingredients: hot dogs, chili, crescent rolls, and lots of cheese!
>>>>See all of my recipes HERE<<<<
12. Short Rib Chili
Succulent and tender short ribs can be slowly braised to create a rich and meaty chili masterpiece! The result is a chili with a depth of flavor that's truly extraordinary!
13. Ground Pork Chili
Ground pork chili offers a tasty twist from the usual beef, chicken, or turkey chilis. Pork has a savory and subtly sweet flavor that makes for some of the most delicious chili you'll ever try (really, you might never go back to beef)!
14. White Chicken Chili
Chicken chili is a lighter alternative to traditional red beef chili. It's milder and creamier, yet still has that hearty comfort food feel that I crave from a good bowl of chili!
15. Bison Chili
Bison chili is a healthier and slightly gamey twist on the classic chili recipe, and it's become one of my personal favorites. Lean and rich in flavor, ground bison meat adds a unique depth to the chili that will have you savoring every bite!
💭 Tips For Making The Best Chili
Making the best chili requires good ingredients, proper techniques, and some personal touches to suit your taste. Here are some tips to help you create delicious chili:
Quality ingredients: High-quality lean ground meat is a good choice to minimize excess fat. Use fresh vegetables and herbs when possible.
Properly prepare your ingredients: Brown the meat before adding it to the pot to enhance the flavor. Sauté the onions and garlic until they're softened and aromatic. Roast fresh chili peppers to bring out their flavor before adding them to the chili.
Slow cooking: Cook your chili low and slow. Simmer it for at least an hour, or even longer, to allow the flavors to meld together.
Beans: While some people prefer chili without beans, others like beans for texture and added protein. See the best beans for chili here! *Rinse canned beans to remove excess salt and starch.
Make it ahead: Chili often tastes even better the next day. Make it in advance and let it sit in the refrigerator overnight to allow the flavors to meld.
Now that I've covered so many tasty chili recipes, it's time to find your favorite! Are you team beans or no beans? Let me know in the comments below!
📖 Recipe Card