My best and favorite suggestions for what to serve with chili at a family get together, pot lucks, cookouts, or any occasion! Whether you cook it with beans or no beans, there are a variety of options that will compliment your favorite chili recipe perfectly!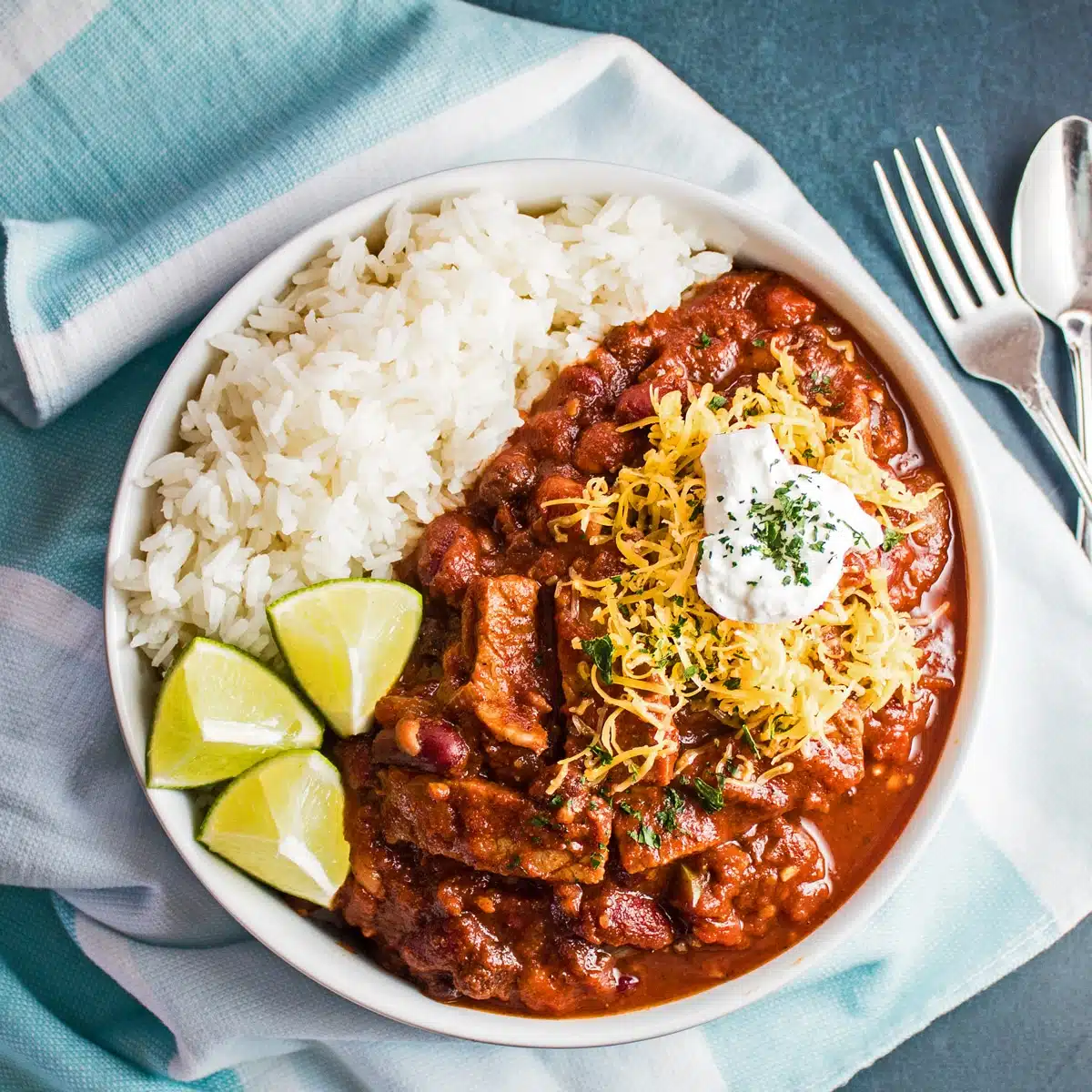 Chili has a distinct flavor that can be enjoyed all year round!
When chili is done right, it's a warm and comforting dish. When watching the Superbowl, tailgating, hosting a cook-off, or throwing a backyard party, many people serve their chili with sides, bread, and appetizers in addition to the main dish.
While chili is filling enough to be served on its own, no meal is complete without a few delectable side dishes to balance things out. Whether it's sweet cornbread or a zesty green salad, there's an unlimited list of options for serving with chili that will impress and delight you, your family, and your guests.
Jump to:
15+ Best Side Dishes for Chili
Here are 15 of the best side dishes to serve with chili to elevate an ordinary meal to something special:
1. Cornbread
It may look ordinary, but cornbread is incredibly addictive. Cornbread is moist but also has a delicate, crumbly texture and is very versatile and simple to make. It goes really well with soups and stews but can be enjoyed by itself with just a drizzle of honey on top.
Whether you want a cornbread that is sweet, savory, or even spicy, the options are nearly unlimited. Cornbread is definitely one of the most popular sides to serve with chili.
2. Sweet Potato Fries
People of all ages love sweet potato fries. They're very tasty as well as a healthier option over French fries, especially if baked. In addition, sweet potato fries are an excellent way to get people to eat more vegetables. You can dip them in garlic aioli or even just plain ketchup.
3. Nachos
You can always count on nachos to be a hit, whether you're serving them to guests or just the family for dinner. Nachos can be done simply with queso or with as many toppings as you choose.
With so many toppings to choose from, nachos make a great side dish to go with chili!
4. Grilled Cheese
A hearty meal of grilled cheese and chili is a fantastic and delicious option if you're searching for something filling. Also, who can resist an excellent crunchy, buttered bread with delightful melted cheese to accompany their chili?
Grilled cheese can be made with American cheese or any other cheese you prefer. Plus, it's fun to dip it!
5. Mexican Rice
You can serve Mexican Rice as a delicious side with chicken, seafood, steaks, and many other entrees, especially chili. Mexican rice can be made by simply sautéing white rice with other ingredients such as tomatoes, garlic, and onions.
6. Coleslaw
A zesty coleslaw is a perfect companion to a hearty and delicious chili, as it can definitely help balance out the flavors of the dish. It's cool and creamy, the perfect side to counteract warm, meaty chili.
In only a few minutes, you can create your coleslaw at home, and it's very inexpensive.
7. Onion Rings
Crunchy on the outside and deliciously tender on the inside, this side dish is a crowd-pleaser. You can serve them during the Super Bowl with your best chili, and your guests will be very impressed.
They're a classic crispy snack and a favorite among individuals of all ages.
8. Salad
Salads have an infinite number of possibilities and options. When you eat them, you get fresh greens and a guilt-free experience. You can go with plain greens dressed in olive oil and lemon juice, or you can go for a salad loaded with extras.
Salads are great since they go well with almost everything, even chili.
9. Chips and Guacamole
Tortilla chips and guacamole are always a great combination. Crispy, salty, and surprisingly easy to make, they pair perfectly with chili. Because everyone loves chips and guacamole, you'll frequently see them at gatherings.
10. Tacos
Everybody loves tacos because they can be loaded with almost anything from meat to seafood, they can even be vegetarian. Tacos can be eaten for breakfast, lunch, and dinner and pair well with just about any dish.
They're wonderful, and they pair perfectly with chili!
11. Quesadilla
One of Mexican cuisine's most popular appetizers, the quesadilla is a tortilla stuffed with cheese and sometimes other ingredients before being fried on a griddle or stove. Traditionally, corn tortillas are used.
However, you can also use flour tortillas if that is what you prefer. They're wonderful with chili and can be served anytime throughout the year.
12. Baked Potato
The combination of a perfect meal is a big warm bowl of chili with a buttery baked potato on the side. It's impossible to resist a perfectly baked potato with crispy skin and fluffy insides, and dinner is not complete with them.
You're baked potatoes are also great when topped with ingredients like bacon, sour cream, and chives.
13. Fried Pickles
Fried pickles are utterly irresistible. Salty and crispy, you won't be able to stop eating them. They're great as a game-day snack or to pair with chili, but make sure you make plenty because your guest will surely keep coming back for more.
14. Fajitas
A fajita is a wonderful grilled meat dish that is served with flour or corn tortillas along with grilled peppers and onions. When served as an accompaniment to a chili bowl, fajitas are much better than they are on their own.
Fajitas can be elevated when topped with guacamole and pico de gallo.
15. Potato Skins
Whether it's game day, birthday, or sleepovers, potato skins are a crowd-pleaser anywhere. Serve these alongside chili, and your guests will undoubtedly enjoy themselves.
You can even choose any toppings you like and be creative with them. Finally, potato skins are very simple to make.
Everything on this list is excellent on its own, but even better when served next to a steaming bowl of chili. Given the robust flavors of chili and the fact that virtually any dish can complement it, there are an plenty of possibilities for side dishes you can consider.
Chili is an undeniably popular and tasty comfort food, and there are many different ways to prepare it.
The best thing about chili is that it is not only quick and easy to cook, but it can also be made ahead of time and stored in the refrigerator until you are ready to serve. Then, all you have to do is heat it and serve it alongside your favorite side dishes.
We hope with our help, you've come up with the perfect accompaniments for what to eat with chili! If there are any sides that we didn't mention here you like to have with your chili, drop us a comment below and tell us about it!
📋 Recipe