If you need Super Bowl appetizers, I've got a list of 15 of my favorite finger foods and easy-to-eat apps that are perfect for game day! I've got delicious dips, crunchy chips, and some unique starters all made better by the people you share them with!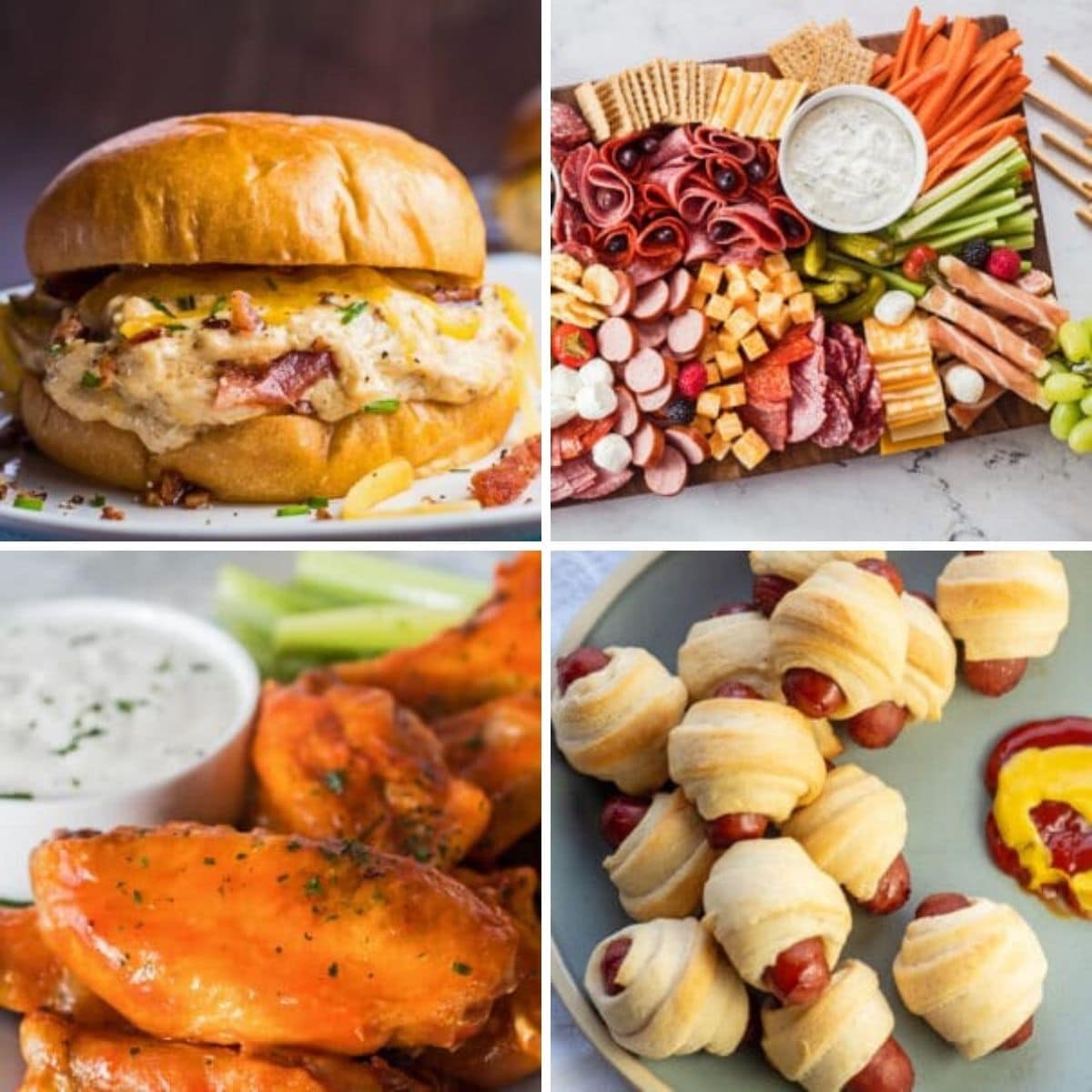 A tasty list of 15 incredibly easy appetizers to serve up on Super Bowl Sunday!
There's nothing like getting family and friends together to gather around the T.V. on Super Bowl Sunday! Whether you're there for the game, the halftime show, or the food, the Super Bowl is one of the few times every year that everyone comes together in one place.
Because everyone is going to be fixated on the T.V. and there are often more people than there are chairs, finger foods are the unofficial food of the Super Bowl. No one wants a sit-down dinner; they want things they can carry on a paper plate or grab and go!
Jump to:
15+ Of The Best Super Bowl Appetizers
If your wondering what snacks to eat during the Super Bowl, I got you covered!
If it's your year to host the Super Bowl party (or you host it every year and need some fresh ideas), check out this list of easy foods for football fanatics!
1. Crack Chicken
A favorite at all my family gatherings, crack chicken is easy to make, versatile, and downright addicting. Cream cheese, bacon, chicken, and ranch come together to make a totally tasty and creamy concoction that can be used in a number of ways.
The easiest is to use it with chips as a dip! You can also spread it on bread as a sandwich, or on mini burger buns as sliders! Best of all, you can set it and forget it in the crock pot.
2. Lil Smokies Pigs In A Blanket
One of my favorite ways to feed a crowd, this pigs in a blanket are made with Lil Smokies sausages! They are super easy to make, and you can make a lot of them. Serve them up with any of your favorite dipping sauces and watch them disappear!
3. Potato Chips
Rather than plopping a bag of chips on the table, take it one step further and make your own in the air fryer! Homemade potato chips have a taste that far surpasses their pre-packaged counterparts. They are super easy to make, the hardest part is slicing the potatoes. They work great with dips, too!
4. Nachos Supreme
Nachos are a traditional game day food and rightfully so! You can make a platter of nachos as large or as small as you need. Offer toppings on the side or go ahead and pile them on. It's really up to you and what works for your party!
Sometimes, we offer up the chips and cheese and let everyone build their nachos themselves from a selection of toppings!
5. Cheese & Bacon Turnovers
Cheese, bacon, delicious puff pastry, what could go wrong? These cheese and bacon turnovers are easy to make and great for grabbing and eating on the go.
Melted cheese and salty bacon wrapped up in pastry will be a favorite for all ages.
6. Air Fryer Frozen Chicken Wings
Healthier and quicker than deep-frying, chicken wings cooked in an air fryer are a great option for serving a crowd during the big game! The air fryer makes the skin perfectly crisp without any monitoring on your part.
Whip up an easy wing sauce with Frank's Red Hot and butter and use a bag of frozen wings (or a mixture of wings and drumettes) for the ultimate easy app!
7. Charcuterie Board
This list would not be complete without a charcuterie board! The ultimate party snack tray, charcuterie boards are totally trending. Charcuterie companies are popping up all over the place.
Rather than paying a pretty penny to have one made, make your own at home that could rival the professionals! It's surprisingly easy and has something for everyone to graze on.
8. French Onion Dip
A beloved and classic dip that's great for chips or veggies, French onion dip makes an appearance at most football parties. All you need to make your own is sour cream, dried minced onions, and seasoning!
Its quick and easy to make, so you can focus on making more apps and sides to add to your Super Bowl Sunday spread.
9. Fried Pickles
It's easy to eat 100 fried pickles, so make a few batches and serve them up with some homemade ranch! Fried pickles are a favorite for all ages.
They're easy to load up onto a plate and mindlessly snack on while you watch the game. Perfectly seasoned breading and tangy pickles are a match made in heaven!
10. Potato Skins
A slightly heartier app that is equally easy to carry around is potato skins! Everyone loves potatoes, and they're made even better when turned into crispy vessels for all your favorite potato toppings! They're good dipped in just about everything.
11. Irish Nachos
If you've never heard of Irish nachos, you're really missing out. Think nachos but made with sliced potatoes instead of chips! What's not to like?
It's another easy app that can be dipped, scooped, or topped however you like. Add some crispy bacon, and you'll have a unique snack that will have everyone talking.
12. Creamy Guacamole
It's no surprise that guac made this list. A good guacamole and chips are almost a requirement of any Super Bowl party. This recipe makes a smooth, creamy guac with the perfect amount of "zing"! Show off your guac skills to your family and friends.
13. Stuffed Pizza Rollups
Pizza roll ups are exactly what they sound like. Made with fluffy crescent rolls and stuffed with melted cheese, salami, and pepperoni, these roll ups are like a high-class hot pocket with twice the flavor!
They aren't time-consuming to make, and they are easy to carry around.
14. 7 Layer Dip
Once you make a good 7 layer dip, it's going to be your go-to for all get-togethers. A combination of all your favorite dips and toppings (refried beans, guac, cheese, salsa, tomatoes, cheese, and black olives), 7 layer dip covers all the bases.
It's visually appealing and easy to put together. Plus, it tastes good warm or cold!
15. Spinach Artichoke Dip
Last but certainly not least on our list of tasty Super Bowl appetizers, spinach and artichoke dip is a must-have! Many of the other dip worthy dishes on this list will taste great dunked into spinach and artichoke dip!
A few simple ingredients, and you can tell all your guests you made it from scratch!
We hope we helped you celebrate the Super Bowl Sunday with all the right snacks! If any of these recipes helped you perfect your Super Bowl party, let us know by leaving us a comment below!
Do you love a recipe you tried? Please leave a 5-star 🌟rating in the recipe card below and/or a review in the comments section further down the page.

Stay in touch with me through social media @ Pinterest, Facebook, Instagram, or Twitter! Don't forget to tag me when you try one of my recipes!
📋 Recipe