Tasty game day appetizers are one of the most essential parts of watching any sporting event with your friends and family! Whether it be chips and dips, finger foods, or savory snacks, people come for the game but stay for the food! Make sure everyone goes home happy (whether their team wins or loses) with these winning party food recipes!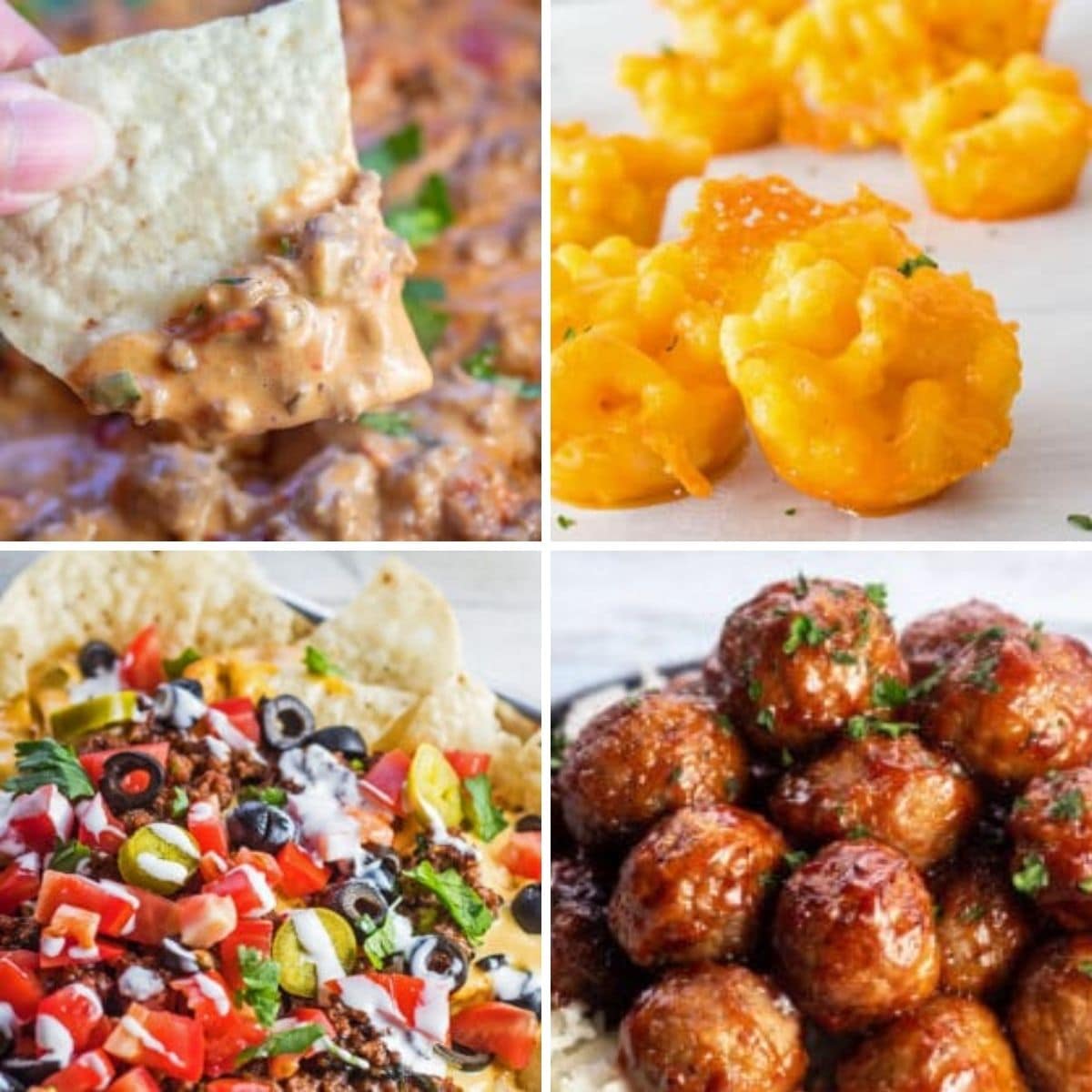 A list of 15 great apps to serve at your next game day get-together!
There's one thing that's universal amongst sports fans everywhere- awesome food. The grub on game day is an integral part of the experience! Be it hockey, baseball, soccer, football, you name it, there's got to be good food for everyone to share!
The best food for watching the game must be easy to grab and go so you don't miss a play while making your plate. Generally, people want to graze throughout rather than sit down for a formal meal.
Jump to:
So pick a few favorites and set up a spread so you can kick back and enjoy the game, too!
15 Best Game Day Appetizers For Sharing
My favorite appetizers for serving and enjoying when hosting game day range from really simple to supremely tasty!
1. Fried String Cheese Mozzarella Sticks
A true American classic, mozzarella stick's popularity has them being served everywhere from fast food joints to high-class establishments. Everyone loves mozzarella sticks!
What's not to love about gooey fried cheese that's breaded and perfect for dipping? They only require 4 ingredients to make, and you can fry them on the stove, in an air fryer, or bake them in the oven!
2. Chipotle Dry Rub Smoked Chicken Wings
Everyone knows wings are a traditional game day snack, but you can take them up a notch by making your own chipotle dry rub! With the perfect amount of heat, these chipotle wings are downright addicting.
You can smoke them (which gives them an awesome smoky flavor), grill them, or bake them in the oven. Serve them up with a side of blue cheese or ranch to tame the heat and watch them disappear!
3. Baked Mac N Cheese Bites
These baked mac n cheese bites take everyone's favorite cheesy pasta and make it a melty-yet-crispy finger food! All you need is a few ingredients and a mini muffin pan!
These bite-sized cheesy morsels are a total crowd-pleaser every time I make them. Make a few batches because they are going to be popular!
4. Stuffed Pizza Bombs
The name says it all - these stuffed pizza bombs are all your favorite pizza flavors wrapped in a delicious biscuit! They are quick to throw together and easy to eat on the move. Plus, kids love them! Dip them in some homemade ranch or eat them as is!
5. Sausage Cream Cheese Balls
To make these awesome cream cheese sausage balls, all you need is some pork breakfast sausage, Bisquick, cheddar, and cream cheese. Also, they're super quick and easy- just mix all the ingredients, form balls, and bake!
Guests can toss them on a paper plate and go enjoy the game!
6. Air fryer Quesadillas
If you have an air fryer, game day is a great time to utilize it. The air fryer makes the tortilla extra crispy and cooks these quesadillas in a flash! Keep them simple with meat and cheese or add some veggies, you can even make them spicy if you'd like!
They are easily customizable and great for dipping in queso or salsa if you want to make a tantalizing spread of game day appetizers!
7. Nachos Supreme
Nachos are a classic game day dish. You can make a large platter with all the accouterments or offer up the toppings on the side and let guests build their own.
People can dress them up spicy, add extra veggies, or keep them simple. They satisfy everybody. Plus, they are great for grazing while you're watching your favorite team.
8. Air Fryer Pizza Rolls
There are a few air fryer appetizers on this list, and that's because they make your life easy! Particularly if you plan on making a large selection of snacks. Buy a few bags of your favorite pizza rolls and toss them right in the air fryer.
You'll find they are much crispier when cooked this way, and I don't think you will be hearing any complaints that they aren't homemade.
9. Rotel Dip
Whip up a super simple Rotel dip for all your dunking needs! A can of Rotel, some ground beef, and Velveeta cheese come together to make a totally tasty queso.
Serve it up with some chips and salsa and you've got an appetizer everyone will love.
>>>>See all of my recipes HERE<<<<
10. Pinwheel Sandwiches
A classic finger food, pinwheels are an inexpensive and easy way to feed a crowd. They're great for time management because they can be made ahead, and you don't even have to heat them because they are served cold.
Plus, you can fill them with whatever kind of sandwich filling you like! From a classic Italian combo to tuna fish, they are extremely versatile.
11. Deviled Ham
This delicious deviled ham spread is a favorite at my house. It can be served up as is with some crackers for light snacking or smeared on sandwiches. You could even roll it up in a pinwheel!
It only takes a few ingredients to make, and it's another dish that can be served cold so it's easy to make it ahead of time.
12. Lil Smokies Pigs In A Blanket
These Lil Smokies pigs in a blanket are my go-to party appetizer. A single package of Lil Smokies makes about 40 of these! They are incredibly easy, and only require 2 ingredients to make.
I generally offer them up with some ketchup and mustard, and they are always the first thing to disappear.
13. Air Fryer Frozen Meatballs
A great appetizer that is practically effortless, frozen meatballs are tossed into the air fryer and cooked to perfection. Coat them in your favorite BBQ sauce, stick a toothpick in them, and voila - an easy-to-grab, one-bite snack!
14. Charcuterie Board
Charcuterie boards are super popular for any type of get-together. Make your own at home by picking up an array of meats, cheeses, fruits, and crackers! It's full of options to choose from, so there is guaranteed to be something for everyone.
A simple or stunning meat and cheese board is easy to plop on the coffee table so people can snack while watching the game.
15. Air Fryer Potato Skins
Potato skins are another classic game day appetizer! Crispy potato skins loaded with tasty toppings are always a hit. The air fryer really gets the perfect crisp in a short amount of time.
Add some cheese, bacon, and green onions, and watch everyone line up. Plus, they are the perfect vessel for scooping sauces or dips!
16. Homemade Soft Pretzels
A super soft, freshly made pretzel is one of my absolute favorite snacks to share for any game day gathering! You can pair them with different toppings or serve them with my beer cheese dip for pretzels!
17. Crab Stuffed Shrimp
One of my most requested seafood appetizers has simply got to be these tasty crab stuffed shrimp! This is also one of the first snacks to disappear no matter what game we're watching!
18. Air Fryer Frozen Mac & Cheese Bites
These tasty air fryer mac and cheese bites are perfect for entertaining, especially if there will be kids around! They're another great finger-food snack that won't last long!
19. Pork Belly Burnt Ends
I've you've ever had a chance to try burnt ends then you know why these are a popular appetizer! They're tasty, filling, and a perfect snack for watching any game!
20. Totchos
Get some tater tots nice and crispy then load 'em up with your fave nacho toppings! Or make it a nacho bar so everyone can build their own plate of totchos!
21. Air Fryer Frozen Sweet Potato Fries
Crispy air fryer frozen sweet potato fries are a slightly sweet but entirely tasty snack everyone loves! Serve them as a stand-alone side or as one of many appetizers and snacks at your next game day party!
Drop your favorite game day appetizers in a comment below and they may get added to this tasty list of snacks! If you tried any of these recipes, let me know how they turned out!
📋 Recipe