All the best cheese for macaroni and cheese in one list to help you when making your own creamy mac and cheese at home! By choosing the right cheese, you can make a deliciously melty macaroni & cheese that is good enough to be the main course!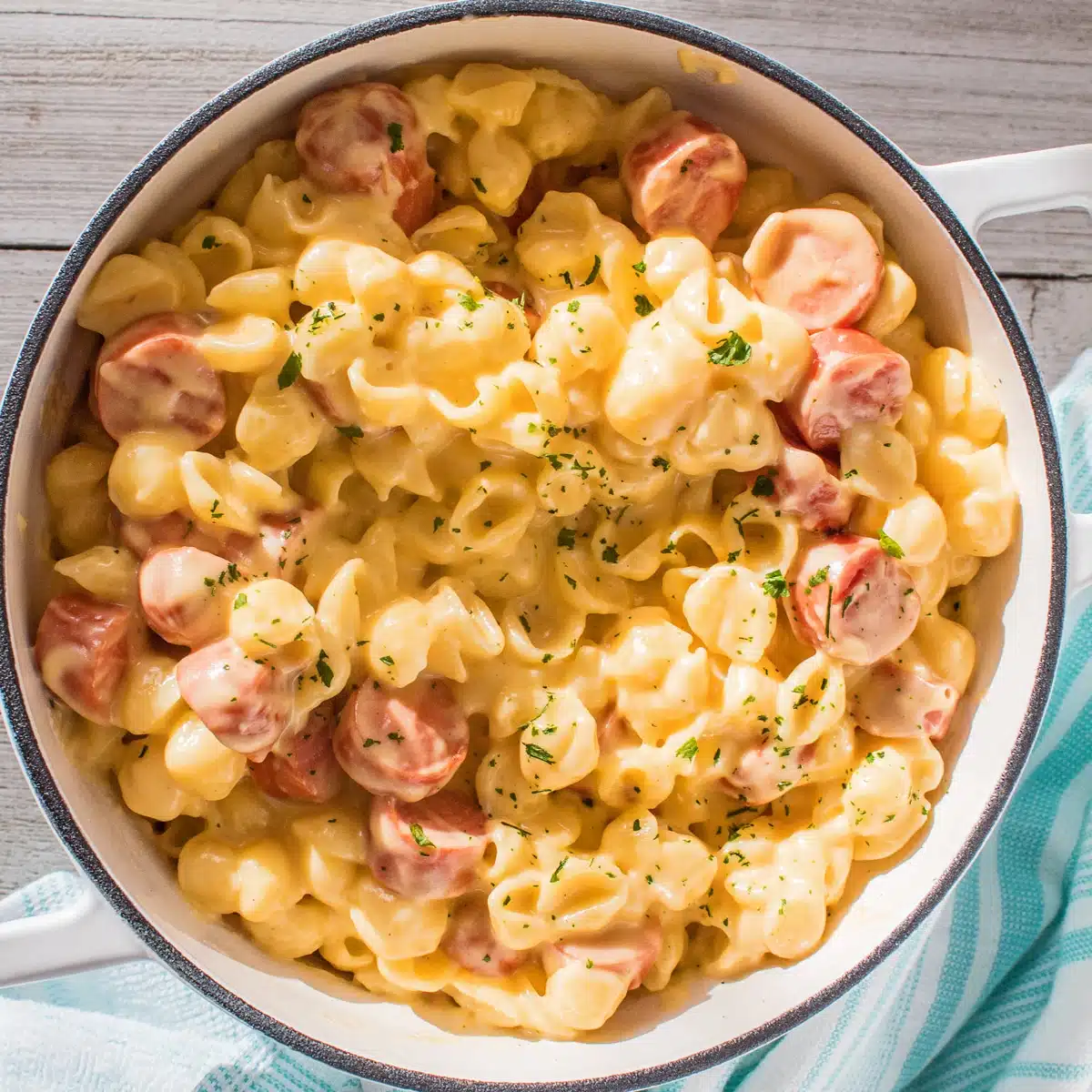 18 kinds of cheese that will make delicious mac and cheese everyone will love!
When someone says they want macaroni and cheese, most minds go to the classic staple in a box: orange powder cheese, elbow pasta, butter, milk.
The classic mac and cheese that Kraft brought to the market in 1937 holds a certain nostalgia for many adults. It also remains a popular choice for many simply because of how easy it is to make.
Jump to:
While Kraft patented the blue box and the powdered cheese that changed the world of cooking, they did not create the dish itself. Macaroni and cheese dates back to Italy in the early 1700s, and many believe Thomas Jefferson brought the recipe back to the United States with him after visiting Italy.
Something you may not know about the homemade version is that it is just as easy to make as the blue boxed version, though it does take a bit more time and prep. If you have ever tasted homemade mac and cheese, you know that extra time in the kitchen is well worth it.
There is nothing quite like the taste of the ooey-gooey goodness of REAL cheese! Especially if you are a cheese lover. With so many yummy cheeses to choose from though – which is the best?
Grate Your Own Cheese for the Best Results
Before we get into the best cheese to use there is one rule of thumb to follow for all of them – grate your own cheese. I know it is tempting to get the pre-packaged cheese that is already shredded.
It definitely makes things quicker. However, it won't be the best cheese. When cheese is pre-shredded or grated the manufacturers add some type of starch to the cheese to keep it from clumping.
This is usually a gluten-free and tasteless flour like potato, tapioca, or rice. It is added in very small quantities and while it doesn't impact taste, it can impact how the cheese melts.
For the most success when melting cheese, buy your cheese in blocks and grate it at home. It will take some extra time, but if you are truly looking for the best cheese for mac and cheese – this is the place to start.
Now, let us get into looking at the best types of cheese.
Choosing the Perfect Cheese
When it comes to choosing the best cheese to use in your mac & cheese a lot of it will be based on your taste preferences. If you prefer traditional flavors then you may lean towards a cheddar, while if you enjoy complex flavors you may choose to explore something like a gouda.
Whatever your taste preferences may be, the list below will give you a list of the best cheeses from mild to savory, and even a couple of pungent tastes. Most of these cheeses are not only tasty but are perfect for melting.
In addition, there are several kinds of cheese mentioned that may not be the best on their own but can elevate any mac and cheese when added in.
The most important thing? All of the choices are full of cheesy goodness to give you the perfect mac and cheese.
1. Parmesan Cheese
Today, many people associate macaroni & cheese with cheddar cheese, however, Parmesan cheese was actually the original cheese used in making this dish. As the original cheese, it only makes sense to list it as the number one option.
This original option is a perfect alternative for those who want mac & cheese that is not as heavy as the classic cheddar dish. Parmesan macaroni has an overall lighter taste and feel.
Makes sure you get the fresh Parmesan though, NOT the one that comes in a green can (Kraft really did corner the market on easy cheeses).
2. Parmigiano Reggiano
Parmigiano Reggiano is a traditional Italian cheese. In fact, it is held to higher production guidelines in Italy which makes it even better than regular Parmesan.
For the ultimate Italian mac & cheese, add grated Parmigiano Reggiano to the top of your Parmesan mac & cheese and broil it for a few minutes to get the perfect crunchy topping before serving.
3. Sharp Cheddar
Sharp cheddar is the most popular cheese used in making homemade macaroni. With a flavor profile that is stronger than a mild cheddar or mozzarella, but also milder than pungent gorgonzola or blue cheese, it offers a taste that many find pleasant.
When melted it also offers that ideal consistency that is a little bit creamy and a little bit gooey – giving you that ideal string of pulled cheese when you dish it up.
4. Mild Cheddar
A great alternative for sharp cheddar is mild cheddar. Mild cheddar is more commonly bought for topping things like sandwiches, tacos, and casseroles, but is a great base as well.
Mild cheddar will give you all the same qualities of melted gooeyness as sharp cheddar with a milder flavor.
5. White Cheddar
A delicious alternative to sharp cheddar is white cheddar. White cheddar has a sharp profile flavor like sharp cheddar and can be used to replace sharp cheddar in a traditional mac & cheese recipe.
White cheddar is also the perfect flavor to blend with Gruyere, sharp cheddar, mild cheddar, and even pepper jack.
6. Monterey Jack
Monterey Jack is another classic choice for mac & cheese. It is milder and even a bit sweeter than cheddar.
While it can be used on its own it is delicious mixed with other cheeses. It blends well with pepper jack cheese to offer a balance of sweet and spicy.
You can even add fresh jalapeños to a Monterey jack mac and cheese to really bring out the contrasting flavors.
7. Colby Jack
Colby jack cheese is a cheese that combines two other kinds of cheese. Monterey Jack Cheese is mixed with colby, an orange cheese that is milder than cheddar.
The result is a white and orange marbled cheese. Although colby jack is a delicious cheese to eat on its own, it is often considered too mild as the base for mac & cheese.
Combined with sharp cheddar, though, it makes a tasty dish like this Southern baked mac & cheese.
8. Mozzarella
Pizza lovers already know that mozzarella melts well. Therefore, it is a great option for creamy macaroni and cheese.
Mozzarella has a very mild flavor, though. To get the most from a mozzarella mac, combine it with other cheeses to boost the flavor.
If you still want an overall flavor that is less intense, pair mozzarella with Parmesan and cream cheese for a mild-tasting but creamy dish.
9. Pepper Jack
In contrast to mozzarella, pepper jack is going to offer a stronger flavor. While pepper jack is not too spicy for most people, it does have a strong flavor that can be overpowering in large quantities.
The best choice for pepper jack is to balance it out with Monterey Jack, white cheddar, or even mozzarella.
10. Smoked Gouda
Creamy, smoky, sophisticated. Smoked Gouda may not be the cheese you choose for a family meal with the kids, but it is the perfect option for a sophisticated take on a simple dish.
This savory and complex cheese is just as easy to use as a classic cheddar but will taste like it was a lot more complicated to make. The perfect choice for an easy dish with complex flavor.
11. Gruyere
Gruyere is one of those cheeses that melts oh so perfectly. Combine the perfect melt with its rich nutty flavor and you have the best cheese for a savory mac and cheese.
Due to its balance of gooey goodness and rich flavors, many restaurants use gruyere as their cheese of choice for fancy mac & cheese. Top it with bacon crumbles and a crunchy bread topping for a restaurant-quality meal at home.
12. Fontina
Fontina comes in two types: young and aged. Young fontina is ideal for melting as it has a similar consistency to Gruyere and other creamy cheeses like gouda.
Young fontina has a milder flavor than Gruyere and will give you a creamy dish with an almost buttery flavor. Fontina, gruyere, and gouda can all be used interchangeably or in combination with one another.
13. Blue Cheese
Don't skip over the stinky cheeses! Now, you don't want to make an entire dish that is only blue cheese, that would be way too much.
A little bit of blue cheese though? Delicious!
Strong flavors like blue cheese and gorgonzola can elevate a basic mac & cheese to make it a truly amazing dish. Try adding just a bit of crumbled blue cheese on top of a mild four-cheese macaroni for a blend of amazing flavors.
14. Gorgonzola
Like blue cheese, gorgonzola falls into the strong cheese category. Unlike blue cheese, many find the taste of gorgonzola to be more friendly.
Therefore, if you are not a blue cheese fan but want to explore adding some richness to your macaroni & cheese add a little gorgonzola in. This cheese pairs well with mozzarella, fontina, Gruyere, and Parmesan.
15. Feta
Feta does not melt as easily as other cheeses traditionally used for mac & cheese. It is also saltier than other cheeses and can be overpowering in large quantities.
However, it is a great option to add as a final topping to a milder mac & cheese that is made with mozzarella and Parmesan.
16. Brie
While brie is a naturally creamy cheese it does not have quite the right consistency to mix with pasta on its own. Therefore, it does best as a member of a four-cheese mac & cheese.
Try using brie in combination with cream cheese, ricotta, and Parmigiano Reggiano for a complex and savory mac and cheese. Brie is a yummy addition for a slightly sweeter mac & cheese.
17. Cottage Cheese
With a higher protein content and lower fat than traditional cheeses, cottage cheese is a fun alternative. Cottage cheese melts surprisingly well on its own; however, for the best results combine it with other cheeses.
Mix cottage cheese with cream cheese and mozzarella for a mild and healthier mac and cheese. For the creamiest results, blend the cottage cheese before mixing it with the other ingredients.
18. Cream Cheese
Cream cheese is already creamy so it makes sense that it can be a good choice for mac and cheese. On its own though, cream cheese can be quite heavy and overwhelming in large quantities.
The best way to use cream cheese for your mac is to add it to your other traditional cheeses. Just a couple of tablespoons of cream cheese in addition to a cheddar or jack base will elevate the creaminess to the perfect consistency.
Mix Cheeses for the Best Mac & Cheese
Even though macaroni & cheese is considered a classic dish and has become a staple in comfort foods it doesn't have to only be a one flavor dish. The best mac & cheeses are often a combination of several kinds of cheese.
Mixing even a couple of cheeses is a simple way to elevate the flavor profile of the dish. The more complex flavor, the better the overall taste.
Even a traditional cheddar mac often has other cheeses added. To get the best mac & cheese try mixing some of your favorite cheeses and even trying out a few new ones.
You may be surprised at the delicious flavors you find!
🧀 My Favorite Mac And Cheese Recipes!
We hope with our help you are able to make the best ooey-gooey, delicious mac and cheese! Let us know your favorite cheese combinations by leaving us a comment below!
Do you love a recipe you tried? Please leave a 5-star 🌟rating in the recipe card below and/or a review in the comments section further down the page.
Stay in touch with me through social media @ Pinterest, Facebook, Instagram, or Twitter! Subscribe to the newsletter today (no spam, I promise)! Don't forget to tag me when you try one of my recipes!
📋 Recipe
Print Recipe
Leave A Comment
Love This Recipe?
Click On A Star To Rate It!
Best Cheese For Macaroni And Cheese
All the best cheese for macaroni and cheese in one list to help you when making your own creamy mac and cheese at home! By choosing the right cheese, you can make a deliciously melty macaroni & cheese that is good enough to be the main course!
Pin Recipe
Share on Facebook
Ingredients
1

lb

elbow macaroni

(cooked, drained, rinsed)

½

cup

butter

(1 stick or 8 tablespoons)

2

tablespoon

all-purpose flour

1

teaspoon

garlic powder

½

teaspoon

white ground pepper

½

teaspoon

salt

½

teaspoon

onion powder

2

cups

heavy cream

3

cups

white cheddar

(grated)
Instructions
Cook your pasta according to the package instructions until al dente (firm to the bite) in texture. Drain, rinse in cool water, and set aside.

In a medium saucepan, melt the butter over medium heat.

Once the butter is melted, add the flour and seasoning - garlic powder, salt, white pepper, and onion powder. Stir until a paste is formed.

2 tablespoon all-purpose flour,

1 teaspoon garlic powder,

½ teaspoon white ground pepper,

½ teaspoon onion powder,

½ teaspoon salt

Add the heavy cream and stir or whisk until the mixture is smooth.

Add the grated white cheddar and stir until melted, remove from heat.

Pour the cheese sauce over the cooked macaroni noodles, and stir to coat all of the pasta. Garnish with additional cheese, if desired. Serve immediately.
Nutrition
Calories:
697
kcal
(35%)
|
Carbohydrates:
46
g
(15%)
|
Protein:
20
g
(40%)
|
Fat:
48
g
(74%)
|
Saturated Fat:
30
g
(188%)
|
Polyunsaturated Fat:
2
g
|
Monounsaturated Fat:
13
g
|
Trans Fat:
1
g
|
Cholesterol:
157
mg
(52%)
|
Sodium:
536
mg
(23%)
|
Potassium:
224
mg
(6%)
|
Fiber:
2
g
(8%)
|
Sugar:
2
g
(2%)
|
Vitamin A:
1654
IU
(33%)
|
Vitamin C:
1
mg
(1%)
|
Calcium:
361
mg
(36%)
|
Iron:
1
mg
(6%)
best cheese for macaroni and cheese, mac & cheese, macaroni and cheese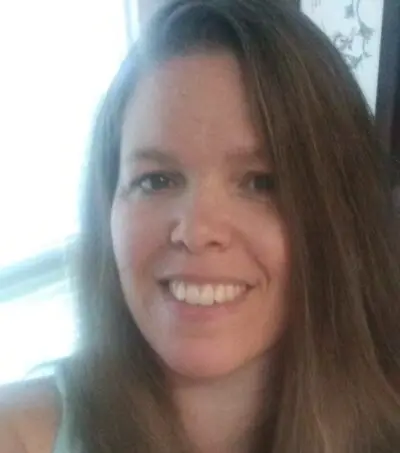 Angela is an at home chef that developed a passion for all things cooking and baking at a young age in her Grandma's kitchen. After many years in the food service industry, she now enjoys sharing all of her family favorite recipes and creating tasty dinner and amazing dessert recipes here at Bake It With Love!