These comfort food recipes are warm, delicious, and satisfying, so they always hit the spot when you're craving a home-cooked meal! Many of these classic recipes will be familiar to you, and the nostalgia makes them even more enjoyable! I guarantee you'll savor every bite!
Best Comfort Food Recipes
Comfort food recipes are warm and welcoming, with a satisfying flavor that keeps you coming back for more. Whether it's a bowl of rich macaroni and cheese, a hearty pot of chicken soup, or a batch of crispy fried chicken, these are the meals you'll look forward to making again and again!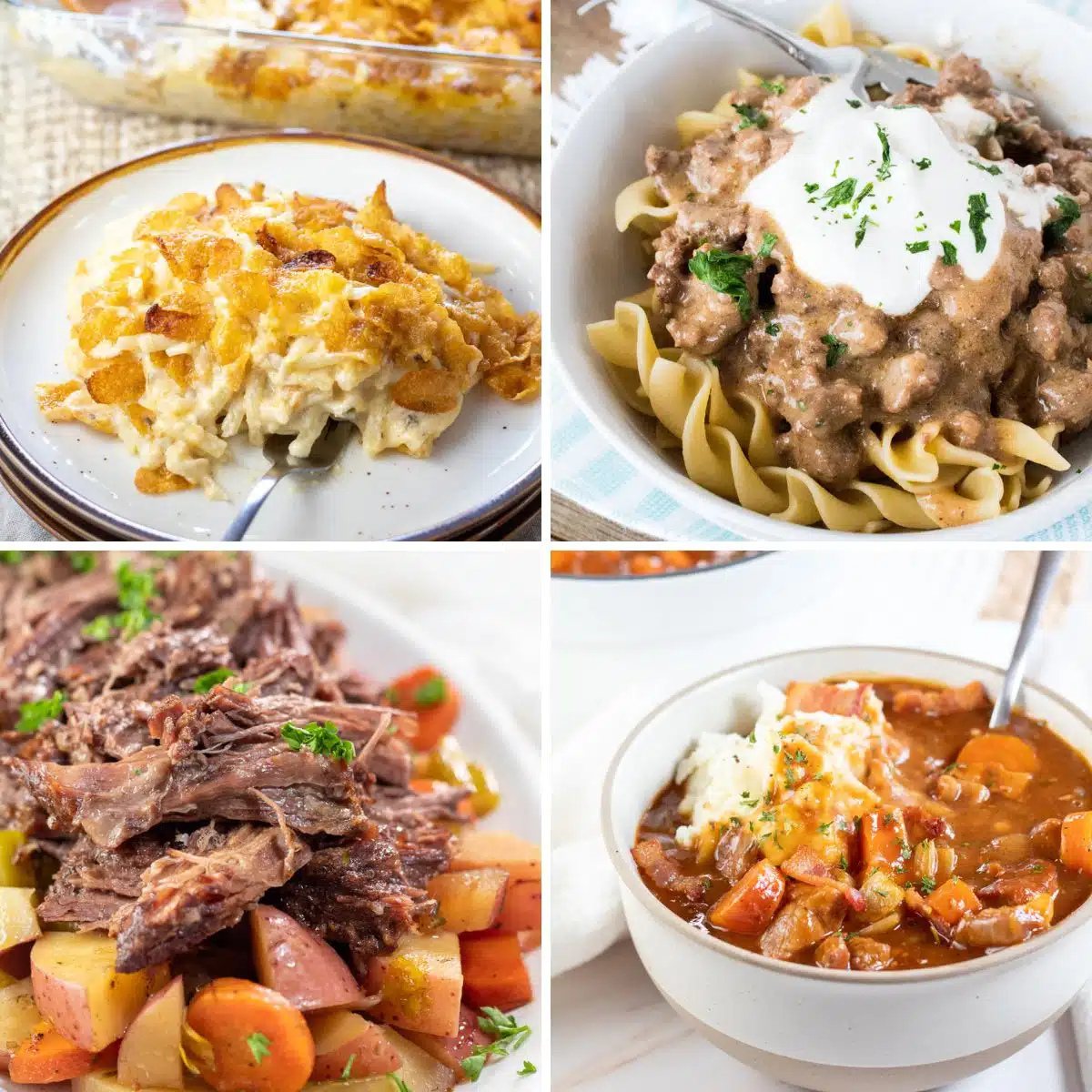 Jump to:
1. Funeral Potatoes
Funeral potatoes got their name because they were a warm and comforting side dish that could serve a crowd at after-funeral gatherings. However, this cheesy hashbrown casserole isn't just for somber occasions.
It's perfect for family dinners, celebrations, and more!
2. Fried Chicken
Fried chicken is the epitome of comfort food! It's juicy and flavorful with a crispy golden breading that makes it perfect for dunking in country gravy, honey mustard sauce, or your favorite condiments.
3. Ground Beef Stroganoff
Beef stroganoff is super rich and creamy yet hearty and satisfying. This easy version using ground beef is perfect for family dinners because it's ready in just 20 minutes.
4. Spaghetti Bolognese
Who can resist a big bowl of spaghetti with meat sauce? Add some crispy baked garlic bread and an extra sprinkle of grated Parmesan cheese, and you have pure Italian comfort food.
5. Lasagna
Lasagna is as classic a comfort food as they come, and it's safe to say that most people have early memories of enjoying homemade lasagna for dinner. It also freezes wonderfully, so you can make it in advance and have a ready-to-bake dinner prepared for when you're short on time.
6. Yankee Pot Roast
The combination of red wine and beef broth simmers into a richly flavorful gravy that is only made better by the fall-apart-tender beef. There's also a variety of perfectly cooked root vegetables that make this a delicious one-pot dinner.
7. Chicken Pot Pies
Made-from-scratch chicken pot pies will have your family scrambling to the dinner table! The golden, flaky pie crust, tender chicken and vegetables, and rich chicken gravy are perfectly combined flavors and textures.
If you're looking for something to serve with your pot pies, you can find all the best chicken pot pie side dishes here!
8. Million Dollar Chicken Casserole
The name says it all; this rich and cheesy chicken casserole tastes like a million bucks! That's not even the best part, and it is topped with buttery Ritz crackers that give it a perfect crunch!
9. Chicken and Dumplings
Chicken and dumplings is a family favorite recipe that is perfect for any time but especially comforting when you're feeling under the weather. The rich broth, tender dumplings, and juicy chicken will make you feel better quickly!
>>>>See all of my recipes HERE<<<<
10. Swedish Meatballs
Ikea was onto something when they started offering in-house Swedish meatballs. They are slathered in rich, creamy gravy that tastes incredible over buttered noodles or mashed potatoes!
Discover all the tasty things you can serve with Swedish meatballs right here!
11. Crockpot Salisbury Steak
You know anything cooked low and slow in the crockpot will be tender, flavorful (and, more than likely, super easy to make). These juicy Salisbury steaks are cooked perfectly in a rich brown gravy with tender mushrooms, all while you go about your day!
12. Sweet and Sour Chicken
If Chinese takeout recipes are your idea of comfort food, you're probably aware of how addictive a big bowl of sweet and sour chicken can be. The crispy wok-fried chicken is coated in a sticky, sweet and sour sauce that is absolutely delicious with a side of Jasmine rice or fried rice.
13. Chicken Parmesan
A crispy fried chicken cutlet with marinara sauce and melted mozzarella chees on a warm bed of al dente spaghetti? Sign me up! Chicken Parmesan pizza or a chicken Parmesan sandwich also classifies as comfort food, if you ask me!
14. Grits
Grits are so versatile you can eat them at breakfast, brunch, lunch, or dinner, and there are many ways to season or flavor them. You can make them rich, buttery, sweet, or savory (think shrimp and grits)!
15. Oatmeal Meatloaf
I have tried my fair share of meatloaf recipes, and this old-fashioned oatmeal meatloaf is a favorite that I keep returning to. The ease of the recipe, the perfect texture, and the classic ketchup glaze are everything you love and expect with a classic meatloaf.
16. Sloppy Joe
If you remember the cans of Sloppy Joes for dinner and weren't a fan, you have to give it another try when it's homemade. Serve this hearty meal between hamburger buns (or, better yet, pretzel buns) for an easy lunch or dinner!
I dedicated an entire page to what to serve with Sloppy Joes because they are frequently on my weekday dinner rotation!
17. Beef Stew
When the weather is cold and I'm craving comfort food, beef stew is the first dish that comes to mind. The perfectly seasoned broth, chunks of tender beef stew meat, and veggies make it an excellent fall soup.
My personal favorite method is in the crockpot, though I've made it in the Instant Pot with great results! I even have a quick and easy version made with ground beef.
18. Chicken Noodle Soup
A bowl of chicken noodle soup has long been considered 'soul food' because it's so comforting and satisfying! This is a classic recipe made with egg noodles (not the thin spaghetti noodles you find in canned soup).
Try it with some butter herb Rhode's dinner rolls to soak up the broth, or make any of these chicken noodle soup side dishes.
19. Chicken Tater Tot Casserole
There was definitely a period of time when my family was obsessed with this chicken tater tot casserole. They loved the rich and creamy sauce, crispy tater tot topping, and tender chicken and veggies, while I loved how easy it is to make!
20. Bacon Cheeseburger Hamburger Helper
This homemade copycat of Hamburger Helper is lightyears better than anything you'll get from a box. It's rich and cheesy with chunks of bacon, perfectly seasoned ground beef, and tender macaroni noodles!
21. Pan Seared Ribeye
For steak lovers, the ultimate comfort food is often a perfectly cooked steak dinner. Follow my guide on the levels of beef doneness and this super simple recipe for pan-seared ribeye steaks, and you'll be cooking steaks like a pro.
For the best side dish suggestions, check out what to serve with ribeye steak!
22. Homemade Chili
With melted cheddar cheese, some crispy crackers, and a dollop of sour cream, I am a happy camper with a big bowl of chili! This is my go-to recipe for chili when I make it, and the leftovers are perfect for chili dogs or chili dog casserole the next night.
23. Velveeta Mac & Cheese
For many, myself included, I know that a big pot of Velveeta mac and cheese is reminiscent of childhood (fun fact: it was invented in 1919)! Velveeta melts quickly and beautifully, making for a cheesy, ultra-rich mac & cheese that never disappoints.
24. Fish & Chips
Living on the West Coast, fish & chips were a must for every local restaurant and pub. There's something so satisfying about dunking crispy golden fried fish in tartar sauce (and the French fries taste good in tartar, too)!
You can look at my post on what to serve with fish and chips for even more ways to elevate your meal!
25. Shepherds Pie
Shepherds pie is a comfort food that is enjoyed all over the world! What's not to love about rich gravy, tender vegetables, and flavorful lamb meat baked under a fluffy mashed potato topping?
Technically, a shepherd's pie is made with lamb meat, but you can still whip up a perfectly tasty and comforting cottage pie with ground beef!
26. Cowboy Casserole
Tater tots are comfort food on their own, so turn them into a cheesy ground beef casserole, and you know you're in for something delicious! Best of all, you can assemble and bake it, then freeze it for later for an easy meal any day of the week.
27. Guinness Lamb Stew
This Guinness lamb stew features buttery, rich lamb meat and a deeply flavorful broth made with stout beer for even more depth of flavor. I like to pair it with some homemade Irish soda bread or rustic bread to soak up every last drop!
💭 Tips For Making The Best Comfort Food
Making the best comfort food involves combining flavors, textures, and cooking techniques. Here are some tips to help you create the most delicious comfort food:
Use familiar ingredients: Nostalgia is a huge comfort food element for many people. Ingredients or recipes you fondly remember will taste more comforting and delicious than most!
Balance flavors: Comfort food typically leans towards rich and savory flavors. Balance these with other tastes like sweet, salty, and umami. You can learn more about balancing flavors here.
Familiarize yourself with basic cooking techniques: Many comfort food recipes rely on classic cooking methods like braising, roasting, frying, or simmering. These techniques will help you achieve your dishes' best textures and flavors.
Aim for a balanced texture: Texture is crucial in comfort food. Consider the contrast between the crispy fried chicken's exterior and the tender, juicy meat inside. Recipes with complementary textures are always more satisfying.
Share: Comfort food is meant to be enjoyed with family and friends! Sharing the meal with loved ones is how you make new nostalgic recipes!
Any day where I can indulge in one of these comfort food recipes is a great day in my book! Tell me about your favorite comfort foods in the comment section below!
📋 Recipe