Here's what to serve with sweet and sour chicken to make it a flavorful and well-balanced lunch or dinner that rivals any takeout place! I've got you covered, from classic options like fried rice or lo mein to unique side dishes like sweet potato sushi! Pick a few of these recipes and make your perfect plate!
Best Side Dishes For Sweet And Sour Chicken
Sweet and sour chicken has got to be one of the most popular dishes on any Chinese takeout menu. Tangy sweet and sour sauce tossed with crispy, savory, bites of chicken, it's perfection!
Ideally, you want to balance out the very pronounced flavor sauce with starches or other complementary sides, so it's not too much of a good thing. Check out the list below for a few of my favorite pairings when serving Sweet and sour chicken!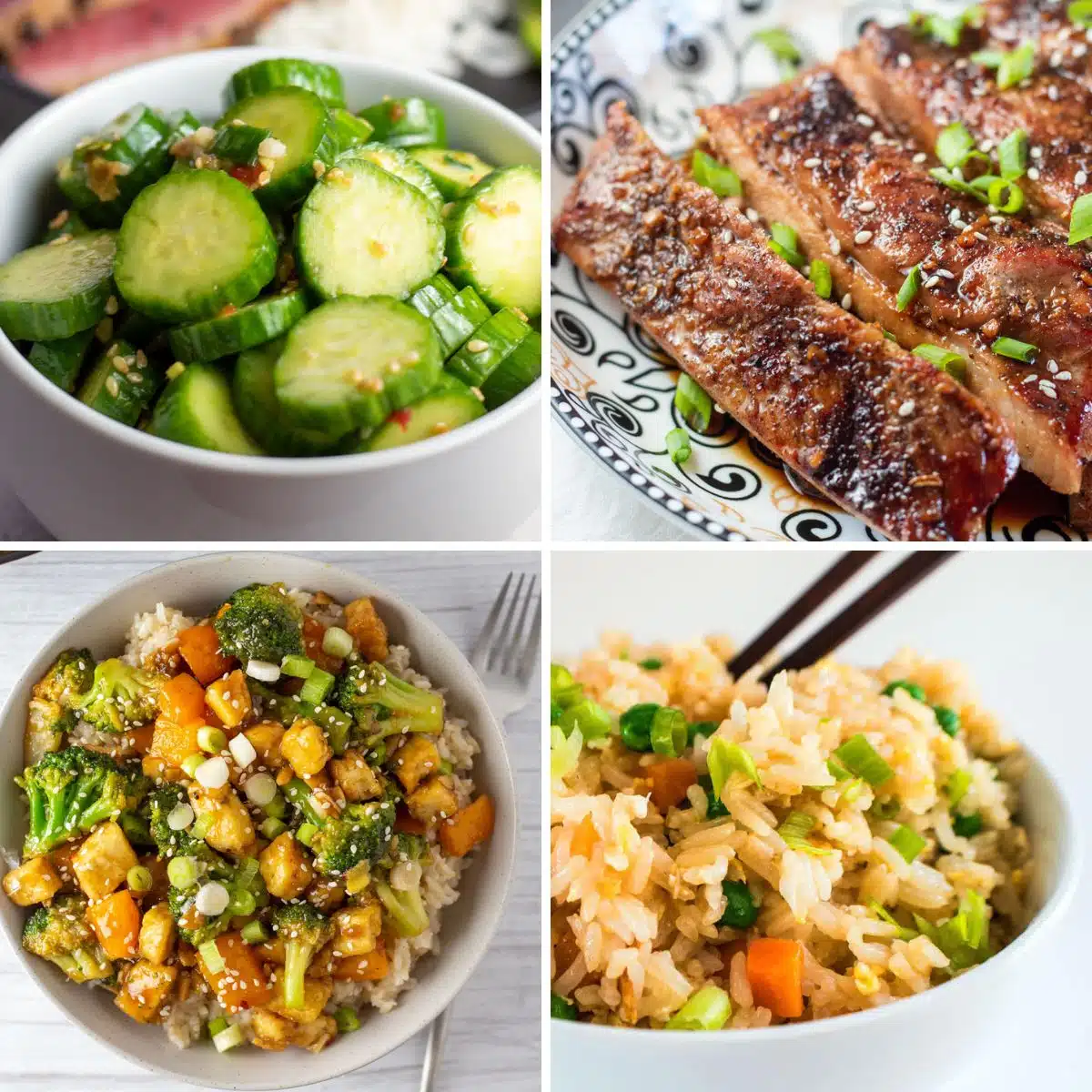 Jump to:
1. Korokke
Although sweet and sour chicken is a Chinese recipe, it tastes absolutely delicious with some crispy Japanese croquettes (or korroke). Their signature crunch is from a golden Panko breadcrumb coating that has been fried to perfection!
2. Panda Express Fried Rice
My copycat Panda Express recipe for fried rice always hits the spot when I'm craving takeout! It's quick and easy and makes the perfect base for a big pile of sweet and sour chicken!
3. Asian Cucumber Salad
Asian cucumber salad is one of my favorite lighter side dishes for heartier Asian-inspired dinners. It's cool and crispy with a tangy vinegar flavor that cleanses the palate between bites and balances the sweetness of the chicken.
4. Asian Roasted Pork Belly
There's no better word to describe roasted pork belly with a sweet and sticky Asian glaze than succulent. It's finger-licking good, and it basically melts in your mouth!
5. Tofu Stir-Fry
This tofu stir-fry will add an extra boost of protein to your chicken dinner and comes complete with tender vegetables, too! Serve it takeout style alongside a scoop of sweet and sour chicken and some rice or noodles.
6. Grilled Bok Choy
When I tell you this grilled bok choy with Asian dipping sauce is worth firing up the grill for, I mean it! This is a memorable yet easy and delicious vegetable side dish that family and dinner guests will love!
7. Crab Rangoons
Crab rangoons are creamy, crunchy, and savory, which makes the perfect contrast to sweet and sticky chicken. They are also delicious when dunked in sweet and sour sauce if you want to serve an extra bowl on the side!
>>>>See all of my recipes HERE<<<<
8. Frozen Veggie Stir-Fry
Turn a bag of frozen mixed vegetables into an easy and delicious stir-fried side dish! It adds color and nutrients, plus the veggies are coated in their own homemade stir-fry sauce, so there is no shortage of flavor!
9. Lo Mein
If you typically order noodles with your takeout, you are probably familiar with lo mein! This homemade version ticks all the boxes and tastes just like you know and love.
10. Sweet Potato Sushi
Sweet potato sushi is a tasty vegetarian spin on sushi that always makes for a great talking point! The tender sweet potato inside complements the sweetness of the sweet and sour chicken without being overwhelming.
11. Air Fryer Frozen Pot Stickers
There's no shame in grabbing a bag of your favorite frozen pot stickers! If you pop them in your air fryer, they turn out perfectly golden, and no one will be any the wiser!
12. Teriyaki Noodles
These quick and easy teriyaki noodles are always a family favorite at my house. Don't worry about there being too much sauce on your plate; teriyaki and sweet and sour make an explosively delicious flavor combination!
13. Instant Pot Long Grain White Rice
White rice is another classic choice when making sweet and sour chicken, and I love using my Instant Pot because it's practically foolproof! You can use long-grain white rice, Jasmine rice, or your preferred white rice variety.
14. Broccolini Salad
Crispy carrots, broccolini, green onions, and mushrooms tossed in a tasty Asian dressing. It's simple yet elegant and delicious!
15. Baked Sweet Potato Fries
While you won't likely find sweet potato fries on any takeout menus, they are delicious with sweet and sour chicken! If a little sweet and sour sauce gets on them, all the better.
16. Roasted Mini Peppers
Roasting these colorful mini peppers brings out their natural sweetness! They're tender-crisp and perfect for adding some veggies to your plate.
17. Air Fryer Frozen Egg Rolls
When in doubt, pick up some frozen egg rolls and pop them in the air fryer! They crisp up beautifully and are great with a side of soy sauce or kecap manis.
18. Zucchini Fritters
These fritters are made with vegetables but are crispy and perfectly dippable like fries! They're the best of both worlds!
19. Garlic Green Beans
You'll find green beans incorporated into a lot of Chinese takeout recipes, so naturally, they taste great with sweet and sour chicken, too! These green beans have chunks of bacon and garlic in them, which is always a plus.
20. Crab Egg Drop Soup
Sure, you can serve traditional egg drop soup, but this crab egg drop soup totally blows it out of the water! It's just as flavorful but with the added bonus of tender, buttery crab meat!
21. Air Fryer French Fries
Sweet and sour chicken with a side of crispy french fries is always a hit with the kids! It's hard to deny that french fries go great with everything!
💭 Tips For Choosing What To Serve With Sweet And Sour Chicken
There are a few fool-proof sides that are always acceptable and delicious with sweet and sour chicken! You may have noticed some recurring themes on the list above, almost everything fits into these categories!
Rice: Sweet and sour chicken is commonly served with white rice or fried. Brown rice is earthier but also tasty and balances the sweet and sour flavor nicely, too!
Vegetables: Sauteed or roasted veggies add color, freshness, and oftentimes a nice crunch! Stir-fry them separately for more contrast, or stir-fry them in your sweet and sour sauce for a more cohesive dish!
Noodles: For takeout-inspired comfort food, serve your sweet and sour chicken with noodles! Chow mein or lo mein will make it into a more substantial and filling meal.
Salads: Sweet and sour chicken is indulgent and filling, a salad can be a nice refreshing contrast. A simple garden salad or any salad with an Asian vinaigrette dressing would make a great starter!
Classic Takeout Appetizers: Your favorite takeout appetizers are even better homemade. Serve up some crispy egg rolls, cream cheese wontons, or tender spring rolls with your chicken for the full experience!
Whether you're grabbing it to-go or making it at home, your sweet and sour chicken is about to get a whole lot tastier! Let me know what you like to eat with sweet and sour chicken in the comments below!
📖 Recipe Card