All of the tasty Panda Express Recipes listed on one page, from chicken, shrimp, and beef entrees to fried rice, chow mein noodles, and vegetable sides! Fan-favorite dishes like SweetFire Chicken Breast, Shanghai Angus Steak, Beijing Beef and so much more!!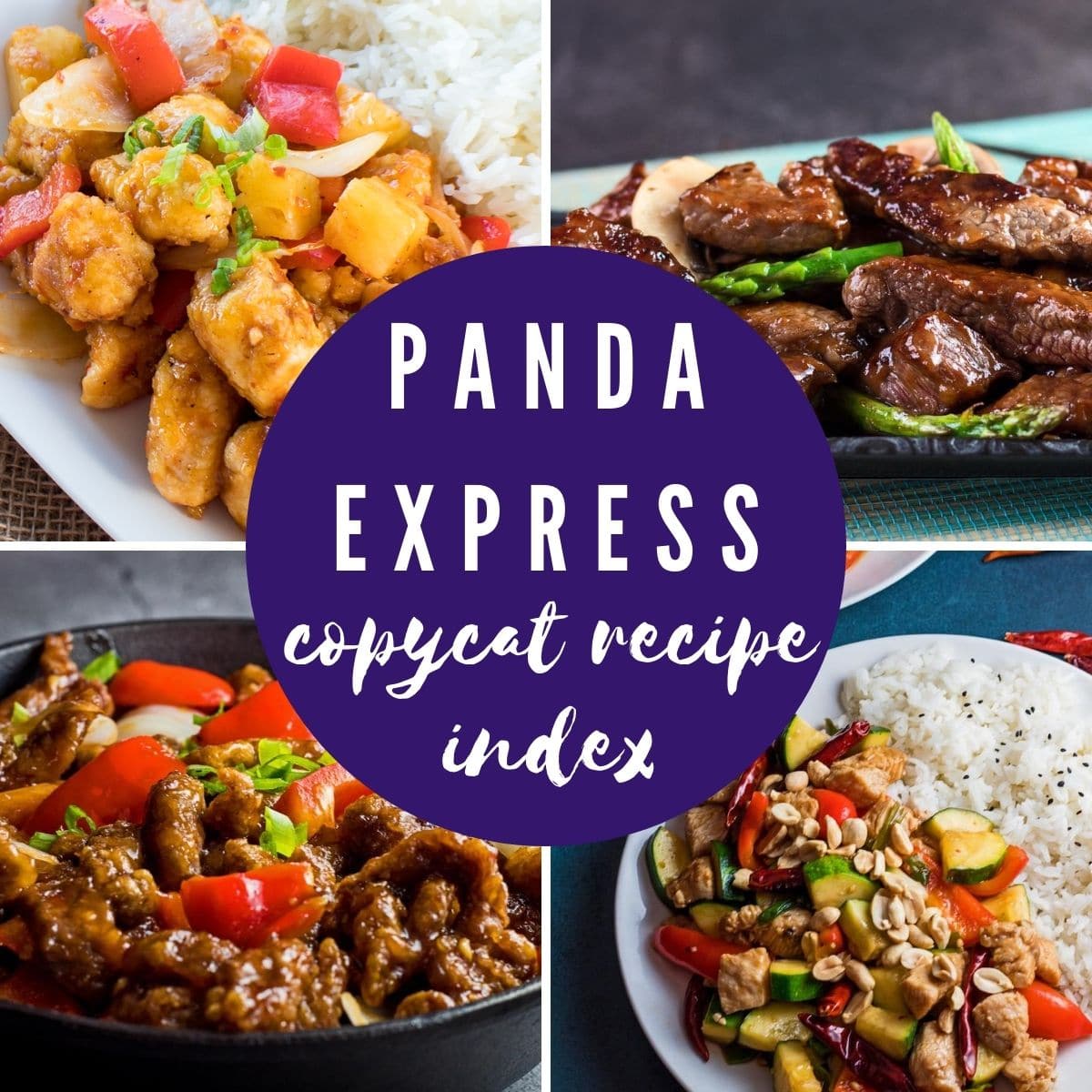 All of the Best Panda Express Copycat Recipes!
I love making my Panda Express meals at home! They're super quick and really easy and taste so much better when made at home!
These Panda Express copycat recipes are pretty popular on the blog and online in general. Plus, Panda is my family's number one pick for grabbing takeout when we're in the cities ( Minneapolis/St.Paul, MN ). That statement covers everything fast food too - from burgers to tacos, and Asian food, etc. All of it!
My recipe testing began with just simply wanting to surprise my husband with some of his favorite entrees at home. It has grown and evolved to one of my favorite sayings, to 'make your home your favorite restaurant'! ~ Thank you for that saying Nick Stellino!
So while the recipes are as tasty as you would expect from Panda Express, the freshness and quality are well beyond Chinese takeout food quality. I hope you enjoy these entrees, side dishes, and appetizers as much as my family and I do!
Panda Express Menu Chicken Entrees
The chicken entrees offered at Panda Express locations are always nicely varied. They offer everything from breaded, fried chunks of tender chicken to simple, light chicken options.
Such a fantastic classic recipe that the whole family will love! Tender pieces of chicken that are breaded and wok-fried then coated in a deliciously addictive orange sauce. Serve this up as a meal, or just make some to snack on - it's that good!
This richly delicious breaded chicken entree is well-known and loved. It's one of the most popular Panda Express entrees ever!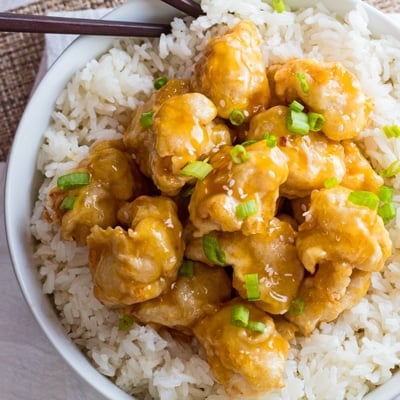 This has to be one of the easiest ever dinners to make! And it's so very delicious! Can you tell this is one of my fave Panda Express recipes?!
Chunks of breaded, wok-fried chicken breast are coated in a tangy sweet chili sauce and stir-fried with pineapple, red bell peppers, and onion. The combination is absolutely divine, and just a simple but oh-so-great combination of sweet and savory with a touch of heat!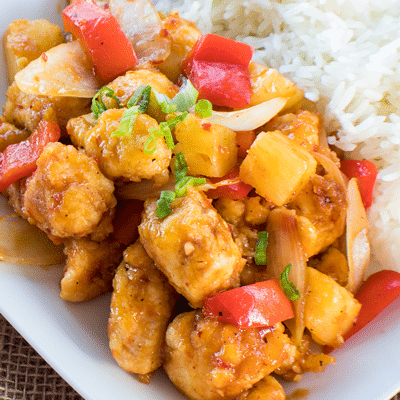 This tasty chicken entree is served up with just the right amount of heat to go with the wonderful garlic ginger soy sauce! It's a very popular menu item, and it's easy to see why!
Chunks of chicken breast with a light breading are wok-fried, then tossed with stir-fried zucchini, red bell peppers, peanuts, green onion, and peppers in a savory ginger garlic sauce.
This is one of my favorites, and it's a great lighter calorie choice for healthier eating too! The marinated chicken pieces are wok-fried then tossed with stir-fried green beans and onion in a savory garlic ginger soy sauce.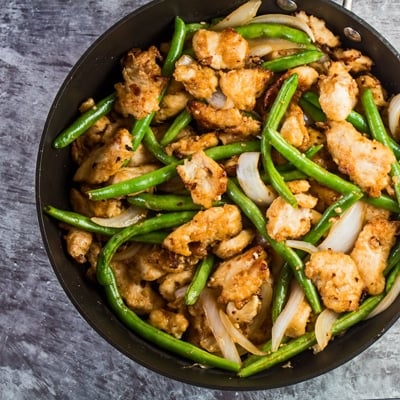 This is another great lighter fare option, with tender pieces of chicken breast wok-tossed with zucchini and mushrooms. The chicken entree is stir-fried in a ginger and garlic soy sauce that is wonderfully tasty!
6. Panda Express Firecracker Chicken Breast
Another great chicken breast entree that combines tender chunks of chicken breast, green beans, peppers, and onions. All of the fresh ingredients are stir-fried and then tossed in a Chinese black bean sauce.
7. Panda Express Honey Sesame Chicken Breast
Thin, crispy wok-fried strips of chicken breast are stir-fried with green beans and peppers. The delicious chicken is then tossed in a perfectly sweet honey sauce and topped with sesame seeds.
8. Panda Express Black Pepper Chicken
This is a great lighter fare marinated chicken entree that is stir-fried with celery and onion. A savory black pepper sauce tops off the dish to make a deliciously rich and flavorful dish!
Panda Express Menu Beef Entrees
Hands down, this is one of my husband's favorite entrees! Tender pieces of Angus steak are stir-fried with mushrooms, onion, and asparagus in a hearty sauce.
The tasty savory sauce really makes this dish fabulous!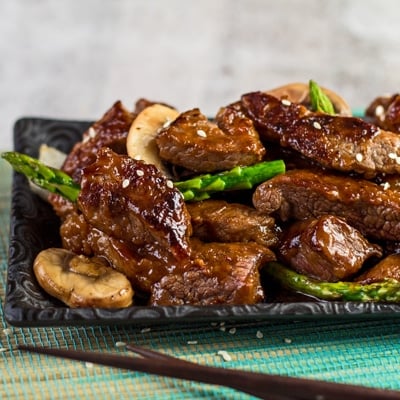 What a delightfully surprising entree! Who knew that crispy, wok-fried breaded beef would be so good? But it is!
That wonderful beef is paired with red bell peppers and onions in the perfect 'Beijing Sauce'!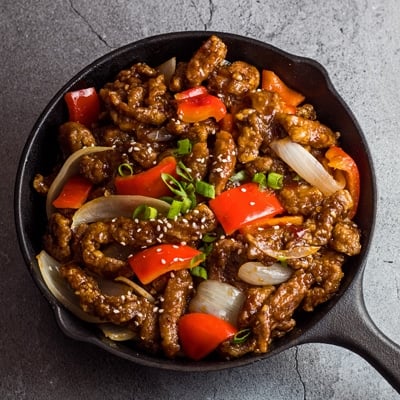 11. Panda Express Broccoli Beef
This classic dish is served up just as wonderfully at home as the Panda version! Tender strips of beef and broccoli florets are served in a delicious ginger soy sauce!
Panda Express Menu Shrimp Entrees
A delightful combination of tender, wok-fried shrimp and crunchy honey-coated walnuts in a surprising sauce! Don't let the recipe fool you!
Even if you're a fellow mayo hater, like me, you'll be blown away by how the slightly sweet sauce pulls everything together for a fabulous shrimp entree!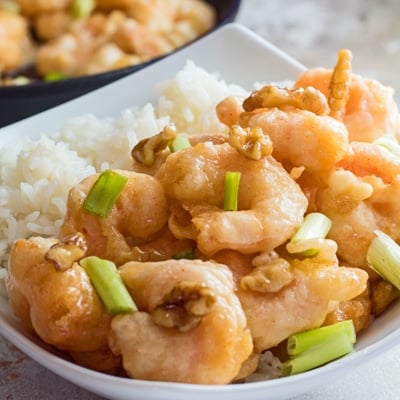 13. Panda Express Pacific Chili Shrimp
Tasty, tender shrimp that's stir-fried with snap peas, red peppers, and onions combine in a tasty chili sauce for a perfectly flavorful dish!
Panda Express Menu Side Dishes
These tasty noodles are also a personal favorite. I know I should get plain, steamed rice but these addictive wok-fried noodles are so much better!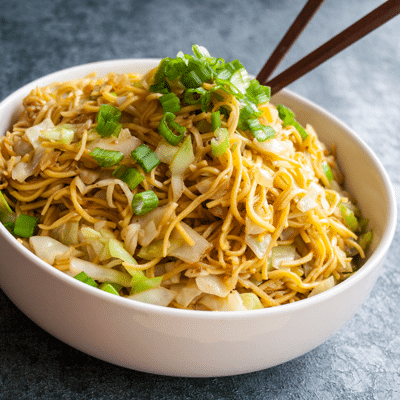 This is the simplest, fastest, and best fried rice to make at home! This is one of those things that is definitely best when homemade and served right out of the wok!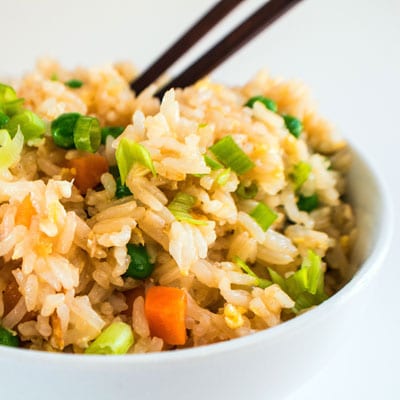 This easy veggie mix is a super side to go with any of these tasty entrees! Another super easy option to make and serve on your homemade Panda Express dinner nights!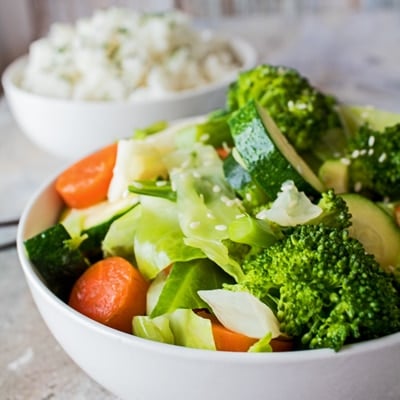 I certainly hope that you enjoy these recipes! There's more on the way, and as the Panda Express menu changes, there will always be new recipes to explore!
Is there a recipe you'd like to see added? Leave a comment and let me know!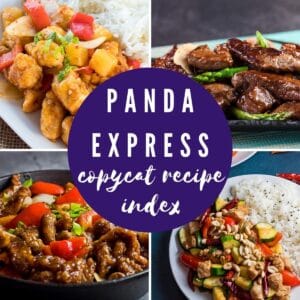 Print Recipe
Panda Express Recipes
All of the best Panda Express Recipes listed on one page, from chicken, shrimp, and beef entrees to fried rice, chow mein noodles, and vegetable sides! Fan-favorite dishes like SweetFire Chicken Breast, Shanghai Angus Steak, Beijing Beef and so much more!!
Ingredients
Instructions
Choose all of your favorite main dishes and sides.

Gather all of the ingredients and make your amazing Panda Express meal!

Serve and enjoy a better-than-restaurant homemade dinner!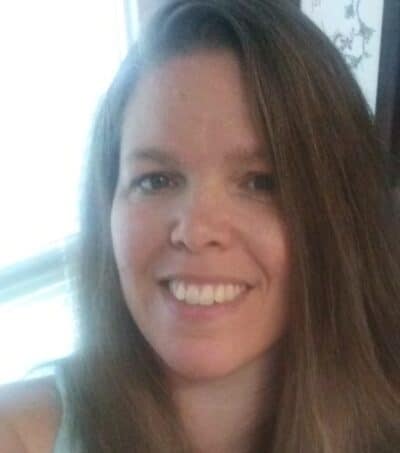 Angela is an at home chef that developed a passion for all things cooking and baking at a young age in her Grandma's kitchen. After many years in the food service industry, she now enjoys sharing all of her family favorite recipes and creating tasty dinner and amazing dessert recipes here at Bake It With Love!