These Chinese takeout recipes taste even better than the restaurant versions, and you can make them from the comfort of your home! From lo-mein to crab rangoons, you can find all of your favorites here! You might even discover some new Chinese dishes to love!
Homemade Chinese Takeout Recipes
I love Chinese takeout as much as the next person, but since I live in a rather rural area, it isn't something I can pick up at a moment's notice. Instead, I've learned to satisfy my Chinese food cravings by recreating these classic takeout recipes at home!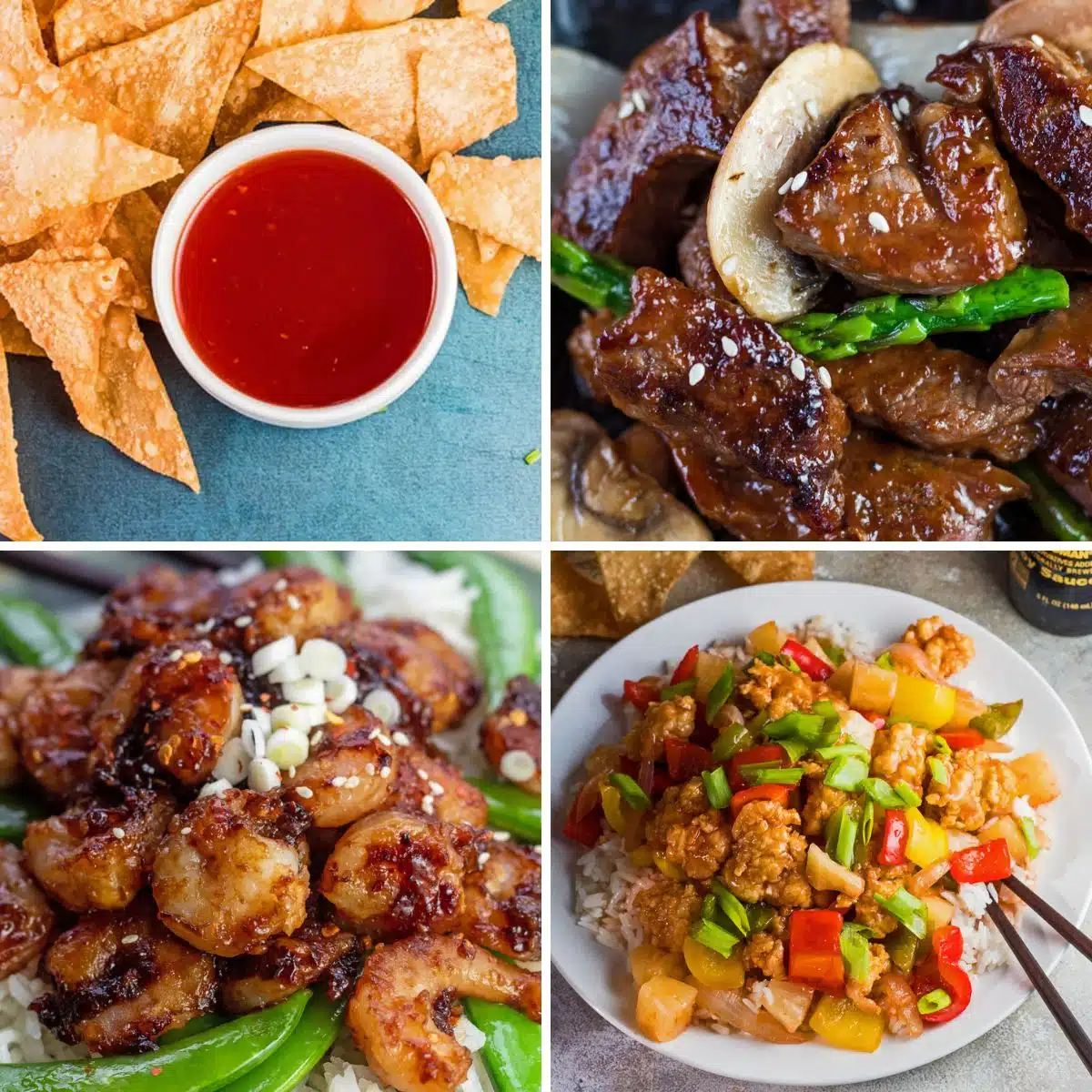 Jump to:
1. Sweet & Sour Pork
If you're craving Chinese food and you prefer pork to chicken, this sweet and sour pork will certainly hit the spot. The crispy fried chunks of pork tenderloin are always delicious, then add in some juicy pineapple and wok-fried veggies!
2. Kung Pao Shrimp
Kung pao shrimp features marinated shrimp, crunchy peanuts, and tender veggies in an addictive kung pao sauce! It has a sweet and salty umami flavor that will have you wanting to lick your plate clean!
3. Moo Shu Pork
This classic Chinese pork dish comes complete with thin, tender pancakes you can use to soak up all of the delicious sauce! If you're short on time, you can make the pancakes in advance and keep them in your fridge!
4. General Tso's Shrimp
General Tso's shrimp can be found on takeout menus everywhere because it has an addicting sauce that is sweet, salty, and a little spicy. If you prefer chicken, I have an equally tasty recipe for General Tso's chicken and General Tso's chicken wings!
5. Chicken with Garlic Sauce
Chicken with garlic sauce is a favorite for all garlic lovers! The tender chunks of chicken are wok-fried with broccoli, carrots, and celery, so you can enjoy it as-is and keep things low-carb, or serve it over rice!
6. Sweet and Sour Chicken
What's not to love about crispy breaded chicken with veggies and pineapple in a classic sweet and sour sauce? You can serve it over rice, noodles, or veggies to round out the meal.
If you prefer to meal prep and make your dinners in advance, I have an incredibly simple and delicious sweet-and-sour chicken meal prep recipe, too!
7. Honey Walnut Shrimp
Honey walnut shrimp is a premium entree at Panda Express, and it's easy to see why! The tender, tempura-fried shrimp is tossed in a sweet sauce with crispy walnuts for a downright delectable combination of flavors and textures.
8. Beijing Beef
Beijing beef combines crispy strips of wok-fried flank steak with peppers and onions in a sweet and sour 'Beijing' sauce! It's a family-favorite dinner that is always a popular choice at takeout restaurants.
>>>>See all of my recipes HERE<<<<
9. Mushroom Chicken
Mushroom lovers will be head over heels for this flavorful Chinese mushroom chicken! Zucchini, mushrooms, and tender chunks of chicken are all wok-fried together in a savory and satisfying ginger and garlic sauce.
10. Kung Pao Chicken
Kung pao chicken is the perfect entree for those who like a little spice. It has crunchy peanuts and a ton of tender stir-fried veggies to enjoy!
11. Orange Chicken
Kids and adults love orange chicken for its sweet and savory flavor. Plus, the crispy breaded chicken underneath all that sauce is perfectly tender and oh-so-tasty!
12. Peanut Butter Chicken
Breaded wok-fried chicken tossed in a savory peanut butter sauce. Yum! If you love peanut sauce when you order takeout, this chicken will definitely hit the spot.
13. Pineapple Chicken
If you love the tangy tropical flavor of pineapple, this refreshingly fruity chicken dish is sure to become a new favorite. Serve your pineapple chicken over fried rice for a hearty and delicious meal!
14. Honey Sesame Chicken
Honey sesame chicken is the perfect blend of sweet and savory flavors. Plus, you can have it on the table in only 30 minutes!
15. Teriyaki Chicken
This 15-minute recipe for teriyaki chicken is perfect for weeknight dinners, and kids love it! Not to mention, my homemade teriyaki sauce is incredibly easy to make from scratch.
See my page on what to serve with teriyaki chicken to help complete your meal!
16. Lo Mein
Lo-Mein is on every Chinese takeout menu and makes a great base for any of your favorite proteins. The ingredients are incredibly flexible, but I like to add in some colorful veggies to really beef up these noodles!
17. Cream Cheese Wontons
These super simple cream cheese wontons are perfect for dipping in your favorite takeout condiments! They only take about 25 minutes from start to finish, and they are more than worth the little effort they take!
18. Coconut Chicken
Creamy coconut chicken is a sweet and savory masterpiece that is perfect over a bed of white rice. The chicken is fried until crispy before being tossed in the coconut cream sauce, which makes for the perfect blend of flavors and textures.
19. Hunan Beef
If you enjoy a little heat, this spicy stir-fried beef with veggies never disappoints. My Hunan shrimp has the same signature spicy garlic flavor if you prefer seafood!
20. Panda Express Fried Rice
Most people opt for either fried rice or noodles when ordering Chinese takeout, and this simple recipe from Panda Express is my go-to! You could always try my hibachi fried rice, too (even though hibachi is technically Japanese)!
21. Crab Rangoons
Crab rangoons are one of the most beloved appetizers when it comes to Chinese takeout. The creamy and somewhat sweet filling consists of tender crab meat and rich cream cheese with a crispy wonton shell on the outside.
Dip your rangoons in some homemade sweet and sour sauce for a true takeout experience! And if you love these, you're sure to enjoy my shrimp rangoons, too!
22. Crab Egg Drop Soup
This crab egg drop soup makes an incredible appetizer, or you can serve a big bowl of it with crispy wontons as the main course! If you don't have wontons, crackers are just as tasty!
Tips For Making Chinese Takeout At Home
If you're new to making Chinese cuisine, there are a few staple ingredients and tools that will benefit you greatly. Follow these tips and tricks below, and you'll master the art of cooking takeout at home in no time!
Plan and Prepare - Always read through the entire recipe before you start cooking to fully understand the steps and not miss anything important.
Ingredients - Stock up on sauces and condiments specific to Chinese cuisine, such as soy sauce, oyster sauce, hoisin sauce, sesame oil, fish sauce, and Chinese rice wine.
Equipment - A wok or a large skillet is ideal for most Chinese takeout recipes as it allows for even cooking and stir-frying.
Preparation - Chop all your ingredients before you start cooking. Chinese cooking is often quick, so having everything ready will prevent overcooking.
Use the Right Oil - Use a neutral oil with a high smoke point, like peanut or vegetable oil.
Rice and Noodles: Use jasmine rice for a quick, fragrant side dish, or choose egg noodles for stir-fries. Ideally, you want to cook your rice a few hours ahead (or even the day before) and let it cool before stir-frying.
Were your favorite Chinese takeout recipes on this list? If not, be sure to let me know in the comments below so I can give them a try!
📋 Recipe