A peanut butter substitute may be needed because of an allergy or a special diet, or because you simply don't like the taste. No matter the reason, I've gathered all the best peanut butter substitutes so you can find one that's perfect for you! There are nut butters, nut-free butters, and some fun flavor alternatives!
Best Peanut Butter Substitutes
Peanut butter is considered by many to be a staple in the kitchen. Whether for eating plain, on a sandwich, or for cooking, it is a versatile ingredient.
Most people love the delicious taste and creamy texture. However, despite many people's love for peanut butter, there are plenty of reasons you may need different peanut butter substitutes.
Jump to:
What Are The Reasons You May Need A Peanut Butter Substitute
One of the main reasons home chefs reach for a peanut butter alternative is because of an allergy. A peanut allergy is a severe health condition that affects many people in the world.
Therefore, even if you (or someone you cook for) love the taste of peanut butter, eating it could be harmful.
If the allergy is only to peanuts and not other nuts though, you and your family and friends can enjoy a similar delicious creamy taste by choosing another nut butter alternative.
However, if someone has an allergy to ALL nuts then another nut butter is not an option. Thankfully though, there are several non-nut butter substitutes! These are also great choices for those who simply don't like peanut butter or other nut butter.
In addition to the many substitutes that are similar in taste and texture to peanut butter, there are several tasty alternatives that taste nothing like peanut butter.
These are fun flavor options for those who want to get creative in the kitchen or simply do not like the taste of peanut butter.
Nut Butter Alternatives
While peanut butter has been the leading nut butter for decades, its popularity has seen some decline. This is due to the rise in peanut allergies as well as people becoming more aware of their health.
Although peanuts are called a nut, they are technically a type of legume. Therefore, people who follow diets like the Paleo diet prefer not to eat peanut butter.
Peanuts vs. Other Nuts
Although peanuts are not technically a nut, there are a handful of other kinds of butter made from actual nuts! These different kinds of nut butter are produced in the same way as peanut butter. The nuts are ground up into a creamy paste.
Historically, the popular peanut butter choices have been processed even further, adding sugar to make them sweeter. This is another reason many health-conscious cooks reach for a different alternative.
In contrast to peanut butter which is often produced with added sugar (although natural peanut butter is also available), most other kinds of nut butter are sold only as a natural product.
This is another reason people may prefer these substitutes since they are easier to find as a natural product.
Best Nut Butter Substitutes for Baking (And Cooking)
When a recipe calls for peanut butter, it is typically for two reasons: to add flavor and to bind ingredients. In cooking, it is often for flavor and texture (to thicken and add creaminess).
Therefore, when choosing a nut butter substitute you want one that will offer the closest results. While you can use any type of nut butter as a substitute, these are the best choices.
1. Almond Butter
This is probably the most popular peanut butter alternative for baking, cooking, and eating. Made from ground almonds.
It has a slightly grittier texture than peanut butter and a bit thicker consistency. However, the mild nutty flavor is a familiar one many people love.
Almond butter is the best choice for both baking and cooking. It is also one of the least expensive nut butter choices.
2. Cashew Butter
Cashew butter is often creamier than almond butter because of the naturally softer texture of the nut. Therefore, it is not the strongest for binding, but it has the most neutral nut flavor. So, it is a great choice when you want a softer flavor.
This is a delicious choice for savory cooking as it will lend a creamy texture without too much flavor.
3. Hazelnut Butter
Hazelnut butter has a distinctive flavor that is rich and decadent. This flavor is lovely for elevating the flavor of a recipe – especially in sweet treats with chocolate.
4. Brazil Nut Butter
Brazil nuts have a beautiful creamy consistency when they are turned into butter. They also have a lovely earthy taste that resembles peanuts.
This type of nut butter can be harder to find than others, and more expensive, but a great choice to explore.
5. Macadamia Nut Butter
Although macadamia nut butter has a different taste than the other nut kinds of butter, it is a distinct taste many people love! It also has a delightful creamy consistency.
However, it is more expensive than other substitutes which can make it a pricier choice when needed in large quantities.
More Great Nut Butter Substitutes
These other nut butter substitutes can also be used in place of peanut butter when baking. However, they may not bind as well as some of the others mentioned above.
Remember, that like other kinds of nut butter, each variety of nut will provide its own unique flavor. Therefore, consider how it will pair with your dish and which one is better suited for a sweet or savory recipe (depending on what you need).
Walnut
Pecan Butter
Pistachio Butter
How Much Nut Butter Should You Use?
The wonderful thing about swapping any nut butter for peanut butter is that since they have a similar consistency you can use a simple 1:1 ratio. Even though the flavor may shift slightly, this exchange will be important when swapping in baking to maintain the right texture of the baked good.
However, when cooking (such as making a sauce or a dressing) an even exchange may overpower the other flavors in your dish. Therefore, consider starting with ½ to ¾ serving and then add more to taste.
>>>>See all of my recipes HERE<<<<
Nut-Free Butter Substitutes
If nuts of any kind are not an option, don't worry! There are several delicious nut-free substitutes to choose from.
These plant-based substitutes offer a similar creamy consistency to peanut butter that can be used in baking and cooking.
6. Sunflower Seed Butter
Sunflower seeds have a similar fatty content as nuts. Therefore, when ground into butter the result is a similar consistency to any other nut butter, including peanut butter.
This is your best non-nut substitute if you want a close flavor and texture match for peanut butter. It can be used in both baking and cooking.
7. Pepita (Pumpkin Seed) Butter
This is another delicious nut-free alternative that has a similar texture and taste to peanut butter. It is made from pepitas (aka pumpkin seeds).
The result is a tasty pumpkin seed butter that's a lot like sunflower seed butter.
8. Tahini
Tahini is a paste made from sesame seeds. It has a creamy consistency that is popularly used in Middle Eastern cooking to add flavor and texture to soups and sauces.
This paste can also be used in baking, although it has a flavor that is more savory than sweet.
9. Coconut Butter
Coconut butter is made from the rich creamy meat of a coconut. This is the white fleshy part that is commonly sold shredded.
This butter has a wonderful texture that is nice and creamy. However, its flavor is quite distinct.
It is also slightly sweeter. Therefore, it is best used in cooking when you don't mind the taste of coconut.
10. Five Seed Butter
A blend of pumpkin seeds, hemp seeds, sunflower seeds, chia seeds, and flax seeds. Has a richer and earthy flavor than single-seed butter.
Not as common to find in the store, but a nice option if you have access to it. It can be used in the same way as any other seed butter.
11. Soy Nut Butter
A neutral-tasting butter that is made from soybeans. Has a similar flavor to soy milk. Best for baking as it will take on the other flavors around it.
12. Maple Butter
A type of sweet butter made from real maple syrup. Has a rich maple flavor that can add a delightful taste to baked goods.
13. Pea Butter
Not commonly sold in stores, but an at-home alternative you can make by grinding brown peas. Will provide a salty and savory flavor that can be used in cooking and baking.
14. Chickpea Butter
Made from ground chickpeas (garbanzo beans). A savory and salty flavor that is a lot like hummus, but with a creamier and thicker texture. Can be used in baking and cooking.
How Much Nut-Free Butter Should You Use as a Substitute?
Like nut butter substitutes, these nut-free substitutes have a close consistency to peanut butter. Therefore, in many cases, a simple 1:1 ratio will work in both baking and cooking.
However, with some more distinct flavors (like coconut butter, maple butter, and chickpea butter) it is best to start with a small amount and add more as needed.
Be aware that using less than the recipe calls for may impact the texture. In baked goods, you may need to add a bit more liquid (water or oil) or an extra egg to add in the moisture missing from a full 1:1 exchange for peanut butter.
Low Fat Peanut Butter Substitute
Although most peanut butter substitutes provide more nutrients than peanut butter, most of them are still high in fat.
Therefore, if your goal for a substitute is to still enjoy the taste of peanut butter without the fat content you need a different kind of substitute.
15. Powdered Peanut Butter
One of the great inventions of the last decade is powdered peanut butter. PB2 was one of the earliest brands to promote powdered peanut butter.
However, as it has grown in popularity more brands are offering their own powdered peanut butter product.
Powdered peanut butter is made from real peanuts so it gives you a real peanut butter flavor. However, rather than traditionally processing the peanuts, they are dehydrated, and some of the fatty oils are removed.
Therefore, you end up with the same delicious taste of peanut butter without all the calories and fat.
How To Use Peanut Butter Powder In Smoothies and Shakes
While this powder won't provide the creaminess needed for a classic PB&J sandwich, it is great for smoothies and shakes. Powdered peanut butter can also be used in sauces.
While you can easily place the powder directly into smoothies and shakes, for a creamy consistency in something like a peanut sauce or dressing mix the peanut butter powder with a bit of water first.
This will help eliminate any lumps before adding it to the sauce.
For the best results, check the label on the packaging and see what ratio the brand suggests as a substitute for peanut butter.
Fun Flavor Alternatives
If you want to get creative in the kitchen there are a lot of substitutes you can use in place of peanut butter. From sweet to savory, these alternatives will provide a twist on taste while still providing a nice creamy texture.
How much you use will depend on what the recipe calls for and your flavor preferences. So, start with a little and add more as desired.
Nutella
Cookie Butter
Flavored Nut Butter
Frosting
Smashed Avocado
Cream Cheese
Hummus
😋 More Baking Substitutions
Somewhere on this list is bound to be the perfect peanut butter substitute for you! Let us know which one you chose and how your recipe turned out in the comments below!
Do you love a recipe you tried? Please leave a 5-star 🌟rating in the recipe card below and/or a review in the comments section further down the page.
Stay in touch with me through social media @ Pinterest, Facebook, Instagram, or Twitter! Subscribe to the newsletter today (no spam, I promise)! Don't forget to tag me when you try one of my recipes!
📖 Recipe Card
Print Recipe
Leave A Comment
Love This Recipe?
Click On A Star To Rate It!
Best Peanut Butter Substitute: Almond Butter (+ More Great Alternatives!)
A peanut butter substitute may be needed because of an allergy or a special diet. Or because you simply don't like the taste. No matter the reason, I've gathered all the best peanut butter substitutes so you can find one that's perfect for you! There are nut butters, nut-free butters, and some fun flavor alternatives!
Pin Recipe
Share on Facebook
Ingredients
Best Nut Butters To Substitute Peanut Butter
1

tablespoon

almond butter

1

tablespoon

cashew butter

1

tablespoon

hazelnut butter
Nut-Free Peanut Butter Alternative
Help Us Out!
If you love a recipe, be sure to come back and share your ratings. This helps future users, and allows me to continue sharing free recipes! Angela
Instructions
Best Nut Butters To Substitute Peanut Butter
Almond butter is a personal fave, but all of these nut butters are top of my list for a tasty replacement for peanut butter. Use almond butter, cashew butter, or hazelnut butter in an equal 1:1 ratio in any recipe.

1 tablespoon almond butter,

1 tablespoon cashew butter,

1 tablespoon hazelnut butter
Nut-Free Peanut Butter Alternative
Since I happen to LOVE pumpkin seed butter, it's the one that I'll recommend here. Other seed butters are tasty, too. Use pumpkin seed butter or sunflower seed butter as a 1:1 replacement for peanut butter.

1 tablespoon pumpkin seed butter
Equipment You May Need
Notes
*Nutritional information is calculated for the almond butter only.
Nutrition
Calories:
98
kcal
(5%)
|
Carbohydrates:
3
g
(1%)
|
Protein:
3
g
(6%)
|
Fat:
9
g
(14%)
|
Saturated Fat:
1
g
(6%)
|
Polyunsaturated Fat:
2
g
|
Monounsaturated Fat:
5
g
|
Sodium:
1
mg
|
Potassium:
120
mg
(3%)
|
Fiber:
2
g
(8%)
|
Sugar:
1
g
(1%)
|
Vitamin A:
0.2
IU
|
Calcium:
56
mg
(6%)
|
Iron:
1
mg
(6%)
baking, best peanut butter substitutes, for dog treats, healthy peanut butter alternatives, low calorie peanut butter substitute, nut-free substitutes for peanut butter, peanut butter alternatives, peanut butter alternatives for diabetics, Peanut Butter Substitute, peanut butter substitutes for allergies, what to use as a substitute for peanut butter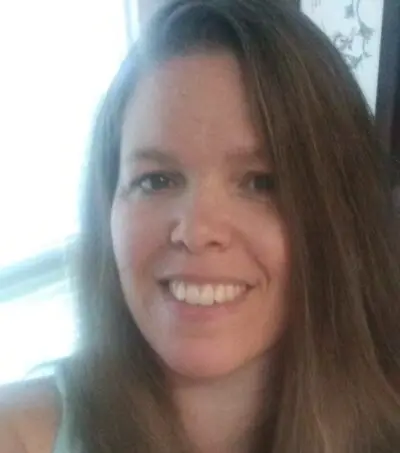 Angela is an at home chef that developed a passion for all things cooking and baking at a young age in her Grandma's kitchen. After many years in the food service industry, she now enjoys sharing all of her family favorite recipes and creating tasty dinner and amazing dessert recipes here at Bake It With Love!