My easy General Tso's chicken is a combination of delightfully crispy wok-fried chicken pieces and a sweet but savory sauce that tastes out of this world! Served over rice with some steamed vegetables for a family dinner that everyone can agree on!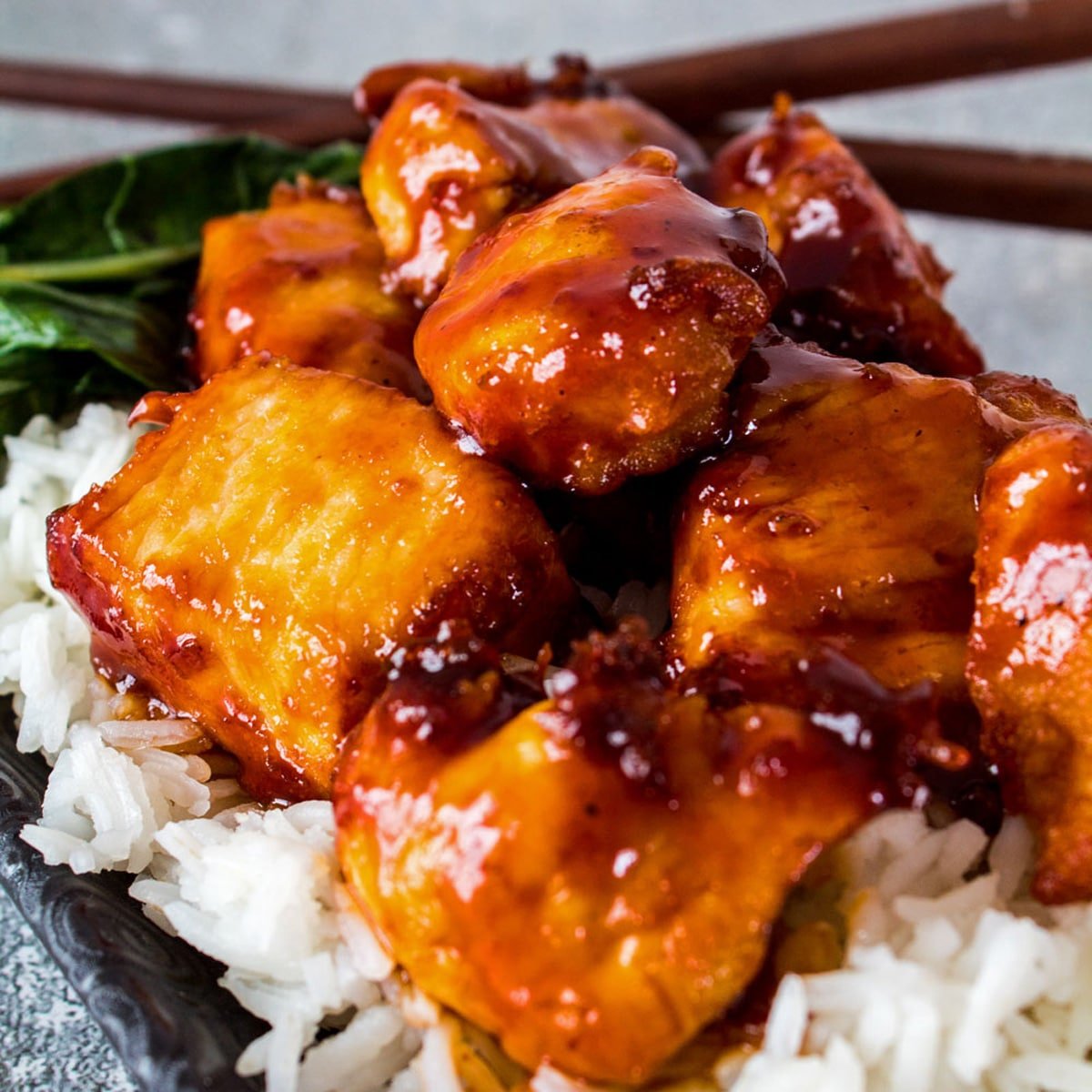 This easy homemade takeout-style General Tso's Chicken will beat your GrubHub driver's delivery to the table!
In the mood for takeout but not the price tag? This is your answer! General Tso's Chicken is my go-to choice when getting takeout at my local Chinese restaurant!
Now, I've created a recipe that has the same rich, cornstarch-breaded chicken with that sweet and savory sauce that will have you licking it off your fingers. Salty soy, sweet hoisin sauce, brown sugar, and spicy garlic and red pepper flakes will satisfy all of your Chinese food cravings!
Jump to:
Throw some steamed broccoli on the side, and you'll have a dinner that everyone loves in just 25 minutes. The only thing missing is the fortune cookies!
🌎 Origin
This dish was created by Chef Peng Chang-Kuei in Taiwan in the 1950s. As the former Chinese president's chef, he fled to Taiwan along with many other leaders of the losing side after the Chinese civil war.
Later, he was preparing a meal for a diplomatic envoy in Taiwan and wanted to make something special. So Chef Peng Chang-Kuei named the new dish after a well-known and revered war hero from his hometown in China.
Its popularity came much later, in the 1970s. The chef moved to New York and often hosted former Secretary of State Henry Kissinger. It was one of Kissinger's favorites, and the press often mentioned it.
While the recipe has changed a bit over the years, I still love it. Ironically, you're unlikely to find General Tso's Chicken in China. While people in the US and Taiwan are crazy for it, the Chinese were never really into it.
❤️ Why You'll Love This Recipe!
It's fast! In just 40 minutes, you can have a delicious entree with an umami flavor explosion!
It's simple! No long list of ingredients here! You probably have most of these in your house on a daily basis!
It's versatile! You can put your own spin on this dish by adding your favorite meat, grilled vegetables or even extra spices!
🥘 Ingredients
If you don't usually cook Asian cuisine, there are a few unique ingredients you won't likely have. Rice vinegar and hoisin sauce can be found at most grocery stores in the International or Asian section and can be used for many dishes within various Asian cuisines.
Chicken breasts - Make sure they're boneless and skinless and cut them up into 1-inch cubes. The cubes should be bite-sized and approximately the same size so that they cook quickly and evenly.
Cornstarch - This is the trick for getting a light, golden brown crust!
Oil - You'll want something with a high smoke point for frying, like canola oil.
Soy Sauce - You want the soy sauce to balance the sweetness of all the sauce ingredients. Aminos and tamari are other great options for anyone trying to reduce salt, soy, or gluten.
Rice Vinegar - It may not smell pleasant, but it's a staple in many Asian cuisines. It's trademark flavor is part of what makes the sauce so tasty!
Hoisin Sauce - The sweet and salty combo of this thick sauce make it a flavorful must-have in my pantry!
Brown Sugar - I'm using light brown sugar. You can also use dark brown sugar in a pinch or if you'd like to try the added richness of the higher molasses content.
Chicken Broth - Make your own homemade chicken stock or use your favorite stock or broth.
Ginger Paste - Another amazing ingredient that adds its unique flavor to Asian cooking - and one of my favorites!
Garlic Powder - Garlic makes everything better! You can use fresh garlic (and ginger) just be sure to saute them briefly before adding the rest of the sauce to the heated oil.
Crushed Red Pepper Flakes - Give it a little spice! It's just the right amount of kick without being too 'hot'!
🔪 Step-By-Step Instructions
This is a quick meal. Just fry the chicken, mix the sauce, and put it all together to have a tasty homemade General Tso's chicken dinner on the table in no time!
Make the sauce. Whisk 4 tablespoons soy sauce, 4 tablespoons rice vinegar, 4 tablespoons hoisin sauce, 4 tablespoons brown sugar, 1 tablespoons ginger paste and ¼ cup chicken broth together in a bowl. Set aside.
Then, bread the chicken. Add ¼ cup cornstarch to a small bowl. Toss the chicken pieces in the cornstarch until they're fully coated. Leave them in the bowl for now.
Fry. Turn your burner up to medium high heat. Heat up oil you're going to use to fry in a large skillet. Fry a few pieces of the breaded chicken at a time. When they are done, they will be golden, crispy, and thoroughly cooked. Set aside to drain.
Remove the oil. When the last piece of chicken is done, remove all but about 1 tablespoon of oil from the skillet.
Heat the sauce and combine. Pour the bowl with the whisked sauce ingredients into the skillet and bring it to a low boil. Continue cooking the sauce at this heat until it thickens, stirring occasionally to prevent burning.
Add chicken. When the sauce has thickened, return the chicken pieces to the pan. Toss to coat the crispy fried chicken thoroughly before serving.
Serve. Take the skillet off the heat and pour the mix over rice to serve. Garnish with chopped green onions or sesame seeds if desired.
This makes an excellent, family-friendly dinner! You could serve it over rice, or add some fried rice to your dinner.
Maybe start off with some great Chinese appetizers like cream cheese wontons, shrimp rangoons, or crab rangoons! Enjoy!
💭 Angela's Tips & Recipe Notes
You can just as easily fry the chicken in an air fryer at 400℉ for 10 minutes, flipping halfway through. Do make sure to coat the air fryer basket with non-aerosolized cooking spray before adding the chicken. 
Place fried chicken pieces onto a wire cooling rack to prevent them from getting soggy.
To kick up the spice, add more red pepper flakes or toss in a teaspoon or two of chili paste. Even slicing up fresh chilies and adding them to the mix will be fantastic.
If sweet sauce is more your thing, amp up the brown sugar. Simply sprinkle in some extra according to your tastes while the sauce is being heated up. The heat will help dissolve the granules.
🥡 Storing & Reheating
You can keep this for 3 to 4 days in an airtight container in the fridge. Any longer than that, and you run the risk of bacteria. As always, if something smells off you should discard any refrigerated portion.
Leftover breaded and sauced chicken can be frozen. *It is best, if possible, to freeze the fried chicken pieces and sauce separately. Use airtight freezer storage containers or heavy duty freezer bags.
It will be good for up to 6 months when properly stored. However, this dish is best reheated and served within 3-4 months of freezing.
Reheating
I'm a big fan of cold, leftover Chinese food for breakfast. But it's not for everyone. The best way to reheat this dish is to use the oven. It will keep things crispy and as close to tasting fresh as possible.
Put any leftover portions into an oven-safe dish and cover with aluminum foil. Cook at 350℉ (175°C) for 10-15 minutes, or until heated to your satisfaction. Remove the foil for the last few minutes to crisp things up without drying everything out.
As always, you can use the microwave in a pinch, but it will affect the texture of the chicken. Heat your desired portion for 1-minute, then continue with additional 30-second increments until warmed through.
❓ FAQ
Are General Tso and Orange Chicken the same?
Not quite. Both have breaded, fried chicken and a sweet-tasting sauce. But while General Tso's chicken is chili and hoisin-based, Orange Chicken is orange-based.  Both are delicious, and when you're done with this recipe, try my Orange Chicken!
Is General Tso a real person?
Probably. Many different sources argue details, but a common account says his real name was General Tso Tsung-t'ang. Read the origin section above for more history.
📋 Recipe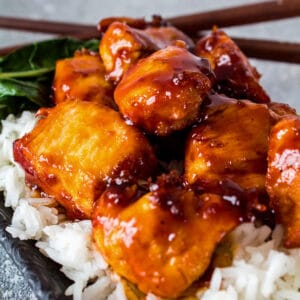 Print Recipe
Leave A Comment
Love This Recipe?
Click On A Star To Rate It!
General Tso's Chicken
My easy General Tso's chicken is a combination of delightfully crispy wok-fried chicken pieces and a sweet but savory sauce that tastes out of this world! Served over rice with some steamed vegetables for a family dinner that everyone can agree on!
Pin Recipe
Share on Facebook
Ingredients
Chicken
1

lb

chicken thighs

(boneless skinless, cut into 1 inch pieces)

¼

cup

cornstarch

oil for frying
Instructions
In a medium bowl combine all the sauce ingredients, whisk to combine. Set aside.

4 tablespoon soy sauce,

4 tablespoon rice vinegar,

4 tablespoon hoisin sauce,

4 tablespoon brown sugar,

¼ cup chicken broth,

1 tablespoon ginger paste,

1 teaspoon garlic powder,

1 teaspoon crushed red pepper flakes,

1 tablespoon cornstarch

In a mixing bowl add the cornstarch. Add chicken pieces and toss to coat the chicken. Leave in the bowl for now.

1 lb chicken thighs,

¼ cup cornstarch

In a large skillet, heat frying oil over medium high heat. Working in batches fry the chicken till golden, crispy, and cooked through. Set aside to drain.

When the chicken is finished cooking, remove all but about 1 tablespoon of oil from the pan.

Add the sauce ingredients and bring to a low boil. Continue to cook stirring occasionally until the sauce thickens. Add the chicken pieces and stir.

Remove from heat, serve over rice, and enjoy!
Equipment You May Need
Nutrition
Calories:
388
kcal
(19%)
|
Carbohydrates:
30
g
(10%)
|
Protein:
21
g
(42%)
|
Fat:
20
g
(31%)
|
Saturated Fat:
5
g
(31%)
|
Polyunsaturated Fat:
4
g
|
Monounsaturated Fat:
8
g
|
Trans Fat:
1
g
|
Cholesterol:
112
mg
(37%)
|
Sodium:
1419
mg
(62%)
|
Potassium:
337
mg
(10%)
|
Fiber:
1
g
(4%)
|
Sugar:
16
g
(18%)
|
Vitamin A:
238
IU
(5%)
|
Vitamin C:
1
mg
(1%)
|
Calcium:
32
mg
(3%)
|
Iron:
2
mg
(11%)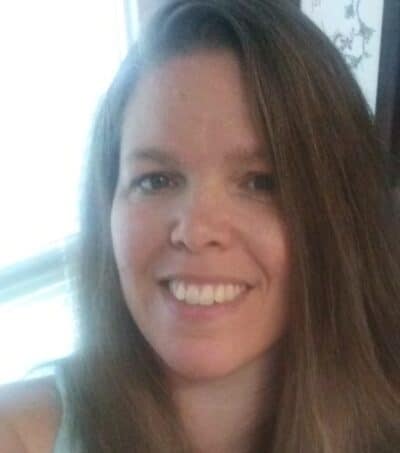 Angela is an at home chef that developed a passion for all things cooking and baking at a young age in her Grandma's kitchen. After many years in the food service industry, she now enjoys sharing all of her family favorite recipes and creating tasty dinner and amazing dessert recipes here at Bake It With Love!