For what to serve with fish & chips, check out these easy side dishes that will round out your satisfying fish dinner! While the classic duo stands strong on its own, many tasty complements are waiting to be discovered on the side. From zesty salads and slaws to flavorful dipping sauces, keep reading on to explore some options that will take your fish & chips to new heights!
Best Sides For Fish & Chips Dinners
There's something irresistibly comforting about a plate piled high with crispy, golden fish & chips! While the iconic duo shines on its own, there are many side dishes and dipping sauces that can bring this beloved meal to the next level.
Whether you're looking for a lighter option like salad or vegetables or simply just want to add a touch of creativity to your plate, you've come to the right place! Here are some great options to make your fish & chips dinner extra special.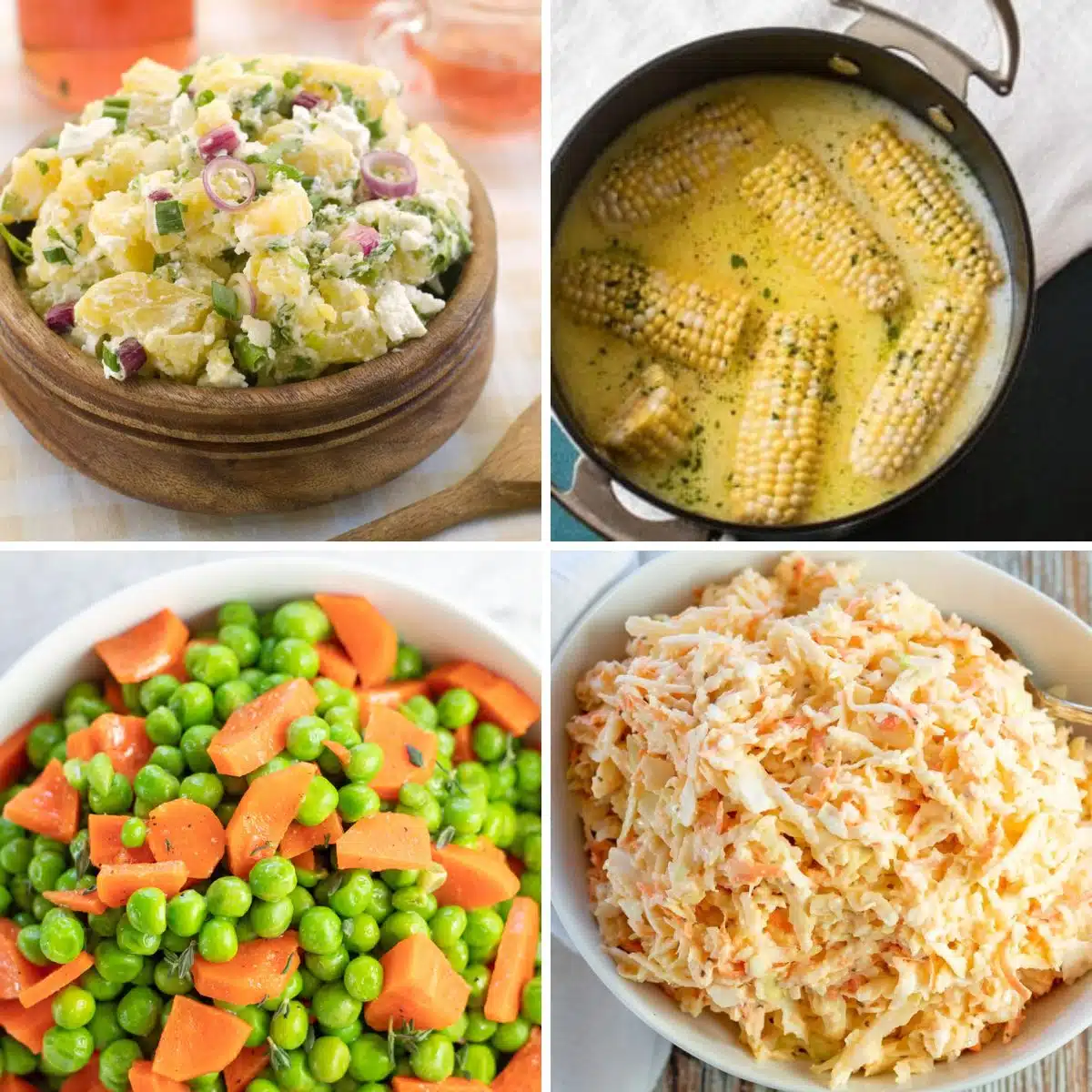 Jump to:
If you don't already have a fish & chips recipe in mind, check out my easy fish and chips recipe that would taste absolutely amazing with any of the options below!
1. Southern Coleslaw
The tangy and creamy nature of Southern coleslaw provides a refreshing contrast to the crispy texture of fish and chips! This version is so quick and easy to make - plus, it holds well in the fridge, so you can save time by making it in advance!
2. Cajun Dipping Sauce
Although tartar sauce is traditionally served with fish and chips, my family loves it when I prepare my zesty Cajun dipping sauce! It's smooth, creamy, and has a flavorful kick from a dash of hot sauce and my Cajun seasoning.
3. Potato Salad
Potato salad is easy to prepare and can be customized to your preferences! It's a timeless side dish that will bring a comforting familiarity while allowing the flavors of the fish and chips to shine as the main attraction.
4. Milk Butter Boiled Corn On The Cob
If you've never boiled corn on the cob with milk, butter, and sugar, you're in for a real treat! The result is super tender, sweet corn that will taste wonderful with your fried fish dinner.
My steamed corn on the cob, air fryer corn on the cob, and microwave corn on the cob are all easy and delicious options, too! See my complete guide on how to cook corn on the cob for more great tips!
5. Pasta Salad With Italian Dressing
This simple pasta salad is another great make-ahead side dish to pair with fish and chips. It features tri-color rotini combined with black olives, Colby Jack cheese, pepperoni, and a zesty Italian dressing made from scratch!
6. Green Garden Salad
If you're looking for a light and refreshing side dish that is ready to serve in a flash, my green garden salad is the one for you! It's incredibly versatile and the perfect way to round out any meal.
For some flavor diversity, my classic Caesar salad or wedge salad are both incredibly easy to make, too!
>>>>See all of my recipes HERE<<<<
7. Hawaiian Macaroni Salad
This Hawaiian macaroni salad is a wonderful side dish to balance out the savoriness of fish and chips! The combination of chilled pasta, mayonnaise, pineapple juice, Greek yogurt, and vinegar makes the perfect blend of sweet, tangy, and rich flavors.
8. Southern Corn Fritters
If you're looking to keep things light, these Southern corn fritters are a great appetizer or side dish for any occasion! All you have to do is mix a handful of ingredients together, then fry the fritters to golden perfection. You can also try my zucchini fritters!
9. Buttered Peas & Carrots
When in doubt, you can never go wrong with serving buttered peas & carrots with your fish and chips! Even kids and picky eaters will enjoy these buttery, sweet veggies!
10. White Bread
Serving a few slices of fresh white bread with your fish and chips adds another level of comfort to your meal! You can use it to make a tasty fish sandwich or serve it on the side with some butter; either way, it's a great carb option.
11. Honey Mustard Sauce
Another great dipping sauce to serve with fish and chips aside from the typical tartar sauce and malt vinegar is my honey mustard sauce! It's so versatile and tastes great with chicken tenders, salads, sandwiches, and wraps too.
12. Bacon Aioli
This simple yet incredibly addicting bacon aioli can be used in a ton of different ways and is ready to enjoy within minutes! From French fries and burgers to pizza, it's bound to be a new favorite household condiment.
13. Air Fryer Frozen Breaded Okra
If you're like me, then you love using an air fryer to make effortless side dishes in a flash! This easy recipe features frozen breaded okra that turns out perfectly crispy without the extra added oil that's needed for deep frying!
14. Crispy Fried Pickles
Serving homemade fried pickles as a side dish to fish and chips brings an exciting twist to your meal! The crispy exterior of the pickles complements the texture of the fish and chips, while the tangy flavor adds a zesty kick.
Pair them with my tasty homemade ranch dressing or any of your favorite dipping sauces!
15. Broccolini Slaw
This broccolini slaw is an incredibly versatile dish that has the perfect balance of texture and crispiness! It will bring a light and refreshing element to your savory fish and chips meal.
Tips For What To Serve With Fish & Chips
While fish and chips are a tasty meal on their own, there are many sauces and side dishes that can elevate this classic dish to new heights! Here are a few suggestions to consider when deciding what to serve with fish and chips:
Coleslaw: Coleslaw has a creamy texture and tangy flavor that balances out the richness of fish and chips. This side dish is a great choice when you're looking to add a refreshing element to the meal.
Peas: Peas are a traditional British side dish that provides color and a touch of sweetness to the meal, whether they are fresh from the garden or mushy.
Dipping Sauces: Fish and chips are typically served with tartar sauce on the side. If you are not a fan of tartar sauce, you could try malt vinegar, chipotle aioli, curry sauce, ketchup, cocktail sauce, or even a blue cheese dressing!
Salads: A fresh green salad with a vinegarette dressing is the perfect light refreshing accompaniment to fish and chips.
Vegetables: For a healthier side dish option, you could try grilled or roasted vegetables like asparagus, mini peppers, or tomatoes!
When picking, think about balancing texture and flavor, so pair crunchy with soft and tangy with rich flavors to make your meal more pleasing. Make sure that whatever you opt for, that you let the fish and chips be the star of the show. Enjoy!
These are just a few of my favorite accompaniments to serve with fish and chips! Leave a comment below the recipe card to let me know how you like to serve your fish and chips!
📋 Recipe