This is The Ultimate Guide To Cooking Meatloaf, which includes tips, tricks, recipes to try, and more useful information! Learn which meat makes the best meatloaf, how to season it, how to make the best glaze, and so much more! You'll be a master at making this classic American dinner in no time.
How To Make The Best Meatloaf
Meatloaf. The ultimate in classic American dinners. Although this entrée has been around for over a century, it is still a mystery to many people. Mostly a mystery on how to make the best meatloaf.
There are several things to know when it comes to making the best meatloaf. Such as what ingredients to use, how to choose the best meat for meatloaf, how to season it, how to cook it, and what to serve it with.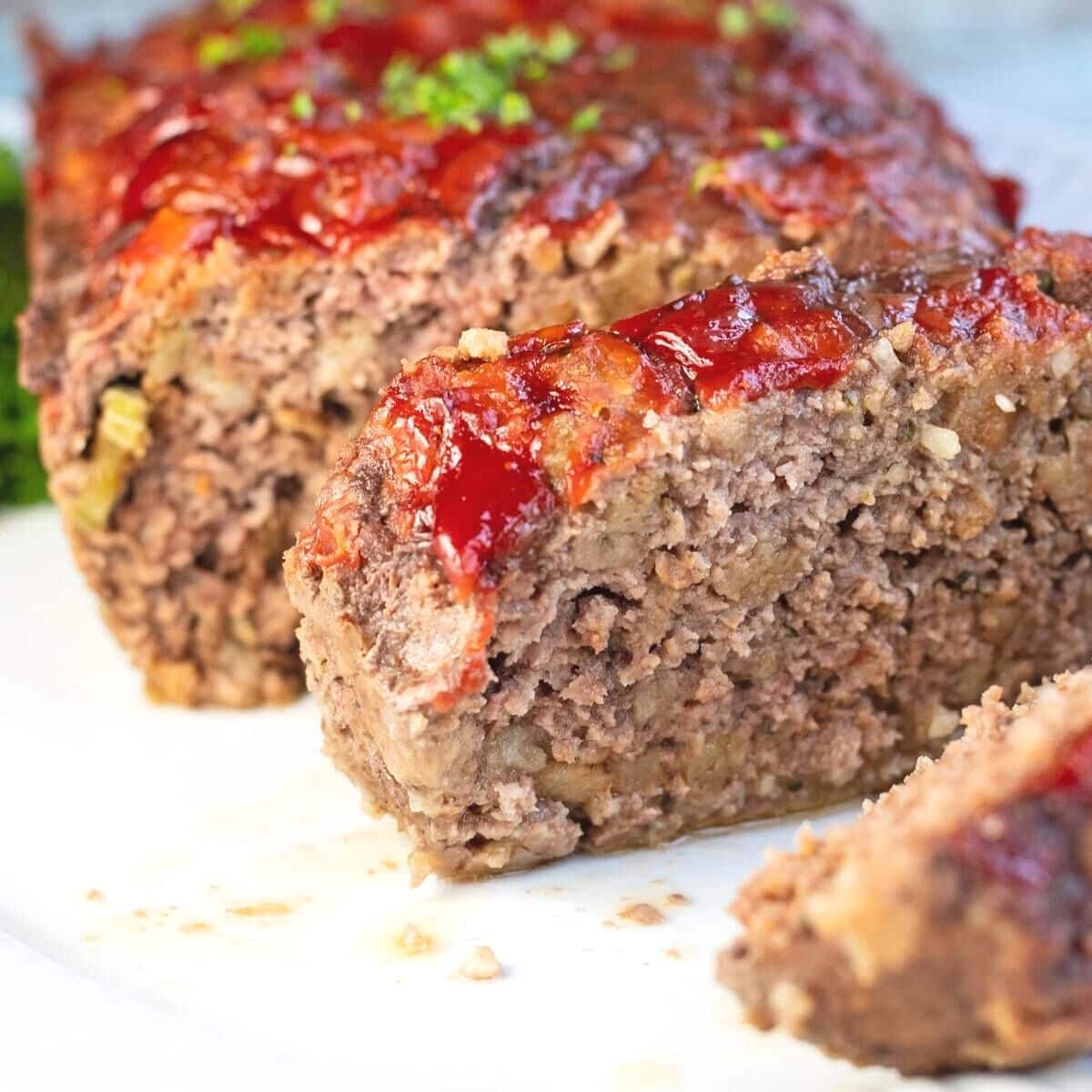 Jump to:
While it may seem like a lot to figure out, this ultimate guide to cooking meatloaf will walk you through every step of making meatloaf. Making sure that this simple classic, stays simple AND delicious.
What is Meatloaf?
Meatloaf is truly a literal reflection of its name. It is a mix of ground meat that is formed into a loaf. It is typically baked in a loaf pan (like a loaf of bread).
This savory dish is often associated with a classic American family dinner. Considered by many to be as iconic and classic to American culture as hamburgers and hotdogs.
However, while hotdogs and hamburgers have typically been loved by the masses, meatloaf has a history of either being loved or hated. Usually, those who fall in the "hate" category are young kids who had a poor experience with meatloaf.
Whether the family recipe didn't quite hit the mark with the right texture or seasonings, or the choice of ground meat was not up to par, a bad meatloaf as a child can turn you off. On the other hand, a wonderfully prepared meatloaf will make one fall in love with this classic dish!
How Do you Make Meatloaf?
One reason this classic dish is a favorite for families is because of how simple it is to make. It is basically just mixing all the ingredients together and then baking.
Five types of ingredients are needed to make a basic meatloaf:
Ground Meat
Binders
Fillers
Seasonings
Glaze
In addition, many recipes add additional ingredients (like bacon) for more flavor. Keep reading to learn more about each type of ingredient and the different variations available.
How to Choose the Right Meat
So, what is the best type of meat to use for meatloaf? Ground beef is the standard for a classic meatloaf. However, it is not the only choice.
A traditional meatloaf recipe will call for ground beef as the main ingredient. While some recipes may specify which type of ground beef, it is typically up to the home chef.
I recommend 80/20 ground chuck. This will provide enough fat that will help to add moisture to your meatloaf without being too greasy. You can also use a 90/10 or 85/15 blend. However, using anything with a higher fat percentage may be too greasy, and lower-fat beef may lead to a dry meatloaf.
Other Meat Options
While ground beef is the most common choice for meatloaf it does not have to be the only choice. You can technically make meatloaf with any type of ground meat.
However, some work better than others. In addition, creating a blend of different ground meats is an excellent way to create a more complex and richer flavor.
Ground Pork
Ground pork can be used in place of ground beef for most meatloaf recipes. Due to its higher fat content, it will lend a rich flavor and moist texture.
If it is too fatty though, it may lead to a greasier meatloaf. Therefore, be mindful of what type of pork you are using or use it blended with ground beef. Another thing to note is that the flavor will be more like that of a meatball, rather than a classic ground beef meatloaf.
Ground Sausage
As mentioned above, you can blend ground pork with ground beef. This is an excellent way to get a stronger and more complex flavor to your meatloaf.
While you can use regular unseasoned ground pork, you can also use ground sausage. Ground sausage is an easy way to bump up the flavor. Just be mindful of other seasonings you are using and make sure they blend well with the seasoned sausage.
Ground Lamb or Veal
In addition to pork, lamb and veal are excellent choices for adding flavor to your meatloaf. These two types of meat have their own unique bold flavor that will blend nicely with ground beef.
Both types of meat have a gamier flavor than ground beef which will also come through and provide an earthier flavor. Therefore, make sure these are flavors you already enjoy.
Moreover, lamb and veal have a higher fat percentage than other meats and will help add to the moisture of the dish which is a bonus to enriching the flavor.
Ground Turkey
Ground turkey can be used instead of ground beef in many recipes. This is typically a choice used when wanting to make a low-fat variation.
However, keep in mind that just like with low-fat ground beef, low-fat ground turkey may lead to a drier dish. In addition, ground turkey often has a blander flavor than ground beef. Therefore, it is suggested that you use ground turkey that has a higher fat content (rather than a 99% fat-free version) to help with moisture and flavor.
Chopped Bacon
Bacon makes everything better, including meatloaf. This addition works best when mixed into a classic ground beef base or a ground beef + ground pork blend and will add a lovely smoky flavor.
As much as we love bacon, it can overpower a dish. Therefore, use about ¼ cup of raw chopped bacon for every pound of ground meat. Rather than replacing any of the ground meat with bacon, just simply add it to the full measurement.
Fillers & Binders
Yes, ground beef on its own can be formed into a loaf. However, it will be quite bland and basically just a big ball of beef without any fillers.
Fillers are what help create a more desirable texture and also help to create a fuller flavor. While each recipe will be different, there are three common fillers most often used in making meatloaf:
As you can see, these are all ingredients that will absorb moisture. Therefore, to maintain a moist meatloaf you need to add a binder to the recipe.
Binders are used to add moisture back to the meatloaf. Moreover, it helps the meat and fillers all come together.
The most common binder in meatloaf is eggs. Just like eggs bind together ingredients in baking, they do the same thing with meatloaf. The added fat from the egg yolk will also help add some richness to the overall flavor.
How many eggs you use depends on how much filler you use. The general rule is that 1 egg = ½ cup of filler. This may vary depending on the type of filler you use, but this is a good starting point. This ratio will help to bind the ingredients together while also maintaining the right amount of moisture.
Do You Have to Use a Binder?
Using a binder is not required. Your meatloaf will still hold together fairly well with just the ground meat and fillers.
However, the more filler you use the drier your meatloaf will become. Therefore, an egg (or two) is recommended.
Seasonings for Meatloaf
If you have not had much interest in meatloaf in the past, it may be because of the lack of seasoning. Sure, you can mix ground beef and oats together and bake them, but it won't taste great.
To get the best from your meatloaf you want to add some seasonings. If you are following a specific meatloaf recipe then the seasonings will be listed for you, and if it doesn't call for any seasoning you may want to try another recipe (such as my super flavorful meatloaf seasoning)!
For those times that you don't like the seasonings suggested in a recipe or when you want to explore making your own delicious variation, turn to some staple seasonings like salt and pepper.
In addition to the basics, several dried seasonings are excellent for adding flavor to meatloaf!
Oregano
Thyme
Sage
Basil
Marjoram
Italian Seasoning
Cumin
Paprika
Cayenne Pepper
Chili Powder
Garlic Powder
Onion Powder
While some of these can be used on their own or used alongside salt and pepper, many of these are better used combined with one another. For example, oregano, basil, and marjoram will provide a nice Italian flavor. In addition, a classic mix of thyme and sage is a great pairing for a traditional flavor.
A good idea is to consider common pairings found in your favorite dishes. Like the Italian blend above, you can also get a lovely Mexican-flavored meatloaf with the use of cumin and chili powder. Find your favorite spices and play around with them.
To get the right amount of seasoning follow a guideline of 1-2 teaspoons of dried seasoning per pound of ground meat. Dried herbs and spices are quite potent; therefore, a little goes a long way.
Fresh Herbs & Flavors
In addition to dried spices, fresh herbs can also be used to enhance the flavor of your meatloaf. Freshly chopped parsley or other similar herbs are a great way to use what you have in your fridge or garden. Start with about a tablespoon of fresh herbs per pound of meat, unless otherwise noted in a recipe.
Other fresh flavors you can add include freshly chopped onions or garlic. In fact, a classic meatloaf recipe will often call for chopped onion like my Cracker Barrel meatloaf!
Beyond onion and garlic, other chopped vegetables like green peppers and even carrots are sometimes used.
When using chopped vegetables, follow the recipe for the correct amount. If playing with creating your own recipe, then a good rule of thumb is about a ¼ cup of chopped vegetables for 1 pound of meat. If using fresh garlic, start with 1-2 cloves per pound of meat.
Other Flavor Additions
Beyond herbs, spices, and vegetables, you can enhance the flavor of meatloaf with things like soy sauce or fish sauce. These umami-flavored sauces are especially great for enhancing the flavor of ground beef.
If you choose to use a sauce to add flavor to your mixture, leave out any additional salt. These sauces are typically quite salty and you don't want to make your meatloaf too salty.
How to Glaze a Meatloaf
While you want to make sure there is a rich flavor throughout the entire meatloaf, you also want to add a little extra on top. Hence, the glaze.
The glaze is where you get to add a little bit more flavor and help to add an extra layer of moisture. Traditionally, most people think of ketchup as the glaze. However, plain old ketchup is another reason that many people have had unfavorable experiences with meatloaf.
Plain ketchup can work, but it is not the best choice. Instead, make a glaze by mixing the ketchup with a bit of brown sugar, mustard, and Worcestershire sauce. This is a wonderful glaze that mimics the flavor of meatloaf found in a restaurant like Cracker Barrel.
In addition to this classic type of glaze, there are several other tasty toppings. The key to a good meatloaf glaze is a blend of sweet and sour flavors. This is why adding Worcestershire sauce and brown sugar to ketchup makes the ideal flavor combo.
You can achieve similar flavor by mixing sweet and vinegar-based ingredients with barbeque sauce or sweet and sour sauce. If you prefer a sweeter topping, you can even use a teriyaki sauce on its own.
How to Cook Meatloaf
This wouldn't be The Ultimate Guide To Cooking Meatloaf without instructions on how to cook meatloaf in all of its varying sizes and shapes! Keep reading to find out how to make the best meatloaf, every time.
Different Forms of Meatloaf
The traditional form for meatloaf is as it says, a loaf. Therefore, you will use a bread loaf pan to bake the meatloaf. One recipe will typically make one regular-sized bread loaf pan.
While this is the traditional method, there are other ways to form a meatloaf.
Free Form: Form the meatloaf in a round shape or free-formed loaf. Bake it on top of a baking sheet. This allows the fat and juices to run off and also brown all sides of the meatloaf.
Individual Servings: Use mini bread pans or cupcake tins. Fill each one the same way you would a larger bread pan. This is great for those who want to make easy-to-store servings for lunches or future dinners.
Flat Form: Spread the meatloaf mixture all the way across a baking sheet. This will create a very thin meatloaf that will cook quickly. However, it will be less moist with a crunchier topping.
Patties: If you are running low on time but still want a juicy meatloaf then form little patties. Just like hamburger patties. Then, cook them in a skillet and glaze them before serving.
Cooking Temperatures for Meatloaf
Every recipe will vary, but a general guideline is to cook your meatloaf at 350°F (176°C) for about an hour: 30 minutes on its own + 30 minutes at the end with the glaze added.
While this is a general guideline, the length of time will vary depending on the form you choose above. However, 350°F (175°C) is still the recommendation for what to heat your oven to.
Ensure you always cook the meatloaf to the appropriate temperature. The best way to do this is to follow the guidelines for checking for meatloaf internal temperatures using a meat thermometer.
If the meatloaf is made with only ground beef, then aim for an internal temperature of 160°F (71°C). If you are using turkey or blend any of the following meats with your ground beef, then follow cook the meatloaf to an internal temperature of 165°F (74°C).
Check out my page on how to make meatloaf for more detailed instructions!
Sides to Serve with Meatloaf
Meatloaf is the main character of a meal. However, it just like any main character it is only as good as its supporting sidekicks. Therefore, you want to make sure that you have the perfect sides for any meatloaf dinner.
An American classic is any potato side dish! Whether it is mashed potatoes, baked potatoes, or au gratin, a potato is the perfect pairing for meatloaf.
Beyond potatoes, there are several other delicious sides to serve alongside your meatloaf. This may include vegetables such as fried corn or sauteed green beans or a salad.
To see all my favorite meatloaf sides, check out my post on what to serve with meatloaf.
Different Types of Meatloaf
Using the guide above, you have the freedom to create several different types of meatloaf. However, if you want to try a recipe that is a sure-fire win for dinner then check out one of my many tasty meatloaf recipes below!
😋 Meatloaf Recipes To Try
Want more meatloaf recipe ideas? Check out this post: Different Meatloaf Recipes: 13 Family-Favorite Meatloaf Recipes!
I hope you've found The Ultimate Guide To Cooking Meatloaf useful! Let me know if you have more meatloaf-related questions in the comment section below!
📋 Recipe
Print Recipe
Leave A Comment
Love This Recipe?
Click On A Star To Rate It!
The Ultimate Guide To Cooking Meatloaf: BBQ Meatloaf (+Everything Meatloaf Related!)
This is The Ultimate Guide To Cooking Meatloaf, which includes tips, tricks, recipes to try, and more useful information! Learn which meat makes the best meatloaf, how to season it, how to make the best glaze, and so much more! You'll be a master at making this classic American dinner in no time.
Total Time
1
hour
20
minutes
Pin Recipe
Share on Facebook
Ingredients
Meatloaf
2

lbs

ground beef

(ground chuck is preferred, or use a ground beef/ground pork combo)

½

cup

white onion

(or yellow onion, grated or finely diced)

1 ½

cups

plain breadcrumbs

3

large

eggs

(beaten)

1

tablespoon

meatloaf seasoning

(see recipe, or use 1 packet store-bought seasoning mix)

⅓

cup

ketchup

(plus more for topping the meatloaf if desired)

1

tablespoon

Worcestershire sauce
BBQ Glaze
1

cup

BBQ sauce

1

teaspoon

liquid smoke

(optional)
Instructions
Meatloaf
Preheat your oven to 350°F (175°C) and line a rimmed baking sheet with parchment paper, or lightly grease a 9x5 loaf pan if you have one.

In a large mixing bowl add the ground beef, plain breadcrumbs, diced or grated onion, beaten eggs, meatloaf seasoning (*See note.), ketchup, and Worcestershire sauce. Mix until all the ingredients are well incorporated, do not over-mix. (*See note)

2 lbs ground beef,

½ cup white onion,

1 ½ cups plain breadcrumbs,

3 large eggs,

1 tablespoon meatloaf seasoning,

⅓ cup ketchup,

1 tablespoon Worcestershire sauce

Take the ground beef mixture and transfer it to your prepared baking sheet or loaf pan. Form a loaf shape with the meatloaf mixture that is mounded at the top, approximately the same size as a 9x5 loaf pan if you are not using one.

Place the meatloaf in the middle of the middle rack in the oven and bake at 350°F (175°C) for 50 minutes.
BBQ Glaze
Then, pull the meatloaf out of the oven and coat it with BBQ sauce (or a mixture of BBQ sauce and Liquid Smoke, if using). Return the meatloaf to the oven and allow it to bake for an additional 10-20 minutes. Remove your meatloaf from the oven when the internal temperature reaches 155°F (68°C).

1 cup BBQ sauce,

1 teaspoon liquid smoke

Remove your meatloaf from the oven when the internal temperature reaches 155°F (68°C). Drain off the excess grease, and allow your meatloaf to rest for 10 minutes.

While resting, the meatloaf will continue to cook and will reach the USDA recommended temp of 160°F (71°C). Then, you may slice and serve your meatloaf.
Equipment You May Need
Notes
If you don't have meatloaf seasoning or you are missing some of the spices in my homemade meatloaf seasoning, you can make this basic seasoning in its place: 1 teaspoon salt, 1 teaspoon paprika (smoked paprika works as well), ½ teaspoon black pepper, and

½ teaspoon of onion powder.

Mixing meatloaf too much will cause it to become dry and dense. Once all the ingredients are dispersed throughout the meat, stop mixing. (Your hands are the best mixing tool.)
Higher fat meat works best, but can make your meatloaf overflow with fat. Use a cooling rack under your shaped meatloaf in a rimmed baking sheet rather than loaf pan especially when opting for a higher fat percentage.
The leaner the meat, the drier the meatloaf. Typically, I use a maximum fat percentage of 20% (80/20) as my preferred ratio.
Nutrition
Calories:
379
kcal
(19%)
|
Carbohydrates:
27
g
(9%)
|
Protein:
20
g
(40%)
|
Fat:
21
g
(32%)
|
Saturated Fat:
8
g
(50%)
|
Polyunsaturated Fat:
1
g
|
Monounsaturated Fat:
9
g
|
Trans Fat:
1
g
|
Cholesterol:
120
mg
(40%)
|
Sodium:
585
mg
(25%)
|
Potassium:
414
mg
(12%)
|
Fiber:
1
g
(4%)
|
Sugar:
13
g
(14%)
|
Vitamin A:
188
IU
(4%)
|
Vitamin C:
1
mg
(1%)
|
Calcium:
69
mg
(7%)
|
Iron:
3
mg
(17%)
BBQ meatloaf, best meatloaf recipes, easy meatloaf, ground beef recipes, guide to making meatloaf, how to make meatloaf, how to make the best meatloaf, how to shape meatloaf, meatloaf, meatloaf recipes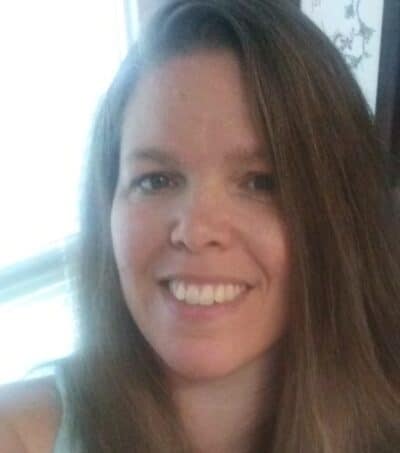 Angela is an at home chef that developed a passion for all things cooking and baking at a young age in her Grandma's kitchen. After many years in the food service industry, she now enjoys sharing all of her family favorite recipes and creating tasty dinner and amazing dessert recipes here at Bake It With Love!