Air Fryer Meatloaf combines tangy seasonings and condiments with Panko breadcrumbs. An amazing meatloaf the whole family will love! Cooking it in the air fryer means your meatloaf is super moist, tender, and cooked to perfection!
Easy Air Fryer Meatloaf Recipe
Making meatloaf in the air fryer adds a uniqueness to the traditional way of preparing it, and the results are remarkable! The wonderful combo of flavors creates the "comfort food" you crave, and it's even better than you remember it!
Meatloaf has been a dinnertime staple for generations. When made properly, it is juicy, full of flavor, and satisfyingly filling. This all-American dish takes many forms depending which recipe you follow or what style your family prefers.
No One Will Whine, "Meatloaf Again?!" Once They've Tried This Amazing Air Fryer Version!
Jump to:
My best meatloaf recipe is traditional with a twist. I've been making it for years, and now when I use the air fryer, the meatloaf is even more mouthwatering!
🥘 Air Fryer Meatloaf Ingredients
The delicious blend of seasonings, sauces and condiments create a meatloaf that is moist, as I use a relatively lean ground beef. As you collect your ingredients, be sure to have your measuring items, air fryer, and some aluminum foil and cooking oil or spray ready too.
Ground Beef – 85% lean ground beef is my go-to. It provides just the right amount of fat to make the meatloaf tender and tasty.
Eggs – A binder for your formed meatloaf that adds richness too.
White Onion – The depth of flavor as the onion cooks within the meat makes the flavor fantastic. Not to mention the enticing aroma!
Milk – Use whole milk for the best flavor and results.
Panko Breadcrumbs – I love the texture of this style of breadcrumbs over the regular breadcrumbs. They have more body and bulk up the loaf.
Worcestershire Sauce – Savory and a bit sweet, this sauce takes nearly any meat dish to the next level.
Ketchup – The tasty tang to give your meatloaf that homemade taste.
Garlic – Along with the onion, garlic adds aroma and fabulous flavor to every bite.
Italian Seasoning – This classic blend is an all-around winner, adding a little something special to every morsel.
Ground Mustard – The sharp flavor adds a little surprise to your supper.
Salt & Pepper – Round out the seasonings with these staple spices that make everything taste better.
Smoked Paprika – A hint of smokiness will make your meatloaf magnificent. Both regular paprika and sweet paprika also work well.
Don't forget to check out my easy DIY meatloaf seasoning!
*Be sure to see the recipe card below for ingredients, amounts & instructions!*
🔪 How To Make Air Fryer Meatloaf
In less than an hour, you'll have an incredible meatloaf ready to slice and serve. This recipe makes six hearty servings, so if you have more mouths to feed or an especially hungry bunch, you can double the recipe and make two loaves.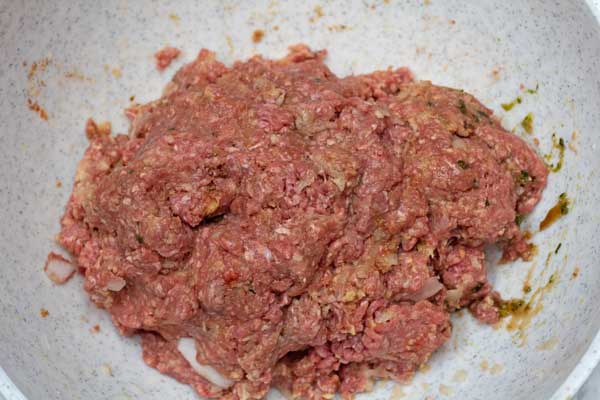 Preheat. Start preheating your air fryer to 375°F (190°C). It's important that the air fryer is nice and hot, so the cooking time is accurate.
Coat the aluminum foil. Use a non-stick cooking spray. Lightly coat a sheet of aluminum foil that is slightly larger than your meatloaf so you can fold up the edges to make a "tray" for your meatloaf.
Measure out ingredients. Add all ingredients into a large mixing bowl. Reserve ½ cup of ketchup to apply to the top of the meatloaf during cooking. (Step 7).
Mix the meatloaf ingredients. Combine the meatloaf mixture well. I use my clean hands to work through the meat.
Form your meatloaf. Go for an even rectangular shape that is about 2-3 inches thick. Place the loaf on the sprayed aluminum foil with the edges turned up to create the pan-shaped tray for the meatloaf.
Transfer and cook. Place the meatloaf in the air fryer. Cook at 375°F (190°C) for 30 minutes.
Top with second portion of ketchup. Open the air fryer and apply ½ cup of ketchup. Spread over the entire top of the meatloaf carefully and evenly as possible.
Finish cooking the meatloaf. Cook for another 10 minutes at 375°F (190°C). The internal temperature of your meatloaf should reach 160-165°F (71-74°C).
If it's not at this temperature yet, cover the meatloaf over with a piece of aluminum foil and cook for a few minutes more until you've reached the right temperature.
Drain and serve. Remove the meatloaf from the air fryer. *I like to tip the air fryer basket and drain off any excess fat and liquid before trying to lift the meatloaf out.
Allow a few minutes for the loaf to rest and cool down slightly before transferring to a serving plate and slicing.
Garnish your meatloaf with some fresh chopped parsley if desired. Your meatloaf is ready to serve and enjoy!
💭 Angela's Tips & Recipe Notes
Mix the ingredients into the ground meat thoroughly. Take your time to incorporate everything so each bite is the same. You don't want a clump of minced garlic in the middle, for instance.
When forming your meatloaf, try to keep the shape as even as possible so it cooks uniformly. If one side is much flatter than the other, you may burn it.
Cook your meatloaf towards medium-well-done or you could wind up with a runny middle or slices that don't hold their shape.
🥗 Sides
I have tons of ideas for what to serve with meatloaf.
Any meatloaf dinner is amazing when served with some tasty mashed potatoes, and I really enjoy my creamy roasted garlic mashed potatoes with this particular meatloaf!
A huge assortment of veggies are also excellent with meatloaf, but my air fryer carrots are always a HUGE HIT! Of course, your air fryer is already in use so try my microwave carrots instead.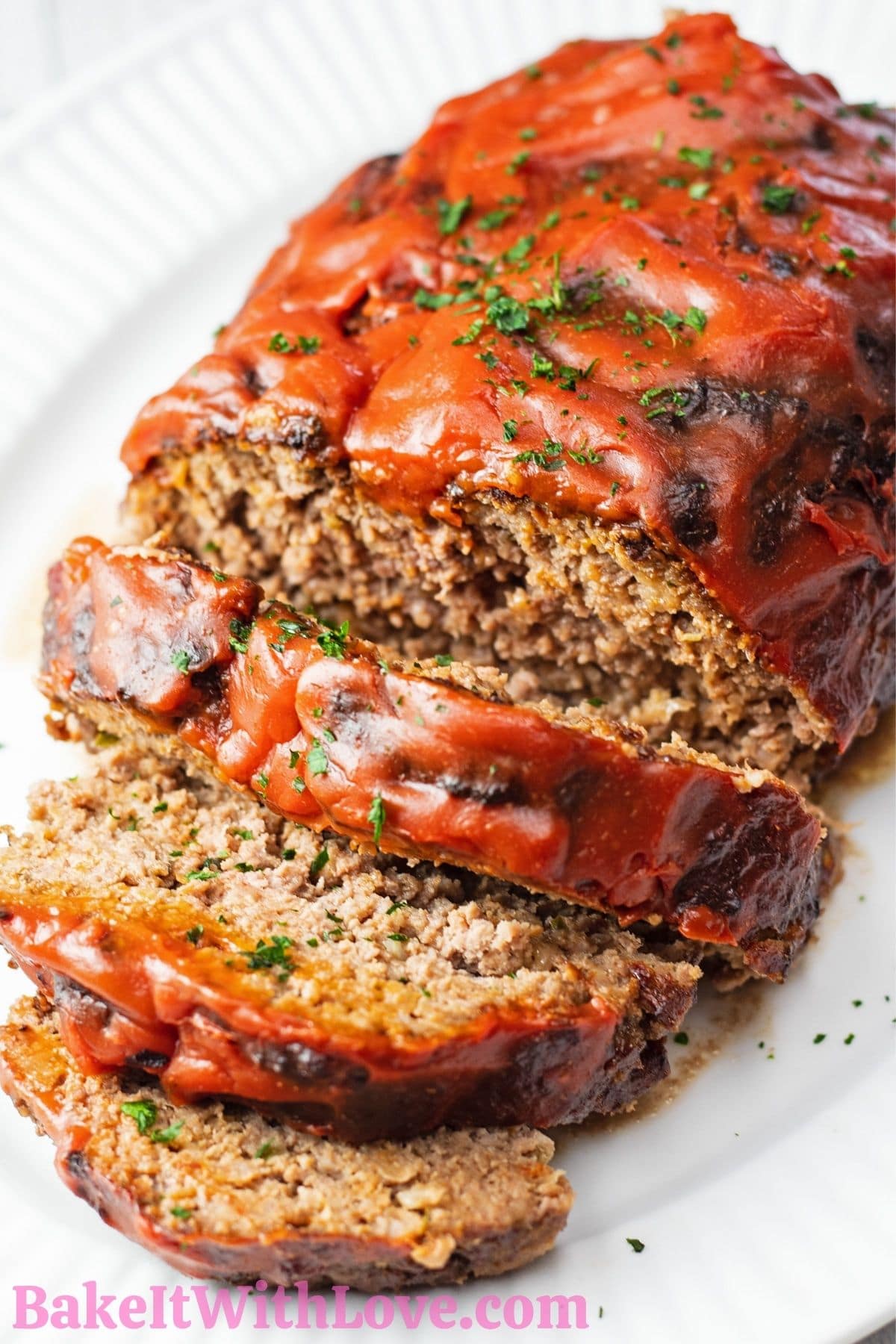 🥡 Storing & Reheating
You can keep your meatloaf fresh in the refrigerator for up to 3-4 days, however, it is best used within 1-2 days. Allow your meatloaf to cool completely before storing it in a shallow airtight container or wrapping securely with aluminum foil or plastic cling film.
To keep your cooked meatloaf fresh for a longer period of time, you can store leftovers in the freezer for up to 3-4 months. Store cooled meatloaf in a freezer storage container, or wrapped securely in heavy-duty aluminum foil and placed into a freezer storage bag.
I recommend slicing it first and wrapping each slice separately in plastic wrap. *This makes for super easy thawing and reheating!
You can also mix and shape your meatloaf, then wrap as directed above, and freeze the raw loaf. With either raw or cooked meatloaf, fully defrost the meat in your refrigerator before cooking or reheating.
Reheating Air Fryer Meatloaf
You can reheat meatloaf in the microwave, air fryer, or in the oven. The best method is to reheat in the oven or air fryer at 350°F (175°C). The timing will vary depending on the portion of meatloaf being reheated.
😋 Other Great Meatloaf Recipes
Here are all my meatloaf recipes, and a few of my favorites below!
❓ FAQ
Can I use a leaner ground beef?
You can, but your meatloaf may turn out dry. I recommend 85% lean ground beef for this recipe. If you are trying to cut down on meat, you can experiment with ½ ground turkey or chicken in the recipe, with ½ the amount of beef.
Is it best to freeze meatloaf raw or fully cooked?
It's best to freeze your meatloaf raw for cooking later if at all possible. Meatloaf is always better when only cooked once! This retains the texture and moisture of a great meatloaf, which is part of the appeal of this classic Americana dinner.
📋 Recipe
Print Recipe
Leave A Comment
Love This Recipe?
Click On A Star To Rate It!
Air Fryer Meatloaf
Air Fryer Meatloaf combines tangy seasonings and condiments with Panko breadcrumbs. An amazing meatloaf the whole family will love! Cooking it in the air fryer means your meatloaf is super moist, tender, and cooked to perfection!
Pin Recipe
Share on Facebook
Ingredients
2

lbs

lean ground beef

(85% lean ground beef)

2

large

eggs

1

small

white onion

(or yellow onion)

¼

cup

whole milk

1

cup

Panko breadcrumbs

2

tablespoon

Worcestershire sauce

1

cup

ketchup

(divided into 2 ½ cup portions)

1

tablespoon

minced garlic

1

tablespoon

Italian seasoning

1

teaspoon

ground mustard

1

teaspoon

each, salt & pepper

½

teaspoon

smoked paprika
Instructions
Preheat your air fryer to 375°F (190°C).

Use a non stick spray or cooking oil and coat a sheet of aluminum foil. (You will need a slightly larger piece than your meatloaf will be as it will sit in the foil with the edges folded up to cradle the meatloaf.)

In a large mixing bowl add all the ingredients be sure to reserve ½ the ketchup to put on the top of the meatloaf later.

2 lbs lean ground beef,

2 large eggs,

1 small white onion,

¼ cup whole milk,

1 cup Panko breadcrumbs,

2 tablespoon Worcestershire sauce,

1 cup ketchup,

1 tablespoon minced garlic,

1 tablespoon Italian seasoning,

1 teaspoon ground mustard,

1 teaspoon each, salt & pepper,

½ teaspoon smoked paprika

Mix the meatloaf mixture thoroughly.

Form your meatloaf mixture into a rectangular shape about 2-3 inches thick and place on the aluminum foil folding the edges up to make a pan shape to hold the meatloaf.

Cook at 375°F (190°C) for 30 minutes.

Open the air fryer and carefully apply the remaining ketchup on the top of the meatloaf.

Cook for an additional 10 minutes at 375°F (190°C). The internal temperature should be at 160-165°F (71-74°C). If not, cover with a small bit of foil and continue cooking until the temperature is brought up.

Remove from air fryer and allow to rest and cool slightly, carefully transfer to a serving plate or cutting board, slice, serve and enjoy!
Equipment You May Need
Nutrition
Calories:
455
kcal
(23%)
|
Carbohydrates:
22
g
(7%)
|
Protein:
33
g
(66%)
|
Fat:
25
g
(38%)
|
Saturated Fat:
10
g
(63%)
|
Polyunsaturated Fat:
1
g
|
Monounsaturated Fat:
11
g
|
Trans Fat:
1
g
|
Cholesterol:
158
mg
(53%)
|
Sodium:
618
mg
(27%)
|
Potassium:
720
mg
(21%)
|
Fiber:
1
g
(4%)
|
Sugar:
11
g
(12%)
|
Vitamin A:
402
IU
(8%)
|
Vitamin C:
4
mg
(5%)
|
Calcium:
94
mg
(9%)
|
Iron:
5
mg
(28%)
Air Fryer Meatloaf, ground beef recipes, meatloaf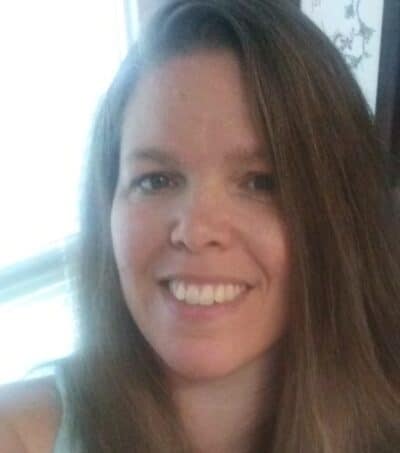 Angela is an at home chef that developed a passion for all things cooking and baking at a young age in her Grandma's kitchen. After many years in the food service industry, she now enjoys sharing all of her family favorite recipes and creating tasty dinner and amazing dessert recipes here at Bake It With Love!