The next time you're planning dinner and wondering What To Serve With Meatloaf, look no further - I have everything you need for an amazing family meal right here! All of our best-loved meatloaf side dishes plus some surprising sides that pair oh-so-well with this hearty entree!!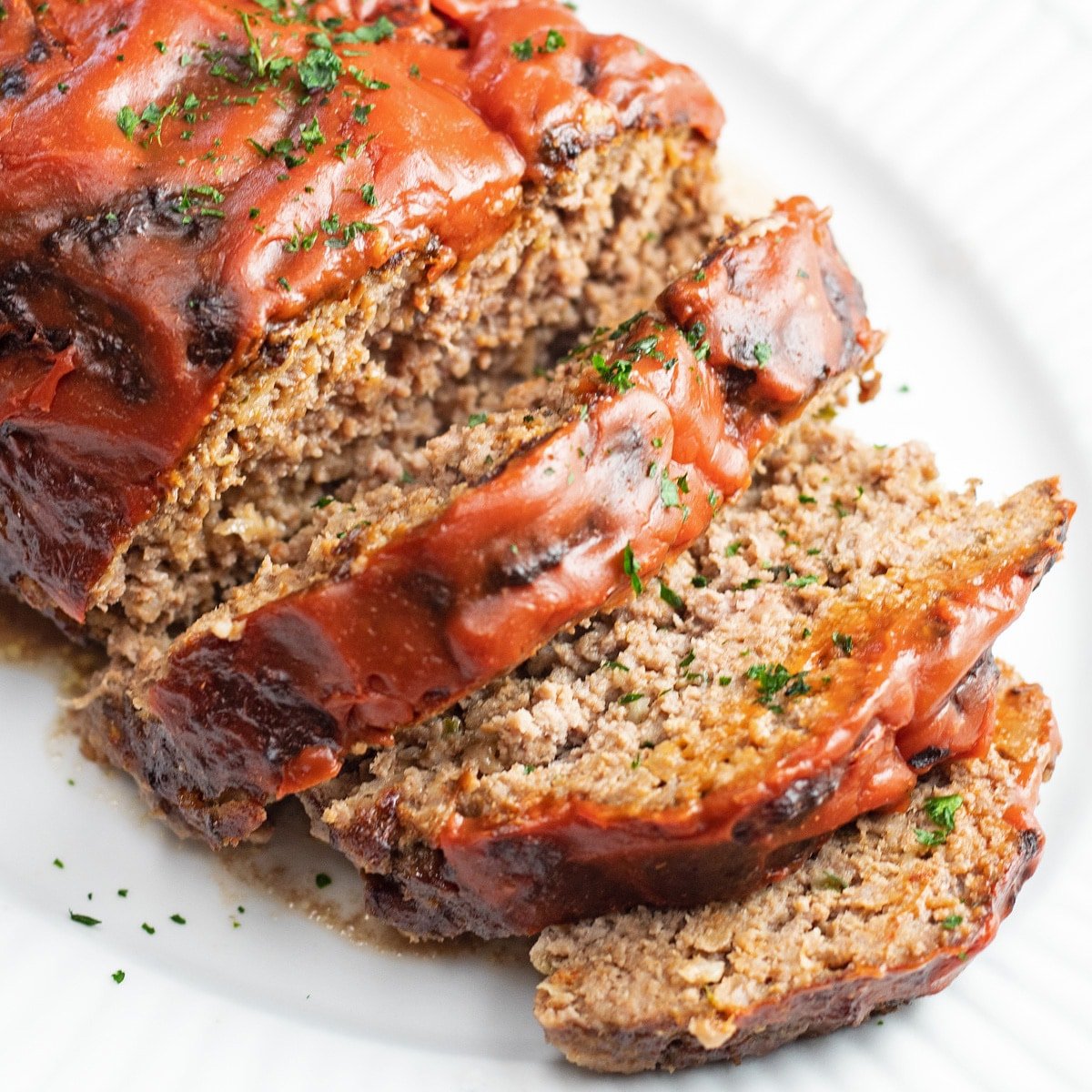 So many great side dishes for meatloaf including much more than the standard rice or mashed potatoes!
I have fond memories of my grandmother serving this American classic when I was growing up. While it seems to have waned in popularity, it still makes a delicious meal for the whole family.
It's a great food to get creative with, as everyone has a slightly different recipe that has been passed down through the generations. I was inspired to come up with a list of my favorite side dishes to serve with this traditional main dish.
Jump to:
Try one, or try them all. You won't be disappointed. So many tasty side dishes! Let's get started!
1. Mashed Potatoes
You can't go wrong with mashed potatoes. Seriously, they're usually the best thing on the table on holidays. OK. Maybe they have some competition, but this recipe will give the dressing a run for its money.
Smooth, creamy, and stuffed with roasted garlic and cream cheese. That's a side I'd eat with any meal - not just meatloaf!
2. Cajun Fries
For a different take on potatoes, look no further than these awesome Cajun fries. With a whole slew of spices that make this fantastic, these homemade fries are designed for kids but with adults in mind.
Make the whole family happy with these better-than-a-Happy-Meal fries. They're easy to customize to your desired 'heat' and a spicy flavor contrast to a simple meatloaf!
3. Steamed Broccoli
When you want something fresh and healthy, broccoli is the way to go. It's anything but boring. But have you ever tried steaming it in the microwave?
It's so quick, and the broccoli comes out perfect! And when it's finished, you can always mix in some butter and seasonings. Don't skip this vibrant veggie side dish that works so well with meatloaf!
4. Broccoli Tots
If you're a fan of tater tots and broccoli, you'll love having these with your meatloaf! Plus, combining crunchy panko with broccoli and cheese is a great way to get your kids to eat more vegetables.
Everyone in my house loves these. Dips make them even more flavorful. Try these tasty not-your-usual tots with ranch, ketchup, or your favorite condiment!
5. Skillet Glazed Carrots
I grew up on brown sugar-glazed carrots. Sweet and savory combo lovers will be using this recipe over and over again. It's that good. It's the answer to your 'what to serve with meatloaf' question any time you're making a tasty meatloaf!
The trick is in the caramelization of the butter and brown sugar. Notes of garlic bring it all together for that melt-in-your-mouth meatloaf side dish that has everyone asking for more. It's a great one for holidays, too!
6. Roasted Brussel Sprouts
While I grew up loving brussel sprouts - picture the kid in the store begging for a treat, that was me asking mom for brussel sprouts! As an adult, I love making my brussel sprouts in a variety of ways and MANY of my recipes here on the site would be a great side for meatloaf!
This recipe only calls for a few, simple ingredients but creates savory little morsels that are crispy on the outside and tender on the inside. The salty, nutty flavors blend really well with the taste of meatloaf.
7. Onion Rings
It's time to break out the air fryer for some seriously crunchy onion rings! Onions compliment meatloaf really well, but that golden breading makes them even better.
We all know that deep-frying ruins any health benefits you might have otherwise gained, so why not try something different? Air fryers can get you the same crisp we all know and love (and in some ways a better crisp onion ring!) but without the pool of grease.
For an informal, quick family meal these onion rings make a delightful, kid-friendly, finger food side dish to serve with your meatloaf dinner.
8. Crockpot Cabbage
Crockpot meals are lifesavers for the busy cook. Just throw everything in, turn on the heat, cover, and come back in a few hours.
Crockpot cabbage is the comfort food to add to any other comfort food for an incredibly satisfying meatloaf meal. Flavored with bacon, garlic, onion, and broth, this is cabbage at its finest!
9. Vermicelli Rice
If rice is more your style, this is the recipe for you! The mix of vermicelli pasta and basmati with a few toasted pine nuts makes a nutty side dish that will make your whole house smell amazing.
It's simple enough to complement a meal of meatloaf or any main dish you make while being flavorful enough to be memorable.
10. Mac and Cheese
Creamy, white cheddar mac and cheese pairs perfectly as a side dish to serve with meatloaf. Plus, this flavorful mac will have everyone drooling before it hits the table!
This recipe is sure to be a hit with all the trappings of any other good comfort food: cheese, cream, onion, and garlic. My recipe only takes 30 minutes and can all be done start to finish on the stove-top. You're not going to want to miss this!
11. Baked Beans
Baked beans are another classic that goes well with meatloaf and, in this case, adds even more meat! Try these hearty beans with hickory-smoked bacon and ground beef.
The sweet and smoky sauce combines brown sugar and liquid smoke with Worcestershire sauce and green pepper! It takes a humble can of Bush's Original Baked Beans to the next level.
12. Cheese & Bacon Turnovers
Salty bacon and gooey cheese wrapped up in a flaky puff pastry dough? I'll never say no to that! These tasty snacks make a delicious breakfast, but they also work really well with a savory meatloaf. Consider them your side of bread.
Puff pastry can be intimidating, but with only a few ingredients and 30 minutes, you can have them on the table with no trouble at all. These tasty, flaky pastries might be exactly what your meal is missing.
13. Cheese Rolls
Speaking of bread and cheese…cheese rolls are also an excellent option for serving with a meatloaf dinner. Start with a yeast roll and add cheddar, parmesan, gruyere, or pepper jack. Pick your favorite. Sound good? It is. The smell is arguably even better!
You might make a bit of a mess flouring a surface to roll out your dough, but the product is well-worth the investment. A delightfully cheesy pull-apart roll served hot right out of the oven is heaven!
14. Coleslaw
Coleslaw doesn't just go with fried chicken. It's an awesome side dish with meatloaf! Adding a creamy, crunchy vegetable to the meal is a good way to add an array of textures as well as great flavor.
Maybe I've been watching too much Top Chef, but I like variety! No one wants to sit down to a dinner of all mushy foods, no matter how great it tastes.
15. Green Salad
Fresh, colorful, and full of vitamins, a green salad is a delicious addition to a dinner with meatloaf. You can be as creative as you want with it, too!
Throw in thinly sliced, raw brussel sprouts for added crunch or black beans and red peppers for a southwestern take. And don't even get me started on dressing options!
😋 Amazing Meatloaf Recipes!
We hope that you enjoy a fabulously tasty meatloaf dinner with these ideas for the best sides to serve with your meal! Be sure to share your favorite sides in the comments below and check back in to let us know what you liked best! Enjoy!
📋 Recipe