These types of pasta range from long to short and can be used in a variety of different ways to make yummy pasta dishes! I'm going to break down the most popular pasta varieties and their uses. You'll even get some recipes to go with them!
Guide To Pasta Varieties
Believe it or not, there are over 350 pasta varieties in the world! Obviously, I don't have the ability to write about every single one of them (and I don't think you'd want to read all of that). Instead, I'm going to tell you about the most common and popular varieties as well as what they are the best for!
In general, pasta can be broken down into 5 main categories: long, short, sheet, filled, and dumpling. Together, we are going to explore each category and some tasty types of pasta within each one!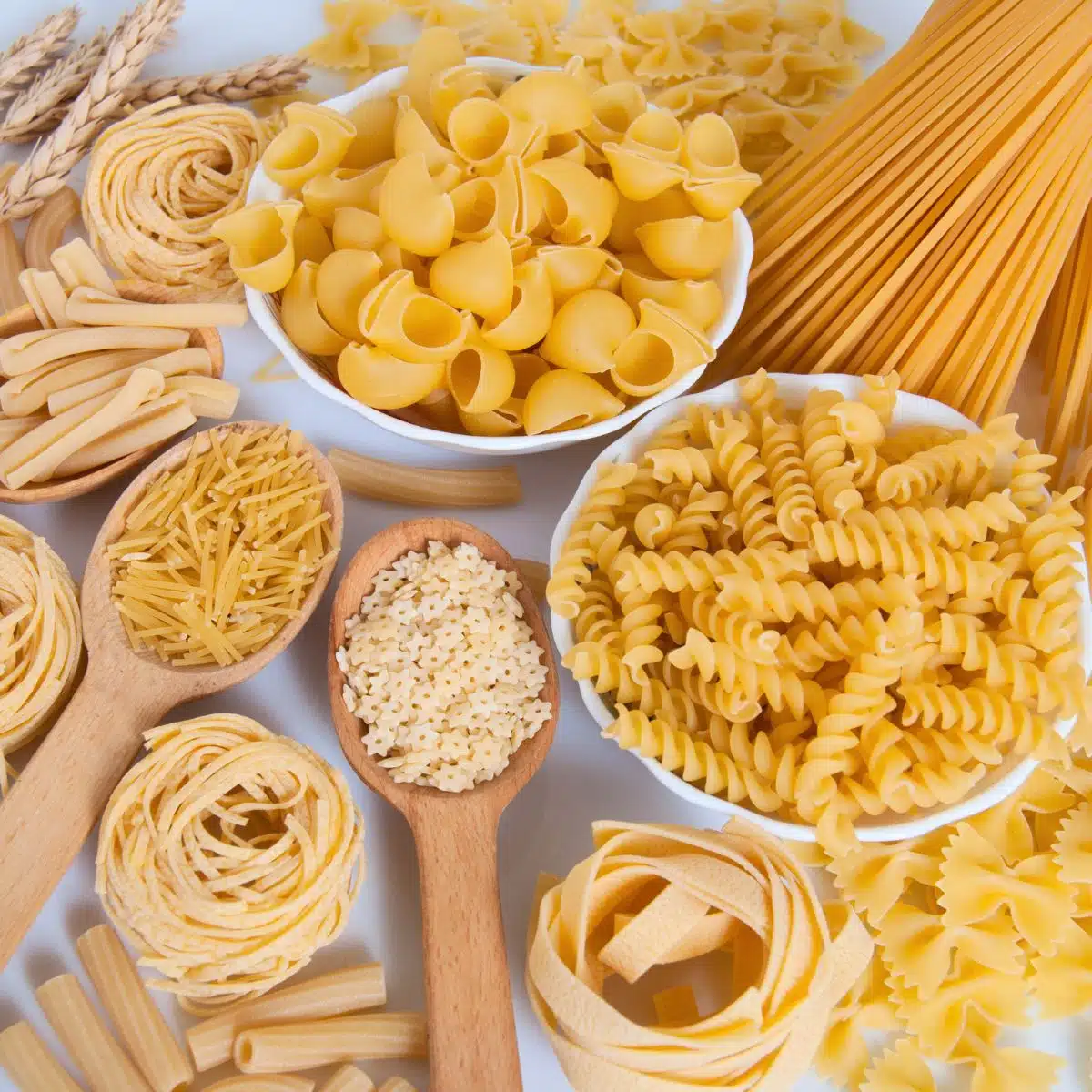 Jump to:
Long Pasta
Long pasta varieties are exactly what they sound like: long! They consist of long strands of noodles and are best when paired with creamy sauces!
1. Angel Hair
Angel hair pasta is very similar to spaghetti, except it is thinner. This thinness makes it best with light sauces and oils. Try it out as a base for some chicken or shrimp scampi or some simple garlic Parmesan angel hair pasta.
2. Bucatini
Bucatini pasta is long and cylindrical, with a hollow center. At first glance, it could easily be mistaken for spaghetti. However, it is slightly thicker.
That hole through the center might not look like much, but it is great at holding onto extra sauce!
3. Spaghetti
Spaghetti is probably the most well-known and popular pasta variety there is. It is long and cylindrical, with a thickness that falls somewhere between bucatini and angel hair.
Spaghetti and meatballs are a classic combination, but you can make other dishes such as spaghetti bolognese, baked spaghetti and meatballs, and chicken spaghetti!
4. Fettuccine
Fettuccine is another well-known pasta variety. These noodles are long, flat, and known for dishes such as chicken alfredo (or my tasty salmon alfredo).
The wideness of the noodles makes this pasta great for rich and thick sauces.
5. Linguine
Linguine looks very similar to fettuccine, as it is a long and flat noodle. However, it is not as wide as fettuccine noodles are.
Linguine is commonly paired with hearty seafood dishes and creamy sauces. Check out my tasty Cajun sausage pasta!
6. Pappardelle
Pappardelle pasta is like extra wide fettuccine noodles. This hearty and thick noodle can handle any type of thick, creamy, or chunky sauce out there. Try it in this tasty marry me chicken!
7. Tagliatelle
Tagliatelle is extremely similar to fettuccine noodles and they may actually be slightly difficult to differentiate. In short, tagliatelle noodles are just slightly thicker than fettuccine.
This difference gives it a slightly tougher texture, making it ideal for thick and hearty meat sauces.
8. Vermicelli
Vermicelli is a very thin type of pasta that is commonly associated with rice due to the popular brand Rice-a-Roni. This noodle can be used with sauce or in soups and stir-frys. Check out my vermicelli rice recipe for an easy side dish featuring this yummy pasta!
If you want to learn more, I have an entire post dedicated to vermicelli!
Short Pasta
Short pasta varieties have shapes that vary more than the longer types. They are great for catching sauce in a ton of different ways. These shorter types of pasta pair fantastically with thick and chunky sauces, including ones that feature meat or veggies!
9. Cavatappi
Cavatappi is a spiral-shaped noodle that is also known as the double elbow pasta. The extra length gives is some great chew while the curves help to hold onto the sauce (as well as the hollow center).
Of course, this pasta also tastes great in macaroni and cheese.
10. Casarecce
Casarecce is a tube-shaped pasta, but with edges that aren't actually connected. This loosely rolled noodle is perfect for catching any of your favorite sauces!
11. Fusilli
This spiral-shaped noodle is packed with crevices that are perfect for catching and hoarding sauce! It works wonderfully with thick sauces as well as a pasta salad.
Try out my Italian sausage bake!
12. Radiatori
Radiatori pasta has an extremely unique shape that actually resembles a radiator! All of the grooves and openings make it great for hoarding sauce. Plus, it is a tasty addition to soups and casseroles.
13. Rotini
Rotini pasta is amazingly similar to fusilli, except that it has a tighter coil. In the same fashion, it is a perfect catch-all noodle that is great for any type of sauce you pair it with.
14. Elbow
Of course, we all know and love elbow macaroni! From childhood crafts to gooey macaroni and cheese, this pasta variety is a well-loved classic!
In fact, these noodles are used in many different dishes such as goulash or macaroni and tomatoes!
15. Farfalle
This popular pasta variety is well known as bow-tie pasta! Of course, it looks just like little bow ties! It works well in creamy dishes like turkey tetrazzini, saucy dishes like hamburger helper lasagna, and pasta salads like my tuna salad with pasta!
16. Gemelli
If you imagine two ropes that have been twisted together, you'll get a clear picture of what Gemelli pasta looks like. This variety is a great choice for pasta salad!
17. Penne
Penne is easily a family-favorite pasta variety in most homes! It is a hollow, cylindrical, short noodle that has slanted edges. The outside of the noodle consists of textured ridges, which are great for harboring sauce.
Penne works well in so many different types of dishes, from ground beef casserole to a tasty garlic shrimp alfredo bake!
18. Rotelli
Rotelli pasta looks like a little miniature wagon wheel and is commonly used in kid's soups and dishes because of its fun shape!
19. Rigatoni
Rigatoni noodles are similar to penne, except without slanted edges. Plus, it has a wider opening through the center, making it great for collecting sauces.
Try out my baked rigatoni or bechamel pasta bake!
20. Orecchiette
This uniquely shaped pasta has a resemblance to ears. All of the grooves and intentions make it a great candidate for pairing with creamy sauces!
21. Ziti
Ziti is also similar to penne pasta, except it is smooth with no ridges and does not have slanted edges. It is great in a casserole and is relatively common in Italian restaurants.
22. Conchiglie
Don't let the fancy name fool you, these are simply shells! You'll commonly find shell pasta featured in macaroni and cheese, but they work great for any thick and creamy sauce.
23. Orzo
Orzo looks remarkably similar to rice (and is often confused as such), but it is just a very short and thin pasta. It can be made into pasta salads or used to add texture and variety to soups.
Check out my tasty lemon asparagus orzo recipe!
24. Ditalini
Ditalini is a pretty small pasta. It is a hollow cylinder, similar to a very short ziti noodle. This pasta variety is commonly featured in soups like pasta e Fagioli or minestrone.
Sheet Pasta
If you picture a sheet of paper, that is exactly what sheet pasta is! It is flat and wide and comes in a variety of sizes.
25. Lasagna
Lasagna noodles get their own category, as they obviously have their own unique appearance and purpose. These long, flat, rectangular noodles are, of course, perfect for any tasty lasagna recipe you may have.
You can buy these noodles pre-boiled to make your recipes come together even faster!
Filled Pasta
Filled kinds of pasta are the varieties that are great for stuffing full of hearty or creamy fillings. The possibilities are endless with the combinations of tasty flavors you could come up with!
26. Tortellini
Tortellini looks somewhat similar to tiny donuts. You can buy prefilled tortellini at the grocery store, either filled with cheese, spinach, or even sausage. Not only is it great with hearty sauces, but tortellini is delicious in soup as well!
Since the filling can already be so flavorful, this pasta also pairs well with a light coat of oil so the filling can really shine!
27. Ravioli
Ravioli is a very popular filled pasta. They are square in shape and range in size from small to large. You can buy ravioli at the grocery store or find it in practically any Italian restaurant.
28. Manicotti
Manicotti are large cylindrical tubes with ridges and slanted edges. Sounds familiar? That's because they are basically extra-large penne noodles!
The hollow center is perfect for being stuffed with anything you like, from meats and cheeses to hearty sauce!
29. Cannelloni
If manicotti is jumbo penne noodles, then cannelloni is jumbo ziti noodles! They are smooth with no ridges and are actually the same thing as if you just rolled up a lasagna noodle. Again, it can hold any filling you like!
30. Jumbo Shells
While these are still technically conchiglie, they are extra big! You will commonly find this pasta stuffed with cheese and seasonings before being topped with sauce and then baked.
31. Mezzelune
Mezzelune pasta is similar to ravioli but in a half-circle shape. Just like ravioli, it is rolled flat and stuffed, and then the edges are pinched shut before cooking.
Dumpling Pasta
Dumpling pasta is a somewhat unique category. Plus, there is really only one variety that belongs in it!
32. Gnocchi
These tasty potato dumplings are the only dumpling pasta you need to know about! They are well-loved in a wide variety of dishes, from soups (like Olive Garden's chicken and gnocchi) to saucy pasta recipes.
Of course, this type of pasta is different than the rest since its shining star ingredient is a potato. Not to mention, there are different varieties of gnocchi that can be made from sweet potatoes, squash, or more!
These types of pasta are perfect for any recipe you may have! Leave a comment down below and let me know which one is your favorite!
🍝 Delicious Pasta Recipes
📋 Recipe
Print Recipe
Leave A Comment
Love This Recipe?
Click On A Star To Rate It!
Types of Pasta: Garlic Parmesan Angel Hair Pasta (+ More Pasta Varieties)
These types of pasta range from long to short and can be used in a variety of different ways to make yummy pasta dishes! I'm going to break down the most popular pasta varieties and their uses. You'll even get some recipes to go with them!
Pin Recipe
Share on Facebook
Ingredients
2

tablespoon

butter

2

teaspoon

garlic

(minced)

1 ½

cups

chicken broth

1

cup

milk

8

oz

angel hair pasta

¼

teaspoon

each, salt & pepper

(to taste)

⅓

cup

Parmesan cheese

(freshly grated or shaved)

1

tablespoon

parsley

(optional garnish, chopped)
Instructions
Bring a large, deep skillet or small stock pot to medium-high heat with the butter. Once the butter is melted add the garlic and saute until fragrant, stirring occasionally for about 1 minute.

2 tablespoon butter,

2 teaspoon garlic

Stir in the chicken broth, milk, angel hair pasta, salt, and pepper until the pasta is softened and completely covered with liquid. Bring to a boil then reduce your heat to low and simmer.

1 ½ cups chicken broth,

1 cup milk,

8 oz angel hair pasta,

¼ teaspoon each, salt & pepper

Simmer on low, stirring occasionally, for approximately 4-6 minutes or until your pasta is cooked fully. Remove from heat and stir in the grated Parmesan cheese until fully melted.

Serve immediately garnished with fresh, chopped parsley if desired.
Equipment You May Need
Notes
If you LOVE garlic, you can use up to 1 tablespoon of minced garlic in this pasta dish.
To thin your sauce (if needed) simply drizzle some milk or broth into the pot of pasta until you reach your desired consistency.
Cooked pasta stores for up to 3-5 days in the refrigerator, but this tender pasta does not reheat well after a day or two in the fridge.
Nutrition
Calories:
337
kcal
(17%)
|
Carbohydrates:
46
g
(15%)
|
Protein:
13
g
(26%)
|
Fat:
11
g
(17%)
|
Saturated Fat:
6
g
(38%)
|
Polyunsaturated Fat:
1
g
|
Monounsaturated Fat:
3
g
|
Trans Fat:
1
g
|
Cholesterol:
27
mg
(9%)
|
Sodium:
682
mg
(30%)
|
Potassium:
298
mg
(9%)
|
Fiber:
2
g
(8%)
|
Sugar:
5
g
(6%)
|
Vitamin A:
425
IU
(9%)
|
Vitamin C:
8
mg
(10%)
|
Calcium:
191
mg
(19%)
|
Iron:
1
mg
(6%)
Garlic Parmesan Angel Hair Pasta, types of pasta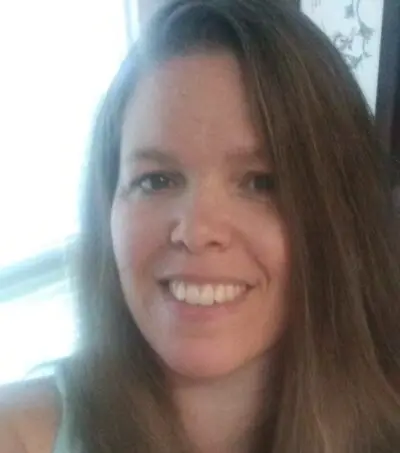 Angela is an at home chef that developed a passion for all things cooking and baking at a young age in her Grandma's kitchen. After many years in the food service industry, she now enjoys sharing all of her family favorite recipes and creating tasty dinner and amazing dessert recipes here at Bake It With Love!