The best type of meat for meatloaf is one that creates a flavorful, juicy, moist, and tender loaf without being overly greasy or mushy. Whether you prefer one type of meat or a combination, you'll need to ensure that it won't dry out while in the oven. Here is everything you need to know about which meat is the best for a perfect meatloaf!
Best Meat for Meatloaf
Meatloaf is an American staple that is loved by families everywhere! It is warm, rich, beefy, and loaded with flavor!
While meatloaf is not a difficult dish to prepare, there are some key points that are important to know in order to make the best meatloaf possible. For starters, the meat you choose as your base can either make or break your meal!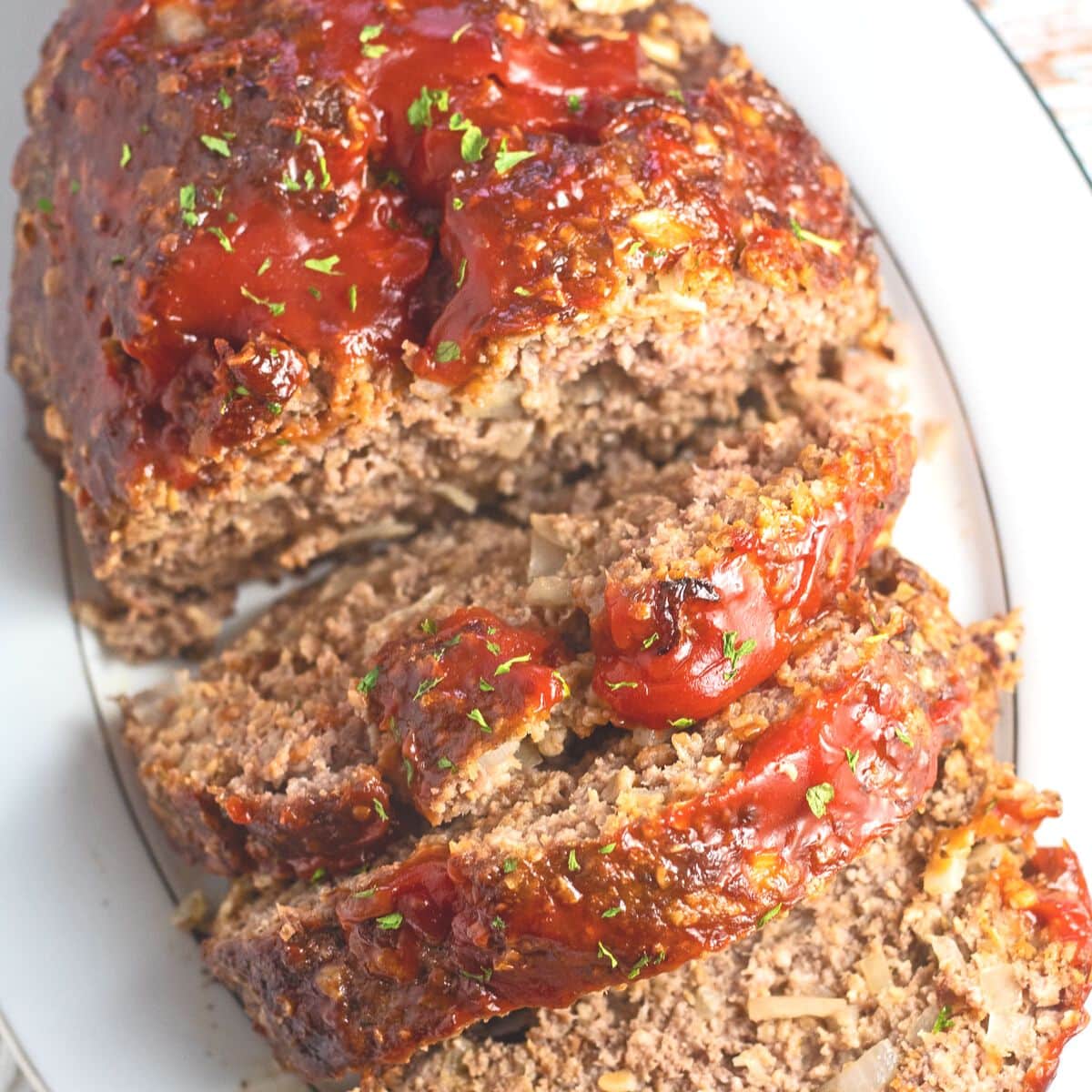 Jump to:
Check out some of my favorite meatloaf recipes for a ton of ideas and variations! You can also take a look at my article about what to serve with meatloaf for some side dish inspiration.
What Makes A Good Meatloaf
For a meatloaf to be as tasty as it can possibly be, you want it to be moist and juicy! It should also be tender, but never mushy.
As far as consistency goes, it should never need a knife to cut it, but you should also be able to pick it up with your hand without it falling apart.
It should have enough moisture and juice to be loaded with flavor without leaving a puddle of grease on your plate.
With all of these conditions for the 'perfect' meatloaf, does it make you wonder exactly what meat is the best for the job?
Beef
When you think of meatloaf, you probably immediately think of ground beef. Of course, you wouldn't be wrong as many people choose beef as their preference for making meatloaf. In fact, using beef will ensure that you get that rich and beefy flavor.
However, not all ground beef is the same. If you've ever noticed when grocery shopping, ground beef is labeled with a lean-to-fat ratio. Believe it or not, it really matters how lean your meat is when used in meatloaf!
For instance, meatballs and burgers are both ground beef-based and cook relatively quickly. However, meatloaf typically spends about an hour in the oven, so you need to have higher fat content in order to keep your meatloaf from drying out over a long period of cooking.
If you are using an all-beef meatloaf recipe, make sure to use ground beef that is 80/20 or 85/15. If you opt for a 90/10 ground beef, you can end up with a tough and dry meatloaf.
Pork
Ground pork is a good alternative if you would prefer to not use ground beef. Additionally, if you have someone in your house that does not like meatloaf, switching up the meat to pork might change their mind!
While using ground pork (which is fattier than beef) will make a perfectly juicy and moist meatloaf, you will lose out on the classic rich and meaty flavor. It will have much more of a 'meatball' taste to it, which can be good or bad depending on what you are expecting out of your meatloaf.
Meat Blend
Now, for the best meatloaf around, it is strongly recommended to try out a blend of meats. This is because each type of meat has its own pros and cons, so why not combine them to get the best qualities from each?
Any blend of beef, pork, veal (*see note), and lamb would make for a fantastic meatloaf. Personally, I love combining ground beef, ground pork, and sausage together for an extra delicious meatloaf that is loaded with flavor and has a perfect texture.
A Note On Veal
If you've ever seen the prepackaged meat at the grocery store labeled 'meatloaf mix,' you may be aware that it is a mixture of beef, pork, and veal.
Now, I previously mentioned using a blend of meat and how that is the best option for a flavorful and moist meatloaf. However, I think veal is unnecessary.
Veal doesn't taste like much. Granted, it does add a wonderful texture, but it tones down the rich and meaty flavor. In fact, you may even come across meatloaf recipes that completely omit the veal and substitute it for gelatin instead.
Tips For The Best Meatloaf
When opting for an all-beef meatloaf, choose ground beef that is 85/15 or 80/20.
Let your meatloaf rest after cooking. This ensures that all of the juice won't immediately run out of it when you cut it.
Use a blend of meats for the best meatloaf. Try out combinations involving beef, pork, sausage, or lamb!
Cook your veggies before adding them!
Avoid overmixing your meatloaf mixture as it can make it too tough.
Now you know the best meat to use when making a perfectly delicious and flavorful meatloaf! Leave a comment down below and let me know which meat (or meat combination) is your favorite!
😋 Best Sides For Meatloaf
📋 Recipe
Print Recipe
Leave A Comment
Love This Recipe?
Click On A Star To Rate It!
Best Type of Meat for Meatloaf: Meatloaf with Oatmeal (+Best Meat Blend)
The best type of meat for meatloaf is one that creates a flavorful, juicy, moist, and tender loaf without being overly greasy or mushy. Whether you prefer one type of meat or a combination, you'll need to ensure that it won't dry out while in the oven. Here is everything you need to know about which meat is the best for a perfect meatloaf!
Total Time
1
hour
20
minutes
Pin Recipe
Share on Facebook
Ingredients
2

lbs

ground beef

(ground chuck is preferred, or use a ground beef/ground pork combo)

1 ½

cups

quick oats

(or plain breadcrumbs)

½

cup

white onion

(or yellow onion, finely diced)

3

large

eggs

1

tablespoon

meatloaf seasoning

(see recipe, or use 1 packet store-bought seasoning mix)

⅓

cup

ketchup

(plus more for topping the meatloaf if desired)
Instructions
Preheat your oven to 350°F (175°C) and lightly grease a 9x5 loaf pan or line a rimmed baking sheet with parchment paper.

In a large mixing bowl, add the ground beef, quick oats, diced onion, eggs, meatloaf seasoning, and ketchup. Mix until just combined, do not over-mix.

2 lbs ground beef,

1 ½ cups quick oats,

½ cup white onion,

3 large eggs,

1 tablespoon meatloaf seasoning,

⅓ cup ketchup

Transfer the meatloaf mixture into your prepared loaf pan then shape so that the loaf is mounded at the top. Or transfer the loaf mixture to your baking sheet and form it into a loaf approximately the same size as a loaf pan (9x5-inch).

Bake at 350°F (175°C) for 50 minutes, remove from the oven and coat with an additional ⅓ cup of ketchup or BBQ sauce if desired. Return to the oven and finish cooking for an additional 10-20 minutes. Your meatloaf is done when it has an internal temperature of 160°F (71°C).

Remove from the oven when done, drain off the excess grease, and then allow your meatloaf to rest for 10 minutes before slicing and serving.
Equipment You May Need
Notes
A splash of Worcestershire sauce is pretty much a go-to, must-have ingredient in my meatloaf recipes. If you love Worcestershire, balsamic vinegar, or soy sauce feel free to add a bit for flavor!
If you don't have meatloaf seasoning packets on hand and/or don't have all of the spices for my homemade meatloaf seasoning, you can use these measurements as a base: 1 teaspoon salt, 1 teaspoon paprika (or smoked paprika), ½ teaspoon ground black pepper, and ½ teaspoon onion powder.
Nutrition
Calories:
309
kcal
(15%)
|
Carbohydrates:
11
g
(4%)
|
Protein:
19
g
(38%)
|
Fat:
20
g
(31%)
|
Saturated Fat:
8
g
(50%)
|
Polyunsaturated Fat:
1
g
|
Monounsaturated Fat:
9
g
|
Trans Fat:
1
g
|
Cholesterol:
120
mg
(40%)
|
Sodium:
155
mg
(7%)
|
Potassium:
345
mg
(10%)
|
Fiber:
1
g
(4%)
|
Sugar:
2
g
(2%)
|
Vitamin A:
122
IU
(2%)
|
Vitamin C:
1
mg
(1%)
|
Calcium:
33
mg
(3%)
|
Iron:
3
mg
(17%)
best type of meat for meatloaf, Meatloaf with Oatmeal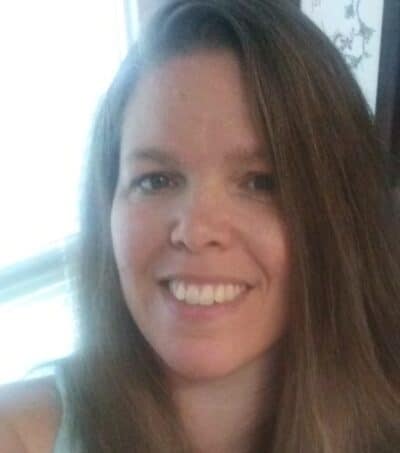 Angela is an at home chef that developed a passion for all things cooking and baking at a young age in her Grandma's kitchen. After many years in the food service industry, she now enjoys sharing all of her family favorite recipes and creating tasty dinner and amazing dessert recipes here at Bake It With Love!