The ideal meatloaf internal temperatures as decided by the USDA help you to make perfectly moist, juicy meatloaf that is safe to eat! Whether you are using pork, beef, veal, or a blend of meats, it's important to know what temperature you're aiming for. Luckily, all the information you need is right here at your disposal!
Ideal Meatloaf Internal Temperature
As a kid, you may have groaned when you heard you were having meatloaf for dinner. Maybe it was because it was something your family made A LOT or maybe it was because you could never quite tell what was in it.
On the other hand, your family may have had an amazing meatloaf recipe from day one that helped you fall in love with this All-American classic.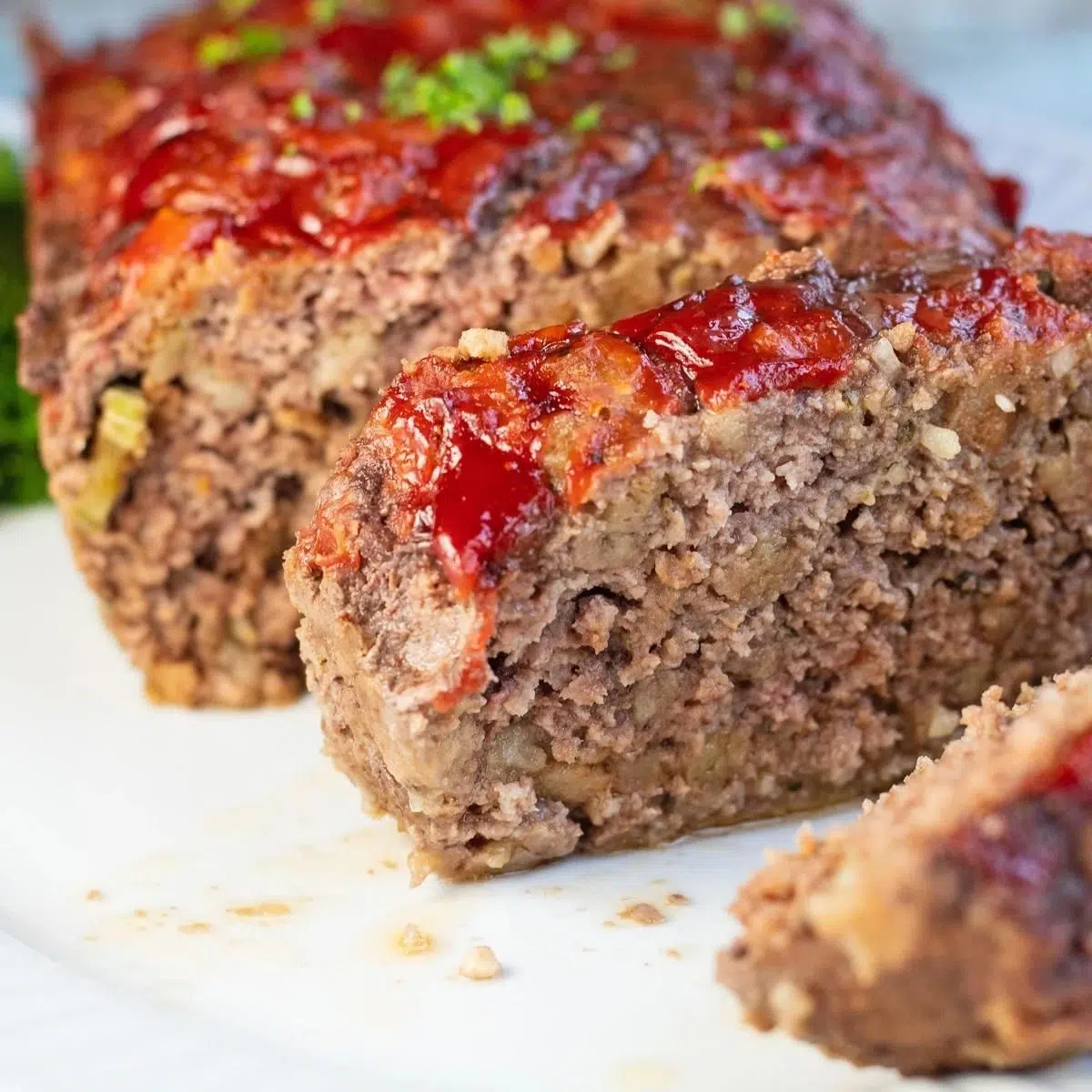 Jump to:
Whatever your feelings were as a kid, meatloaf as an adult is amazing! It is a simple and delicious meal to make for dinner. There are also a variety of ways to take a basic meatloaf and make it full of new flavor.
Whether you choose to go with a classic meatloaf recipe or explore a variety of meatloaf flavors, the most important thing is to make sure you cook it fully. The best way to achieve this every single time is to know & check the internal temperature of the meatloaf.
Desired Level Of Doneness For Meatloaf
Anytime you cook meat it is important to know what the desired internal temperature is. The recommended internal temperature is set by the USDA. The temperature for each type of meat is based on what needs to be reached for any bacteria (that could lead to food=borne illnesses) to be killed.
The internal temperature will vary depending on the type of meat and the cut of meat. For example, it is recommended to cook a steak to reach 145 °F (63°C). However, it is recommended that ground beef be cooked to a minimum internal temperature of 160 °F.
Therefore, since meatloaf is made from ground beef it is recommended that meatloaf be cooked until it has an internal temperature of 160°F (71°C). This recommendation can be used for most types of meatloaf, even if you make a meatloaf that is a blend of ground beef, pork, and/or veal.
What Is The Internal Temperature For Turkey Meatloaf?
If you replace the ground beef with ground poultry, you need to add five degrees to the temperature. Ground chicken and ground turkey need to reach 165°F (74°C) for doneness.
Therefore, if your meatloaf recipes include any amount of ground turkey or ground chicken make sure to aim for an internal temperature of 165°F (74°C), rather than 160°F (71°C).
Why Do You Need To Check The Internal Temperature?
As mentioned above, the internal temperature is used to prevent the spread of food-borne illnesses. Most recipes take this into account and create the recipe with cooking times and temperatures that will meet these minimal temperatures.
However, there are a variety of things that can impact a recipe. Everything from the oven you use to where you live can change the way your meatloaf cooks.
Moreover, when it will reach the internal temperature of 160°F (or 165 °F). Therefore, it is necessary to keep these variables in mind and use a meat thermometer to check for doneness.
What Temperature Do You Cook Meatloaf At?
Most meatloaf recipes will suggest cooking your meatloaf at 350°F (175°C). This is the perfect temperature to get an evenly cooked meatloaf that will stay moist.
While most recipes will call for the same average cooking temperature, the length you cook the meatloaf will vary. It may even differ from what the recipe suggests.
What Can Impact How Long You Cook Meatloaf?
While it sounds like 350°F (175°C) should be a standard temperature across ovens that is not always the case. If the recipe you are following was created 20 years ago, the oven that was used to determine how long to cook the meatloaf at 350°F (175°C) may have been less intense than the one you have.
Moreover, it also could have been hotter. Therefore, the cooking time may vary for you to achieve the desired doneness when cooking the meatloaf in your oven.
In addition to the oven used, where you live can impact the cooking time. Kitchens at higher elevations often need longer cooking times. Therefore, if the recipe you are following was created with a cooking time based on an elevation at sea level and you live in the Rocky Mountains – you may need more time to reach the desired internal temperature.
Another thing that can change how long the meatloaf needs to cook is the ingredients you use. If you follow a simple recipe that only calls for ground beef, but you decide to spice it up with a mixture of pork and ground beef the cooking time could change.
Moreover, if you decide to explore a low-fat option and replace the ground beef in your favorite meatloaf recipe with ground turkey, the cooking time may change again.
How to Check the Internal Temperature of Your Meatloaf
Due to the many variables that can change the cooking time of your meatloaf the best way to make sure you have a fully cooked meatloaf is to use a meat thermometer. A meat thermometer will give you an exact internal temperature.
Getting the exact internal temperature not only helps you cook it to the desired level of doneness but also helps you avoid overcooking it. No one wants a meatloaf that is dried out.
How to Use a Meat Thermometer
Using a meat thermometer is super simple! You can buy a digital one that is easy to read or also find less expensive ones that have a dial. Whatever style you choose, they are all used similarly.
Simply pull out the meatloaf on the oven rack and insert the meat thermometer into the center of the loaf. It should be as close to the center as possible. This is typically the thickest part of meatloaf and will give the most accurate reading.
For best results, look for a reading that is 5 degrees less than the recommended internal temperature. That means you want the thermometer to read 155°F (68°C) (for ground beef, veal, or pork) and 160°F (71°C) (for ground chicken or turkey).
Let Your Meatloaf Rest to Reach Doneness
Once you have reached these internal temperatures, remove the meatloaf from the oven. Turn the oven off and cover the meatloaf with tin foil. Rather than putting a tight covering, you can create a tent with the foil over the meatloaf. This will keep the heat in and keep it from drying out.
Let the meatloaf rest for about 10 minutes. While it rests it will continue to cook internally.
This is due to 'carryover cooking'. When removed from heat, meat will continue to cook for about 5 degrees as it rests.
Therefore, when you go to eat your meatloaf will have reached the desired 160 °F (or 165 °F). If you are not sure how long to let your meatloaf rest, simply insert the thermometer again to check when it reaches the final internal temperature.
Meatloaf Recipes
Meatloaf has been a classic for decades. Therefore, you may have a meatloaf recipe that you always use and love.
However, while you may like your meatloaf recipe, you may be looking for a change on the classic. You may even be a former child who hated meatloaf but really wants to try this dish again as an adult.
The wonderful thing about meatloaf is that there are a ton of ways to elevate the flavor of this classic dish. Moreover, ways to change the flavor so that you can make meatloaf more often without getting bored.
The best part?
Regardless of what type of meatloaf you make (air fryer meatloaf, stovetop meatloaf, you name it) the same guidelines for cooking apply.
Using a meat thermometer, you will aim to cook any type of meatloaf to reach the recommended internal temperatures provided above.
When you are ready, try out one (or more) of my favorite meatloaf recipes!
😋 Amazing Meatloaf Recipes
By following these ideal meatloaf internal temperatures, you will make perfectly juicy and delicious meatloaf every time! Tell us which of our meatloaf recipes you'd like to try in the comment section below!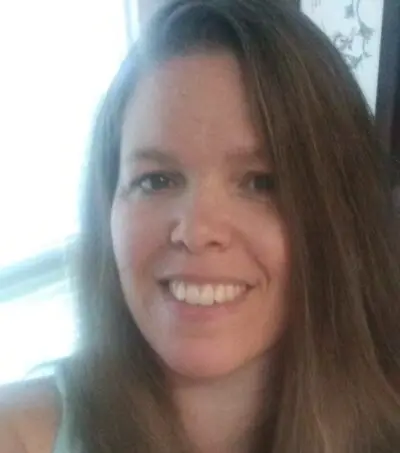 Angela is an at home chef that developed a passion for all things cooking and baking at a young age in her Grandma's kitchen. After many years in the food service industry, she now enjoys sharing all of her family favorite recipes and creating tasty dinner and amazing dessert recipes here at Bake It With Love!