My Ultimate Guide To Chocolate Chip Cookies has all the tips, tricks, and recipes you need to make the most delicious cookies! This guide breaks down each ingredient, substitutions, and the baking process so you can get it just right. Just follow these suggestions and your homemade cookies will be the best you've ever had!
How To Make The Best Chocolate Chip Cookies
This classic cookie has a rich history founded in the United States in 1930, making it almost 100 years old! The first chocolate chip cookie recipe is credited to Ruth Wakefield.
Ruth Wakefield ran a restaurant in Massachusetts by the name of Toll House. Sound familiar? Well, that same Toll House name became part of the Nestle corporation when Wakefield sold the name AND the recipe to Nestle.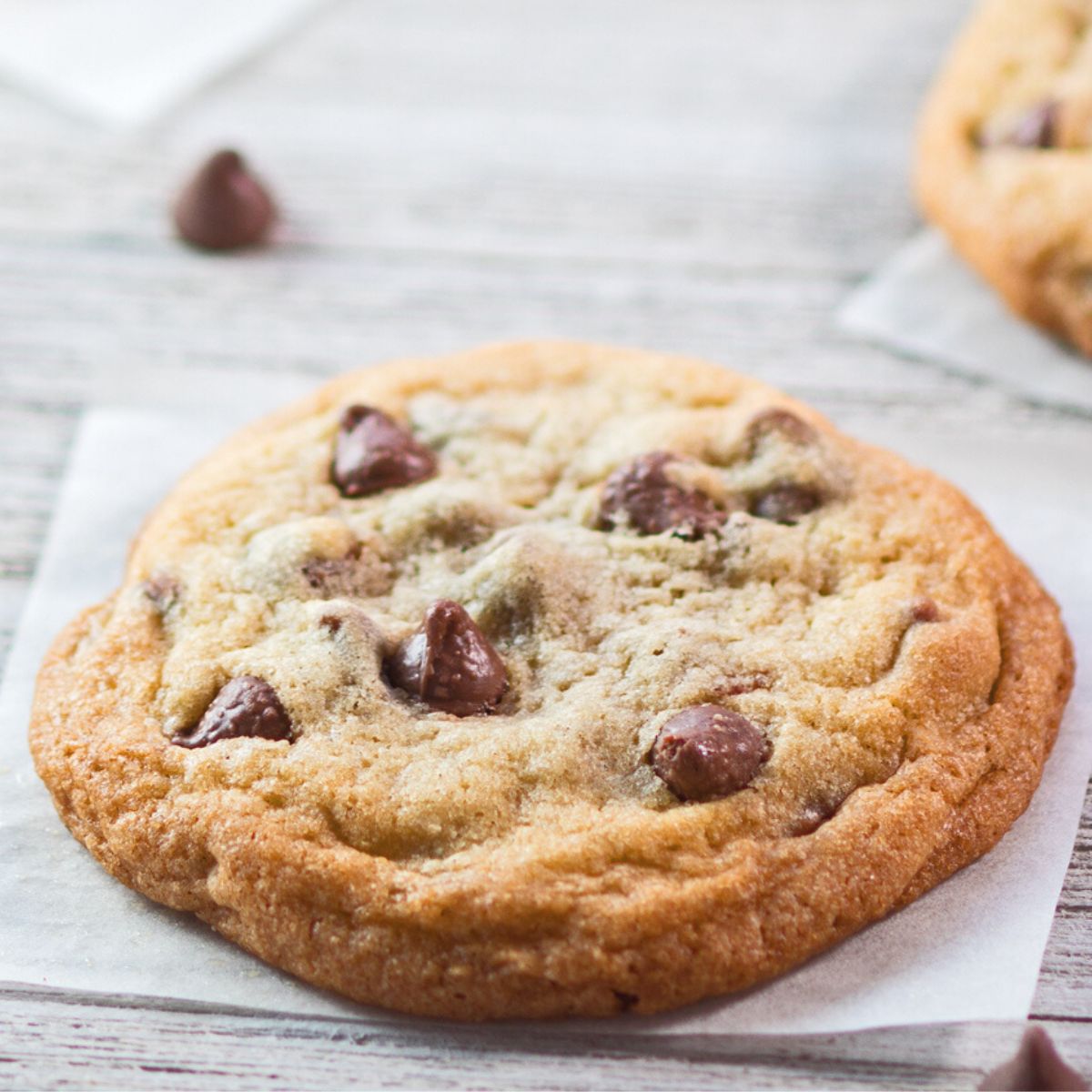 Jump to:
This was a fitting sale, considering Nestle was (and still is) one of the largest manufacturers and distributors of delicious chocolate products. Specifically, chocolate chips.
The Original Chocolate Chip Cookie
Having acquired the recipe straight from the creator, the recipe for Nestle Toll House Chocolate Chip Cookies is considered the original chocolate chip cookie. However, since the original came on the scene in the 1930s this classic cookie has been recreated repeatedly.
With so many variations of this cookie, you may wonder what makes the best chocolate chip cookie. While that is up for debate, this ultimate guide to chocolate chip cookies will help you determine your perfect cookie.
Beginning with the original Nestle recipe as a starting point, this guide will show you where to begin with this classic and the many variations used over the years. So, let us get started!
Ingredients Needed for Chocolate Chip Cookies
When you set out to make chocolate chip cookies there are essential ingredients that you will need:
Butter
White sugar
Brown sugar
Vanilla Extract
Baking Soda
Salt
Eggs
All-purpose Flour
Chocolate Chips
This combination of ingredients, in the suggested measurements by Nestle, will give you a standard homemade chocolate chip cookie. Deliciously sweet, a little bit flat, and nice and chewy. However, this is not the only list of ingredients for a chocolate chip cookie.
Over the years, different bakers have experimented with this list to make their own variations. These variations in the ingredients or the amounts used will shift the classic cookie in taste, texture, or both.
Whether it includes adding more flour, using only one type of sugar, or swapping butter for shortening, there are dozens (and dozens) of ways to make chocolate chip cookies. Moreover, there are dozens of ways to make a chocolate chip cookie with your desired texture and taste.
To find out how to make your perfect chocolate chip cookie read about each ingredient and learn how to modify each one to make the classic into something new.
All-purpose Flour
Even though chocolate chips are the star of the show, they would not be able to stand out with the base of flour. So, let us look at the purpose of flour in making chocolate chip cookies.
All-purpose flour is the best choice for making chocolate chip cookies. It has a medium ratio of proteins that activate with baking soda and liquids to create the desired chewy texture of a cookie. Moreover, flour is what brings everything together. Therefore, without you cannot make chocolate chip cookies.
Can You Use Something Other Than All-Purpose Flour?
While all-purpose flour is the best choice for making cookies, it is not the only choice. If you are out of all-purpose flour, check the cupboards for bread flour or cake flour.
Bread flour has a higher protein content than all-purpose flour. Therefore, it will create a denser cookie. On the other hand, cake flour has a lower protein content. Therefore, it will make cookies that are light and airy.
Beyond these other two wheat-based flours, there are other options. Use my guide for all-purpose flour substitutes to explore other flours, like whole wheat flour. While I do not recommend many of these for chocolate chip cookies since they will change the flavor and texture, you can always explore them for your personal preference.
Can You Use Gluten-Free Flour?
There is no need to miss out on a delicious chocolate chip cookie just because you can't eat gluten. However, while you can use gluten-free flour for making chocolate chip cookies, it is typically not an exact ratio exchange. Therefore, I recommend finding a recipe that was written to be made with an alternative flour.
If you love almond flour, try out my almond flour chocolate chip cookies.
Sugar: White and Brown
The classic chocolate chip recipe calls for both white sugar and brown sugar, but why? White sugar is an essential ingredient for adding sweetness to the cookie. However, while white granulated sugar is sweet it does not have the rich flavor that brown sugar has.
Brown sugar is made by mixing granulated white sugar with molasses. The result is richly flavored brown sugar that has a warm caramel flavor (and color). This adds a richer flavor to chocolate chip cookies.
Do you have to use both types of Sugar?
While a blend of white and brown sugar will give you a nice balanced flavor most associated with chocolate chip cookies, it is not a requirement to use both. Therefore, whether you run out of one type of sugar or simply prefer one over the other, you can use only white sugar or only brown sugar.
However, the use of only one type of sugar will change the taste and texture of your recipe.
Using 100% white sugar will make a less flavorful cookie. It will still be sweet but will not have the caramel undertones found with brown sugar. In addition, all white sugar will spread more quickly when baked. Therefore, your cookies will be flatter and crispier.
If you want to try a chocolate chip cookie that is specifically formulated for only white sugar, I have a great recipe for it.
On the other hand, using 100% brown sugar will create a cookie that is more cake-like. This is a result of the molasses in the brown sugar that keeps the sugar from spreading so quickly. Therefore, the cookies are thicker and more cake-like. In addition, they will be a darker caramel brown color and have a bolder flavor.
Can You Use Other Sweeteners?
Beyond brown and white sugar, there are several other types of sweeteners. From honey to sugar-free alternatives like stevia, you have dozens to choose from.
While you can use something other than sugar to make chocolate chip cookies, each substitute will create a different texture and taste for your cookies. Therefore, it may take you several practice runs to find the right ratio and alternative sweetener.
Whether you need a sugar alternative for health reasons or personal preference, use my brown sugar substitute guide to help you get started.
Butter
Butter or shortening? Which is better? Just like the other ingredient choices, it depends on your preference. In the original recipe, butter is used as the main source of fat. However, many cookie recipes substitute shortening.
To help you decide which fat choice is best for your cookies it is important to understand the differences between the two. They are not the same!
The Difference Between Butter and Shortening
The biggest difference between butter and shortening is that since butter is made from cream, it is a mixture of both fat and water. Butter contains a ratio of about 80% fat and 20% water. However, shortening is made from hydrogenated oil. Therefore, it is 100% fat.
The water in the butter is what creates a soft and chewy cookie. However, it is also part of what impacts the melting point. Butter has a lower melting point than shortening. Therefore, your cookies will spread more quickly, and the result will be a flatter, yet chewier, cookie.
In contrast, shortening has a higher melting point. Therefore, it will not melt as quickly, and your cookies will maintain a rounder shape. They will have a thicker and more cake like texture, rather than a chewy one.
One other thing to consider is the taste. Shortening is flavorless and will not impart any richness to your cookie. If you love a rich buttery flavor, you will want to use butter to achieve that result.
Can You Use Oil?
Yes, oil is another option to use as fat. Even though oil is a 100% fat-like shortening, its liquid consistency allows for the cookies to flatten out more like a butter cookie. This provides a chewy cookie, compared to cookies made with shortening.
Since using all oil will lose the butter flavor, a great alternative is to mix the oil with butter. Using a 50/50 blend gives you a higher melting point with a lovely buttery flavor. This can also be done with shortening.
Eggs
The primary purpose of eggs in baking is to bind your ingredients. Therefore, they are essential to making a cookie. However, there are variations of how many eggs or egg alternatives you can use.
A standard number of eggs is two for a batch of chocolate chip cookies. Two eggs are the perfect amount for binding the standard ingredients while helping to maintain the desired texture. However, if you modify any of the other ingredients you may need to modify the number of eggs.
For example, if you use a denser or more absorbent flour your dough may be too dry. Therefore, you may need to add an extra egg to create the right amount of moisture. On the other hand, if you notice your dough is already quite moist after adding only one egg then you may want to stick with just the one. This may happen if you are using larger eggs.
Egg Alternatives
Just like with gluten, you may have a health preference where you do not want to eat eggs. In this case, you can use an egg substitute. There are vegan-friendly choices that can be used for making cookies. Simply follow the ratio suggested for replacing the number of eggs the recipe calls for.
While most egg substitutes will not shift the recipe too much, they may impact the taste and texture slightly.
Vanilla Extract
The small amount of vanilla extract may have you wondering if it is necessary. Although it is only a small amount, the answer is yes. Vanilla extract is what helps balance all the flavors. Therefore, even though it is just a hint of warm vanilla, it does add to the perfect flavor of a chocolate chip cookie.
Can You Use Imitation Vanilla Extract?
Even though vanilla extract is one of the most used ingredients in baking, it is also one that many times is not on hand. Moreover, it is also one of the more expensive ingredients.
Therefore, you may wonder what you can use for a vanilla extract substitute. There are several choices and yes, one of them is imitation vanilla extract. However, this would be the last resort option.
Imitation vanilla loses some of its flavors when it heats up. Therefore, much of the flavor will bake out. To maintain the rich vanilla flavor through baking, use 2-3x more than the recipe calls for. However, be mindful that the "fake' flavor could impact the overall taste of your cookies as well.
While vanilla extract does improve the overall flavor of your cookies, if your only choice is imitation vanilla, you may consider opting for no extract.
Chocolate Chips
Now that you have decided on the base of your cookie it is time to choose the chocolate chips. There is no right or wrong way to chip your cookie. You guessed it, it comes down to preference.
The original recipe suggests semi-sweet chocolate chips. These are a standard go-to choice for any recipe. Less sweet than milk chocolate chips, these create a perfect balance of melted chocolate and sweet cookie.
While this is a standard, many people do not like semi-sweet chocolate chips. Therefore, milk chocolate chips are a suitable alternative. When using milk chocolate chips, you will get an extra sweet cookie. This is a result of the extra sugar that makes milk chocolate so delicious.
Other Chocolate Chip Options
In addition to these two standards, you can also use white chocolate chips. You can even use butterscotch chips.
The wonderful thing about different flavored chips is that these are the easiest thing to swap out in a recipe. Therefore, once you have found your perfect cookie base you can easily make a new cookie just by using a different type of chip in a 1:1 ratio.
Regular, Mini, or Jumbo Chocolate Chips?
Beyond the chip flavors, you can also choose from regular chocolate chips, mini chocolate chips, or jumbo chocolate chips. Most recipes will be measured for regular chocolate chips. Therefore, depending on how chocolatey you want your cookies you may need to make some adjustments if using minis or jumbos.
If using mini chips, use about ¾ the amount you would for regular-sized chips. However, if you want extra chocolatey cookies, you can use a 1:1 ratio.
Jumbo chips can be used in a 1:1 ratio as they will provide about the same amount of chocolate as regular-sized chips.
Other Additions
A classic chocolate chip cookie is a staple for a reason. It is delicious just as it is. However, just because it is delicious doesn't mean you can't change it up. There are several fun ways to build off a basic chocolate chip cookie.
Three tasty things you can add for a new spin on the classic are nuts, oats, and pumpkin puree.
Nuts
Adding nuts to your chocolate chip cookies is super easy. It does not require any changes in the recipe, simply add your nuts after you add the chocolate chips. The suggested ratio is to use half the amount of nuts as chocolate chips (2 cups of chocolate chips = 1 cup of nuts).
While you can use any nut you prefer, walnuts and pecans are two classics that pair well with chocolate chips. However, be mindful to not use nuts if you are sharing with anyone who may have a potential allergy.
Oats
While oatmeal raisin cookies sometimes get lumped into the less favorable cookies, an oatmeal chocolate chip cookie is delicious! It adds texture, flavor, and fiber!
Oatmeal is quite absorbent and can quickly dry out your dough. Therefore, rather than just adding oatmeal to your regular chocolate chip cookies, look for an oatmeal chocolate chip cookie recipe (or try my oatmeal chocolate chip cookies with banana)!
Pumpkin
If you have not had pumpkin chocolate chip cookies, then you are missing out! While we love these any time of year, they are definitely a fall favorite.
Like oatmeal, just adding pumpkin to a recipe will not work. Therefore, look for a pumpkin chocolate chip cookie recipe to ensure you get the right ratio of ingredients.
How to Bake Chocolate Chip Cookies
The classic choice for baking chocolate chip cookies is to bake them at 375°F (190°C) for between 9 to 11 minutes. However, this standard may vary depending on several factors.
One factor is where you live. If you live at a high altitude, then this can impact your baking temperature and time. In addition, the type of oven and how old (or new) it is can impact the baking temperature and time as well.
If you bake regularly, you may already know how to adjust for things like altitude and different ovens. However, if you are not sure if either of these are factors for you, take your time when starting with your cookies. Follow the general guidelines but keep an eye on your cookies as they bake.
Rather than opening the oven door, which can result in cookies falling and become flat, use your oven light to periodically peek at the cookies. If it looks like they are cooking too fast, then open the door about halfway through to check.
On the other hand, if you open the oven door at the end of the suggested time and they are still super gooey they will need more time. Take notes so you know how to adjust your cooking time in the future.
Other Factors That Can Affect Baking Time
In addition to the common factors listed above, another factor that can impact the time is the size of your cookies. For example, if you want to make mini cookies then you will need to cook them for less time. In addition, if you want to make jumbo cookies, they may need longer to bake.
Regardless of whether you are sticking to the standard or exploring smaller or larger cookies, there is one baking rule that will help you get the best cookie every time. Take the cookies out when they are still slightly soft in the center. Then, let them rest on the baking sheet outside of the oven.
Once removed, they will continue to bake from the heat inside the cookie. Therefore, you will end up with a wonderfully soft and chewy cookie.
The only time to dismiss this advice is if you prefer a crunchy cookie. In that case, let them cook until fully golden brown and crisp on the edges. You will get cookies with a crunchier outside and a slightly soft center.
How to Make the Perfect Chocolate Chip Cookie
When it comes to making perfect chocolate chip cookies, there is a reason the original Nestle recipe has stayed around for so long. It has all the things that make a good cookie. However, as you can see from the suggestions above, it is not the only way to make a good cookie.
To make your best cookie you may need to explore the variations suggested above. Moreover, you may want to explore other cookie recipes until you find the one you love!
🍪 Cookie Recipes To Try
📋 Recipe
Print Recipe
Leave A Comment
Love This Recipe?
Click On A Star To Rate It!
Ultimate Guide To Chocolate Chip Cookies: Small Batch Chocolate Chip Cookies (+Tips, Tricks, & More!)
My Ultimate Guide To Chocolate Chip Cookies has all the tips, tricks, and recipes you need to make the most delicious cookies! This guide breaks down each ingredient, substitutions, and the baking process so you can get it just right. Just follow these suggestions and your homemade cookies will be the best you've ever had!
Pin Recipe
Share on Facebook
Ingredients
¼

cup

butter

(salted, ½ stick - melted, cooled)

⅓

cup

light brown sugar

(packed)

2

tablespoon

sugar

¼

teaspoon

baking soda

⅛

teaspoon

salt

½

teaspoon

vanilla extract

1

large

egg yolk

(at room temperature)

⅔

cup

all-purpose flour

(spoon & leveled or weighed, 80 grams)

½

cup

milk chocolate chips

(semi-sweet chocolate chips, dark chocolate chips, or chocolate chunks)
Instructions
Preheat oven to 350°F (175°C) and line a baking sheet with parchment paper or a silicone baking mat.

In a medium mixing bowl mix together the melted and cooled butter, sugar, brown sugar, vanilla extract, baking soda and salt until smooth and creamy.

¼ cup butter,

⅓ cup light brown sugar,

2 tablespoon sugar,

¼ teaspoon baking soda,

⅛ teaspoon salt,

½ teaspoon vanilla extract

Add the egg yolk and mix until the dough is smooth again. Stir in the flour until all of the flour is incorporated, then fold in the milk chocolate, semi-sweet chocolate chips, or dark chocolate chips.

1 large egg yolk,

⅔ cup all-purpose flour,

½ cup milk chocolate chips

Portion out the cookie dough by using a rounded tablespoon portion (or a cookie scoop) and place onto the prepared baking sheet. Leave about 2 inches of spacing between each cookie.

Bake the cookies for 9-11 minutes, or until the edges are beginning to turn golden brown. Remove from the oven and allow cookies to set on your baking sheet for 2-3 minutes before transferring to a wire cooling rack to cool completely.
Equipment You May Need
Notes
Your chocolate chip cookies can be stored in an air-tight container at room temperature for up to 3-4 days.
Chill or freeze portioned cookie dough for best results.
Nutrition
Calories:
266
kcal
(13%)
|
Carbohydrates:
37
g
(12%)
|
Protein:
3
g
(6%)
|
Fat:
12
g
(18%)
|
Saturated Fat:
7
g
(44%)
|
Polyunsaturated Fat:
1
g
|
Monounsaturated Fat:
2
g
|
Trans Fat:
1
g
|
Cholesterol:
53
mg
(18%)
|
Sodium:
177
mg
(8%)
|
Potassium:
37
mg
(1%)
|
Fiber:
1
g
(4%)
|
Sugar:
25
g
(28%)
|
Vitamin A:
311
IU
(6%)
|
Vitamin C:
1
mg
(1%)
|
Calcium:
36
mg
(4%)
|
Iron:
1
mg
(6%)
chocolate chip cookie, cookie recipe, easy desserts, milk chocolate chips, perfect chocolate chip cookies, perfect soft batch chocolate chip cookies, semi-sweet chocolate chips, small batch, Small Batch Chocolate Chip Cookies, Ultimate Guide To Chocolate Chip Cookies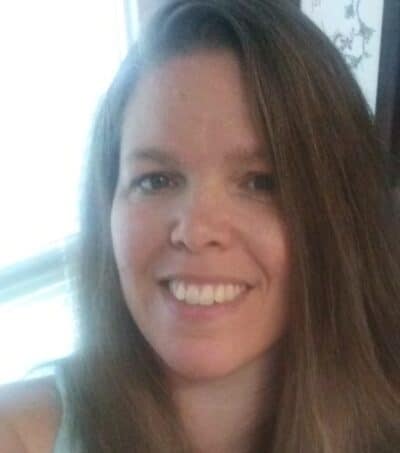 Angela is an at home chef that developed a passion for all things cooking and baking at a young age in her Grandma's kitchen. After many years in the food service industry, she now enjoys sharing all of her family favorite recipes and creating tasty dinner and amazing dessert recipes here at Bake It With Love!