Learn what to serve with ribeye steak to make a delicious and satisfying steak dinner, whether it be for a special occasion or just because! These sides include salad, bread, potatoes, and even a cauliflower mac and cheese! No matter what your favorite sides are, there is something here to turn that ribeye steak into an extra special meal!
Best Side Dishes For Ribeye Steak
Ribeye steaks are juicy and flavorful, cooked to perfection with a golden-brown crust! Of course, they are delicious just as they are! However, adding on a perfectly-paired side dish will make it even better!
I put together this list of what to serve with ribeye steak to showcase my favorite side dishes for your special steak dinner! Any of these dishes are going to be a delicious addition to your ribeye steak!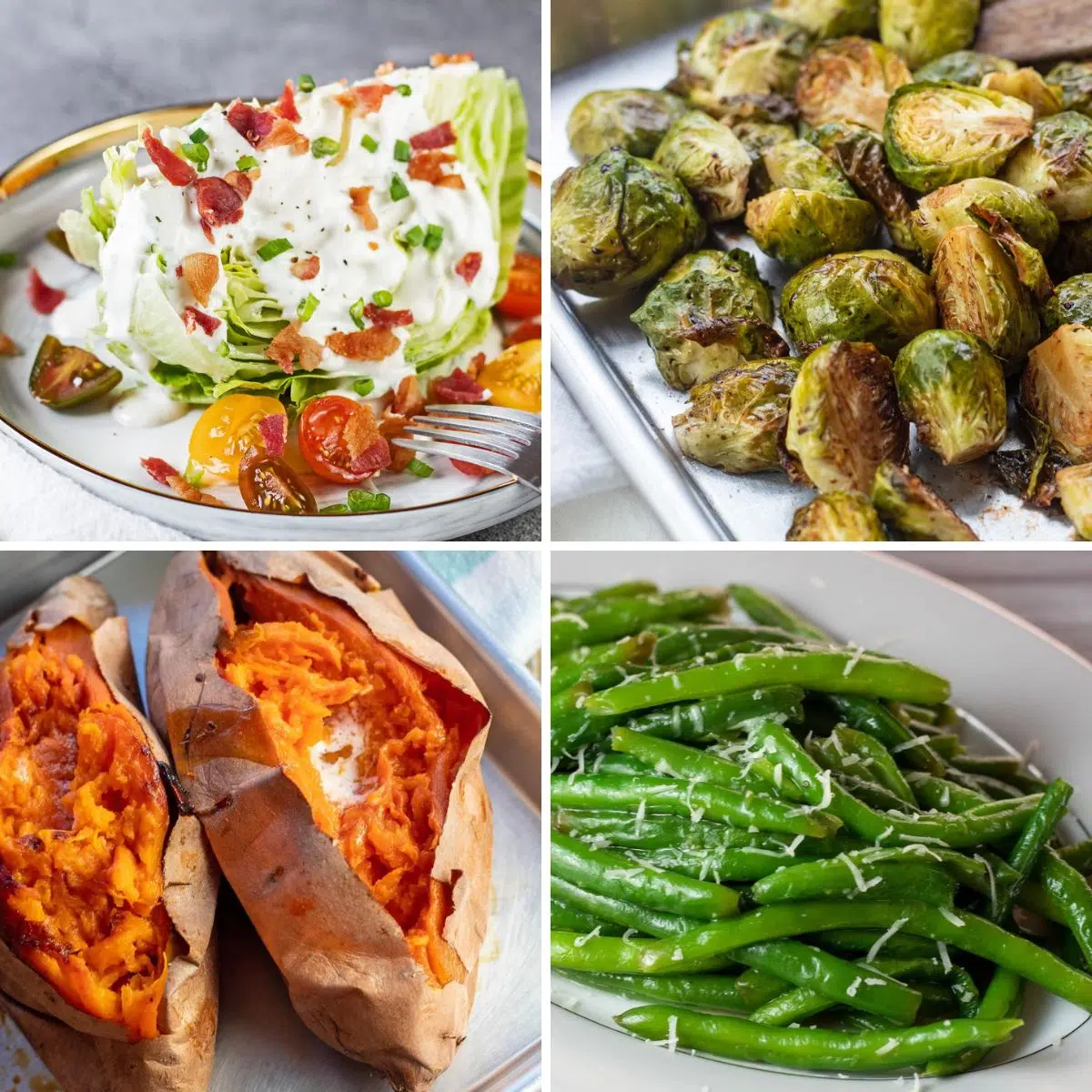 Jump to:
1. Onion Rolls
These onion rolls would make the perfect appetizer or even a side dish for your juicy ribeye! They are topped with sweet, caramelized onions that add some extra flavor to the fluffy rolls!
Additionally, the dough does not require any kneading, so they're absolutely the easiest dinner rolls to make!
2. Wedge Salad
Whether you enjoy this as a side or use it to make a full, multi-course meal, you can't go wrong with this classic wedge salad! Traditionally, this recipe uses bacon, cherry tomatoes, blue cheese crumbles, and blue cheese dressing, but you can dress it up or down any way you like!
3. Crispy Roasted Red Potatoes
Everyone knows that steak and potatoes are a match made in heaven! These roasted potatoes are simple to make, yet completely delicious! They have a crispy outside and are soft and fluffy on the inside!
Potatoes are a traditional side dish for steaks, or beef in general, and these roasted potatoes are certainly the perfect side for ribeyes!
4. Baked Bacon Wrapped Asparagus
This tasty side dish combines fresh asparagus and savory, crispy bacon! It's the best of both worlds! If you're not a fan of typical vegetable sides, you need to give this dish a try!
The salty bacon adds a savory and meaty flavor to the asparagus that can't be beaten! Of course, this dish only uses a few ingredients and is a snap to make!
5. Sauteed Mushrooms and Onions
Look no further for what to serve with ribeye steak! Of course, you could serve these tender, satisfying mushrooms and onions as a side dish; or, you could use them as a topper for your perfectly cooked ribeye!
The sweet-yet-savory flavors of the mushrooms complement any steak beautifully!
6. Sauteed Green Beans
This side dish is as easy as it gets and makes some perfectly cooked green beans that everyone will love! The garlic and onion flavors make this veggie side better than your average green beans.
If you want to take the flavor even further, sprinkle some Parmesan cheese on top!
7. Smoked Corn On The Cob
Ribeye steak and this corn on the cob are a mouthwatering combination that is a total crowd-pleaser! The sweet corn mixed with the smoky flavors makes this corn on the cob something extra special!
After the corn is done smoking, slather on some delicious melted butter and seasonings for the best corn side dish!
8. Roasted Peppers and Onions
My sweet and tender roasted peppers and onions can be eaten as a side dish or used as a perfect topper for your ribeye! Adding these to your steak dish will take it to a whole nother level!
You most likely already have the ingredients handy, so you won't need to make an extra trip to the store! It's a win-win!
9. Creamed Corn Cornbread
This recipe for creamed corn cornbread will make you want to throw the boxed mix out, it's that good! Honey, butter, and sweet corn all come together to make this perfectly cooked cornbread!
You can choose to eat it as an appetizer or serve it as a side to your delicious ribeye steak!
10. Sauteed Broccolini
Now is the time to try out some broccolini if you haven't already! This fresh and light veggie side dish is sprinkled with Parmesan cheese to add a perfectly rich, finishing flavor!
Luckily, broccolini cooks in a snap, so this could easily be a last-minute side dish!
11. Garlic Red Skin Mashed Potatoes
Mashed potatoes are the ultimate, classic steak side dish! Nothing pairs better with a beautifully cooked ribeye steak than these buttery, creamy mashed potatoes!
The red skin potatoes create the perfect texture of smooth-yet-lumpy, and the cream cheese makes it extra rich and creamy!
12. Air Fryer French Fries
Whether you're wanting to keep it a bit more casual, or you happen to be on a time crunch, these air fryer French fries are a perfect side dish for your ribeye!
Everyone loves French fries, and these are cooked to pure, crispy perfection! Not to mention, using the air fryer makes this practically effortless!
13. Skillet Brown Sugar Glazed Carrots
If you're wanting to use a vegetable side dish that is extra special and tasty- try out these skillet brown sugar glazed carrots. They are caramelized in the brown sugar glaze and the garlic adds a savory element!
Cooked to perfection in less than 20 minutes, these carrots are exactly what you need to serve with ribeye steak!
14. Cauliflower Mac and Cheese
This cauliflower mac and cheese is a veggie-based alternative to its traditional pasta counterpart. Don't worry- this mac and cheese is still creamy, cheesy, and delightfully rich!
This dish is nutrient-rich as it has multiple kinds of veggies, yet it's still hearty and satisfying! It's kid-friendly and, as an added bonus, is low-carb!
15. Balsamic Roasted Brussel Sprouts
The tangy balsamic vinegar and sweet honey make this unique brussel sprout side dish extra tasty! These crispy veggies are also quick and easy to make! As a bonus, this delicious side dish is as healthy as it is flavorful!
16. White Cheddar Mac and Cheese
If you want an extra cheesy side- this one is for you! My white cheddar mac and cheese is creamy, savory, and everything you could ever hope for from a macaroni and cheese side!
This classic dish is a family-favorite, comforting side that is sure to be a win with your ribeye steak!
17. Baked Sweet Potatoes
Using sweet potatoes gives you the option of choosing whether you want a savory or sweet side; it's incredibly versatile! These baked sweet potatoes turn tender and fluffy in the oven and can be topped with so many different things!
If you are short on time, these yummy potatoes can be made in advance and frozen for later!
I hope these recipes gave you some delicious side dish ideas for what to serve with ribeye steak! Leave a comment down below and let me know which dish you want to try first!
📖 Recipe Card