Discover what to serve with Swedish meatballs so you can pair this meaty main dish covered in creamy gravy sauce with the perfect sides! This list has something for everyone - so no matter who you're cooking for, there's bound to be a recipe that will compliment your meal perfectly!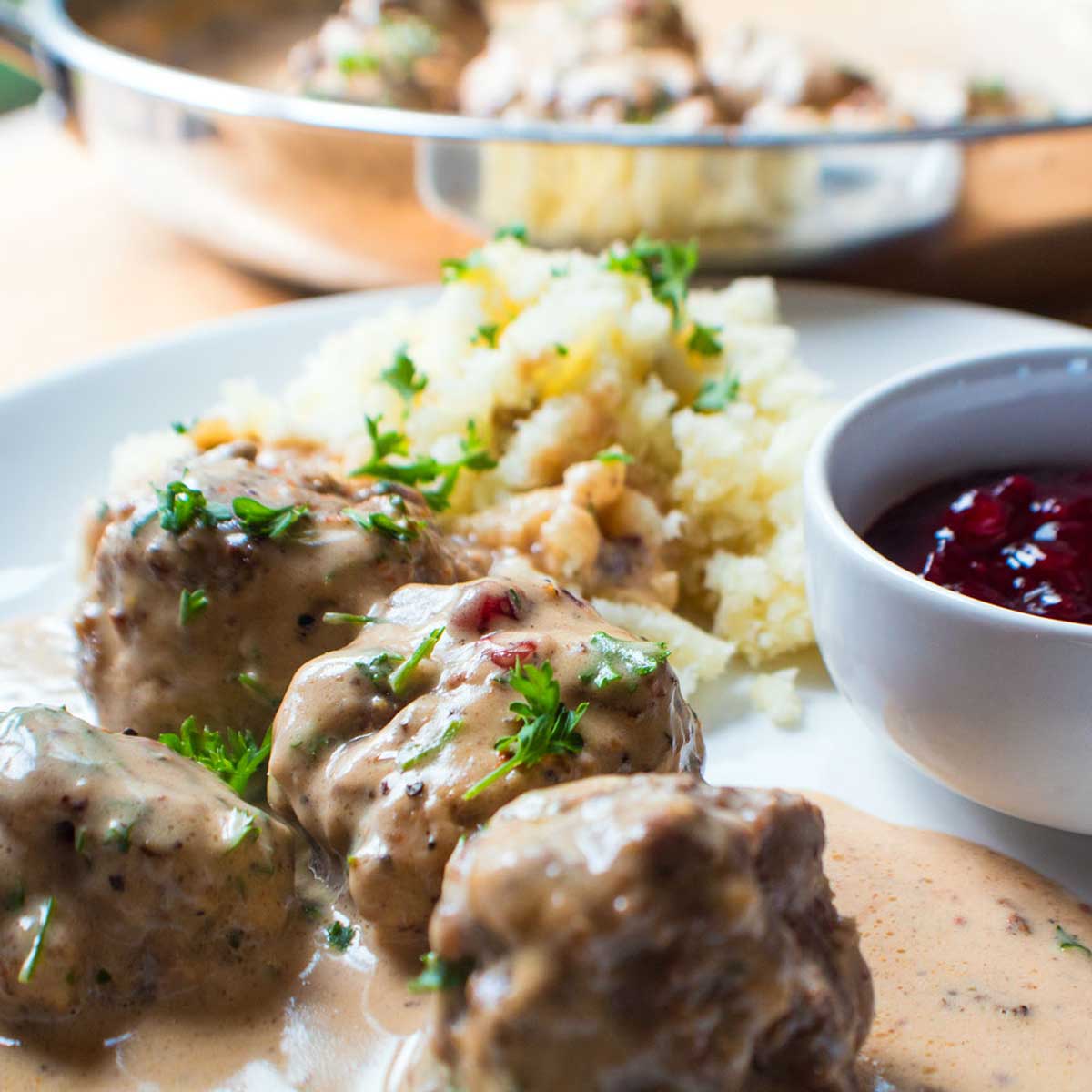 All the best dishes to compliment your Swedish meatballs with delicious gravy sauce!
These meatballs are a crowd favorite for all ages and never fail to please. However, the flavors of the ingredients can be enhanced even further by serving them with other mouthwatering dishes.
In case you're wondering what other dishes you could serve with Swedish meatballs, this list should provide you with some ideas. This collection of recipes includes dishes that are simple to prepare, popular with the crowd, and full of delicious flavors.
Jump to:
1. Buttered Noodles
Buttered noodles are such a simple but delightful dish that comes together quickly and is extremely versatile. These noodles go well with any type of protein, including seafood, vegetables, pork, and beef.
Because they complement each other so well, Swedish meatballs are frequently served with buttered noodles. If you want an easy but hearty dish, then try these two together, and you won't be disappointed.
2. Basmati Rice
Basmati rice is exceptionally light, fluffy, and tender. In addition, this rice is so filling. If you've never had Basmati rice with Swedish meatballs, you're seriously missing out.
These two dishes complement each other perfectly because Basmati rice has a simple and light flavor, whereas Swedish meatballs are flavorful and complex. This combination is unquestionably delicious!
3. Roasted Broccoli With Garlic and Parmesan
While there are countless ways to prepare broccoli, roasting it with garlic and Parmesan is one of the best. We love that this dish is flavorful, easy to make, and most importantly, nutritious!
Broccoli is widely available all year, so this is a great side dish for your Swedish meatballs no matter the season!
4. Roasted Garlic Mashed Potatoes
Roasted garlic mashed potatoes are a flavorful variation of traditional mashed potatoes. This dish is just as simple to make as traditional mashed potatoes but with a few additional ingredients to make it more flavorful.
If you want to switch up your mashed potato game, try this dish, which goes well with Swedish meatballs.
5. Lemon Asparagus Orzo
The tangy lemon asparagus orzo is a great match for Swedish meatballs because it balances out the flavors. This dish can be made in a matter of minutes using only a few simple and inexpensive ingredients.
We can't get enough of this delicious pasta side, because the flavors of lemon, asparagus, and orzo are just so irresistible!
6. Vermicelli Rice
Toasted vermicelli pasta and long-grain Basmati rice come together in this mouthwatering side dish. This flavorful rice and pasta combo packs a powerful flavor punch despite the simplicity of its preparation.
Vermicelli is so easy to make, and it has a rich depth of flavor perfect for switching it up from traditional white rice.
7. Apple Cider Cranberry Sauce
Apple cider cranberry sauce is a delicious combination of spiced apples, sweet sparkling apple cider, and tart cranberries. It's a holiday favorite because it's so simple to make.
However, you don't have to wait until the holidays to enjoy this dish. Serve with Swedish meatballs for a delightful and mouthwatering meal any time of year.
8. Boiled Potatoes
Boiled potatoes don't require a lot of ingredients or a complicated cooking process to be scrumptious. When you try this dish, you'll wonder why you've been putting so much effort into potatoes!
This dish will quickly become a favorite because it is both tasty and simple to prepare.
9. Crockpot Cabbage
If you're looking for an easy-to-make side dish, look no further than the Crockpot Cabbage, which features a combination of crispy bacon and tender cabbage, onions, garlic, and broth. It's so simple to make this comfort food in advance and store it in the refrigerator.
Then, when you're ready to serve it, simply reheat it in the oven. Finally, cook up a batch of Swedish meatballs to go along with it for a flavorful dinner.
10. Braised Red Cabbage
This stunning dish is almost too beautiful to eat. Red cabbage is perfectly seasoned and cooked tender, and it pairs well with just about anything.
It is so bold and eye-catching that it will undoubtedly impress your guests. The best part is that it is absolutely delish!
11. Sauteed Green Beans
It's hard to believe how simple and straightforward the preparation of sauteed green beans is. The green beans are sauteed until crisp-tender, the perfect contrast to juicy meatballs.
Even though the ingredients are inexpensive, the green beans look so beautiful and elegant.
12. Microwave Cauliflower
Microwaved cauliflower is the simplest of all possible side dishes. When you want something quick and easy but still delicious, microwaved cauliflower with Swedish meatballs is a great option.
Using this method is the quickest and easiest way to cook cauliflower, and the dish always comes out perfectly tender and delicious.
13. Creamed Spinach
Creamed spinach is a terrific accompaniment for steak, but it also goes well with fish, poultry, and meats such as Swedish meatballs. This creamy dish is so delicious that you'll want to keep coming back for more.
Creamed spinach comes together quickly and is the best way to use up any extra spinach you have to keep it from going bad.
14. Cheese Rolls
It's easy to whip up a batch of these delicious cheese rolls, and they are always a hit with people of all ages. So if you're looking for a side dish that the whole family can enjoy, this is the one!
These cheesy rolls will not disappoint bread connoisseurs. Because they're so light, they practically dissolve in your mouth.
15. Cucumber Vinegar Salad
This refreshing cucumber vinegar salad with fresh dill, red onion, and cherry tomatoes is the perfect light side dish or appetizer. Nothing beats this salad for freshness and flavor, which has the perfect balance of tangy and sweet flavors.
Cucumber vinegar salad with dill is a great side dish for any time of the week and goes well with a bunch of other dishes such as Shepherd's pie and Swedish meatballs.
We hope this list has helped you determine what to serve with your Swedish meatballs! As always, feel free to leave a comment and share your thoughts below!
📋 Recipe