With so many different kinds of beef, knowing the proper degrees of beef doneness is essential if you want to stay safe and maximize flavor! Here is everything you need to know about cooking beef to temp following USDA recommendations!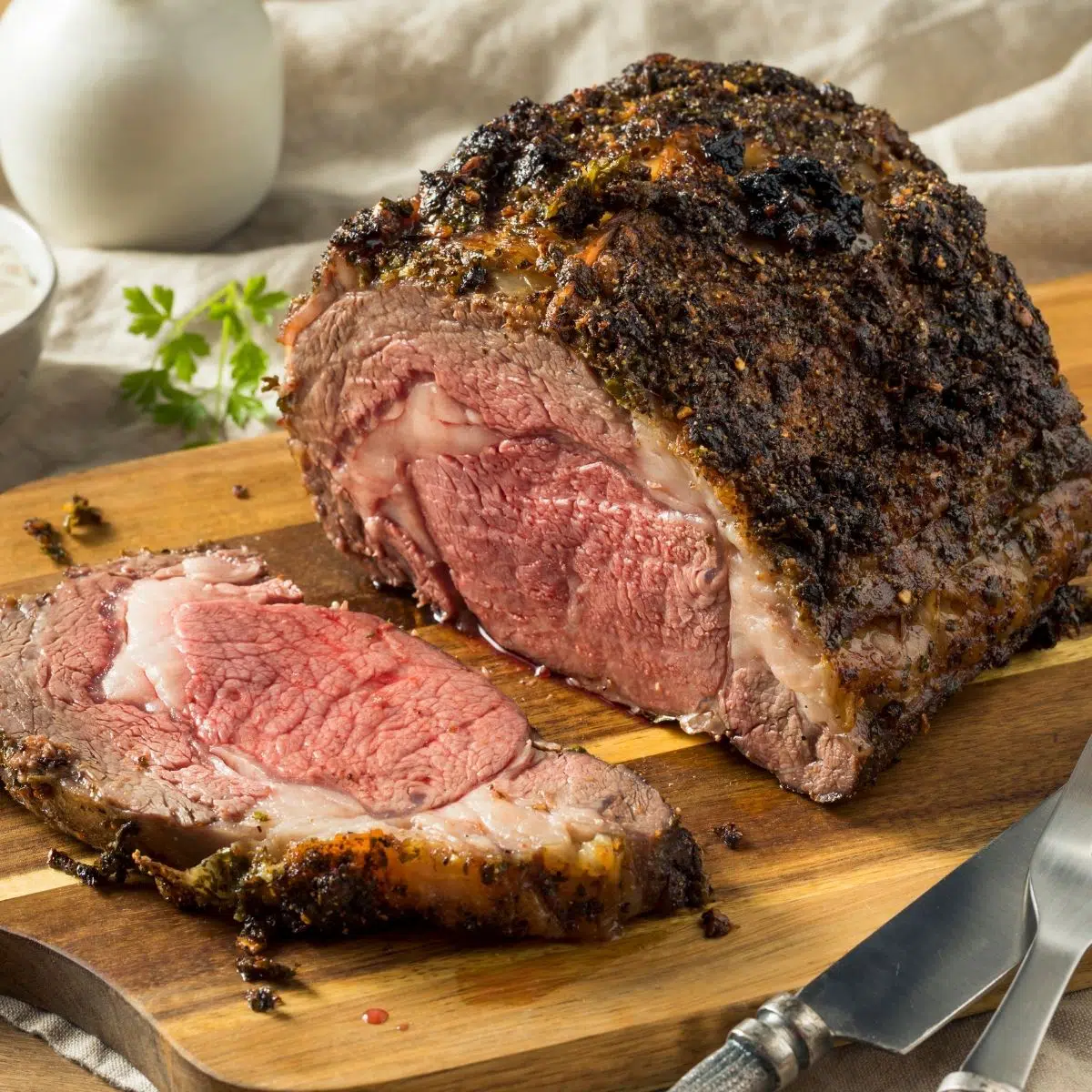 All the safe internal temperatures for steaks, roasts, and ground beef!
Do you remember the old slogan, "Beef, it's what's for dinner!" This famous slogan certainly made a name for beef and declared it a clear favorite to share around the table.
I can't blame them because I love a home-cooked meal with a perfectly cooked steak at the center of a juicy burger with all my favorite toppings. When you take the time to plan a meal around your favorite cut of meat (and to even invest in a prime cut) – then getting it cooked just right is essential.
Jump to:
While cooking a piece of meat just right has a lot to do with taste, it isn't only about taste. The only thing worse than an overcooked steak is an under-cooked one that leaves you feeling not so fond of beef for dinner.
Luckily, the USDA has provided a clear overview of doneness for different cuts of beef. These recommendations will help you find the perfect doneness for everything from steaks to burgers.
In addition, I have offered recommendations for the desired doneness that covers everything from rare to well done.
USDA Recommendations for Beef Doneness
Following the recommendations of the USDA (United States Department of Agriculture) will help keep you safe when consuming meat by preventing food born illnesses.
The recommendations provided are the safe minimum internal temperatures. These are the lowest temperatures that each cut of beef must meet to be considered safe for eating.
These are the temperatures at which any potentially harmful bacteria that has the potential to cause illness is killed. In addition to the minimum temperature measured upon completion of cooking, the USDA also recommends several cuts of meat have a specific rest time. The rest time allows the meat to fully reach the minimum temperature throughout (it also helps enhance the flavor and keep the juices in the cooked meat).
Here is where it gets a little bit tricky. The USDA can't recommend meat be cooked at less than the minimum temperature. Despite these rare or medium-rare levels of doneness being preferred by many.
If you adhere to the USDA recommended temps, the minimum temperature for a steak or roast will be a medium (which will give you a nice pink center). And any burgers or meatloaf or meatballs would be cooked until well done.
While the USDA can't recommend eating meat that is less than the minimum internal temperature, you can still enjoy a rare or medium-rare steak if you would like.
The chart below will make it super simple to find the perfect doneness for any piece of meat, beginning with the USDA recommended minimum.
Minimum Internal Temperatures for Beef
Steak 145°F
Roast 145°F
Ground Beef 160°F (burgers, meatloaf, meatballs, uncooked beef sausage)
Desired Doneness of Beef
The recommended doneness for steak is 145°F. However, some people prefer a steak that is even a bit more done, while others like a steak on the rare side. Use the chart below to find your perfect temperature.
Chart 1: Doneness Levels of Beef
| Doneness | Internal Temperature | Appearance |
| --- | --- | --- |
| Rare | 120-125°F/49-52°C | Bright red center, lukewarm. |
| Medium Rare | 130-135°F/54-57°C | Bright red center, pink edges, warm. |
| Medium | 135-145°F/57-63°C | Pink and warm throughout. |
| Medium Well Done | 145-155°F/63-68°C | Slightly pink center and warm throughout. |
| Well Done | 155-165°F/68-74°C | Very little to no pink. |
Can you eat rare or medium-rare beef?
According to the USDA, you should only eat beef that has been cooked to the minimal internal temperature. However, there is some debate around the topic. Especially when it comes to enjoying a rare or medium-rare steak.
This is simply because there is a risk of not all bacteria being killed unless it reaches the minimum temperature. There are still ways to enjoy a steak that is redder, rather than pink though.
Choosing a high-quality cut of beef and buying it from a butcher you know (rather than a general piece from the grocery store) are two good places to begin. Doing your research on how to properly prepare a rare or medium-rare steak is also recommended.
You may also consider paying a little bit more to enjoy your steak in a reputable and high-end steak house. Chefs who work primarily with steak have the best knowledge on how to prepare a healthy and safe steak on the rare end.
How to Cook a Steak
Now that you know what the final goal is, you need to decide how to cook your steak. Whether you are a seasoned vet when it comes to cooking the steak or brand new, I have 4 ways to cook the perfect steak that will make any cook feel like an expert.
Broiled
Pan-Seared
Reverse Seared
Grilled
How to Broil a Steak
Broiling a steak is super easy and hands-off. It is also the best way for a beginning cook to achieve a steak that will impress anyone. This method works best with a ribeye that has a lot of marbling (this will help achieve a super juicy steak).
Since you aren't paying to have someone else prepare it in a restaurant, you can pay a little bit more for the cut you really want.
Broiled Ribeye Steak
To achieve the perfect broiled ribeye all you need are 2 ingredients: a ribeye of your choice and your favorite steak seasoning. Once you have those, it is only 5 simple steps to the perfect steak. Check out the steps here: Broiled Ribeye Steak.
How to Pan Sear a Steak
When you think of cooking a steak at home, you may naturally think of pan searing. This is a classic way to get a nice caramelized golden outside with the perfect pink center.
Another great thing about this option is that it is easy to season the steak with fresh ingredients like herbs and garlic. Not to mention, how tasty a pan-seared steak tastes topped with rich creamy butter.
The best way to make a pan-seared steak is to use a cast-iron skillet. This provides the best tool for achieving that golden outside. If you don't have a cast-iron skillet though, you can still cook a beautiful steak with any large skillet you have at home.
I prefer to use this method of cooking for T-bone steaks and really love how decadent these steaks are – perfect for a special occasion. Check out this recipe to get all the details for making your own perfectly pan-seared T-bone steaks.
How to Reverse Sear a Steak
This method takes the low and slow approach to cooking a steak which is perfect for thick cuts of meat. If you love a thick juicy cut of meat, like a cowboy cut ribeye or 2-inch tomahawk steak, then you want to try this method!
Some people are wary of cooking steak in the oven because they think it will toughen it up. Reverse searing does just the opposite!
Since you start the meat out at low heat and cook it slowly over time, it seals in the juices and creates a super tender steak. Then, you flash sear it over high heat to get that golden outside.
This is also a great option for cooking a beautiful roast or prime rib. If you are ready to try out reverse searing, head on over to my tasty recipe for the simple steps to a reverse seared tomahawk steak.
Grilled Ribeye
Grilling your perfectly marbled steaks will result in a much more flavorful steak than leaner cuts. Choose your steak carefully, looking for a cut that is well marbled throughout.
This quick, high heat cooking method is a summertime favorite for us and many others! You can see all of my easy instructions for a grilled cowboy steak here.
Tips for getting the best-cooked steak
Cooking the perfect steak isn't just about the cooking time, it is about what happens before cooking and immediately after. Follow these tips to add to any cooking method.
Let your steak sit on the counter and come to room temperature for about 30 minutes before cooking.
Let your steak sit and rest for about 10 minutes after you remove it from the heat.
Don't let a perfect piece of meat go to waste just because you get full. Save the leftovers and reheat it to enjoy for a second time.
Roasts (Roast Beef)
The great thing about beef is that there is an option for every occasion. A steak can be used for enjoying a casual dinner at home or as a celebratory meal.
Burgers are great for casual family nights or summer parties. Prime rib is ideal for holiday parties and roast beef is the perfect piece of meat to bring the family together once a week.
Roasts are one of my favorite family dinner meals. Even though they take several hours to cook, they are so easy because once the roast is in the oven (or the crockpot) you just sit back and smell the delicious aromas starting to fill the kitchen.
By the time it is done, the whole family will be more than ready to sit down and eat!
How to Cook Roast Beef
There are a couple of different options when it comes to cooking roast beef. Traditionally, a roast is cooked in the oven. Another great option is to use a slow cooker (like a Crockpot).
Oven Roasting Roast Beef
When cooking a roast in the oven the best method to follow is the same reverse searing method used for thick-cut steaks or prime rib.
You may also sear the roast beef in a skillet over medium-high hear prior to putting it in the oven if you prefer a brown crust on the outside of your roast. Either searing method is completely optional, and the roast will be delicious either way.
This low and slow method allows you to choose the exact desired doneness you would like. If you prefer a medium, to medium-well roast, then this is the best choice.
Oven-roasting roast beef is as simple as seasoning it (you can use a simple blend if salt and pepper, but I highly recommend my pot roast seasoning), and placing it in a roasting pan with a roasting rack.
It is recommended to tie your roast with kitchen twine. It may come that way at purchase, but if not, use some twine tie it in sections every 3 inches or so. This helps keep the meat keep its shape and cook evenly.
The general rule of thumb is to cook a roast for 20 minutes per pound of meat at a temperature of 350°F (175°C). Oven-roasting an eye of round roast allows for more control over your desired internal temperature.
Roast Beef in the Slow Cooker (or Crockpot)
Using a slow cooker is one of my favorite ways because once I season the meat and put it in the Crockpot, I am done.
This method does not allow for as much control on the desired doneness though, as it will cook until it reaches well done. Well done for a pot roast is not a bad thing though.
A well-done pot roast is not dry, but rather super tender beef that just falls off the fork. The easiest and tastiest dish that you can prepare in the morning and forget about until it is time to eat.
If you are ready to try a tasty roast using the slow cooker method, check out my Crockpot Yankee Pot Roast recipe.
Prime Rib
Prime rib is a cut of meat that is commonly used for special occasions. A popular choice for Easter or Mother's Day, you do not want to leave room for any errors when cooking prime rib.
Therefore, make sure that you have taken the time to cook it perfectly and achieved the desired doneness.
How to Cook Prime Rib
The best way to cook a prime rib, to guarantee you get the perfect red or pink center, is to go low and slow. This ensures that it will get cooked evenly throughout. It also helps maintain the juiciness of the meat.
My favorite way to cook prime rib is to follow the same reverse sear method that was mentioned for steaks. It takes about 4 hours to cook, but that is all hands off!
That leaves you with 4 hours to relax or prepare other side dishes to complement the meal. Use this recipe for the best boneless prime rib roast for your next holiday meal.
Ground Beef
Ground beef is probably the beef you use the most frequently. It is the least expensive cut and the most versatile.
How to Cook Ground Beef
Due to the versatility of ground beef, it can be used in a variety of dishes. Some methods of cooking ground beef, such as for a filling in tacos or a casserole, do not require as much attention to checking the internal temperature.
The ground beef in these dishes is broken up and cooks quite quickly throughout. However, when cooking ground beef in dishes like meatloaf where the beef is thicker, it is important to check the internal temperature.
The additional processing that ground beef goes through (compared to a steak or roast) lends itself to the potential for more exposure to bacteria. Therefore, even though the desired doneness of ground beef ranges from rare to well done, the USDA recommends that it reach a higher internal minimal temperature of a 160°F.(Compared to other minimally processed cuts of meat.)
How to Cook Burgers
Burgers can be hit or miss when you eat out, but when you make them at home you are completely in charge. That means you get to choose the seasoning, size of the burger, and all of your favorite burger toppings!
You also get to cook it to the exact doneness you desire. Even though the USDA recommends a well-done burger, most people tend to lead towards medium or medium-well.
As long as you follow best practices for storing and refrigerating the meat before use, as well as checking for expiration dates, then a medium or medium-well burger should be just fine. Always follow your discretion though.
There is nothing quite like grilling a burger in the middle of summer. I love a burger year-round though, and that means finding other ways to enjoy a deliciously juicy burger.
In addition to grilling, a cast-iron skillet or frying pan are great options for cooking a burger year-round. Whether cooking on a grill or the stove-top, a good rule of thumb is to cook your burgers over medium heat. This allows you to control how done they get without overcooking them.
To maintain the juiciness of the burger (and your desired doneness), wait until the burger starts to brown just around the edges and is still pink in the center before flipping it.
One of my favorite burgers is my Western Bacon Burger. This recipe mimics the smoky and tangy barbecue flavor found in the same burger at Hardee's or Carl's Jr.
Give this recipe a try the next time you want an American classic: Western Bacon Cheeseburger (Hardee's or Carl's Jr).
Cooking Frozen Hamburger Patties
Short on time? Pop some frozen hamburger patties in the oven to feed a crowd! You can see all of my handy instructions for this effortless meal made in the oven.
You can also cook up frozen burgers on the fly using your air fryer too!
How to Cook Meatballs
Meatballs are an overlooked food for how delicious and versatile they are. A traditional appetizer for many parties or potlucks, they are also a tasty addition to a meal or a meal all on their own.
Since meatballs are often a shared food it is one that you want to be especially mindful of the internal temperature. Unlike burgers, you will usually want to cook meatballs until they reach the recommended 160°F.
If you have never made meatballs before (or want a tasty new twist on a classic) my Chinese Beef Meatballs with Hoisin Ginger Sauce are always a hit! These meatballs have all the savory and sweet flavors of traditional meatballs, but with an Asian twist.
Not sure what hoisin sauce is or if you have it on hand? Not to worry, there are plenty of great substitutes you can use for hoisin sauce that you may already have in your kitchen.
And for a quick and easy frozen meatball appetizer, you can try my crockpot grape jelly meatballs!
How to Cook Meatloaf
Meatloaf is a classic for a reason. It is not only super delicious but also so easy to make! My favorite meatloaf recipe is a classic take on this dish and includes ground beef, oatmeal, eggs, and a traditional tangy ketchup topping.
Even if you have a kid who thinks they don't like meatloaf, sneak them a bite of this and see what they think. Like meatballs, meatloaf is best enjoyed when it reaches that recommended 160°F.
Don't worry, if you follow these directions and have enough moisture in your recipe, your meatloaf will still be nice and juicy: Easy Meatloaf (with Oatmeal).
Whether you are cooking a steak or grilling up a burger use the recommendations above to find your perfect desired doneness! This will ensure that you enjoy the very best beef entree for your dinner!
Do you love a recipe you tried? Please leave a 5-star 🌟rating in the recipe card below and/or a review in the comments section further down the page.
Stay in touch with me through social media @ Pinterest, Facebook, Instagram, or Twitter! Subscribe to the newsletter today (no spam, I promise)! Don't forget to tag me when you try one of my recipes!
📖 Recipe Card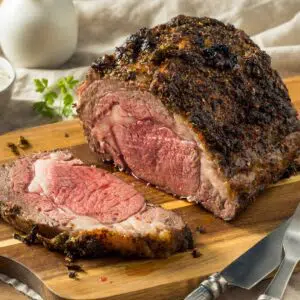 Print Recipe
Leave A Comment
Love This Recipe?
Click On A Star To Rate It!
Guide to Degrees of Beef Doneness: Oven Roasted Eye of Round
Guide to Degrees of Beef Doneness: Oven Roasted Eye of Round
Total Time
1

hour
5

minutes
Pin Recipe
Share on Facebook
Help Us Out!
If you love a recipe, be sure to come back and share your ratings. This helps future users, and allows me to continue sharing free recipes! Angela
Instructions
To begin, preheat your oven to 350°F (175°C). If your roast is not already tied, use kitchen twine and tie it around the roast in 3-inch sections. Then, spread the pot roast seasoning all over the roast, lightly pressing it into the meat.

3 lb eye of round roast,

6 tablespoon Pot Roast Seasoning

Once seasoned, place your roast onto a roasting rack and place it in a roasting pan. If the oven is preheated, place your roast on the center rack of the oven and roast for 60 minutes (20 minutes per pound). For a medium roast, remove the roast from the oven when the internal temperature reaches 140°F (60°C).

Remove the roast from the oven and tent a piece of foil loosely over it. Let the roast rest for 15-20 minutes before slicing and serving.
Equipment You May Need
Notes
To help the roast cook evenly, it's best to set it on the counter to come to room temperature for 30-45 minutes.
Remove the roast from the oven 5 degrees short of your desired temp because it will continue to cook slightly as it is resting (also known as "carryover cooking").
You may sear the roast in a skillet over medium-high heat before cooking, or reverse sear it over medium-high heat once it's done cooking, to get a nice brown crust on the outside. However, it is a personal preference and completely optional.
Nutrition
Calories:
318
kcal
(16%)
|
Protein:
50
g
(100%)
|
Fat:
11
g
(17%)
|
Saturated Fat:
4
g
(25%)
|
Polyunsaturated Fat:
1
g
|
Monounsaturated Fat:
5
g
|
Cholesterol:
141
mg
(47%)
|
Sodium:
127
mg
(6%)
|
Potassium:
773
mg
(22%)
|
Calcium:
43
mg
(4%)
|
Iron:
5
mg
(28%)
leftover roast beef, oven roasted eye of round, roast, slow cooker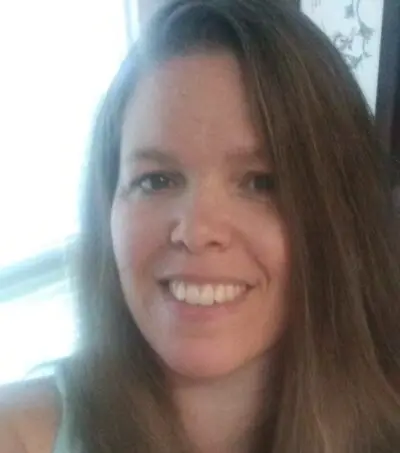 Angela is an at home chef that developed a passion for all things cooking and baking at a young age in her Grandma's kitchen. After many years in the food service industry, she now enjoys sharing all of her family favorite recipes and creating tasty dinner and amazing dessert recipes here at Bake It With Love!