These easy family dinners include everything from classic crockpot recipes to super tasty casseroles that both kids and adults will enjoy! They are made with just a few simple ingredients, so you don't have to waste any time on busy weeknights. Who knows, you might find a few new recipes to add to your rotating weekly favorites!
Easy Family Dinner Recipes To Try
In the hustle and bustle of everyday life, finding time to prepare a delicious meal for the entire family can feel like a daunting task. Luckily, there are plenty of quick and easy options that can help simplify mealtime without compromising on taste!
From one-pot dinners to sheet pan meals and time-saving crockpot creations, these tried, and true recipes are sure to be a hit. Wave goodbye to mealtime stress and hello to easy family dinners from here on out!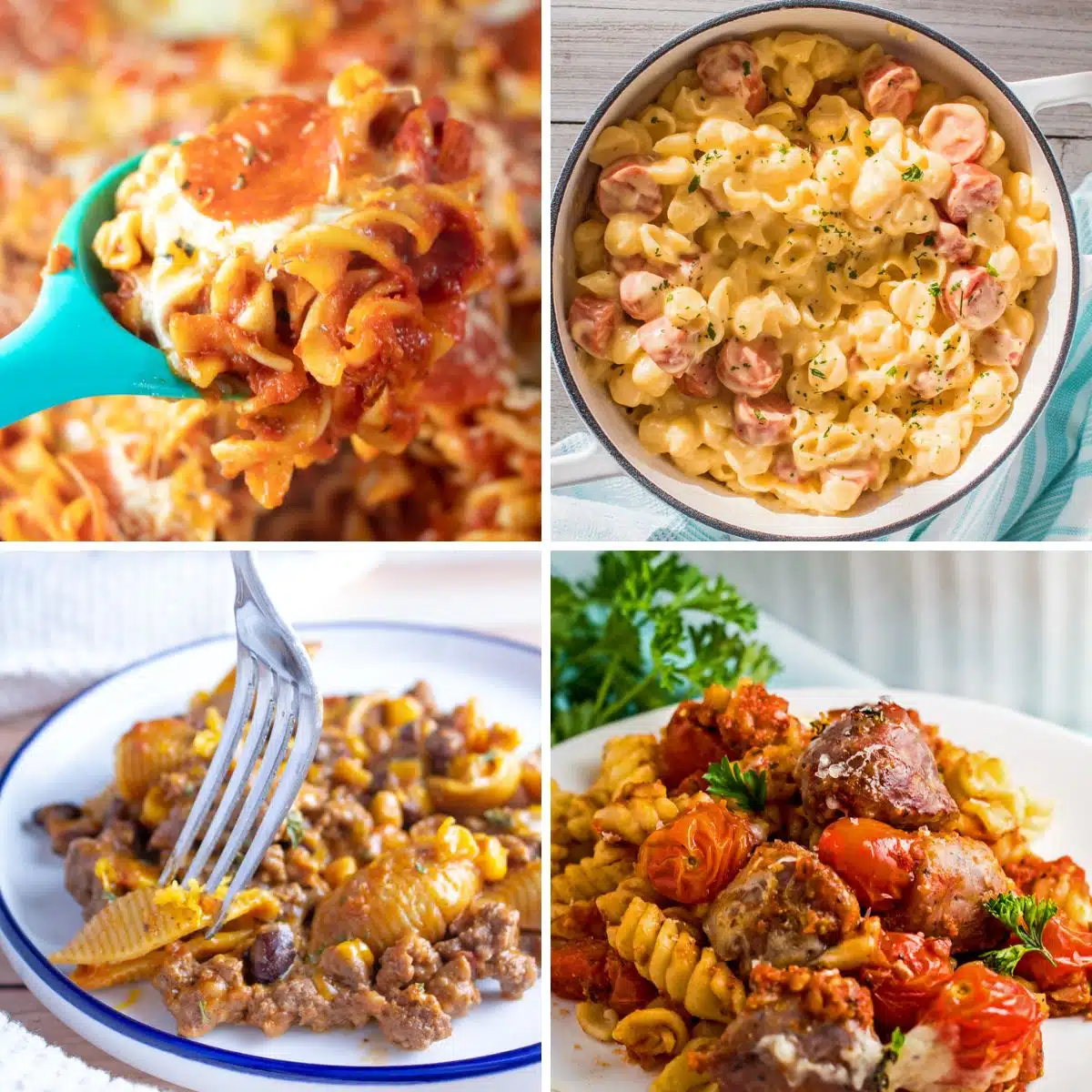 Jump to:
Streamline your weeknight dinners even more by following these useful tips for making easy family meals!
1. Pepperoni Pizza Casserole
With just a handful of ingredients, dinner doesn't get much easier than this pepperoni pizza casserole. It's more of a cheesy pasta bake made with tender egg noodles than a true casserole, but it's delicious nevertheless!
2. Chicken Tater Tot Casserole
This kid-favorite casserole with crispy tater tots, melted cheese, and juicy chicken will have your whole family scrambling to the table. You can even freeze it so you have dinner ready to bake at a moment's notice!
3. Franks and Beans
Enjoy a bowl of nostalgiac comfort food with this 20-minute recipe for franks and beans! All it takes is a handful of ingredients, and you can always add more hot dogs to make it even heartier!
4. Taco Pasta
All the classic taco flavors in a fun and tasty pasta dish! It's made with taco-seasoned ground beef tossed with tender pasta shells and melted cheese in a red salsa sauce. Mix in corn and beans for even more Tex-Mex flavor!
5. Crockpot Chicken Enchilada Casserole
This mouthwatering dish combines the convenience of a slow cooker with the fabulous flavor of enchiladas. Just layer the chicken, tortillas, cheese, enchilada sauce, beans, and black olives in the crockpot and forget it until dinnertime!
6. Italian Sausage Bake
This Italian pasta bake only calls for 4 ingredients: Italian sausage, spaghetti sauce, rotini noodles, and cheese! It's easy, classic, and makes a wonderful family dinner with some quick air fryer garlic bread.
7. Doritos Chicken Casserole
The whole family will enjoy this super cheesy casserole featuring lots of tender chicken and nacho cheese Doritos! You can use rotisserie chicken to make prep time even faster, and it bakes in only 30 minutes.
8. English Muffin Pizzas
If your kids love bagel bites, these English muffin pizzas are going to be a new family favorite! You can keep each mini pizza simple with sauce and cheese or customize them with all of your favorite pizza toppings!
9. Baked Cheeseburgers
Baked cheeseburgers are the perfect solution for when you don't want the mess of cooking them on the stovetop. Grab some burger buns, pop them in the oven for 30 minutes, and add your favorite condiments and toppings!
10. Ground Beef Tacos
Some quick and easy ground beef tacos always go over great on Taco Tuesday (and every other night of the week). The seasoned taco meat comes together in just 15 minutes, then all you need is your preferred shells or tortillas and all the fixings!
11. Creamy Prawn Pasta
If you have a family of seafood lovers, this creamy prawn pasta is a guaranteed hit! It's decadently rich and creamy plenty of juicy shrimp to savor. Best of all, it comes together in about 30 minutes!
>>>>See all of my recipes HERE<<<<
12. Biscuit Chicken Pot Pie
This biscuit chicken pot pie is a convenient twist on a classic recipe. It has all the classic ingredients and flavor of a chicken pot pie but without the hassle of baking it in a pie shell!
13. Sheet Pan Chicken Fajitas
Sheet pan chicken fajitas aren't just easy to prepare, they're nutritious and delicious too! Everything cooks up on one baking sheet, so all you need is the flour tortillas!
14. Slow Cooker Ranch Chicken
Slow cooker ranch chicken is a 5-ingredient cheesy chicken (with plenty of ranch flavor) that you can serve so many different ways. Pair it with rice, pasta, or even serve it between two buns as sandwiches!
15. Million Dollar Chicken Casserole
This chicken casserole tastes like a million bucks but it's actually very budget friendly! It has a crunch Ritz cracker topping that will have you savoring every bite.
16. Baked Spaghetti & Meatballs
You can make my homemade meatballs for this baked spaghetti casserole or use frozen in a pinch! It's also a great way to use leftovers from a big batch of spaghetti earlier in the week.
17. RoTel Chicken Spaghetti
This super creamy and cheesy chicken spaghetti is incredibly simple to throw together. You can use leftover chicken, or snag a cooked rotisserie chicken at the grocery store!
18. Mac and Cheese with Hot Dogs
Sometimes the old-school recipes are the best, and in my experience, you can never go wrong with mac and cheese with hot dogs. It's a kid-favorite recipe that tastes lightyears better than boxed mac and cheese!
19. Corn Soup
Corn soup is savory and subtly sweet with plenty of tender potatoes and juicy corn kernels to enjoy. Try it with a slice of buttered rustic bread and it tastes downright heavenly!
20. Sloppy Joes
Sloppy Joes have been a staple family dinner for generations because they're easy and delicious! This is my go-to sloppy Joe recipe that tastes just like grandma used to make.
21. Hamburger Hashbrown Casserole
This crowd-pleasing casserole combines seasoned ground beef, crispy hash browns, veggies, and lots of cheese, all baked to perfection. You don't even need any side dishes!
22. BLT sandwich
Everyone loves a classic bacon, lettuce, and tomato sandwich. Frying up some crispy bacon is all the cooking you have to do! You could even use microwave bacon or air fryer bacon for a mess-free meal!
23. Tuna Noodle Casserole
This classic dish brings combines tender noodles, flaky canned tuna, and a creamy, cheesy sauce. It's ready in about 30 minutes and always comes with rave reviews from anyone that tries it!
Your weeknight family dinners just got easier! Be sure to come back and let me know which recipes you loved the most by leaving a comment below!
😋 More Dinner Recipe Collections
📋 Recipe