These Monday night dinner ideas include recipes that are super easy to make after a long day at work or school. The last thing we want to do after working hard all day is to slave away in the kitchen. With these family-friendly dinner recipes, you won't have to!
Easy Monday Night Dinner Recipes
If you're like me, the last thing you want to do is stand in the kitchen all night after a busy day. If there's any day of the week to cut some corners at dinnertime, it's Monday!
That's not to say you can't pull off an incredible family meal. You just need some quick, easy, low-maintenance recipes to do it!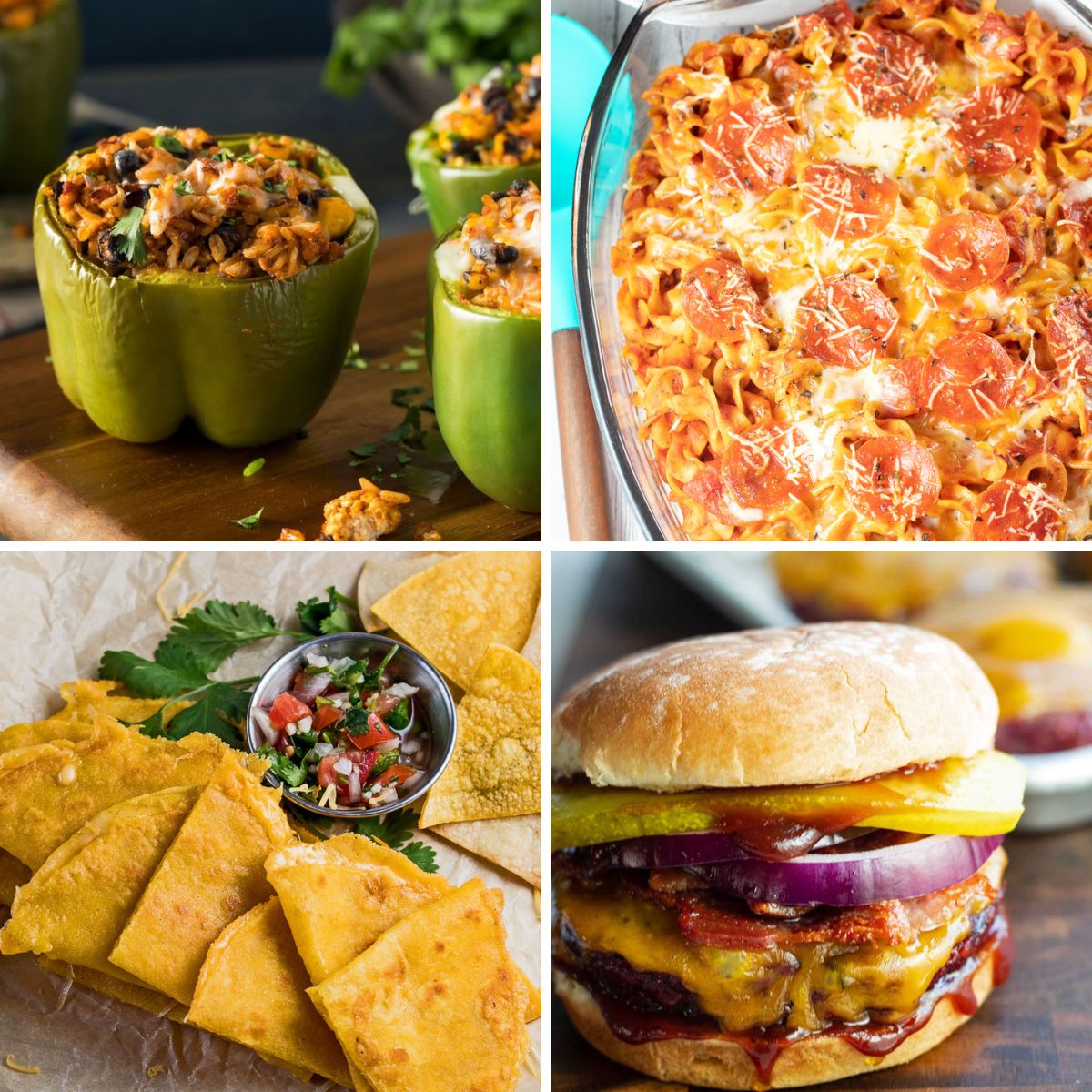 Jump to:
Easy Family Dinner Recipes For After Work
No one wants to spend all night cooking after a long day at work. These family-friendly recipes will help you get dinner on the table without having to slave away in the kitchen.
1. Mexican Torta
I love making carne asada on Sundays and then turning the leftovers into tortas on Mondays. These Mexican sandwiches come together in no time at all and they are so filling!
2. Pepperoni Pizza Casserole
This recipe has all the flavor of a pepperoni pizza in one easy-to-make pasta casserole! Kids love it, but so will you!
3. Air Fryer Pork Loin Chops
Your air fryer can take time-consuming recipes and make them a breeze! Like these pork loin chops.
They are juicy and tender, and only take a fraction of the time that they would if you baked them.
4. Corn Tortilla Quesadillas
These simple quesadillas are always a hit! If someone only likes cheese, while someone else prefers meat, you can easily customize them to keep everybody happy.
5. Hamburger Helper Lasagna
You don't have to resort to boxed dinners just because you are short on time. This recipe tastes like hamburger helper lasagna but 10x better!
It only takes 20 minutes to throw together and everyone will be happy.
6. Creamy Beef and Shells
This 20-minute dinner combines pasta, ground beef, and lots of cheese! It's warm, filling, and loved by both kids and adults.
7. Stuffed Green Peppers
Stuffed green peppers are a healthy dinner option that is easy to make. Make them as mild or as spicy as you like!
They take a little time, but majority of that time is them baking in the oven while you kick back and relax.
8. Frozen Hamburgers in the Oven
There's no shame in using frozen hamburger patties. Especially not when you know how to cook them!
Provide warm buns and tasty condiments and no one will be any wiser.
9. Teriyaki Chicken Stir Fry
Tender, juicy chunks of chicken with lots of veggies and homemade teriyaki sauce will make a long day at work seem like a thing of the past. Serve it over rice, noodles, or whatever you like!
10. Instant Pot Pulled Pork
Mondays are the perfect time to rely on your kitchen appliances. You can make perfectly cooked pulled pork in your Instant pot in no time!
Make sandwiches or mini sliders, serve it on tacos, whatever you like!
11. Chicken Broccoli Rice Casserole
Protein, rice, veggies, this casserole is a whole meal in one dish! It's super cheesy and comforting (it's also so easy to make).
12. Air Fryer Grilled Ham & Cheese
Everyone loves grilled cheese, and now with your air fryer there is no need to use the stovetop! I like to add sliced ham to my grilled cheese to bulk it up a little.
If you have little kids, you can still use this same method to make classic grilled cheese sandwiches.
13. Biscuit Chicken Pot Pie
All the flavor and ingredients of a pot pie, but in casserole form! This is one of my very favorite fall dinners.
It's incredibly simple. Even the made-from-scratch biscuits!
14. Baked Tuna Steaks
Baked tuna steaks are quick, easy, and healthy! You can serve them with any of your favorite sides (I've featured some quick options at the bottom of this page!)
15. Tater Tot Hamburger Casserole
Tator tot hamburger casserole is just as tasty as it sounds! You can use frozen mixed veggies and frozen tater tots, so there is minimal prep time.
Mix it with some seasoning, cooked ground beef, cream of chicken soup, and cheese, then bake!
16. Shrimp Scampi
This classic Italian dish is shockingly easy to make. Pair it with some air fryer garlic bread and you have an easy Italian dinner for the whole family!
17. Crockpot Beef Stew
This hearty stew is meant to be started in the morning so it can be ready by dinner time! Once you've thrown everything in the pot, you just set it and forget it until you get home.
18. Ground Beef Mexican Casserole
This casserole is crunchy, cheesy, and full of flavor! It calls for canned beans, corn, chiles, and tomatoes, so there's minimal prep.
You do have to brown the ground beef, but that's as difficult as it gets! Top it off with your favorite taco toppings for a delicious Mexican-inspired dinner.
19. Nachos Supreme
Nachos are so easy to customize to your family's taste. You can make everyone their own plate or serve a giant pile of nachos for everyone to munch on together!
20. Chicken Spaghetti with Rotel
This classic family dinner is a staple in my house. I love this cheesy chicken spaghetti with juicy bits of tomato, and I love how simple it is to throw together.
21. Tuna Noodle Casserole
Tuna noodle casserole is another old-school classic that many people forget about! The combination of canned tuna, peas, and egg noodles in a cheesy sauce with a crunchy topping always reminds me of my childhood.
😋 Quick & Easy Side Dishes
What are some of your go-to Monday night dinner ideas? Let me know in the comments below so I can give them a try!
📋 Recipe