Wednesday night dinner ideas: a collection of delicious weeknight recipes that are easy to prepare after work! These tasty mid-week meals include family-favorite recipes like meatloaf and enchiladas as well as some quick and easy protein options! If you're trying to decide what to serve for dinner tonight, you've come to the right place!
Best Dinner Recipes For Wednesday Nights
I'm always on the lookout for easy family dinner recipes that make weeknight meals a breeze, and below are a few of my favorites! From classic spaghetti bolognese to my cheesy garlic shrimp alfredo bake, each of these recipes has received two thumbs up from my family and I'm sure yours will love them too!
These recipes are simple to prepare and can quickly be thrown together after a busy day at work and school. Not to mention, they make tasty leftovers for lunch the next day!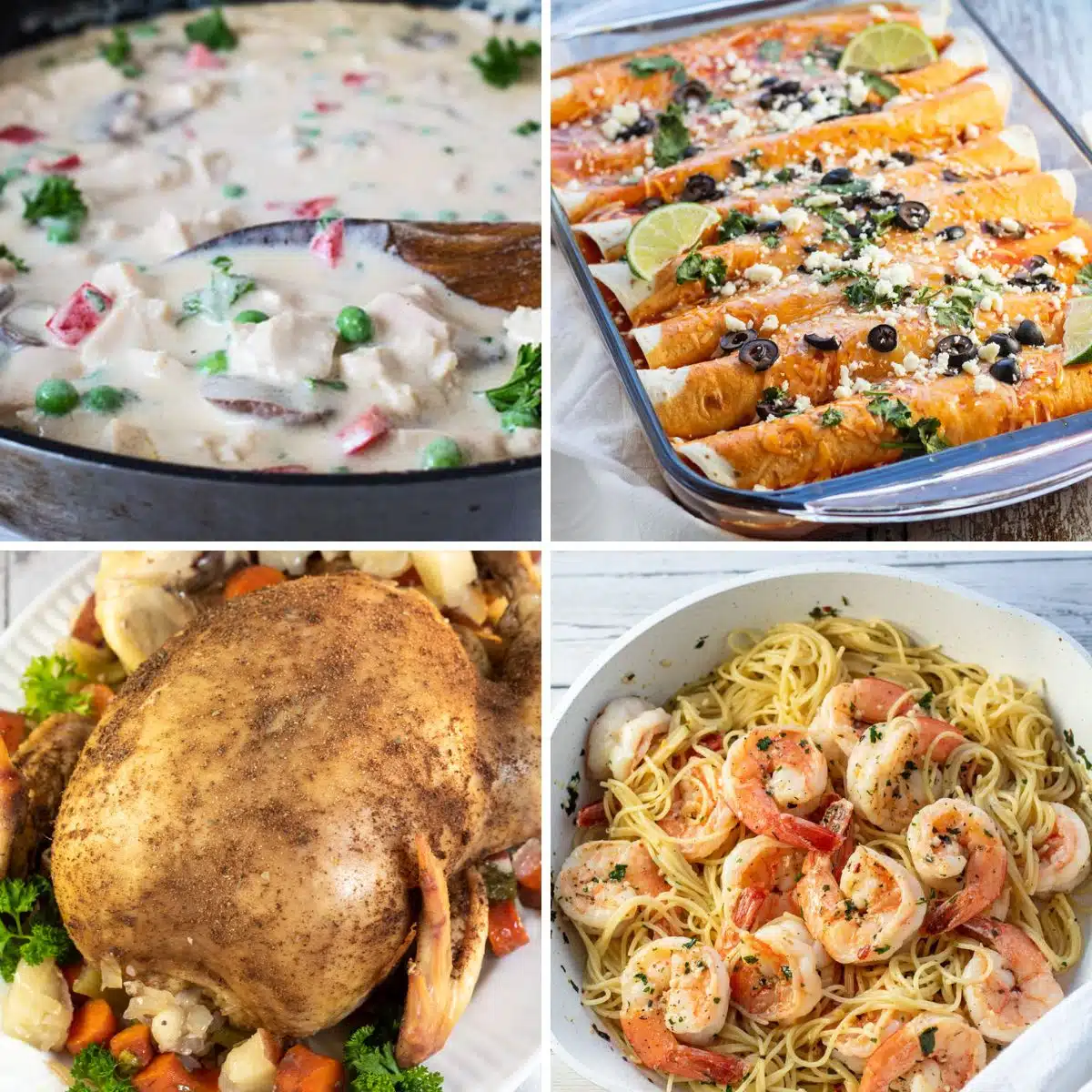 Jump to:
Want More Recipes? Enter your email below and we'll send them straight to your inbox!
1. Chicken a la King
Rich and creamy chicken a la king can be served over mashed potatoes, buttered noodles, biscuits, or white rice! This easy one-skillet dinner can be made even easier by using leftover cooked chicken or rotisserie chicken!
2. Instant Pot Crack Chicken
I love utilizing kitchen tools to make my weeknight dinners even easier! This cheesy crack chicken can be made in your Instant Pot in just 30 minutes!
Add your crack chicken to sliced bread or hamburger buns for super simple sandwiches that the whole family will love!
3. Spaghetti Bolognese
You can never go wrong with spaghetti and meat sauce! I always keep some spaghetti seasoning on hand so I can quickly whip up a great spaghetti dinner at a moment's notice. Add a side of garlic bread and dinner is served!
4. Air Fryer Salmon
For a nutritious and delicious dinner on the fly, pop some salmon into your air fryer! Pair it with some of these side dishes for salmon to make your meal complete!
5. Pan Seared Duck Breast
Duck breast doesn't have to be reserved for a special occasion, especially when it's this easy to prepare! All you need is a few duck breasts and some salt & pepper.
Take a look at my page on what to serve with duck for some great side dish ideas!
6. Garlic Shrimp Alfredo Bake
Tender penne pasta, juicy garlic shrimp, and lots of alfredo sauce come together in this wonderfully simple pasta bake. From start to finish, it takes less than 30 minutes to make!
7. Air Fryer Chicken Thighs
Chicken thighs in the air fryer come out with delectably crispy skin and meat that is perfectly tender and juicy. Grab a couple of side dishes from my post on what to serve with chicken to make them a full meal!
8. Baked Flounder
If your family loves fish, they will be obsessed with this crispy baked flounder! With a crunchy Parmesan and Panko breadcrumb coating, this mild white fish is hard to resist!
>>>>See all of my recipes HERE<<<<
9. Lemon Garlic Shrimp Pasta
This 20-minute dinner combines succulent shrimp, tender spaghetti noodles, and a flavorful lemon garlic sauce! Sometimes simple is a good thing, and this flavorful shrimp pasta is the perfect example!
10. Goulash
Goulash is a hearty family-favorite meal that we make at least once a month. It's made with elbow macaroni, perfectly seasoned ground beef, marinara sauce, tomatoes, and cheese!
11. Chicken Marsala
You'll love these thin pan-fried chicken breasts in a classic Marsala, mushroom, and wine sauce. Add your favorite type of long pasta for a hearty Italian dinner in a flash!
12. Mexican Cornbread Casserole
When you don't have the time to prepare an intricate meal, you can never go wrong with casseroles! This Mexican cornbread casserole has seasoned ground beef, tomatoes, green chiles, and cheese all sandwiched between two fluffy layers of cornbread.
13. Texas Chili
Chili is always a great family dinner choice, particularly in the cold winter months. I love this meaty 'Texas' version with some shredded cheese and a dollop of sour cream on top!
If you prefer beans in your chili, give my chili con carne recipe a try (it's just as easy)!
14. Meatloaf (with Oatmeal)
When it comes to family dinners, meatloaf is about as classic as it gets! This old-school recipe uses oatmeal to bind everything together which gives the meatloaf a traditional flavor just like grandma used to make.
15. Cream Cheese Chicken
These juicy pan-seared chicken thighs with a rich and tangy cream cheese sauce might just be your new favorite way to prepare chicken thighs! I like to serve it with rice, bread, or noodles so that not a drop of the delicious sauce goes to waste.
16. Shrimp with Garlic Sauce
Shrimp with garlic sauce is one of my favorite Chinese takeout recipes to make at home because it's so simple and packed full of flavor! You can always leave out the red chile peppers if you're serving kids or don't like things very spicy.
17. Stuffed Italian Sausages
I love how easy these stuffed sausages are to prepare and they taste great with pasta or any of your favorite Italian sides! Each sausage is loaded with a delectable combination of Parmesan cheese, cream cheese, Italian seasoning, and crispy breadcrumbs and before being baked in marinara sauce!
18. 4-Ingredient Potato Soup
The name says it all, this 4-ingredient potato soup couldn't be more simple! It's super rich and creamy, plus it only takes 30 minutes to make! Serve it with crackers or French bread and enjoy.
19. Beef and Cheese Casserole
To make this tasty beef and cheese casserole, all you have to do is combine cooked ground beef, seasoning, marinara sauce, al dente penne pasta, and cheese then pop it in the oven! It's super filling, flavorful, and best of all, it only takes about 30 minutes from start to finish.
20. Cheese Enchiladas
Cheese enchiladas are always a hit with kids and adults alike! Everyone can dress up their enchiladas with hot sauce, sour cream, or any of their favorite Mexican toppings and condiments. If you want to add some protein, give my shrimp or beef enchiladas a try.
21. Sofritas
This meat-free chipotle recipe is so delicious, you can hardly tell it's made with tofu! I use the sofritas as a filling for tacos or burritos, but you could also enjoy it in a bowl with rice!
22. Ground Beef Tacos
My homemade beef taco seasoning makes for some of the tastiest ground beef tacos you'll ever have! You can use corn or flour tortillas, and of course, all of your favorite taco toppings maybe even in a taco bar!
23. Chicken Fajitas
Chicken fajitas are a delicious and nutritious dinner that's perfect for lazy weeknight cooking! The strips of chicken, bell peppers, and onions are filled with flavor from my DIY fajita seasoning blend.
Serve with flour tortillas for a quick and easy meal any day of the week.
24. Crockpot Whole Chicken
Once you see how easy it is to prepare a whole chicken in your crockpot, you won't have to buy rotisserie chicken ever again! Toss in some chopped potatoes, carrots, onion, and celery, and let your chicken cook while you're at work. It will be ready to eat by dinnertime!
Tips For Making Wednesday Night Dinners
Whether you're always crunched for time or need an expedited dinner plan, here are some great tips for making short work of dinner!
Plan ahead - with a little planning and maybe some prep work the night before (or the morning of) you can expedite any dinner menu.
Utilize leftovers - using leftover recipes is a great way to speed up dinner because half the cooking has already been done!
Make 'planned-overs' for busy weeks - try doubling, or even tripling, your meals on nights when you have more time.
Set your slow cooker - a crockpot is a great tool to make effortless meals.
Use pre-chopped fresh and frozen veggies - this can help rush things along in any dinner recipe.
I hope this list of Wednesday night dinner ideas gave you the inspiration you needed! Which recipes do you want to try? Let me know in the comments below!
😋 More Easy Dinner Ideas
📋 Recipe