When you're wondering what to serve with salmon, look no further as all of the best side dishes that you could pair with your fish are right here! With everything from simple veggie sides, to rice or pasta dishes, as well as potatoes and more you're sure to find what you need!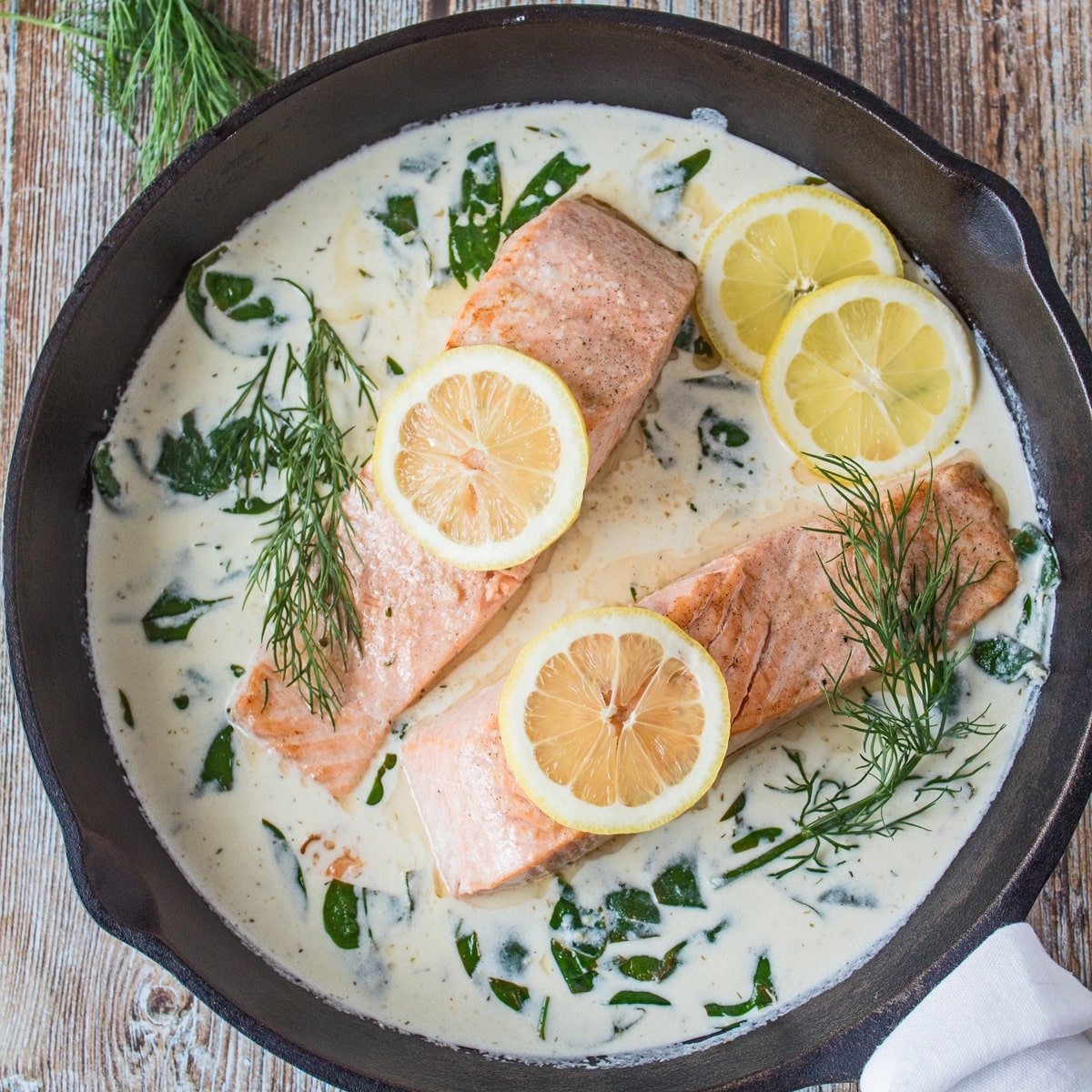 Tender, flaky, and ridiculously delicious salmon can be served up with as many different side dishes as there are methods for cooking your fish!
Salmon is a mild (depending on who you talk to) fish that can be cooked 50 different ways - with each as good as the last! Whether you like your salmon pan seared, grilled, oven-baked, or smoked the perfect side dish is important. And I can help you out with that!
This list is as varied as the ways to serve salmon. I've even included a couple of dessert options to round out your meals!
Jump to:
Depending on how you're making your fish, you might choose a different option. For example, you likely wouldn't opt to serve an Asian-inspired, soy-based marinaded salmon with a Parmesan risotto.
But it would be amazing with my boiled potatoes. Use your judgement or check out my recommendations below.
1. Lemon Orzo Pasta
This lemon orzo pasta couldn't be full of more complimentary flavors! Fresh lemon juice and garlic are made for pairing with salmon.
Toss in a little grassy asparagus and finish it off with a little cracked black pepper and Parmesan cheese, and you have a very memorable meal.
You could easily highlight any of these by adding extra lemon and pepper on your fish itself. Or by slicing up your salmon and mixing it in the pasta.
2. Roasted Brussel Sprouts
There's nothing like the rich, savory taste of roasted brussel sprouts. The beauty is in the simplicity.
A little olive oil and a sprinkle of salt, and a lot of high-temp cooking results is something spectacular.
They're a perfect side to a simple, buttery, lemon pepper or a brown sugar-soy marinated salmon.
3. Roasted Green Beans
Fish cooks fast. Why not pick a side dish that can keep up and taste amazing with your salmon?
Roasted green beans only take 5 minutes to prep and 25 minutes in the oven.
Few people tend to roast this garden grub, so it makes a unique, garlicky crowd-pleaser. Why not try something new with something familiar?
4. Parmesan Risotto
It's easy to forget how much flavor a splash of wine can add. A decent white is the not-so-secret ingredient of this mouth-watering risotto.
Mix in an aged Parmesan and throw a little pepper on top, and you have yourself a show-stopping complement to a Parmesan and basil-encrusted salmon.
You might even want to slice up your salmon fillet on top of your risotto for a complete meal.
5. Buttered Noodles
Buttered noodles are an amazing comfort food. They are exactly what they sound like: egg noodles coated in butter and seasoned with salt, pepper, and parsley.
It's a family favorite that is amazing with salmon, any way you make it. Realistically, is anything not good with butter? You'll never regret making this dish.
6. Roasted Potatoes
Roasted potatoes are almost universally liked. Garlic, onion, salt, and pepper go well with practically anything. That's what makes this an excellent go-to side for most main dishes you can come up with.
I would use this as a chance to go crazy with your salmon seasonings. Try throwing on some cumin, cayenne pepper, garlic, and paprika for a powerful flavor you'll love!
7. Garlic Green Beans
Green beans? Delicious. Garlic? Absolutely. Bacon? No question. All of those things together? A scrumptious side dish to serve with salmon.
Bacon may sound like an unusual pairing with this fish, but the saltiness actually makes it a delicious choice. And, of course, combined with the garlic in the green beans, it creates flavor that is out of this world!
8. Broccolini Salad
If you're looking for a lighter option, this fresh broccolini salad is just the thing! It's a quick and easy raw vegetable base of broccolini, mushrooms, carrots, and green onion with a sesame-soy dressing that has notes of honey, chili paste, and ginger. Yum!
As an added bonus, it only takes 10 minutes to pull it together! Try this with an Asian-inspired marinade on your salmon.
9. Saffron Rice
It takes a lot of effort to harvest saffron, and it has to be done by hand. I've always found this spice to be very special, albeit a bit pricey (but worth every penny)!
It's distinctive flavor might be new for the people you're serving, as it's not something we often cook with in the US unless making a celebratory dish from a foreign cuisine.
Try making your salmon with Middle Eastern-inspired flavors to best blend with this dish, perhaps with a drizzle of pistachio oil. As an extra perk, saffron turns anything it's cooked with yellow, so this rice will be vibrant.
10. Turmeric Rice
Turmeric also gives rice a beautiful yellow hue, adding a pop of color to your table. A lot of chefs say we eat with our eyes first, so why not brighten up your pink salmon with some gold?
It not only tastes great, but turmeric has a lot of good health properties. And the aromatic spices in this recipe will make your whole house smell good.
11. Vermicelli Rice
This vermicelli rice is another neutral side dish with a subtle nutty flavor due to the addition of pine nuts and Basmati rice.
It's full of flavor, but it won't clash with anything. However you decide to season your salmon fillets, this rice side dish will blend seamlessly.
12. Boiled Baby Potatoes
The flavorings added to the water you boil potatoes in will seep in through the skin and spread flavor throughout.
In this recipe, I use salt, a bay leaf, peppercorns, and whole garlic cloves to create potatoes that are outstanding!
All you have to do is pull them out of the water and add a little butter for a great side dish to serve with salmon.
13. Herb-Roasted Carrots
I'm a big fan of serving vegetables with fish as part of a light lunch or dinner.
These herb-roasted carrots will be a hit with anyone who likes to mix up the sweet and savory.
Carrots are a bit sweet by themselves, but add some honey and rosemary or thyme and you've got a winning combination.
14. Sauteed Asparagus
Asparagus goes especially well with fish. I'm not sure why, but it's always the first thing I think about fixing with salmon.
The buttery taste of the fish just works with the grassiness of this vegetable. My recipe goes a step further, adding sweet, cherry tomatoes into the mix.
You'll get your vitamins along with a taste you won't soon forget. Plus, the garlic, Parmesan, and herbs are perfect flavorings for the salmon itself!
15. Steamed Broccoli
Broccoli has a delicious green taste that also balances any salmon dish. If your fish is complex, a basic broccoli is exactly what you need.
If you're keeping it simple, you can amp up the flavor of the broccoli by adding a bit of feta or Parmesan cheese! And the best thing about this recipe is that all it takes is a quick zap in the microwave.
16. Zucchini Squash Casserole
To really go all-out, there has to be cheese involved, right?
Zucchini squash casserole fits the bill with beautiful slices of zucchini and yellow squash covered in a garlicky cheese sauce and topped with Italian herbs and panko.
It's indulgent and full of all the best flavors, perfectly balancing a simple piece of salmon. This is a recipe you'll want to make over and over again.
17. Cherry Clafoutis
Cherries aren't necessarily thought of as complementary to salmon, but this is a family-favorite combo I thought I'd share. It's always good to finish a great meal with a an equally tasty dessert, and this one won't let you down!
Sweet or sour cherries are covered in an eggy, flan-esque batter to make an irresistible treat for your sweet tooth.
18. Pineapple Bars
Salmon is a saltwater fish. It's not too far of a stretch to think about island life when you're imagining the ocean.
These pineapple bars are a tropical way to end a seafood meal. They're packed full of fruit and buried under a generous layer of coconut icing.
If you're not feeling the sand beneath your feet after this, you should really book a vacation!
I certainly hope that you've found some great recipes to make with your salmon dinner here! Be sure to let me know what you loved, and what your must-have sides are to be included!
📋 Recipe